What is MYCRO?
MYCRO is an intuitive mobile application that you can use. Simple short-term tasks can be placed directly on the MYCRO network for free. MYCRO uses intelligent and self-learning algorithms known on dating platforms to match these tasks with job seekers on time. He works. One has time, the other gets money.
The success of Mycro is based on intuitive usability. The need for job seekers and job seekers must be fulfilled quickly and simply. This happens by matching the right job seekers with the right job seekers. After that, both parties reached their destination. Daily needs are good for job seekers. An interesting and tempting job for job seekers.
Mycro provides many jobs such as:
Home Services: (Gardening, cleaning, tidying, replacing, small repairs, cleaning windows, washing, ironing, cooking, etc.)
Delivery Service: (Shopping, driving services, transportation services, shipping services, etc.)
Virtual Services: (Internet research, travel planning, assistance services, administrative work, online surveys, etc.)
Skilled Services: (Tutoring, Photography, Model Work, Piano Lessons, Preparing Computers, Installing TV, DJs, Waiters, Setting Up Internet Connection etc.)
On Mycro the platform has methods for making payments and transactions using Mycro Token (MYO).
How do I use Mycro Token?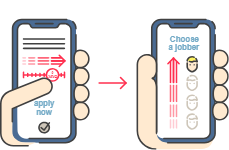 Job Shopping:
Use Mycro Token (MYO) to reach a better position on the job provider's dashboard. This allows you to determine your own costs. We call it shopping work.
Gift:
Accept MYO from a collection of community prizes for good rankings after the work is successful and build the Mycro community – controlled by smart contracts.
Currency:
It is planned that you can use Mycro tokens (MYO) to pay for work – in a reliable and safe way using smart contract escrow. (planned)