Sale of chips: https://ico.mycryptobank.io/
MyCryptoBank allows you to convert cryptocurrencies immediately to fiduciary money and vice versa and also to keep it, quickly and easily, to receive, send and exchange cryptocurrencies. The personal account is necessary for the completion of all operations. This multi-currency account is available all day from anywhere in the world, both from PC and from mobile devices. The exchanges of cryptocurrencies are not necessary because they are very uncomfortable: it requires time to make purchase offers or sales calls and also has great rates to withdraw or deposit cash. The conversion of MyCryptoBank funds is made immediately and at a favorable rate due to the integrated liquidity based on different cryptocurrency exchanges and own bank reserves.
Website: https://mycryptobank.io/
Main service, available to all MyCryptoBank customers:
Wallet (mobile cryptobank);

Bank card and payment rings;

Exchange of cryptocurrency / cryptocurrency, cryptocurrency / fiat;

Money transfer around the world;

Financing and P2P loans;

Acquisition of cryptocurrencies;

Crypto-ATM and cryptomachines;

Deposit percentage;

Forex Trading;

Legal and consulting services, including taxes;
Website: https://mycryptobank.io/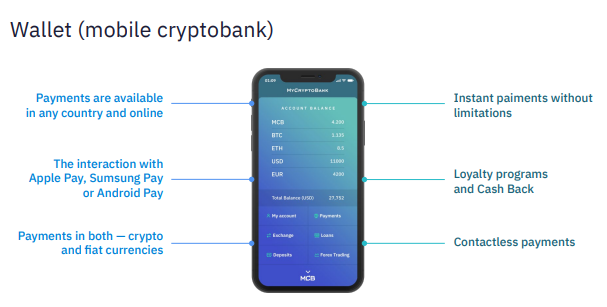 This is a mobile application, which represents a set of payment services for your customers. The services include issuance of virtual cards of payment systems. Until this bank does not receive a license, this service will be carried out with the participation of partners of the bank, but soon, MyCryptoBank will be able to issue cards independently.
All the main operations of MyCryptoBank will be available through the mobile bank: exchange of cryptocurrencies, conversion of cryptocurrency to fiduciary money and vice versa, immediate transfer of funds throughout the world, application and issuance of credits, opening of bank deposits and Forex trading . Loyalty programs will also be organized with the possibility of receiving cash reimbursement for operations or balance. However, the interaction with Apple Pay, Samsung Pay or Android Pay will be organized and the possibility of contactless payment will also be made.
Website: https://mycryptobank.io/
Bank cards and payment rings

Debit cards
To make the cryptocurrency transactions in the payment systems exchange networks, Visa, Mastercard and UnionPay virtual cards will be issued and the mobile services Apple Pay, Samsung Pay or Android Pay will also be attracted. This allows not only pay through standard POS terminals with PayPass, PayWave, QuickPass support and sites, receive bank cards for payment, but also withdraw or deposit cash through ATM, working with payment payments.
There will also be an issuance of cryptocurrency debit cards that will offer users the flexibility of simultaneous control of several cryptocurrencies and fiduciary money. Debit cards also serve as a convenient means of payment during trips because in many cases cryptocurrencies do not depend on the limits and specific states due to the easy conversion in different currencies.
Any debit card is also combined with user cryptowallet and fiduciary accounts. With the help of online banking, any user can make a selection: attach a card to the account of a specific currency or traditional fiduciary account. The card is also suitable for the payment of purchases on the Internet and offline stores.
Payment rings
MyCryptoBank also plans to issue payment rings, an analogue of the payment card, integrated into the bank's payment system and which allows making a payment similar to a bank card. A miniature chip (NFC module) is integrated into the ring, as in the bank payment card. To make a payment, it is sufficient to take the ring to the payment terminal and the necessary amount will be canceled
These rings are ideal for making small purchases: the rings save time, because a customer does not need to obtain any bank card or mobile phone. MyCryptoBank payment rings can also be used for online purchase payment: each ring receives a number, a validity period and a CVV verification code.
Due to new technologies, the MyCryptoBank payment ring has a high resistance and is not afraid of charges, it is possible to play with this ring, the rings are waterproof and there is no need to remove them to wash hands or swim.
Due to the special protection of the payment ring, it is impossible to read any information invisibly using special reading devices. Standard plastic cards can not guarantee it and a cardholder can rest assured for the safety of their money.
Basic privileges of MyCryptoBank state holders:
Each new connected service will be accessible in order of priority for token owners with a higher status;

The higher the state, the lower the transaction fee for the exchange of cryptocurrencies and trade;

The issuance and service of cards will be made in an extended scope;

Holders of Platinum status will have special payment cards and payment rings issued in a limited manner;

Special credit conditions.
Website: https://mycryptobank.io/
Why do you need the MCB card?
MCB Token is a fast growing cryptocurrency, which allows you to make payments, make remittances instantly and around the world

MCB token will be included in the main cryptocurrency bags

The MCB token gives its owner access to all banking services
Sale of chips: https://ico.mycryptobank.io/
INFORMATION SPECIFICATION OF TOKEN MyCryptoBank
TOKEN NAME MyCryptoBank

TOKEN SYMBOLS MCB

PRICE 1 MCB 0.2 s / d 0.48 USD

BUY MINIMUM 50 USD

TOKEN ALGORITMO EOS

EOS SUPPORT

ACCEPT ETH, BTC, EOS, LTC, USD, BCH

SOFT CAP 3,000,000 USD

DURO CAP 100,000,000 USD

SUPPLY TOKEN 517,000,000

SUPPLY OF TOTAL TOKEN 795,500,000

THE STATE OF ESTONIA

WHITE LIST NO

KYC YES

PRA ICO START 16 JULY 2018

PRA ICO FINISHED AUGUST 16, 2018

ICO START 11 SEPTEMBER 2018

ICO FINISHED OCTOBER 14, 2018

BOUNTY / AIRDROP YES

REGISTRATION BONUS NO

PURCHASE BONUS YES

LIMITED COUNTRIES ICO UNITED STATES
Distribution of tokens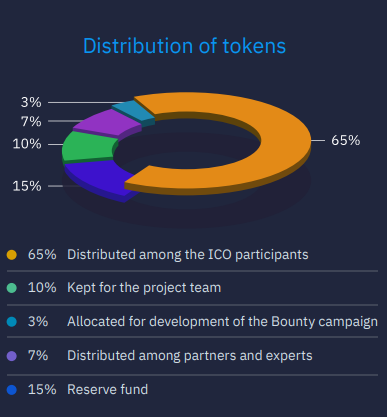 Distribution of ICO funds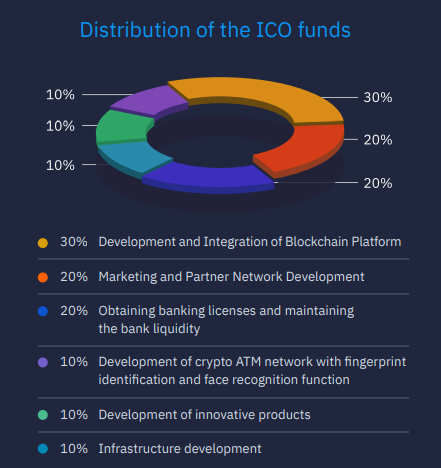 Road map: https://mycryptobank.io/#roadmap
Team: https://mycryptobank.io/#team
MyCryptoBank ATM: