Myshield: Innovative Anti-Scam Platform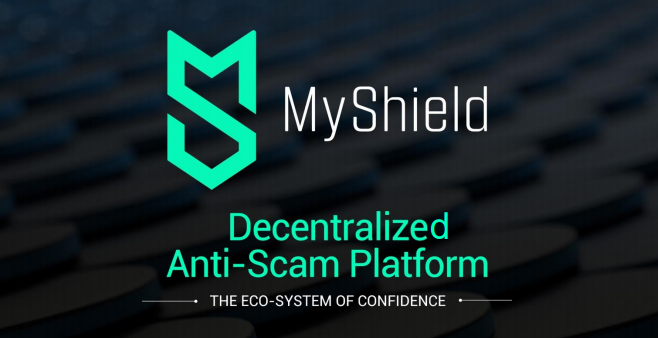 MyShield is an innovative decentralized platform against scams. MyShield will alert users every time they arrive at a fraudulent website, a forged online sale and other types of online scams. MyShield aims to build confidence in e-commerce and the online market, where it is estimated that the costs of counterfeiting and piracy will reach $ 2.81 trillion by 2020. Initially, MyShield will focus on the cryptocurrency industry, which is flooded of phishing, fraud and brandjacking, etc.
MyShield will provide users with alerts against scams and validations of transaction encryption. The MyShield model is based on two intelligence sources: reports of possible scams of MyShield users shared with the community and cyber intelligence providers with artificial intelligence. The information from both sources will be recorded in MyShield blockchain, which will be launched in an existing block chain and will be used as a source for alerts and validations.
The MyShield decentralized platform includes rewards created by MyShield and by companies, organizations and users in order to encourage community members to report potential scams. The MyShield token is a "Symbol of trust". It provides users with a guarantee that their transactions made on online websites will be marked as reliable by MyShield, after a community consensus is reached.
The MyShield platform will bring together different stakeholders in a single ecosystem; These stakeholders include users, businesses, cyber intelligence providers powered by artificial intelligence, warranty providers and execution service providers. The MyShield platform will take advantage of BrandShield's strong technology to monitor the Internet and analyze the potential risk of different online threats. BrandShield's technology is currently being used by the world's leading brands to protect them from online scams. BrandShield will be the first, potentially many cyber intelligence providers with artificial intelligence for the MyShield platform.
View
The digital age has changed our lives in many ways. The information revolution in progress and the rapid pace of digital transformation is a catalyst for unprecedented levels and new types of cybercrime.
Summary of the token model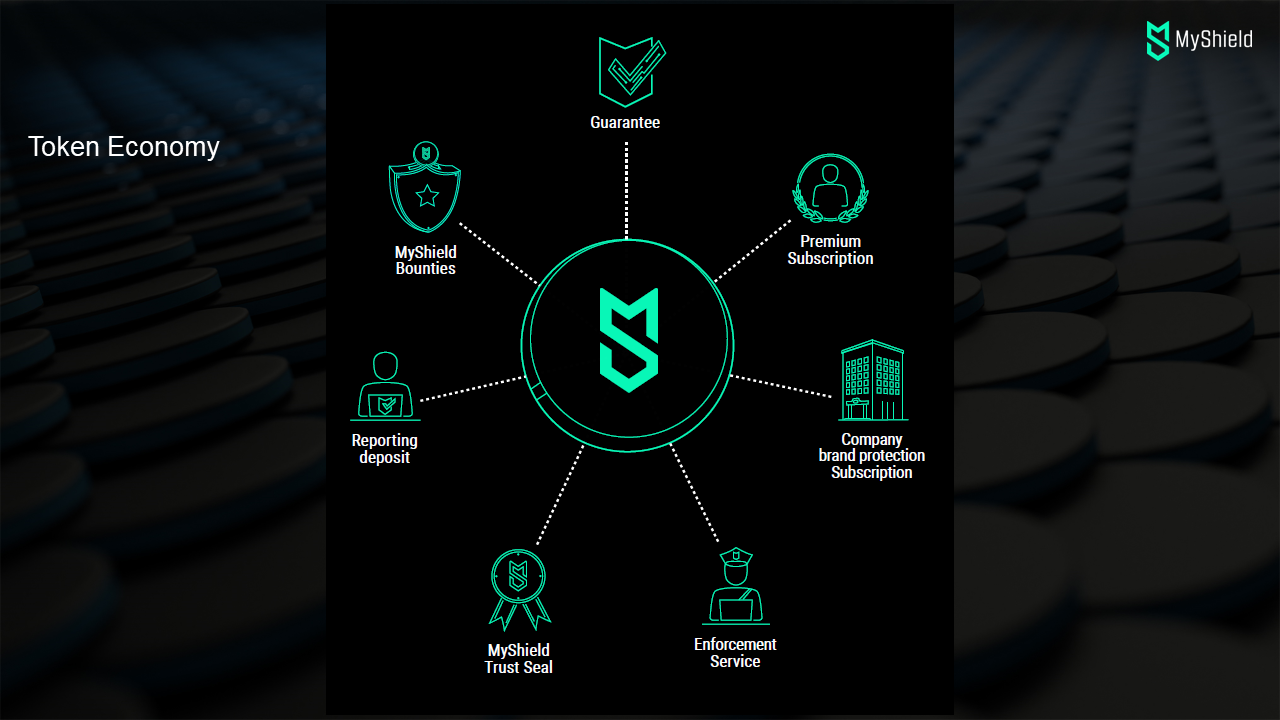 As described above, the MyShield token will have several uses in the MyShield ecosystem, as summarized below:
Premium subscription: the token will be used to obtain the premium subscription of the MyShield application, which will include a basic level of guarantee and the ability to obtain rewards gains in cases where the user reports on possible online scams.
Guarantee programs: In addition to the basic guarantee program provided with the premium subscription, users can use their Shields to purchase additional guarantee programs for their online transactions.
Reports: Users who are interested in reporting scams and receiving reward rewards should deposit Shields when reporting. If they are found correctly, the Shields deposit will be returned in addition to their share of the reward. If found incorrect, 80% of the Shields will be credited to the general reward.
Bounties: The MyShield token will be used by MyShield and by companies and organizations to encourage users to report possible online scams. 20% of the Shields paid by users for the premium subscription will contribute to the general reward. Companies and organizations can create brand-specific rewards to encourage scam reports related to their brand.
Pay and validate MyShield Trust StampTM and MyShield Trusted Wallet StampTM: companies and organizations that will be interested in obtaining the MyShield TrustTM seal and the MyShield Trusted Wallet StampTM will pay for the seal using the MyShield tokens. 50% of the MyShield tokens they pay will be paid to the public validation officers of their seal, who will be able to use the tokens for premium subscriptions and guarantee programs.
Subscription payment by companies and organizations to the BrandShield system: companies and organizations that are interested in subscribing to the BrandShield system and receiving anti-scam intelligence may do so using the MyShield tokens. This use will be available at the time of the TGE.
Payment to the executors: the companies that will use the application services market as part of the MyShield platform will be able to pay the executors for their action with the MyShield tokens.
 MYSHIELD & TOKEN MARKETING COMPANY MSLD
MyShield is an innovative Anti-Scam Platform. MyShield is built on the technology, knowledge, and experience of BrandShield.
BrandShield was founded in 2013 and developed a powerful and innovative cyber intelligence system for online brand protection, anti-counterfeiting and anti-fraud.
Enterprise systems monitor the Internet to find fraud of various types including fraud, forgery, trademark infringement, and other malicious activity. on websites, eCommerce markets (eg Amazon, eBay), social media platforms, mobile apps, and PPC ads.
Read more about Brandshield @ www.BrandShield.com
It's no secret that online users are vulnerable to many threats, especially when it comes to crypto transactions. MyShield created an alliance between all of its ecosystem participants, in a mission to fight online fraud.
Ecosystems are based on decentralized trust votes, trust consensus, technology-based trust analysis, and guarantees based on them. This is the pillar of value MyShield brings to the community – trust in online transactions.
PROBLEM
Driven by e-commerce growth, as well as hacker sophistication, the sale of counterfeit and pirated goods is expected to reach up to $ 2.81 trillion by 2022 each year. In the cryptocurrency industry fraud poses a bigger challenge.
According to Ernst & Young's research from January 2018: 10 percent of the funds collected at ICO have been stolen. Hackers steal up to US $ 1.5 million in ICO results per month. The magnitude of this problem poses a risk to the growth of the entire cryptocurrency industry.
SOLUTION
MyShield's anti-scam decentralization platform, will allow users to conduct daily online transactions with confidence.
MyShield will provide solutions to users who will warn them about online fraud. Decentralized platforms will be based on two data sources stored in blockchain – reports of potential user-generated fraud, and AI-supported cyber intelligence providers.
MyShield platform includes:
MyShield app
Blockchain MyShield
AI Intelligence AI provider is supported
Enforcement service provider
Warranty provider
The gift of MyShield
MyShield Trust Stamp
MyShield Ecosystem of Confidence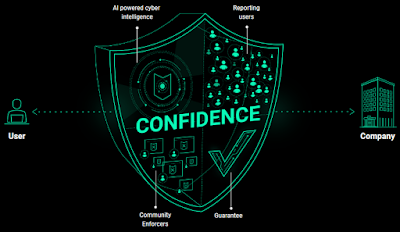 WHAT IS A MYSHIELD TOKEN?
A MyShield token is a digital currency that will be used on the MyShield platform. There are 1 billion MyShield tokens available and there will be no inflations or additional creations of MyShield tokens.
WHAT IS THE MYSHIELD TOKEN MODEL?
The MyShield Token Model is composed of various parts, all merging together to bring a powerful and disruptive tool against online scams.
The token can be used in several ways:
Report: Users interested to report scams and be rewarded from the bounty will be required to deposit tokens. If they are found right, the tokens will be returned in addition to their share of the bounty.
Premium Subscription: a basic level of guarantee and ability to gain bounties when correctly discovering online scams.
Bounties: Intended to incentivize user to report scam, bounties will be created by MyShield, by companies and by users.
Guarantee Programs: On top of the basic guarantee provided in a Premium subscription, users can purchase guarantee programs for transactions.
MyShield Trust Seal and MyShield Trusted Wallet Seal: Companies can purchase this with MyShield tokens, 50% of tokens are paid to the validation officers of the seal.
MyShield will be issuing a finite amount of 1 billion MyShield tokens. There will be no inflations or additional issuances of MyShield tokens. 
THE TOKENS WILL BE DISTRIBUTED AS FOLLOWS:
No. of tokens %
Token offered for the public: 400,000,000 | 40%
Fund for future operations: 300,000,000 | 30%
Founders, team and shareholders: 200,000,000 | 20%
Guarantee fund: 50,000,000 | 5%
Reporting bounty: 45,000,000 | 4.5%
Campaign bounty: 5,000,000 | 0.5%
Total: 1,000,000,000 | 100%
MYSHIELD USE OF RAISED FUNDS
Subject | % from net funds raised
User acquisition and marketing promotions | 30%
R&D | 30%
G&A | 25%
Sales | 15%
ROADMAP
Together with our team and advisors we are committed to act towards bringing the MyShield ecosystem of confidence on time to market: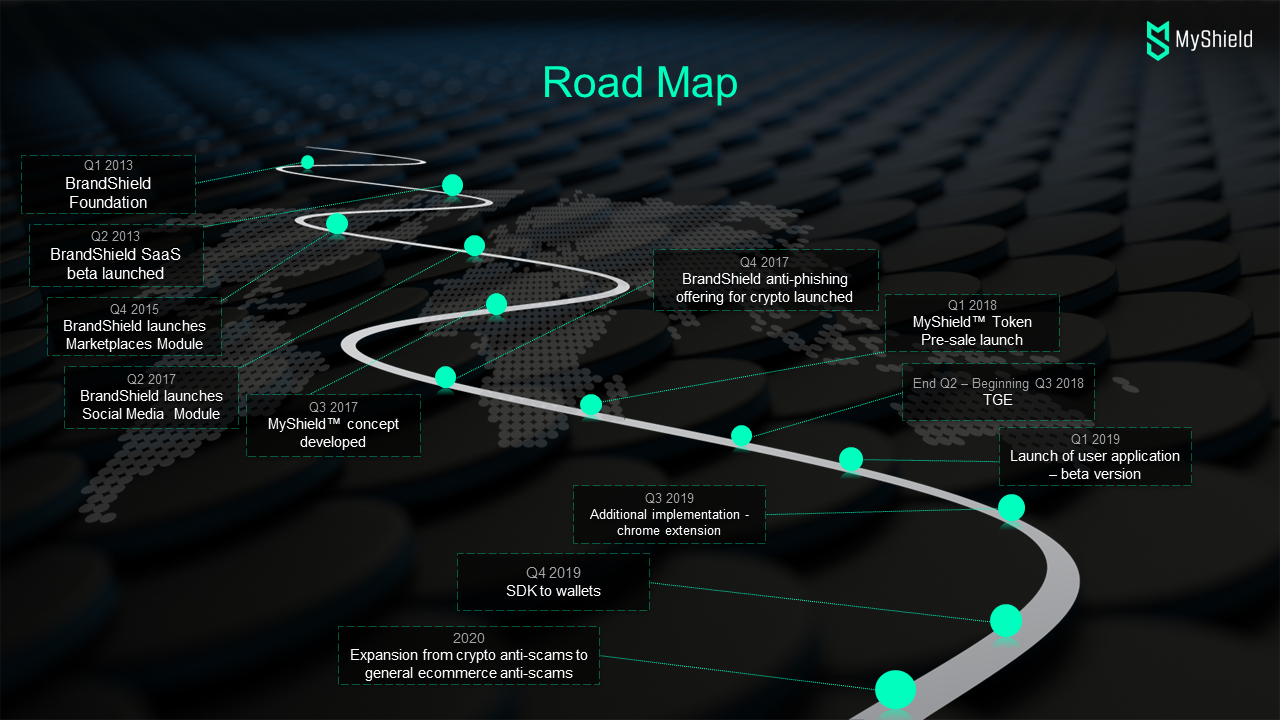 For more information and to join MyShield social networks, follow the links below:
WEBSITE: https://www.myshield.com/
WHITEPAPER: https://www.myshield.com/whitepaper/
FACEBOOK: https://www.facebook.com/MyShieldTM/
TWITTER: https://twitter.com/MyShield_TM?
TELEGRAM: https://t.me/MyShield_TM
Author: MEETDAVIS007
Profile:  https://bitcointalk.org/index.php?action=profile;u=1346196