NAVIADDRESS – The New Universal Digital Address Platform Powered By Blockchain
Hello to all and welcome to my ICO review . For those of you who don't know me yet, let me introduce myself. My name is Funke and I'm an experienced writer who enjoys what he does very much. I'm here to give you all the information you might need or want about The New Universal Digital Address Platform Powered By Blockchain. I plan to make them "easy read, to the point" because what's important to me is that we all comprehend and absorb the information and actually want to be here learning together about something new.
Today, let us all learn and experience together all about NAVIADDRESS . If you don't know anything about them, don't run away, that's why I'm here, to change that within the next few minutes. Before I begin, I just want to quickly mention that I will be including LINKS so that YOU can do your own research or whatever you feel you need. I feel it's best to have all of the information in one place, in an organised manner, rather than dotted about the page making what you want hard to find or confusing. All these links will be put at the BOTTOM of this page to keep things easy.
Naviaddress is a blockchain-based global digital addressing system. Founded in 2015 by Mikhail Gamzin, formerly Head of Russian Technologies VC, Naviaddress is developing a platform for digital addressing of locations and objects that are adapted to the era of mobile phones and connected objects. Naviaddress is the first on its kind. It will provide people and businesses with freedom and ability to create, obtain, own, lend and sell their digital addresses. The company's primary mission is creating a decentralized and unified system that can be used to address objects and places in the virtual and real world.
Naviaddress purposed to define the address with a unique combination of digits, which is simpler and easier to communicate than the GPS coordinates. Naviaddress provides users with "naviaddresses" – a short sequence of digits that can be easily generated and shared as digital IDs to pinpoint the precise location of any physical place or object. This puts an end to navigation and addressing issues caused by poor connectivity, outdated maps or language barriers. The company states it currently lists 1.5 million "naviaddresses" in their system. These include 1.3 million business users, and over 60,000 are people registered to use its app.
I am going to get straight to the point of who they are since this is such an important factor, as I like to put it, "The Brains behind NAVIADDRESS ". If the team behind the product or service in question haven't the resources or knowledge, then we know the product or service delivered will possibly not have the quality it should have. We need to know two very important things when we look at a new starting up company:
Who are the people/team behind this?
What experience and knowledge do they possess?
Okay, so, because I've already done all the research needed beforehand and thoroughly NAVIADDRESS I can very happily confirm that this company has a fabulous team onboard. Here they are:
OUR VISION
Our vision is to create a modern and easy-to-use international addressing system, which will give rise to a plethora of addresses:
• International addresses;
• Unified addresses, easy to reference;
• Flexible addresses;
• And, more importantly, addresses that are easy to obtain (accessible even to those individuals who would be living on an unnamed street or an unnumbered building)
Our primary focus is to engage regular people and companies from all over the world in the creation/assignment, modificationand exchange of addresses in our system for their own benefit and to address all of their location-related needs.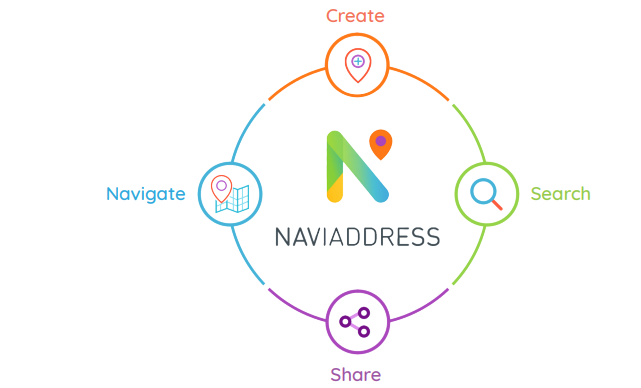 There are basically three different types of Naviaddresses.
They are:
Custom Naviaddress: These addresses are created by platform users to indicate a random place on the planet such as a tree, a parking lot and more.
Postal Naviaddress: These are prebuilt addresses referring to specific locations using existing postal address.
Global Naviaddresses: These addresses are assigned to mobile objects. They are assigned to office location which might change after a few years.
Main Actors and Technology:
The people who interact within the platform are known as the main actors. They are:
• Platform: The whole Naviaddress platform is developed and maintained by the platform operator.
• Developer: People who help assigning Naviaddress to locations, cartographers and the people who develop various products and services related to Naviaddress are called developers. They are rewarded in NVTs for their work.
• Customer: They have the right to acquire rights to a Naviaddress. Every member on the platform is eligible to exchange naviaddress for NVTs.
• User: The people who use naviaddress applications and services are the users.
The platform uses Ethereum based smart contracts to reward the developers based on their work. The users have to pay NVT to gain ownership of a Naviaddress.
In case the user wants to sell his NaviAddress, this is done in the form of an auction. The winner of the auction needs to pay the specified NVT in order to get ownership to a naviaddress. This whole process uses the smart contract thereby eliminating any middle man charges.
KEY FEATURES
Ethereum Blockchain ID ownership management SW solution BigchainDB,
IPFS distributed,
Reliable and cheap metadata storage
Open sourced oriented SDK and API providing access to the platform
Mobile and web blockchain enabled applications
NAVIADDRESS TYPES AND ADDRESS PROTOCOL
One of the main features and advantages of the Naviaddress System lies in the simplicity of its description of addresses and locations. This consists essentially of a specific, hierarchical sequence of digits beginning in most cases with a Container (corresponding to the international country code) and followed by a sequence of digits based either on information from a specific postal address or automatically assigned by the System.
A naviaddress and its depiction/sequencing will vary depending, among other things, upon the type of naviaddress used and object represented. There are essentially 3 categories of naviaddresses within the Naviaddress System:
Custom naviaddresses – representing dynamic objects, that may be moved;
Postal naviaddresses – representing static objects, such as buildings, structures or locations; and
Global naviaddresses – depicting mobile objects;
NAVIADDRESS ON THE BLOCKCHAIN TO SOLVE MAIN PROBLEMS
People without an address (around 4 billion people)
People with no address are unable to order on-line and experience social segregation, can be better served by their governments.
Naviaddress platform shall provide verified by transaction and trustless postal and delivery digital addresses for billions of people worldwide with almost no cost. A user can create and own via smartcontract as many naviaddresses as he/she wants with no government involvement and within several minutes.
E-retail & delivery businesses (USD billions waste)
Up to 20% and up to 80% of delivery addresses are not verified from the 1st time in developed and developing countries respectively. Mistakes in addressing also result in last mile navigation problem.
Naviaddress platform shall provide trustless verified by transaction and geo coordinates precise ID of users' locations for online and delivery businesses. Our solution will cut the waste drastically. Users can create and own via smartcontract as many personal and business naviaddresses as needed.
International tourism businesses (Lost sales)
Local HoReCa and retail outlets are not authenticated for international tourists and expats, and remain largely inaccessible.
Once on the blockchain, Naviaddress provides authentication and easy last mile navigation for local HoReCa and retail outlets. This is due to no language-specific – only digits, digital address, which is easy to find, share and communicate. Any business can create and own via smartcontract as many business naviaddresses as needed within several minutes.
BENEFITS OF NAVIADDRESS DRIVEN BY BLOCKCHAIN
Digital addressing system with no dependency on the central authority – users create and own their digital delivery addresses
Secure, on-demand and low-cost digital access (trustless location IDs)
Naviaddress ownership registration with smart contracts application
Decentralized storage of naviaddresses
NAVITOKEN
A NVT is a unit of defined value internal to the Platform that may be used by any of the actors outlined above in acquiring or exchanging rights to naviaddresses, services or any other thing within the Platform. It can be obtained through buying on crypto exchange when NaviTokens are placed there.
TOKEN DETAILS
Total Tokens Issued: 1 BN
Total Amount for Sale: 400 MM
Type: ERC20
Sales total: $20MM
Token Price: ICO: $0.05 per NAVI
Token Distribution
Use of Funds
ROADMAP
I hope you have enjoyed today's review and my company along the way. Thanks for taking the time and will hopefully see you all in the next one.
For more information, please visit:
Website: https://ico.naviaddress.com/
Whitepaper: https://ico.naviaddress.com/wp-content/uploads/2018/02/Naviaddress-Whitepaper-v1.5-1.pdf
Linkedin: https://www.linkedin.com/company/naviaddress/
Telegram: http://t.me/naviaddressnews
Facebook: https://web.facebook.com/naviaddressplatform/?_rdc=1&_rdr
Twitter: https://twitter.com/naviaddress
Reddit: https://www.reddit.com/r/Naviaddress/
Medium:https://medium.com/@naviaddress
BitcoinTalk:https://bitcointalk.org/index.php?topic=2461416.0
Downlaod Naviaddress on Apple: https://itunes.apple.com/us/app/naviaddress/id1061872047?mt=8
Download Naviaddress on Android: https://play.google.com/store/apps/details?id=com.naviworld.Navimap&hl=hu
Author
funkyies
BITCOINTALK PROFILE: https://bitcointalk.org/index.php?action=profile;u=1971452