the best neluns
The Neluns Team issued a statement about the upcoming ICO launch. This will be preceded by the Pre-sale and Pre-ICO phases. The Neluns team's vision focuses on building new financial ecosystems that will have the functions of banks, insurance companies and currency exchanges. All of these modules will be seamlessly integrated and will support transactions with crypto money or fiat money that brings the user experience to the next level. Because all three modules belong to the Neluns team, it will be possible to maintain competitive costs compared to classic settings where all the different owner-owned entities generate overhead costs for clients.
About NELUNS
Neluns is an innovative financial ecosystem, joining banks that can work with fiat and cryptocurrency, as well as currency exchange and insurance companies, creating the best conditions for developing the quality of the cryptocurrency market, new entrants and capital inflows.
Investment in Neluns is protected from price changes in the volatile cryptocurrency market
NLS holders will receive 50% profit dividends every quarter
Real world financial institutions as a basis. Bank with an official license
SEC official notification (US Securities and Exchange Commission) about the commencement of the ICO
Cryptocurrency currency exchange, licensed by SEC (US Securities and Exchange Commission) and by CFTC (US Commodity Futures Trading Commission)
Unique transaction trading and insurance system
Under the law, Neluns are not required to issue 1099 tax disclosure forms, which report various ways of alternative income or otherwise.
Active development of online banking. 
As we already know, Neluns has a broad target audience, whose issues shall be solved by the project. But, in order to achieve success, it's necessary to consider the external factors. Currently, online banking is actively developing in most countries, many of them even open incubators, to support fintech projects. All of this creates favorable conditions for the launch of Neluns.
PSD2
The PSD2 (Payment Services Directive) taking effect on the 13th of January, 2018, opened up banks to new possibilities and allowed to build new business models. With an emphasis placed on the active implementation of API's, the creation of Bank-as-aPlatform models provides fintech startups with huge advantages.    Existing "classical" banks are less flexible. An established corporate culture, desire to minimize risks and traditional approaches to problem-solving significantly complicates and extends the process of integrating new innovations.
Such a situation opens up huge possibilities to startups to become central links of the economy of the future. Neluns combines within itself all of the best aspects of a «classical» bank and revolutionary and innovative financial technology based on the Blockchain.
Services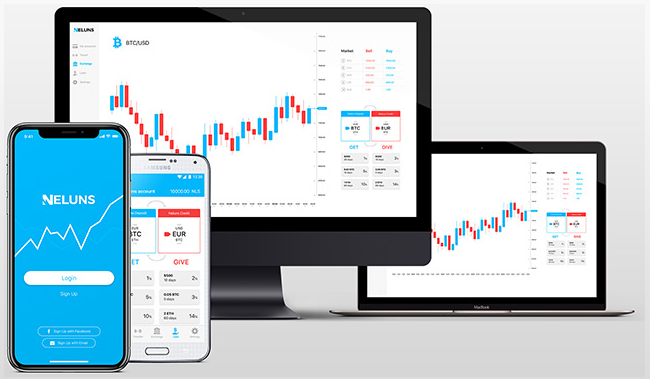 Bank Visa and Mastercard Neluns Cards

Why is it profitable to obtain an NLS token?
Token holders will receive additional bonuses and discounts while using the platform.
50% of the ecosystem benefits Neluns are distributed quarterly to token holders based on the number of tokens they hold.
The price of NLS tokens will grow along with the development of Neluns' capitalization ecosystem, which will very likely be token holders to receive additional benefits.
The price of one NLS token will reach $ 1,200 against th. 2021. In April 2020, the Blockchain Ecosystem Society plans to hold an IPO on the New York Stock Exchange.
Tokens are only released during ICO, additional token emissions are not planned.
Simple conversions with attractive interest rates and the liquidity of the NLS token will be guaranteed after being listed against the large cryptocurrency currency market like Bittrex, Huobi, OK-EX, HitBTC, Poloniex, Bitfinex, Binance, YoBit.
Ico Information
Token Neluns (NLS) use the ERC20 platform that will give 50% dividend for oemegang NLS token. Token holders also have access to special bonuses and ahk while using ptoduk on Neluns ecosystems. The more tokens belonging to the greater privilege in have.
The Name Token: NLS
ETHEREUM Platfrom: ER20
Token price: $1 USD
Total Token: 200 million NLS
HardCap: $112 million USD
Pre-Sale :
Hard Cap — $2.000.000
Soft Cap — $500.000
1 stage (round), pre-sale, stage (round) length 14 days, from 08–01–2018 to 08–15–2018.
Pre-ICO :
Hard Cap — $10.000.000
Soft Cap — $2.000.000
2 stage (round), pre-ICO, stage (round) length 21 days, from 08–15–2018 to 09–05–2018.
Roadmap
November 2017: Team Neluns Formulation
December 2017: ICO preparation
May 2018: Beta testing of the iOS mobile application
June 2018: Holds a closed investment round for investment funds and anchor investors
July 2018: Preparation for the sale of NLS tokens
August 2018: Pre-sale of NLS tokens, pre-ICO
September 2018: NLS ICO tokens, mobile application launch (beta version) for iOS and Android
October 2018: Listing on currency exchange bittrex.com, huobi.com, kraken.com
November 2018: Launch of the P2P loan platform, launch of the mobile application (alpha version) for iOS and Android
December 2018: Listing on hitbtc.com, poloniex.com cryptocurrency exchange, binance.com, bitfinex.com, okex.com
January 2019: Obtain licenses for Bank Neluns, launch payment services to convert cryptocurrency and carry out fund transfers to any part of the world, connecting Bank Neluns to Swift, starting from Visa, MasterCard, American Express credit cards issued
February 2019: Obtain a CFTC license and launch the Neluns Exchange – an innovative cryptocurrency exchange
April 2019: Launch of the full Neluns ecosystem
April 2020: IPO (initial public offering) on ​​the New York Stock Exchange (NYSE)
For more information :
WEBSITE: https://neluns.io/
WHITEPAPER: https://neluns.io/static/ver165/whitepaper/whitepaper.pdf
FACEBOOK: https://www.facebook.com/The-Neluns-2038488129802279/
TWITTER: https://twitter.com/TheNeluns
TELEGRAM: https://t.me/TheNelunsChannel
Author :
Ardiansaja
https://bitcointalk.org/index.php?action=profile;u=1010731
0x42698392A96EF9DB4bC17bc8bd3852Bf89418b4f