Neogame
Neogame

Hello everyone, If you are a gambler or really like lottery games, it's good to read my article because I will introduce a Blockchain project called Neogame and what are the benefits of the Neogame project, here is an explanation:
This project makes a non-profit and autonomous lottery, able to operate continuously and achieve full transparency through the Ethereum blockchain. 
This will allocate all funds to the last penny, using a clear algorithm written into the lottery smart contract.
Neogame's mission is to turn the global gambling market into a not-for-profit model and no host creates a space where no one is making money for the game and no one is interested in pursuing a problem player. 
Neogame is a new lottery game that does not serve beneficiaries: it has a zero edge and no one can access the funds: the only way to get it is to guess the winning lottery number.
The idea of ​​a new Neogame project is to make a lottery that does not have an organizer, and not a business unit at all. 
Neogame will be governed solely by smart lottery contracts, which autonomously execute game alogoryme. 
Smart contracts hold funds, get random numbers and distribute prizes in a completely clear linear way.
In this way Neogame removes hosts, brokers, and every businessman from the game. 
There are only players who play with each other and smart lottery contracts that allow games without commissions.
Neogame will function using Ticket Tokens (TKT) both as lottery tickets and prize fund currencies. 
Inventories are limited to 500 million tokens, and we will work to increase their value. 
When the token value grows, the prize fund grows proportionally. 
If the token value increases significantly, the jackpot size can be very large.
Competition
Here we compare Neogame with current market leaders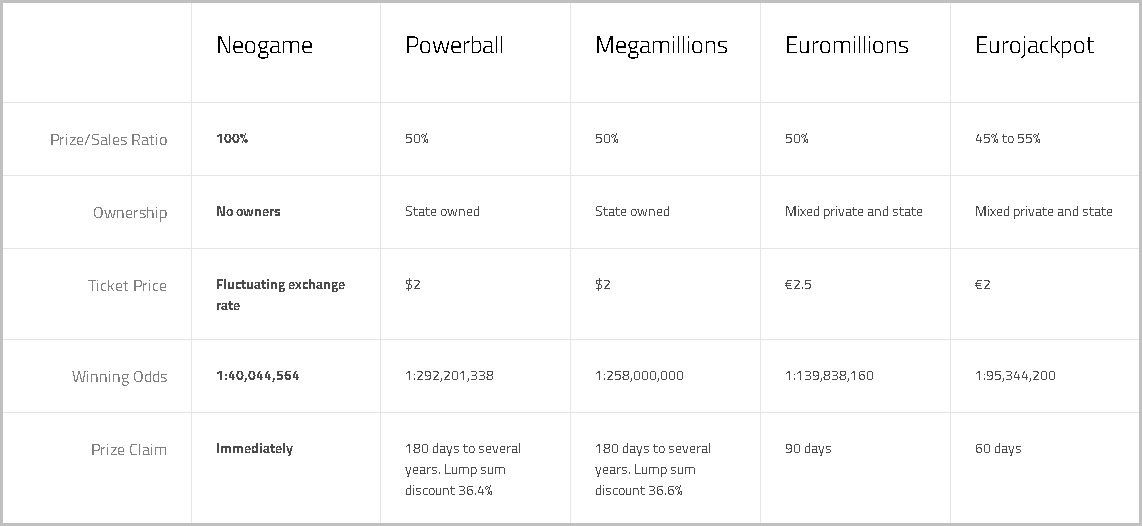 If this project interests you, please join our future plans which are discussed in detail below:
Tokensale hasn't started yet. 
Early tokensale is scheduled for 30 September. 
Please leave your email and we will remind you of the start of tokens. 
Here: 
 https://neogame.io/en/#
Starting: 30 September 2018

End: 30 October 2018

Cap: 100 000 ETH

(23 231 000 USD)

Purpose: 2 000 ETH

(464 620 USD)

Price: 1 TKT = 0,00025 ETH
Project Schedule The
following is a milestone for Neogame



information: