NEOGAME: FIRST NON-PROFIT GAMBLING PROJECT TO CHANGE THE GAME

Since the introduction of blockchain technology, we have seen so many sectors adopt and accept its use. The blockchain technology seeks to revolutionize the traditional way of doing things offering a better, easy and faster way to do things and it can be applied in all sectors of the economy. Gambling has been something people have been engaged on right from time. Though we don't know how, when and where it started from, it has been a game individuals from all works of life engage in and this has led to the building of casinos and other gambling house. Casino has always worked with the principle whereby the casino or organizer always has the advantage ( known as House edge) and this has been a major issue for gamblers who seek to make money from gambling.
Neogame with the introduction of blockchain technology offers a better way to gamble. With Neogame, there will be confidence in the gambling industry. Unlike the traditional lotteries where lottery host sells tickets, allocating half of the earnings to the prize pool while the other half to the host, Neogame offers a non-profit and autonomous lottery that is capable of continuous operation and achieving a full transparency using the Ethereum blockchain network. With a clear algorithm written into the lottery's smart contract, all funds will be allocated to the last penny. Neogame is offering a lottery with no host having no third-party and owners. The Neogame team will lose control over the lottery once the project is launched leaving the project to work as a decentralized autonomous organization (DAO), governed by a smart contract, isn't this amazing.
Neogame team or any token holder won't be able to affect the algorithm or even draw results and no third party will be entitled to any dividends from the game. The profit of token holders will depend on only growth in token value that is tapped into the project logic as Neogame won't generate a profit.
NEOGAME TOKEN DETAILS
Neogame has its own tokens with the name Ticket Token (TKT) and is based on the Ethereum blockchain. A total of 500 million Ticket Tokens will be emitted. Ticket Token is a utility token which will function as a lottery ticket, asset making up part of the prize pool and also a tradable cryptoasset with predictable exchange-rate fluctuations (see whitepaper here https://neogame.io/en/tokensale/ for more details about the functions of TKT.
There will be a token sale during which 400 million tokens will be made available for purchase at a rate of 4,000 TKT per 1 ETH. During the token sale, ETH will be accepted for purchase of TKT. The Neogame token sale will last for thirty days and there will be no pre-sale stage. There will also be no bonus to any buyer. Neogame has a softcap of ETH 2,000 and a hardcap of ETH 100, 000.Funds collected will be allocated depending on various token scenarios, see below;
Group 1: combined costs for software development, listing on exchanges, legal services and marketing; ETH 1,000 to 4,000.
Group 2: token buyback for the initial formation of the prize pool; ETH 1,000 to 96,000.
Group 1: the funds will be readily available after token sale.
Group 2: funds will be frozen for 3 months, and then they will be available exclusive for token buyback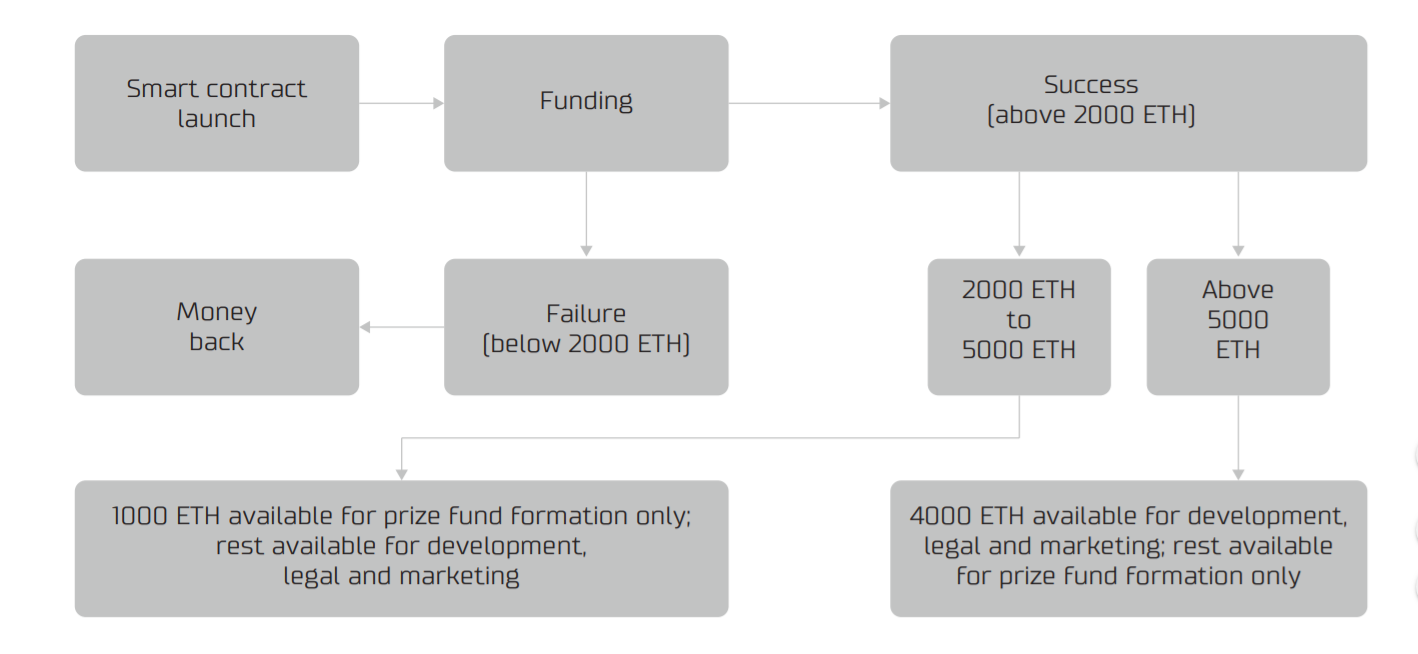 TOKEN DISTRIBUTION
The Neogame tokens will be distributed such that 80% of the total supply (400 million) will be available for token sale, 10% (50 million) goes to Neogame team, 5% (25 million) goes to advisors) while 5% (25 million) will be for bounty and airdrop.


ROADMAP
Q2 2018 (APRIL – JUNE)
CONCEPT: The team developed the initial concept, drawing inspiration from fairly decentralized blockchain projects. The concept development was focused on two main goals. The first was creating a game that is fully autonomous, does not generate profits for the organizer or any third party, and has the opportunity to form a jackpot huge enough to become newsworthy. The second goal was the development of a token concept that provides clear growth potential to attract as many backers as possible. These goals provide the basis for the whitepaper that contains a detailed description of the concept.
Q3 2018 (JULY – AUGUST)
SMART CONTRACT: Neo game has drafted a test version of the lottery smart contract and hosted it on Github. The code is written in solidity, a programming language for Ethereum smart contract development. Our backers and blockchain enthusiasts are welcome to review the code. Anyone who finds any holes before release will be awarded TKT 50,000.
Q3 2018 (JULY – AUGUST)
SMART CONTRACT: Neogame has drafted a test version of the lottery smart contract and hosted it on Github. The code is written in Solidity, a programming language for Ethereum smart contract development. Our backers and blockchain enthusiasts are welcome to review the code. Anyone who finds any holes before release will be awarded TKT 50, 000.
Q4 2018 OCTOBER
CROWDSALE: 31 October at 6pm Central European Time we start the crowdsale of Ticket Tokens. Maximum emission volume is TKT 500 million. During the token sale, tokens will be offered at about $0.1. Crowdsale will run for one month. TKT tokens are mintable and unsold token will not be generated.
Q4 2018 NOVEMBER
DApp RELEASE: By the end of November our version of DApp will be fully workable on Ethereum testnet with a pre-release lottery smart contract.
Q4 2018 DECEMBER
Ad CAMPAIGN: Neogame will start the initial advertising campaign before the lottery launch and it will be ongoing for several months. The pre-release part of the campaign will be targeted at early players that can take part in the very first draws. After the budget for the initial campaign runs out, direct advertising of Neogame will stop permanently to follow te ethical mission stated above.
Indeed Neogame is here to change the world of gambling. Please visit the website and whitepaper for more information about this unique project, see link below.
Website: https://neogame.io/
Whitepaper: https://neogame.io/wp-content/uploads/2018/08/Neogame_WhitePaper-Aug18.pdf
Telegram: https://t.me/neogame_tkt
Twitter: https://twitter.com/neogame11
Facebook: https://www.facebook.com/NeoGame11
Medium: https://medium.com/@neo.game1864
Authored By: teejayrichard2
Bitcointalk url: https://bitcointalk.org/index.php?action=profile;u=1265803
Wallet Address: 0x937fe2c8bd616344a9Be33fDEC04D6F15f53c20F