https://novam.ai/
About Novam
Novam is a security system for protecting global Internet of Things (IoT) devices in environments connected with connectivity, security, scalability and adaptability in mind. NOVAM operates on a bootloader level that connects IoT devices to the blockchain to ensure that the operating system and hardware are not interrupted. NOVAM not only finds anomalies but also fixes it to improve your technology-immune system, the Novam system will act without prior knowledge of threats, to monitor, identify, warn and start providing automatic immune system responses to delete, replace or quarantine threats.
NOVAM is the first Artificial Intelligence cybersecurity program that uses DLT to improve the accuracy of its health check. NOVAM uses distributed ledger technology and AI to automatically monitor and mitigate IoT threats from secure boot chains, operating systems, cellular and network applications. NOVAM also provides integrated audit compliance and regulations for threat monitoring and detection services to ensure system events are included in distributed ledgers that cannot be changed.
NOVAM intends to target large industries by creating partnerships with security vendors, hardware and software for compliance and unchanging investigations, integrating ledgers distributed in IoT devices and corporate networks for monitoring and mitigation services through the inspection of our health systems that waiting for a patent decision.
Our market focus is divided into three different categories:
Monitor IoT devices and systems
Threats of device mitigation and IoT systems
Audit and compliance for threat monitoring platforms
In essence NOVAM will monitor and reduce cyber threats Internet-of-Things (IoT) uses a combination of distributed ledger technology (DLT), artificial intelligence (AI) and system defense techniques.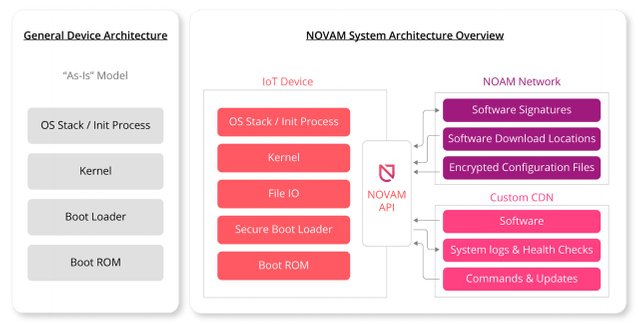 REVENUE STREAMS
We will approach the market in a collaborative and agnostic way to integrate in each category by:
White Label / OEM
Companies pay NOVAM to license and rebrand NOVAM's IP. This includes paying for custom functionality within a system.
Channel Partner
NOVAM receives % of transaction fee for being a channel partner.
NOVAM'S 5 STEP PROCESS DEVICE HEALTH CHECKS IS AS FOLLOWS:
Initiate a health check for a device. This can occur both in the boot process and during runtime, and include the entire Chain of Trust or an individual statistic like frmware, operating system or applications.
The state of a device is recorded on an enterprise specifc CDN. This can be used as an external element for future device health checks.
Subsequent health checks compare the internal and external state of a device with NOVAM stored internal and external states, signed by the vendor, to determine if the device is healthy or compromised.
When a device is considered healthy and unmodifed no mitigation occurs.
If the device is considered unhealthy and compromised, based on the system health check, autonomous mitigation will occur.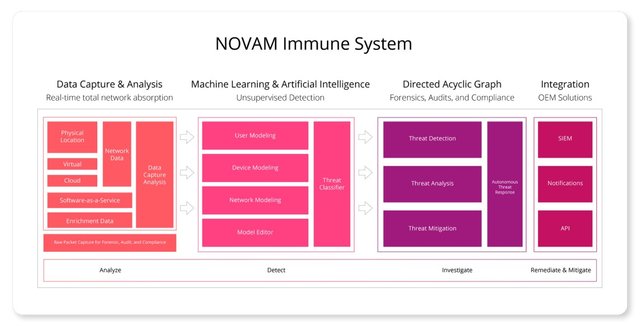 TARGET MARKET FOCUS
Due to the nature of our solutions, we can focus on markets in all industries using IoT devices now and in the future. Below is a list of general market focus with layers of integration from fortune 500 organizations to OEMs and cybersecurity firms.
Hardware Manufacturers
Root of Trust, TEEChip, OEMs
Software Firms
Operating Systems, Firmware, Applications
Fortune 500
Direct integration into security operations center
eCommerce / Digital Payments
Web/Mobile/Retail payment methods
Cybersecurity
Enterprise & consumer protection, endpoint protection & response, Threat intelligence platforms
Token and ICO Information
| Token name | : NOVAM (MNVM) |
| --- | --- |
| Platform | : Ethereum |
| Type | : ERC20 |
| Total Token Supply | : 2,000,000,000 |
| Exchange Rate | : 1 MNVM = 0.06 USD |
| Currencies Accepted | : ETH, USD |
| Starts | : December 10 (23:00 CT) |
| Ends | : January 10 (23:00 CT) |
| Soft cap | : 500,000 USD |
| Hard cap | : 2,076,923 USD |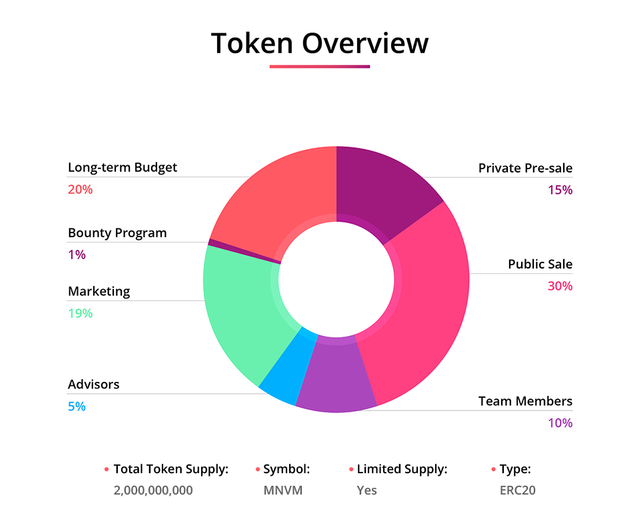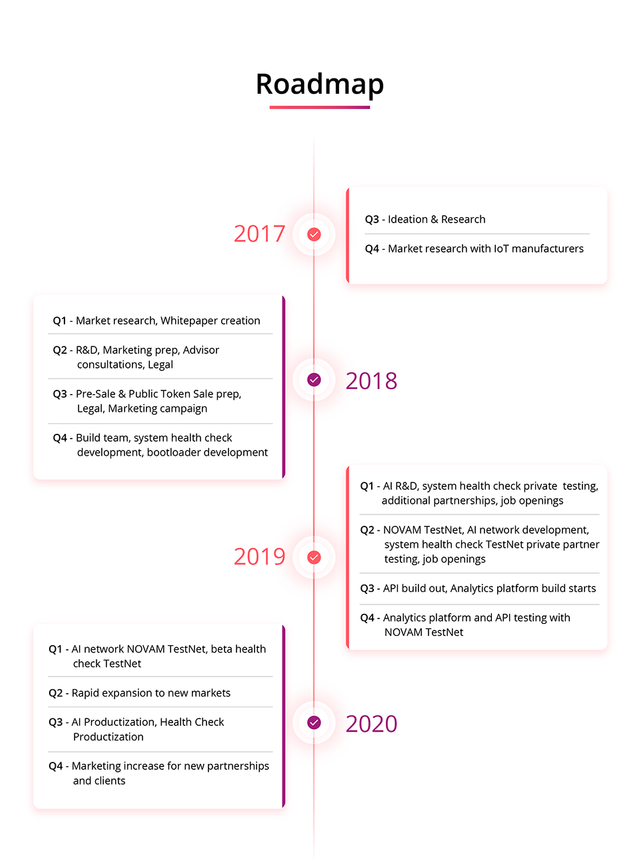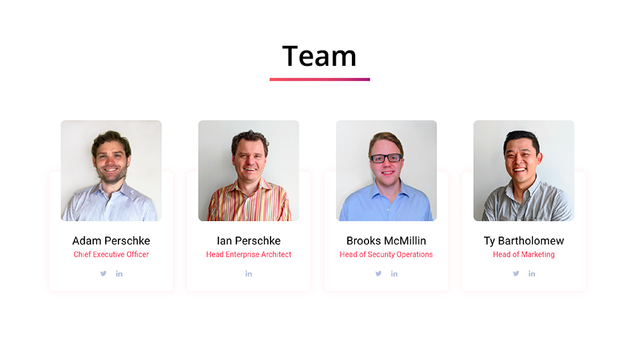 For more information about Novam visit here:
website: https://novam.ai/
twitter: https://twitter.com/NOVAMIntl
facebook: https://www.facebook.com/novamintl
linkedin: https://www.linkedin.com/company/novam-intl/
telegram: https://t.me/joinchat/JH7pGUXwY6FTmxUdm5-OHQ
reddit: https://www.reddit.com/r/novam
medium: https://medium.com/novam
Bitcointalk Profil:https://bitcointalk.org/index.php?action=profile;u=1154957
ETH Address:0xd9dAb605feF035659dfbd4238508988297AE4e51