OBIZCOIN, YOUR VIRTUAL CEO
OBIZCOIN aims to develop the world's first Smart Smart Business Process Software based on AI and Blockchain technologies. Team Obizcoin is a comprehensive expert with rich experience in the Business Process Consulting industry. These include entrepreneurs, engineers, developers, accountants, lawyers, and marketers with a record of success and profound expertise in technology, consulting, financing, management, blockchain and Artificial Intelligence.
WHAT OVER OBIZCOIN?
66% Running a business fails in less than five years. Now Obizcoin is present so it does not happen, because the obizcoin system will help all developers work more efficiently. 80% startups and SMBs fail because of inefficient business management, with a sophisticated Biz Obizcoin system that will provide better, more efficient management.80% Problems arise because internal processes do not talk to each other, this is usually caused by the lack of developer ketilitan so that the internal process is less sincron, this can be a tool of Obizcoin very efficient. 100% no efficient business processes, businesses lose the ability to identify critical flaws and predictable growth plans. With Obizcoin they will find a weak spot where it can lead to a fatal mistake for the business being run.30% of inefficient processes within an organization spend 30 percent of their income each year, this is very detrimental to the company, Obizcoin gives you a more sensible calculation to reduce unfavorable expenses.
Obizcoin is the name of the project which focuses on the Smart Process BOT Development for Robotic Process Automation used in Startups and SMEs. The BOT will help the uses to develop and improve the business automatically. The related activities will be backed by the AI and Ethereum Blockchain technology.Your Retail Coach (YRC) is the company which produces the Obizcoin. The company has been offering the business management solutions for Startups and SMEs. As mentioned, the Obizcoin helps the startups and businesses to develop the business automatization. Its scope is in the internal as well as external processes.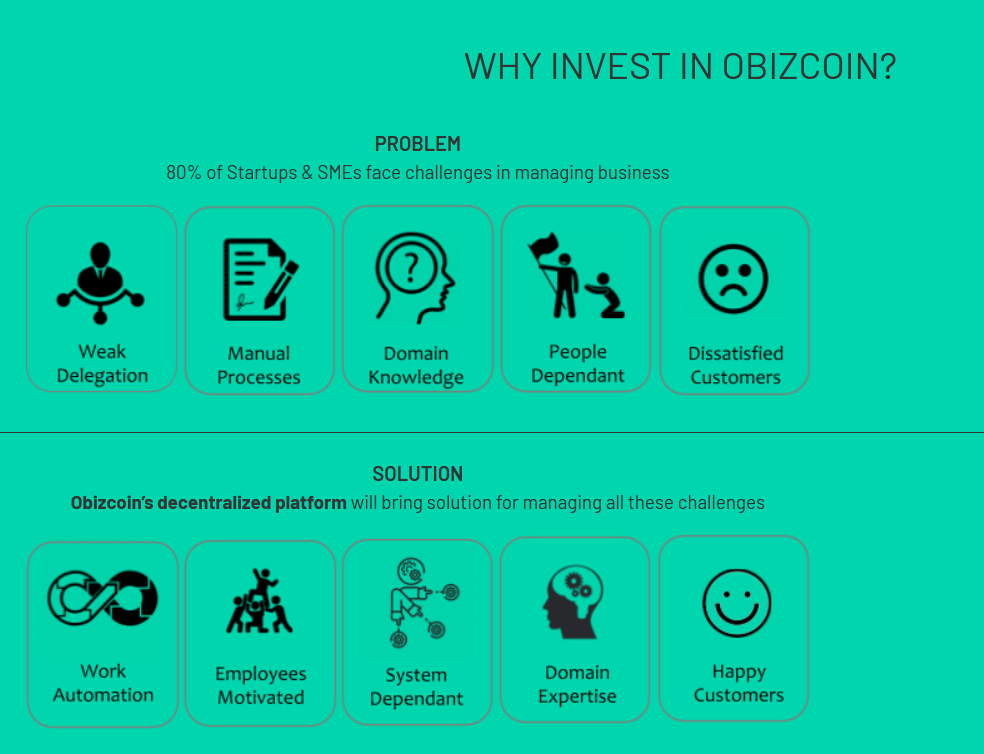 HOW TO WORK OBIZCOIN?
BOT will be able to develop and improve business processes with the help of Block AI and Ethereum technology.
A gradual upgrade in Business intelligence will make BOT smarter every day, which will ultimately improve the process of organizational excellence.
Process is a series of activities undertaken to achieve the desired result. Every activity in an organization requires a process. If you can not explain what you do as a "process", you do not know what you're doing.
Here Travel And Planning ObizCoin starting from 2013
FEATURE FEATURES WHICH COULD BE ABLE TO BE USE OBIZCOIN
TOKEN STRUCTURE
The name OBIZCOIN is derived from the phrase "business Organized"OBIZCOIN token is a token compatible ERC-20 developed in the blockade of the ethereum for compatibility with the wallet, bursa, development tools, smart contracts, exchanges and other related technological infrastructure. Obizcoin will publish OBZ Tokens through the Contract system intelligent kamiudit, made and tested to run on ecosystem Ethereum. The evidence will be given to investors as soon as the amount is deposited to the account Obizcoin.
Token Distribution Plan
OBIZCOIN has a unique token distribution plan There are total of 300 million tokens generated out of which 270 million (90%) tokens will be available for ICO participants. 30 million tokens (10%) will be reserved for promoters, advisors, employees.The rationale behind the team holding 10% of total tokens.The funds needed to accomplish BOT development will be raised through the ICO. So unnecessary holding a greater percentage of tokens by promoters will make little sense.It is important for the promoters to stay self-motivated in achieving desired results expected out of the project. 10% token holding is not a substantial holding, neither it is a negligible holding. It allows promoters to stay focused on the project and at the same time work hard on it to make it huge and successful. A greater percentage holding by promoters or employees can make them lose interest in the success offering execution of project since they already become.
BUY TOKENS
PRE-ICO
WEEK 1 ET 2:1 = & 11,000 OBZ
WEEKS 3 to 6:1 ETH = 10,000 OBZ
ICO
WEEK 1 & 2:1 ETH = 9000 OBZ
WEEK 3:1 ETH = 8000 OBZ
WEEK 4:1 ETH = 7000 OBZ
WEEK 5 & 6:1 ETH = 6000 OBZ
STAGES OF DEVELOPMENT OF THE BOT:
PHASE I
Business Intelligence
Setting The Database
Coding logic BOOTS
Data mapping knowledge domain
Enter data
Output data
Mapped data validation
PHASE II
BOT Framework portal
Machine learning Studio
Graph of knowledge
Setup language processing
Platform blockchain
STAGE III
The Configuration API
Testing with BETA users
Configuration with device IOT
More information visit here:
Website: https://www.obizcoin.io
Twitter: https://twitter.com/obizcoin?lang=en
Facebook: https://www.facebook.com/obizcoin/
Telegram: https://t.me/obizcoinnetwork
whitepaper (pdf): http://www.obizcoin.io/images/Obizcoin-Whitepaper.pdf
profile: https://bitcointalk.org/index.php?action=profile;u=1075518
ETH: 0x88A7F22E3170cC2fE934B7087f9944ff410e3bfc