ODEM. UNLOCKING THE ACCESSIBILITY AND AFFORDABILITY TO HIGHER EDUCATION.
Education is a global industry. However, getting access to higher education has become increasingly unaffordable to most people over recent years. Matters become even worst when one tries to have access to higher education that is not within the confines of their native country. Tuition fees continues to increase exponentially as the years increases in number too. Rising tuition costs and disadvantages of geography also complicate the process. For students committed to lifelong learning, a lack of customizable options inhibits their ability to update their knowledge as their careers evolve. Additionally, access to the best educators is controlled and the cost inflated by the institutions who employ them. The emergence of online teaching systems has drawn attention to the limits of what students can get from the online education experience. Although online teaching may solve the educational desire of some people, social and geographical context is lost in the world of online education.


THE ODEM SOLUTION TO THIS PROBLEM
ODEM is a technology platform that will enable students to have the ability to make contact and have access to education as smoothly as possible. Using the power of blockchain technology and its smart contract-based payment platform, ODEM will enable students and professors to interact directly and participate in the exchange of education and learning, without the involvement of intermediaries. The goal of ODEM is to make quality education more accessible and affordable to a broader audience. ODEM and it's secure, blockchain-based platform allows students to seamlessly interact with educators and to seize opportunities to access custom-designed courses and education programs. Students can use ODEM to search for curriculum that meets their needs.
The education industry faces many challenges which ODEM seeks to solve by providing the following;
Access to both local and international onsite, and in-person educational experiences. While ODEM can provide any type of learning experience, the program emphasizes on-the-ground education at elite institutions around the globe.
A single education community in which students, educators and service providers can communicate and participate directly in a secure environment.
A more efficient way of sharing and understanding educational requirements, goals and details to meet the rapidly changing workforce and the globalization of students and educators
A single, real-time system of negotiation, curriculum description and payments on an agreed-upon schedule.
An integrated academic and curriculum schedule builder with details available to all participants to ensure development of educational programs that are clearly laid out and agreed upon by all parties.
Capacity to perform back-and-forth language translation at all levels of education procurement to ensure that important nuances in program requests are not lost in translation.
ODEM TECHNOLOGY PLATFORM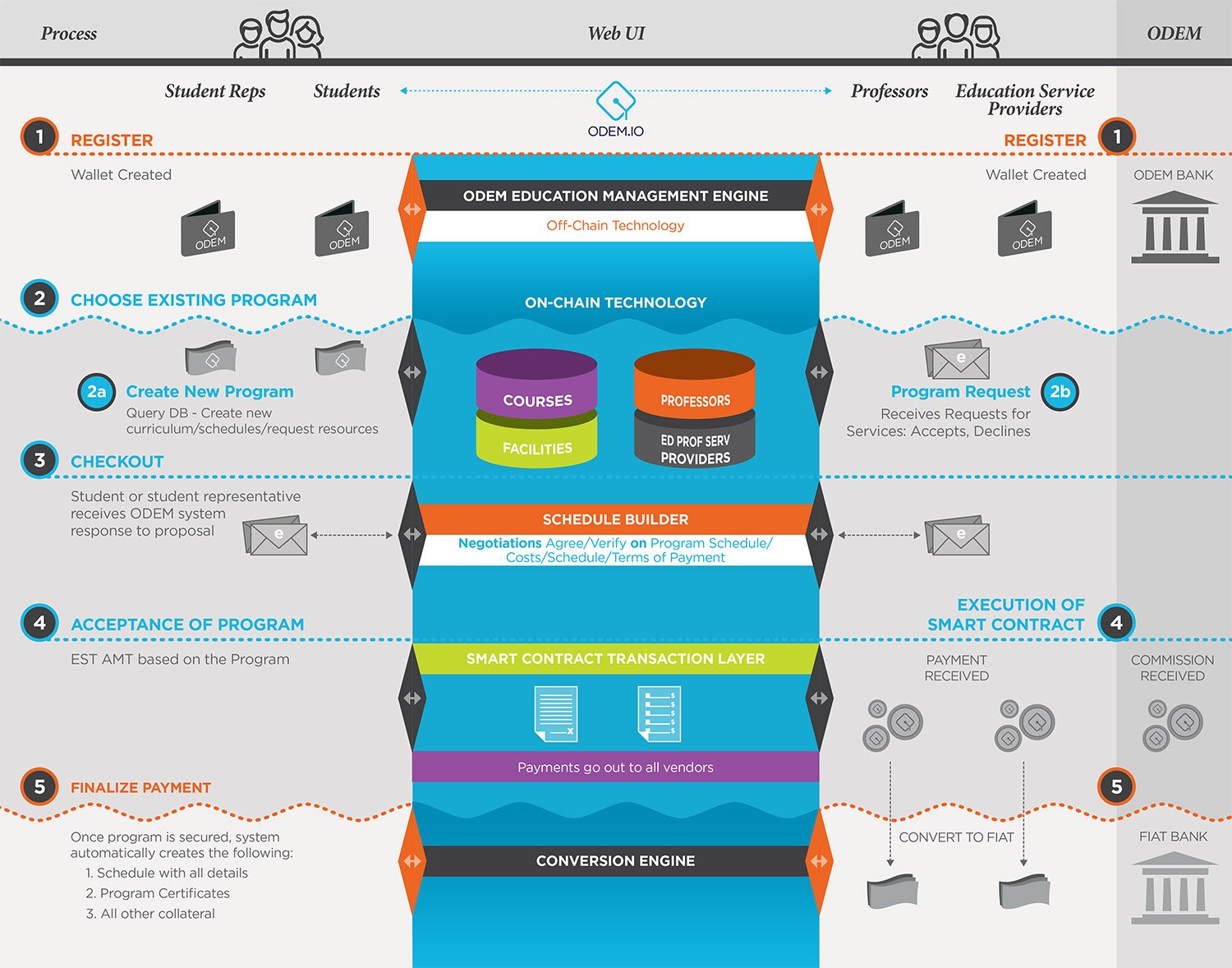 The ODEM online platform is been created In direct response to the challenges faced by industry veteran and Excelorators that will provide for direct, transparent creation, negotiation and delivery of education programs that satisfy the changing needs of global students. The platform works in conjunction with an inclusive and decentralized payment system for secure transactions. The ODEM model will create an integrated platform where all types of students and student representatives can create and request services for education programs. Educators and educational service providers can receive requests for program fulfillment and delivery services all through a frictionless, smart contract.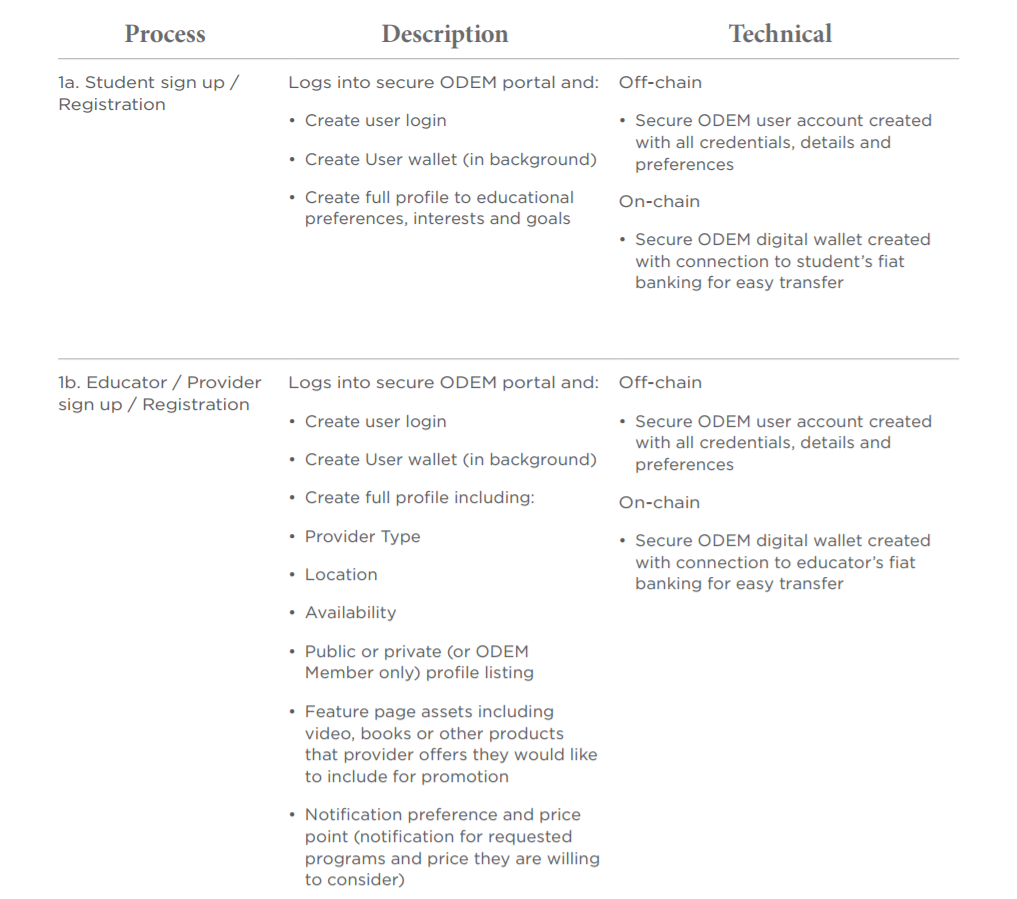 This is a Switzerland-based company, and they are producing an on-demand education marketplace. As a professor at a university, I know how expensive formal education can be. This is not the fault of the universities, as they have to pay faculty salaries, pay for electricity, water, heating and other utilities, in addition to upkeep of flashy buildings and all other services students do not see. Most of them run research and that is the most expensive thing on the menu. Many students want to be lectured by a professor who runs his own research and thus, experienced in the matter, not just a memorizing parrot. However, this makes the access to education real hard.
Here is a video explaining what it is using cartoons:
In addition, once the student graduates from school, the world and its needs probably changes and the students need to keep learning new skills. This cannot be happening as the faculty is chained to the old world type schools and buildings. This new program is creating a marketplace where educators can freely market their teaching skills and their experience. The students can gain the experience based on their interests. This is similar to buying a whole CD (old school) versus buying individual songs from an app store, like the mp3 made for the music industry. Let's say a student wants to work on strategy games that involve history, like the age of empires or age of kings. He/she can take a relevant history class and take several programming classes relevant to writing gaming code. Then he can work as a freelancer for fiat money or for cryptocurrencies or assets. If you remove flashy buildings, intermediaries, admission fees and other things that belong to the old world, the education will be a heck a lot cheaper. This will spread education to more people and will make for a better world.
This system will be on the blockchain and will use smart contracts. This means that there can be no cheating, and everything will be recorded on an immutable public ledger. The system will use ODEM token to pay the faculty and the students will receive a certificate at the end of their education. Because the certificate will be added to the blockchain, there can be no faking in diplomas, and the professors can gain a reputation and visibility. The students can look at this and decide if they want to take a course from this specific professor. This will make the best professors in the world visible because it will be possible to choose from all professors in the world, as opposed to what you have locally. Ask any customer, and they will want the best, they want it now, and they want it for the lowest price. This type of "pay what you buy" and choose the best and the brightest from the World policy provides just that. It is not a vegetable or fruit you want to taste locally, it is a learning process!
Their team is great, made up of Harvard University Faculty, Hamburg University Faculty, and other very high quality scientists. Here is a link to the team:
https://odem.io/#team