ODEM. UNLOCKING THE ACCESSIBILITY AND AFFORDABILITY TO HIGHER EDUCATION.
Education is a global industry. However, getting access to higher education has become increasingly unaffordable to most people over recent years. Matters become even worst when one tries to have access to higher education that is not within the confines of their native country. Tuition fees continues to increase exponentially as the years increases in number too. Rising tuition costs and disadvantages of geography also complicate the process. For students committed to lifelong learning, a lack of customizable options inhibits their ability to update their knowledge as their careers evolve. Additionally, access to the best educators is controlled and the cost inflated by the institutions who employ them. The emergence of online teaching systems has drawn attention to the limits of what students can get from the online education experience. Although online teaching may solve the educational desire of some people, social and geographical context is lost in the world of online education.
THE ODEM SOLUTION TO THIS PROBLEM
ODEM is a technology platform that will enable students to have the ability to make contact and have access to education as smoothly as possible. Using the power of blockchain technology and its smart contract-based payment platform, ODEM will enable students and professors to interact directly and participate in the exchange of education and learning, without the involvement of intermediaries. The goal of ODEM is to make quality education more accessible and affordable to a broader audience. ODEM and it's secure, blockchain-based platform allows students to seamlessly interact with educators and to seize opportunities to access custom-designed courses and education programs. Students can use ODEM to search for curriculum that meets their needs.
The education industry faces many challenges which ODEM seeks to solve by providing the following;
Access to both local and international onsite, and in-person educational experiences. While ODEM can provide any type of learning experience, the program emphasizes on-the-ground education at elite institutions around the globe.
A single education community in which students, educators and service providers can communicate and participate directly in a secure environment.
A more efficient way of sharing and understanding educational requirements, goals and details to meet the rapidly changing workforce and the globalization of students and educators
A single, real-time system of negotiation, curriculum description and payments on an agreed-upon schedule.
An integrated academic and curriculum schedule builder with details available to all participants to ensure development of educational programs that are clearly laid out and agreed upon by all parties.
Capacity to perform back-and-forth language translation at all levels of education procurement to ensure that important nuances in program requests are not lost in translation.
ODEM TECHNOLOGY PLATFORM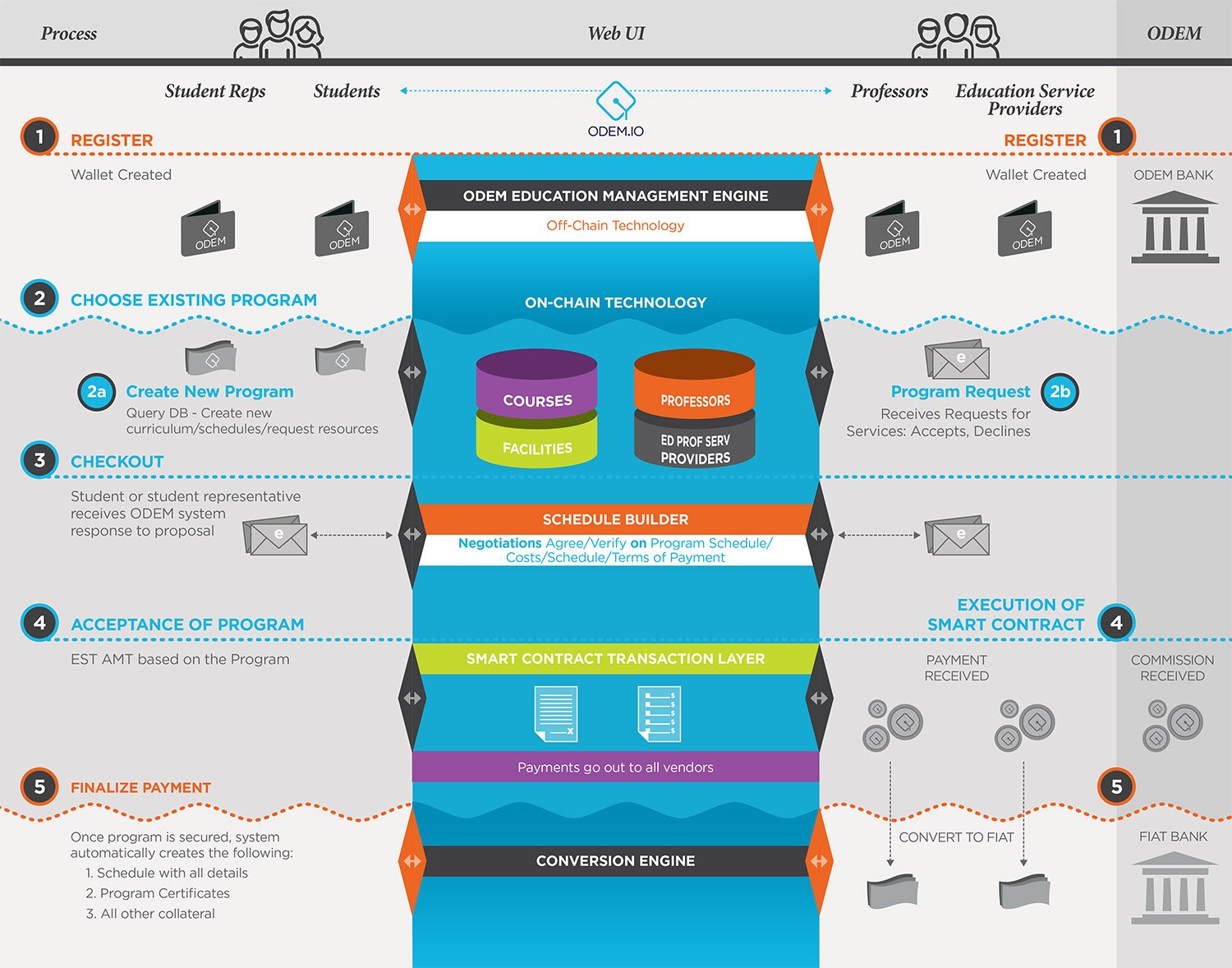 The ODEM online platform is been created In direct response to the challenges faced by industry veteran and Excelorators that will provide for direct, transparent creation, negotiation and delivery of education programs that satisfy the changing needs of global students. The platform works in conjunction with an inclusive and decentralized payment system for secure transactions. The ODEM model will create an integrated platform where all types of students and student representatives can create and request services for education programs. Educators and educational service providers can receive requests for program fulfillment and delivery services all through a frictionless, smart contract.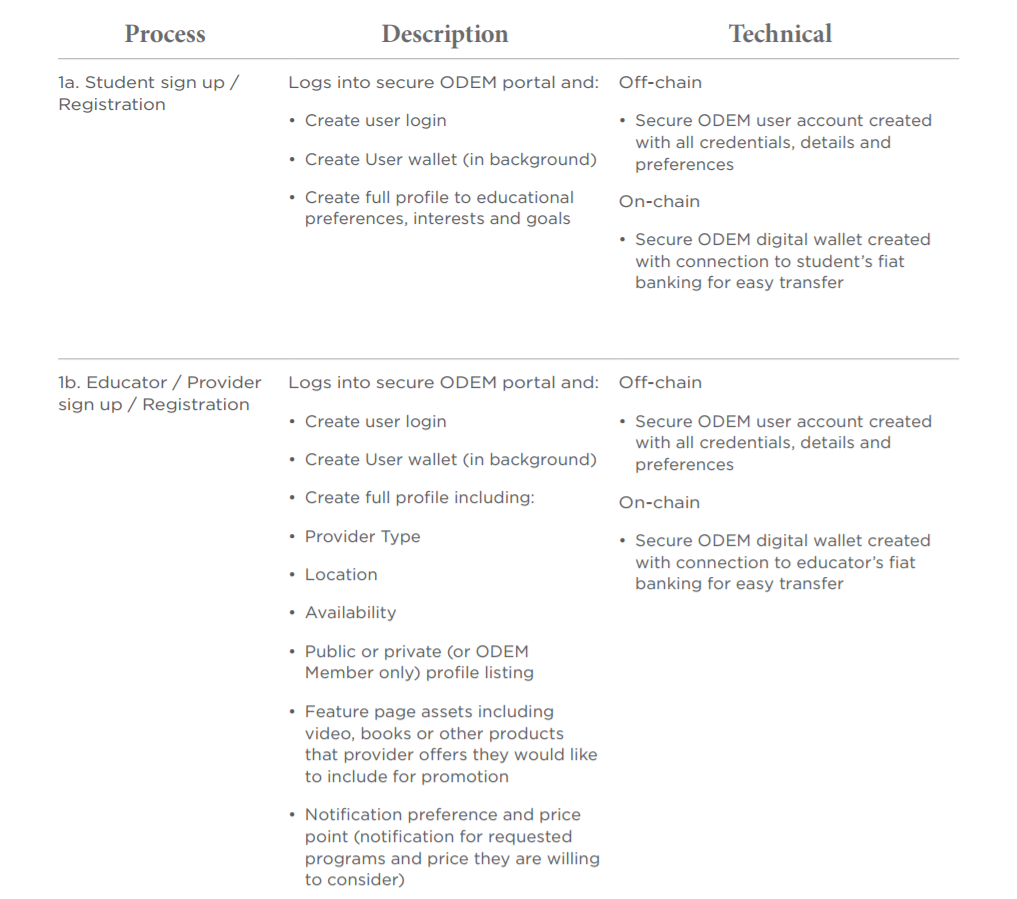 ODEM AS AN EDUCATION MARKETPLACE
ODEM is a comprehensive platform that allows students, educators and service providers in the education industry to participate in a direct, decentralized, real-time marketplace. It empowers participants to search, select and purchase existing educational products as well as create, request and negotiate customized education experiences in person and online. Unlike online education providers like Coursera and Khan Academy, the ODEM platform focuses on creating real-time, in-person educational programs. Because of this, the ODEM platform is designed to accommodate not only the delivery of a single course, but also the accompanying services and scheduling that are included in accommodating a group of students traveling to a location for one day, a month or even a year. Since the majority of our current offerings are onsite educational experiences, we have built an off-blockchain capability to manage a range of tasks, including the negotiation of costs, the securing of service providers and the creation of student certificates.
Participating in the ODEM platform is based on users providing their pre-approval criteria; unlike a platform merely matching buyer and seller, like AirBnB, the ODEM platform aligns many parties to achieve an advanced "match" where all parties' requirements must be matched precisely as they have already accepted valid service engagements in the manner of AirBnB's automatic acceptance booking feature. The fundamental limitation in ecosystem level optimization is the ability to account for the needs and restrictions of all parties concurrently; thankfully, advances in machine learning and optimization techniques make this a solvable problem and blockchain allows it the necessary contract automation to facilitate coordinated execution.
In the case of the ODEM platform, the use of the public Ethereum network ensures the system is trusted as access to the platform and periodic hashes of the the state of the platform are broadcast on the public network. At this time, ODEM token functionality is considered sufficiently complex for the team to prefer the Turing Complete EVM over the use of Stellar for the public token. Nonetheless, use of the Ethereum Network will be kept to a minimum to avoid excess transactions costs on ODEM.
On the ODEM platform, Ethereum based smart contracts will ensure the services are accessed in a "trustless" manner. "Trustless" does not mean that they can't be trusted, but instead the necessity to trust each other is not required. At a practical level, this means that a student can buy services from service providers sitting on the other side of the globe, without ever meeting them and without knowing whether they are an honest service provider. Payment of educational services on the ODEM platform will be made via an inherent cryptocurrency, an ERC 20 token, namely the ODEM Token (ODEMT). This feature allows for a common denominator that provides low-cost transfers of value, as well as fast and secure financial transactions on the platform. Inside the ODEM platform, suppliers will be incentivized to join the platform through free initial tokens allocated from the ODEM Rewards token distributions. Once suppliers sign up and create profiles, they must adhere to the supplier fee structures.
Risks of ODEM
Acquiring ODEMT and storing them involves various risks, in particular the risk that the ODEM platform may not be able to launch its operations and develop its blockchain and provide the services promised. Therefore, and prior to acquiring ODEMTs, any user should carefully consider the risks, costs and benefits of acquiring ODEMT in the context of the crowdsale and, if necessary, obtain any independent advice in this regard. Any interested person who is not in the position to accept or to understand the risks associated with the activity (incl. the risks related to the non-development of the ODEM platform) or any other risks as indicated in the Terms & Conditions of the crowdsale should not acquire ODEMTs.
ODEMTs will not be listed on any regulated stock exchange, such as SIX Swiss Exchange, or SIX. These Terms have been prepared without regard to the legal standards for prospectuses under art. 1156 or art. 652a of the Swiss Code of Obligations or the legal standards for facilitated prospectuses under art. 5 of the Collective Investment Schemes Act ("CISA") or art. 27 ff. of the SIX Listing Rules or the listing rules of any other stock exchange in Switzerland. Neither these Terms nor any other material relating to the Offer, ODEM SA , the ODEM platform or ODEMTs will be or have been filed with or approved by any Swiss regulatory authority. Specifically, these Terms will not be filed with, and the Offer of ODEMTs will not be supervised by, the Swiss Financial Market Supervisory Authority FINMA (FINMA). Furthermore, the Offer of ODEMTs has not been and will not be authorized under the CISA. Thus, the protection which is given to purchasers of interests or units in collective investment schemes under the CISA does not extend to purchasers of ODEMTs.
Website: https://odem.io/
Whitepaper: http://odem.io/docs/whitepaper/ODEM.IO-Whitepaper.pdf
My BitcoinTalk Profile:https://bitcointalk.org/index.php?action=profile;u=1428239