ODEM. UNLOCKING THE ACCESSIBILITY AND AFFORDABILITY TO HIGHER EDUCATION.
Education is a global industry. However, getting access to higher education has become increasingly unaffordable to most people over recent years. Matters become even worst when one tries to have access to higher education that is not within the confines of their native country. Tuition fees continues to increase exponentially as the years increases in number too. Rising tuition costs and disadvantages of geography also complicate the process. For students committed to lifelong learning, a lack of customizable options inhibits their ability to update their knowledge as their careers evolve. Additionally, access to the best educators is controlled and the cost inflated by the institutions who employ them. The emergence of online teaching systems has drawn attention to the limits of what students can get from the online education experience. Although online teaching may solve the educational desire of some people, social and geographical context is lost in the world of online education.
THE ODEM SOLUTION TO THIS PROBLEM
ODEM is a technology platform that will enable students to have the ability to make contact and have access to education as smoothly as possible. Using the power of blockchain technology and its smart contract-based payment platform, ODEM will enable students and professors to interact directly and participate in the exchange of education and learning, without the involvement of intermediaries. The goal of ODEM is to make quality education more accessible and affordable to a broader audience. ODEM and it's secure, blockchain-based platform allows students to seamlessly interact with educators and to seize opportunities to access custom-designed courses and education programs. Students can use ODEM to search for curriculum that meets their needs.
The education industry faces many challenges which ODEM seeks to solve by providing the following;
Access to both local and international onsite, and in-person educational experiences. While ODEM can provide any type of learning experience, the program emphasizes on-the-ground education at elite institutions around the globe.
A single education community in which students, educators and service providers can communicate and participate directly in a secure environment.
A more efficient way of sharing and understanding educational requirements, goals and details to meet the rapidly changing workforce and the globalization of students and educators
A single, real-time system of negotiation, curriculum description and payments on an agreed-upon schedule.
An integrated academic and curriculum schedule builder with details available to all participants to ensure development of educational programs that are clearly laid out and agreed upon by all parties.
Capacity to perform back-and-forth language translation at all levels of education procurement to ensure that important nuances in program requests are not lost in translation.
ODEM TECHNOLOGY PLATFORM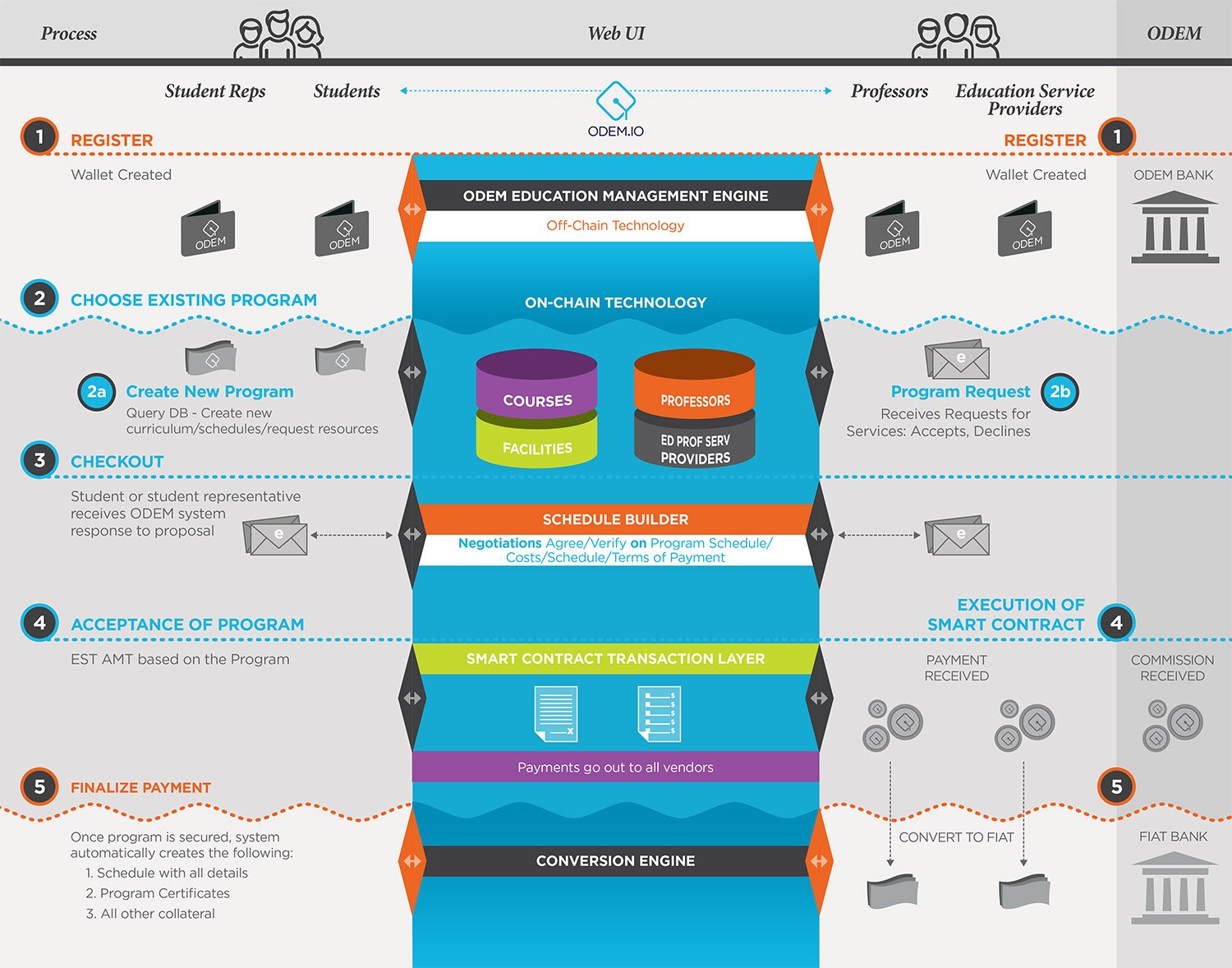 The ODEM online platform is been created In direct response to the challenges faced by industry veteran and Excelorators that will provide for direct, transparent creation, negotiation and delivery of education programs that satisfy the changing needs of global students. The platform works in conjunction with an inclusive and decentralized payment system for secure transactions. The ODEM model will create an integrated platform where all types of students and student representatives can create and request services for education programs. Educators and educational service providers can receive requests for program fulfillment and delivery services all through a frictionless, smart contract.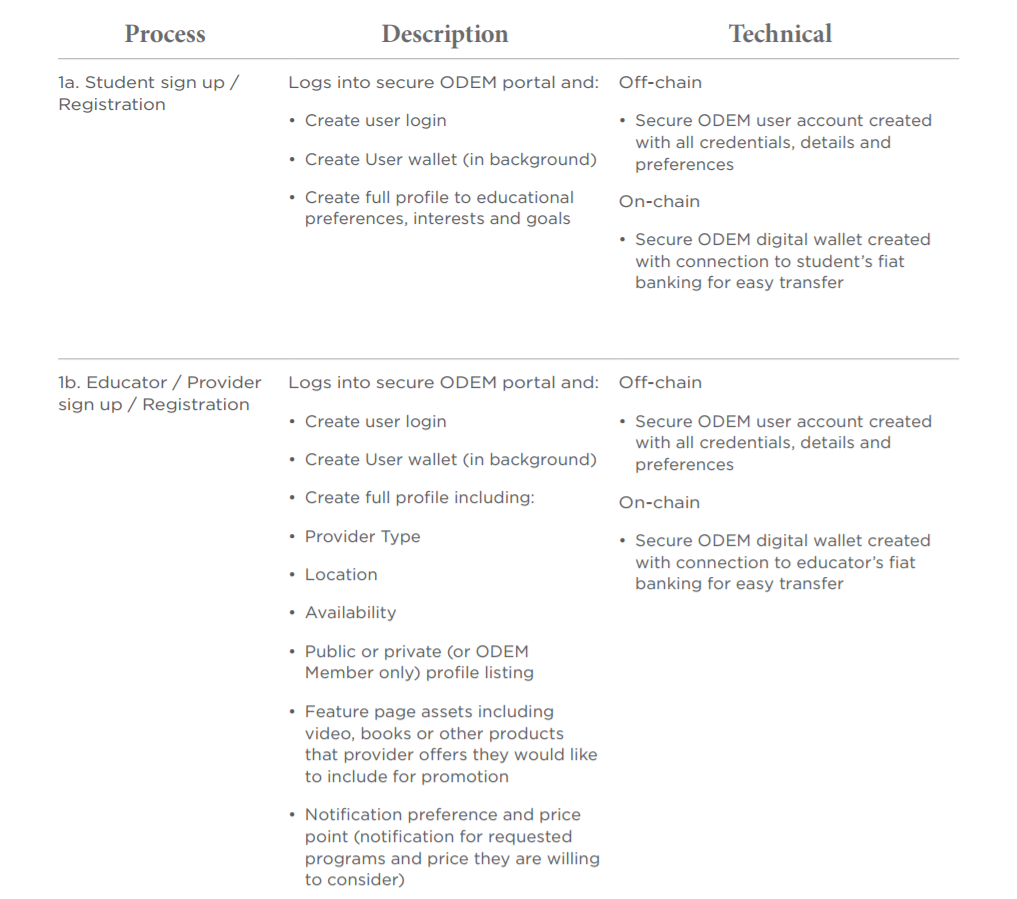 Het ODEM-team liet zich inspireren door het succes van in de VS gevestigde Excelorators, een vooraanstaande leverancier van onderwijsdiensten aan buitenlandse studenten, leidinggevenden en managers die blootstelling zoeken aan de Amerikaanse elite-onderwijsinstellingen en bedrijfscampussen. Op basis van deze stelling stelt ODEM een nieuwe industriestandaard van tevredenheid vast door een revolutie teweeg te brengen in de kwaliteit en toegankelijkheid van hoogwaardige educatieve ervaringen. Excelorators zullen de exclusieve grondaanbieder zijn van ODEM-onderwijsprogramma's in de Verenigde Staten.Studenten en docenten van Excelorators testen en testen ODEM en vormen de basis voor massale acceptatie. Of het nu gaat om een ​​eendaagse lezing of een uitgebreider trainingsevenement van een week, het ODEM-platform verbindt studenten en docenten met een cursusaanbod voor elk prijsniveau overal ter wereld. En met een groeiende gebruikersgemeenschap zal het ODEM-platform de ideale manier zijn om op maat gemaakte opleidingen en trainingen op een grensoverschrijdend niveau te kopen of verkopen.
ODEM wordt mogelijk gemaakt door een reeks programma's die worden ingezet op de Ethereum-blockchain. Gebruik van Ethereum zorgt voor transparantie en betaalgemak
Deelname aan het ODEM-platform is gebaseerd op gebruikers die hun criteria voor voorafgaande goedkeuring goedkeuren; in tegenstelling tot een platform dat alleen overeenkomt met koper en verkoper, zoals AirBnB, brengt het ODEM-platform veel partijen op één lijn om een ​​geavanceerde "match" te bereiken, precies zoals ze al geldige serviceverlening hebben geaccepteerd op de manier van automatische acceptatie door AirBnBvoorzien zijn van. De fundamentele beperking bij optimalisatie van ecosysteemniveau is het vermogen om rekening te houden met de behoeften en beperkingen van alle partijen tegelijk;Gelukkig maken vooruitgang in machine learning en optimalisatietechnieken dit een oplosbaar probleem en maakt blockchain het mogelijk de vereiste contractautomatisering om gecoördineerde uitvoering te vergemakkelijken.
In het geval van het ODEM-platform garandeert het gebruik van het openbare Ethereum-netwerk dat het systeem wordt vertrouwd, aangezien toegang tot het platform en periodieke hashes van de staat van het platform worden uitgezonden op het openbare netwerk. Op dit moment wordt ODEM-tokenfunctionaliteit als voldoende complex beschouwd voor het team om de Turing Complete EVM te verkiezen boven het gebruik van Stellar voor het openbare token. Niettemin wordt het gebruik van het Ethereum-netwerk tot een minimum beperkt om te hoge transactiekosten op ODEM te vermijden.
Op het ODEM-platform zorgen op Ethereum gebaseerde slimme contracten ervoor dat de services op een "betrouwbare" manier worden benaderd. "Vertrouwensloos" betekent niet dat ze niet kunnen worden vertrouwd, maar dat de noodzaak om elkaar te vertrouwen niet vereist is. Op praktisch niveau betekent dit dat een student diensten van dienstverleners aan de andere kant van de wereld kan kopen zonder ze ooit te ontmoeten en zonder te weten of ze een eerlijke dienstverlener zijn. Betaling van educatieve services op het ODEM-platform zal worden gedaan via een inherente cryptocurrency, een ERC 20-token, namelijk de ODEM-token (ODEMT). Deze functie maakt een gemeenschappelijke noemer mogelijk die goedkope waardeoverdrachten en snelle en veilige financiële transacties op het platform biedt. Binnen het ODEM-platform zullen leveranciers worden gestimuleerd om zich bij het platform aan te sluiten door middel van gratis initiële tokens toegewezen uit de ODEM Rewards-tokenverdelingen. Zodra leveranciers zich aanmelden en profielen maken, moeten ze zich houden aan de constructies voor leverancierskosten.
Risico's van ODEM
Het verkrijgen van ODEMT en het opslaan ervan omvat verschillende risico's, in het bijzonder het risico dat het ODEM-platform zijn activiteiten mogelijk niet kan lanceren en zijn blockchain kan ontwikkelen en de beloofde services kan leveren. Daarom, en voorafgaand aan het verwerven van ODEMT's, moet elke gebruiker de risico's, kosten en voordelen van het verwerven van ODEMT in de context van de crowdsale zorgvuldig overwegen en, indien nodig, onafhankelijk advies inwinnen in dit verband. Elke geïnteresseerde persoon die niet in staat is om de risico's verbonden aan de activiteit te accepteren of te begrijpen (inclusief de risico's verbonden aan de niet-ontwikkeling van het ODEM-platform) of andere risico's zoals aangegeven in de Algemene Voorwaarden van de crowdsale mag geen ODEMT's aanschaffen.
Website: https://odem.io/
Whitepaper: http://odem.io/docs/whitepaper/ODEM.IO-Whitepaper.pdf
My BitcoinTalk Profile:https://bitcointalk.org/index.php?action=profile;u=962889