ODEM. UNLOCKING THE ACCESSIBILITY AND AFFORDABILITY TO HIGHER EDUCATION.
Education is a global industry. However, getting access to higher education has become increasingly unaffordable to most people over recent years. Matters become even worst when one tries to have access to higher education that is not within the confines of their native country. Tuition fees continues to increase exponentially as the years increases in number too. Rising tuition costs and disadvantages of geography also complicate the process. For students committed to lifelong learning, a lack of customizable options inhibits their ability to update their knowledge as their careers evolve. Additionally, access to the best educators is controlled and the cost inflated by the institutions who employ them. The emergence of online teaching systems has drawn attention to the limits of what students can get from the online education experience. Although online teaching may solve the educational desire of some people, social and geographical context is lost in the world of online education.


THE ODEM SOLUTION TO THIS PROBLEM
ODEM is a technology platform that will enable students to have the ability to make contact and have access to education as smoothly as possible. Using the power of blockchain technology and its smart contract-based payment platform, ODEM will enable students and professors to interact directly and participate in the exchange of education and learning, without the involvement of intermediaries. The goal of ODEM is to make quality education more accessible and affordable to a broader audience. ODEM and it's secure, blockchain-based platform allows students to seamlessly interact with educators and to seize opportunities to access custom-designed courses and education programs. Students can use ODEM to search for curriculum that meets their needs.
The education industry faces many challenges which ODEM seeks to solve by providing the following;
Access to both local and international onsite, and in-person educational experiences. While ODEM can provide any type of learning experience, the program emphasizes on-the-ground education at elite institutions around the globe.
A single education community in which students, educators and service providers can communicate and participate directly in a secure environment.
A more efficient way of sharing and understanding educational requirements, goals and details to meet the rapidly changing workforce and the globalization of students and educators
A single, real-time system of negotiation, curriculum description and payments on an agreed-upon schedule.
An integrated academic and curriculum schedule builder with details available to all participants to ensure development of educational programs that are clearly laid out and agreed upon by all parties.
Capacity to perform back-and-forth language translation at all levels of education procurement to ensure that important nuances in program requests are not lost in translation.
ODEM TECHNOLOGY PLATFORM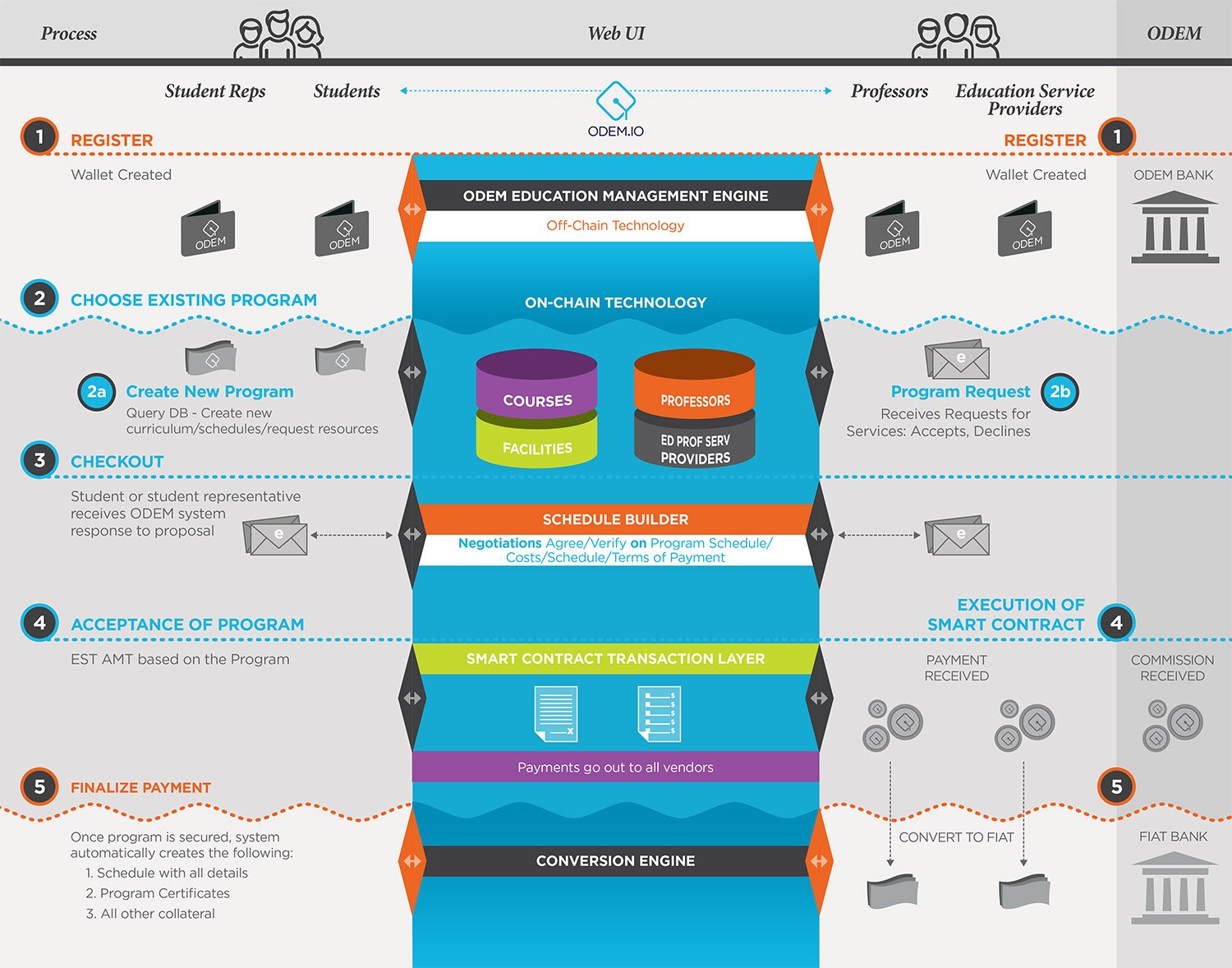 The ODEM online platform is been created In direct response to the challenges faced by industry veteran and Excelorators that will provide for direct, transparent creation, negotiation and delivery of education programs that satisfy the changing needs of global students. The platform works in conjunction with an inclusive and decentralized payment system for secure transactions. The ODEM model will create an integrated platform where all types of students and student representatives can create and request services for education programs. Educators and educational service providers can receive requests for program fulfillment and delivery services all through a frictionless, smart contract.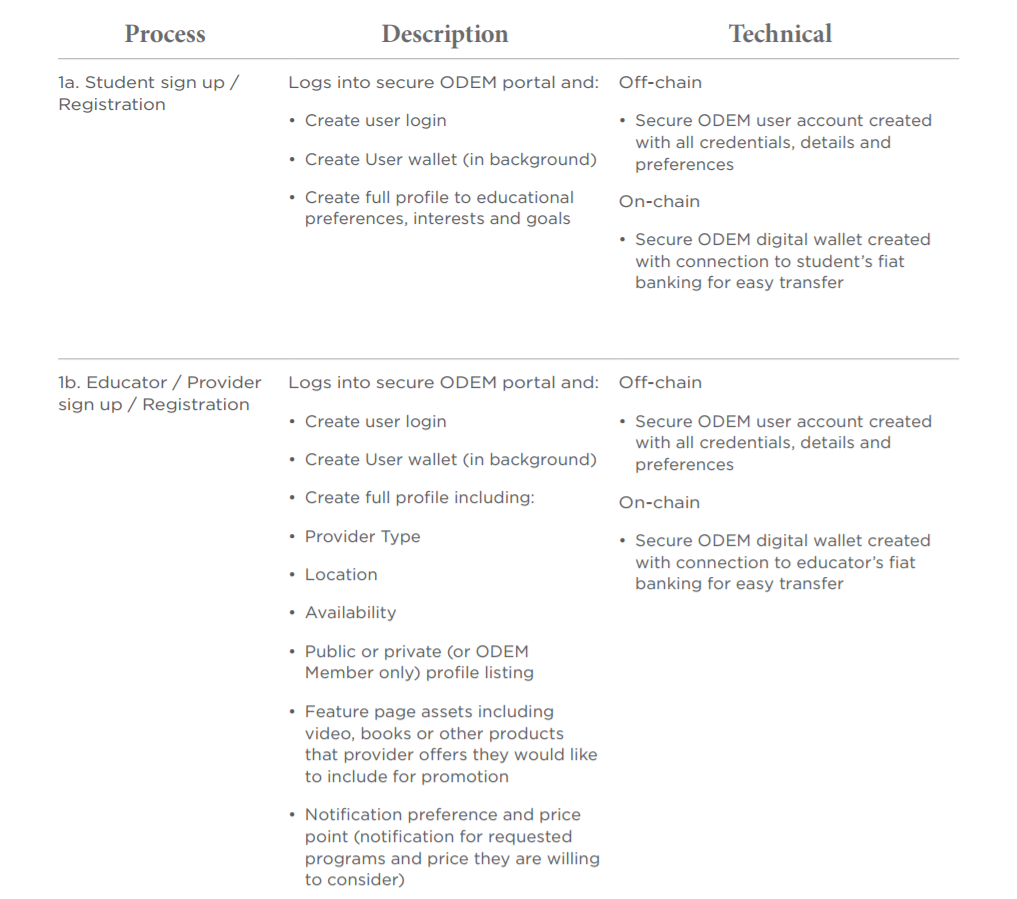 ODEM AS AN EDUCATION MARKETPLACE
ODEM is a comprehensive platform that allows students, educators and service providers in the education industry to participate in a direct, decentralized, real-time marketplace. It empowers participants to search, select and purchase existing educational products as well as create, request and negotiate customized education experiences in person and online. Unlike online education providers like Coursera and Khan Academy, the ODEM platform focuses on creating real-time, in-person educational programs. Because of this, the ODEM platform is designed to accommodate not only the delivery of a single course, but also the accompanying services and scheduling that are included in accommodating a group of students traveling to a location for one day, a month or even a year. Since the majority of our current offerings are onsite educational experiences, we have built an off-blockchain capability to manage a range of tasks, including the negotiation of costs, the securing of service providers and the creation of student certificates.
HOW ODEM WORKS
Whether for a one-day lecture or a more extensive week-long training event, the ODEM platform connects students and educators with course offerings at any price point anywhere around the world. And with a growing community of users, ODEM platform will be the ideal way to buy or sell customized education and training courses at a cross border level. ODEM will be powered by a set of programs deployed on the Ethereum blockchain. Use of Ethereum will provide transparency and ease of payment. Users will login onto the platform, decide which services to purchase, and the record of such purchase is stored onto the blockchain. Functions and activities performed prior to purchase, like searching for or adding new curriculum will be handled by the off-chain platform.
Het verkrijgen van ODEMT en het opslaan ervan omvat verschillende risico's, in het bijzonder het risico dat het ODEM-platform zijn activiteiten mogelijk niet kan lanceren en zijn blockchain kan ontwikkelen en de beloofde services kan leveren. Daarom, en voorafgaand aan het verwerven van ODEMT's, moet elke gebruiker de risico's, kosten en voordelen van het verwerven van ODEMT in de context van de crowdsale zorgvuldig overwegen en, indien nodig, onafhankelijk advies inwinnen in dit verband. Elke geïnteresseerde persoon die niet in staat is om de risico's verbonden aan de activiteit te accepteren of te begrijpen (inclusief de risico's verbonden aan de niet-ontwikkeling van het ODEM-platform) of andere risico's zoals aangegeven in de Algemene Voorwaarden van de crowdsale mag geen ODEMT's aanschaffen.
ODEMT's worden niet genoteerd op een gereglementeerde effectenbeurs, zoals SIX Swiss Exchange of SIX. Deze voorwaarden zijn opgesteld zonder rekening te houden met de wettelijke normen voor prospectussen onder art. 1156 of art. 652a van de Zwitserse Code of Obligations of de wettelijke normen voor gefaciliteerde prospectussen onder art. 5 van de Collective Investment Schemes Act ("CISA") of art. 27 ff. van de SIX Listing Rules of de listingregels van een andere beurs in Zwitserland. Noch deze Voorwaarden noch enig ander materiaal met betrekking tot de Aanbieding, ODEM SA, het ODEM-platform of ODEMT's zullen worden of zijn ingediend bij of zijn goedgekeurd door enige Zwitserse regelgevende instantie.Meer in het bijzonder zullen deze Voorwaarden niet worden ingediend bij, en het Aanbod van ODEMT's zal niet worden gecontroleerd door de Zwitserse Financial Market Supervisory Authority FINMA (FINMA). Bovendien is het aanbod van ODEMT's niet en zal niet worden toegestaan ​​onder de CISA. De bescherming die wordt geboden aan kopers van belangen of rechten van deelneming in instellingen voor collectieve belegging onder de SUO, geldt dus niet voor kopers van ODEMT's.