Oniz Token Review: Use Cases of Oniz Platform
If you are interested in joining the project, your ONIZ should read information that will help you get information that can help you see your vision and mission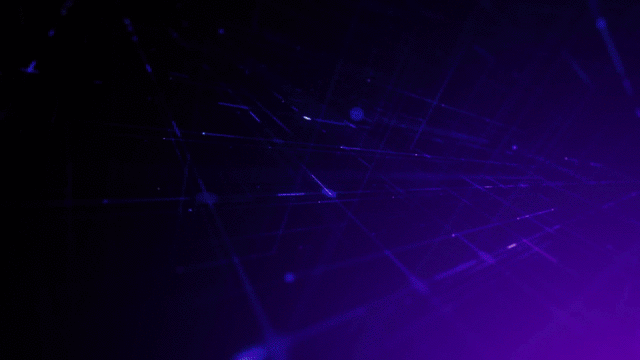 Introduction
Oniz Platform is a decentralized marketplace for investors and startups, enabling developers to raise capital and other funds for their projects and to allow investors make profitable investments from brand new projects coming up on the Oniz Platform.
The benefits of the Oniz Funds platform is enormous and ranges across many ecosystems. The Oniz Infrastructure spans across different and linked ecosystems, including Online Games, Sports Bet, Online Casino, Money Game MLM, E-banking Projects and a host of others.
With the Oniz Funds Platform, participants can have access to 85% bonus for playing in the Sbobet Gaming platform, with up to 70% mortgage ability. Sbobet is an AI Powered betting platform that partnered with Oniz, allowing participants of Oniz to analyze and bet on sporting activities, earning more from bets and having a higher percentage of winning rewards.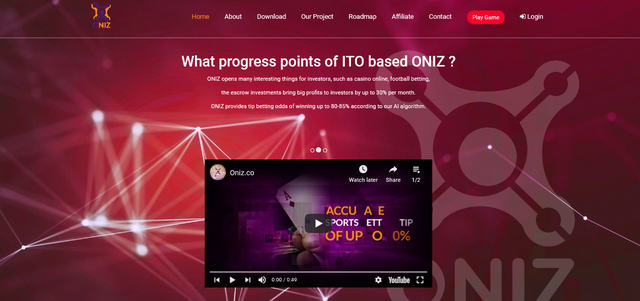 Use Cases of Oniz Funds Platform
Building Multi-Chain Projects:
Oniz fund platform, affords individual programmers to leverage on the resources available within the ecosystem to build sub-projects that can function across a multi-chain ecosystem. This is made possible by Oniz Funds poprietary product The Oniz Funds Multi-Chain Wallet App. This App has been designed to be scalable and transcend different blockchain networks, bringing in sync under one particular platform, the Oniz Fund Platform.
Being able to build for Multi-chain platform does not only give developers an opportunity to build innovative projects, but also creates the room for global adoption of cryptocurrencies and blockchain technology across different sector of the globalized industry.
Buying Betting Tips:
Oniz Funds have Partnered with some online Sports betting projects, the most profound being Sbobet, which of course have given Oniz Fund Platform users bonuses and betting tips of over 85% increase and allowing the Oniz community up to 70% mortgage on sports bettin govertime.
Introducing Different partnerships into Oniz Platform encourages start ups and developers to commence building innovative projects and utilizing the platform that Oniz Fund affords to not just build projects, but to also raise enough funds for their projects.
Payments for Products:
As a payment infrastructure, Oniz Funds team, plans to incubate other projects and serve as payment processors for such projects and other projects they plan to partner with. Thereby ensuring that the Oniz Funds Platform will continuously host innovative blockchain projects and other projects involved in building an efficient payment system across multiple chains.
Asides including the payment for products hosted on Oniz platform, Oniz also allows for payment infrastructure for projects not hosted on Oniz, therefore Oniz Multi-Chain wallet Application can be utilized to make micro-payments for several cryptocurrency projects.
Game Rewards Payments:
Oniz Token, the utility token of the Oniz Fund Platform will be utilized for payments for all rewards from the gaming platfrms connected and partnered with Oniz Funds platform. So members of these wide range of platforms can interact within one particular ecosystem by virtue of one particular token infrastructure.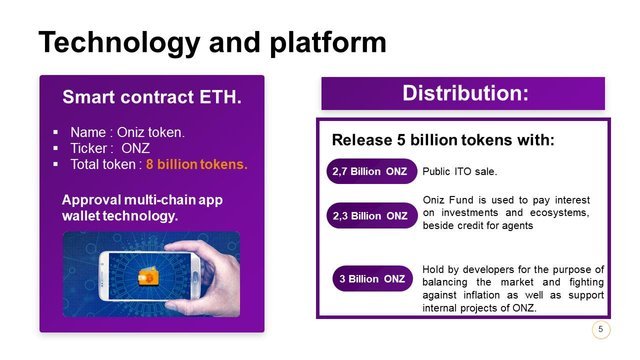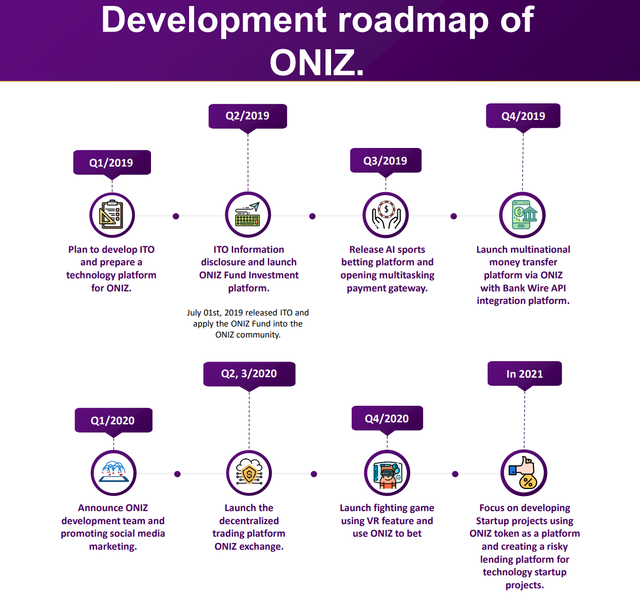 Oniz Token, is an ethereum based ERC-20 compliant token with a total of 8 billion tokens, with 3 Billion tokens set aside for the developers of Oniz Funds to help balance the trading market and hedge against inflation, 2.7 Billion ONZ Tokens set aside for Public ITO Sales, and 2.3 Billion tokens set aside as funds to be utilized for paying investors and participants within the entire Oniz Platform.
Therefore, participants from the Online Game Infrastructure, The Sports Betting Ecosystems, The Online Casinos available, The Money Game MLM, and the E-banking Projects that are linked to Oniz Platform receive payments in ONZ for all their earning rewards across different platforms, and utilize the ONZ Multi-chain App wallet.
To get more info about ONIZ, please visit some of the sites below:
Website: https://oniz.co/
Whitepaper:https://oniz.co/oniz/img/English.pdf
ANNThread: https://bitcointalk.org/index.php?topic=5165733.msg51844051
Twitter: https://twitter.com/Onizco
Facebook: https://www.facebook.com/pg/oniz.coo
Telegram: https://t.me/Onizco
Author: Zorzia
Bitcointalk: https://bitcointalk.org/index.php?action=profile;u=2283026
ETH: 0xBBE79c7dcEca5C7Fecb7adb6CB946F70fF936B7a