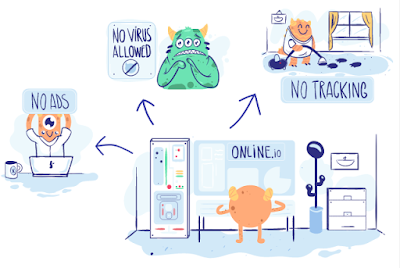 In the era of globalization and information, cybersecurity becomes, without a doubt, one of the major concerns throughout the "Internet of Things" worldwide. The key challenges here are related to the exploring experience that provides opportunities for cybercrimes related to intellectual property, personal identity verification, and protection of personal data. Privacy is often violated through malicious software and sensitive information is collected without letting consumers know.
Online.io has developed a good solution in terms of creating a globalized and decentralized ecosystem for safer, faster, and more personal Internet browsing through the Online.io platform that works on blockchain mechanisms. It should be emphasized that Online.io can be considered one of the earliest users of "Internet of Values" to attract many institutional investors who are pouring money in the form of ICO – a new way of fundraising through the issuance of the underlying crypto token. project. Let's examine this more clearly.
Vision
Our main goal is to rediscover the World Wide Web experience by putting people privacy as our top priority, thus offering a safer, non-trackable Internet, with no malware and no free advertising.
Mission
Government agencies and large Internet companies that will remain unnamed grow in tracking your every move! Only together we can put STOP for this!
Currently websites are full of ads that are trying to sell you something they think you need by creating an unfriendly and annoying browsing experience. In addition, many of them hide malware, scammy ads, or mining scripts.
Platform Online.io aims to make innovative Internet changes, by revolutionizing the browsing experience and making it faster, untraceable, without malware and ad-free.
Website operators get large amounts of revenue from advertising, which can be changed by implementing our solutions based on a highly scalable, transparent, fully accountable Blockchain technology that will ensure that they get a fair remuneration based on the number of visitors, the time spent on them page and interaction with the site, creating a more appropriate environment for quality, as opposed to spam-driven web pages.
A new website valuation system will be developed for the community and you as part of this community will decide the quality of the website you visit. This will decrease the time and stress spent on clicking on the feed page and you will have more time for the valuable page.
How it works….
basis of financial rewards for website operators will be an online proof, a number that calculates the time users spend on each website. Most importantly, everyone will benefit from a free, safe, and personal ad browsing experience. In addition, end users will be able to rate every website based on their experience, using a 1 to 5 star polling system. The stars will then be converted based on the algorithmic formula in the Trust Rank which will be an indication of any quality website, provided by its visitors.
No ads
Currently, web users pay to surf the internet, either through subscriptions or through less transparent costs, such as digital ads. In the environment we want, web users will enjoy free Internet advertising, while web operators will still benefit financially.
Without Tracking
In today's connected communities, companies adopt online tracking practices and behavioral profiles that are less transparent. Very sensitive information, such as financial and health records, are often collected, resulting in a myriad of privacy concerns. Our solution combines block tracking scripts that will greatly interfere with the ability to keep track of user activity in real-time
Antivirus Protection
The massive expansion of the Internet and the high level of connectivity leads to the increase of the same or even more dramatic cyber attacks aimed at collecting sensitive and confidential information. One of the most prominent ways of doing cyber attacks is through an infected website that usually contains hidden malware scripts. Our solution will protect end users using anti-malware scripts and custom ad blocking that will protect their personal data and improve their security.
Faster Browsing
People realize that online advertising slows down their search speed, so more users use ad blockers to navigate the internet faster. Through our solutions, end users will benefit from the effects of using ad blockers, while also enjoying a more secure and personalized experience due to other features. In addition, web operators can still monetize their website content.
Browser extension
Our solutions come with extensions for all major desktop and mobile browsers and include ad blockers, script blocking tracking, anti malware, and web wallets. Above, we will integrate the voting system that will help regulate the internet.
Our mobile app
will serve as wallet, ad blocker, script tracking, and anti malware tracking. The mobile app will also contain performance enhancers and battery time that will further enhance the browsing experience.
Our wallet
The wallet will work in all major operating systems and browsers. Your phone and tablet will have one app for your wallet, ad blocker, tracking script, anti malware, and desktop operating system will also have a dedicated app wallet.
Marketplace
Our website will have a full section dedicated to finding all the places where you can buy using a merchant system developed at home. In addition, the market will contain detailed information about how other merchants can integrate our merchant system. Information on international partner groups will also be available.
Merchants
Merchants will be able to receive crypto payments through our system using our API or pre-built modules for the most popular ecommerce software solutions like shopify, prestashop, OpenCart, Magento, and more.
Ethereal-based
Our solutions use standard ERC20 tokens from the Ethereum platform that ensure full transparency and accountability, which means all transactions will be visible in public BlockChain.
Main Profits Online.io:
Quicker and more fun browsing for deleting annoying ads;
Improved consumer data protection as it involves a blockchain mechanism;
Ranking system for web pages according to consumer experience;
Revenue for operators and website owners by utilizing the time spent by visitors on web resources;
High security level for eliminating spam and harmful malicious software. level for eliminating annoying spam and malicious software.
Terms of Token OIO and ICO
As mentioned earlier, the Online.io ranking project will release the Online Ethereum Token (OIO) which serves as a key utility and cryptocurrency in a decentralized smart network to ensure smoother transactions in a cost-effective way and to support major advancements in the development of Internet space can not be tracked.
The OIO Token is based on the Ethereum platform and utilizes a new consensus algorithm (BUKTI ONLINE) that does not require strong hardware resources and is optimized for minimum gas consumption from the Ethereum platform.
Generic Token Events are scheduled to begin on June 15, 2018 and Online.io clients and institutional investors will be able to purchase pre-OIO tokens and receive 5 bonus types depending on the ICO stage (see dates below).

It should be emphasized that the withdrawal of OIO tokens received as bonuses will only be available within 90 days after the end of the token creation event.
More OIO token specifications and ICO details:
TOKEN SYMBOL: OIO
TOTAL SUPPLY: 2,500,000,000
FURTHER COMMUNITY TERMS: NOTHING
SOFT CAP: $ 5,000,000
HARD CAP: $ 50,000,000
OIO TOKEN PRICE: 1 OIO = $ 0.04
MINIMUM INVESTMENT: $ 50
PURCHASE METHOD: Ethereum, Bitcoin, Litecoin, Bitcoin Cash, Bitcoin Gold, Dash, Eth. Classic
PRESALE START DATE: June 15, 2018
PUBLIC DATE STARTED: July 10, 2018
TOKEN GENERATION EVENT END DATE: July 31, 2018

ADJUSTABLE DISTRIBUTION: unsold and unallocated tokens will be destroyed
The OIO token distribution will take place according to the following scheme:

Roadmap
2017
The idea first appeared in June

June to December: Initial research phase

December: Validating potential ideas
2018
The first quarter
January
Studying blockchain in terms of platform integration perspective

Risk analysis, associated with blockchain

Start development for TGE Site & Platform
February
The second phase of the research is completed
March
White paper published

Development completed to test the network and the basic contract code

Development completed for user API

Development begins for data collection and financial officers

Smart contract development begins

UI design is complete

Personal TGE sales begin

Beta version of TGE platform
2nd Quarter
April
The published TGE platform accepts user registration

Development of malware protection begins

User validation development begins

The development of online time tracking is complete

Maybe

Development of Chrome and Firefox browser extensions starts

The web dash for OIO token owner development begins

ICE token distribution distribution algorithm implemented
June
TGE begins

Protection of malware beta

Beta of user validation

Private Cloud Beta, Guardian script beta

Wallet development begins
3rd Quarter
July
Chrome and Firefox browser extensions are beta

ICE smart token contract issued

Web dashboard for OIO token owner release

Private cloud exemption

Released script guardian
August
Beta version of the web dashboard for OIO token owner release

Chrome and Firefox browser extensions released

September

Beta Wallet release
4th Quarter
October
Web dashboard for OIO token owner release
December
Mobile app development begins
2019
The first quarter
January
Market architecture

SDK API for custom integration architecture
February
Plug-in for E-Commerce solution architecture
March
API SDK for special integration release

Wallet additional security features
2nd Quarter
April
Black Marketplace launch
June
Plug-in for beta release of E-Commerce solution
3rd quarter of
July
Republic
4th Quarter of
October.
TEAM
A. Iulian Florea: CEO & Founder
Alexandru Eftimie: Chief Technology Officer
Sebastian Dracopol: Development Manager
Rostyslav Bortman: Ethereum Developer
Roman Korzh: Business Development Consultant
Andrew Mikhailov: Data Scientist
Liliya Girinova: Business Analyst
Anatoliy Gordienko: The leader of the Javascript Department
Vadym Dolzhenko: Developer Node.js
Alexandru Dobrin: Art Director
Alexandru Danete: Customer Support Support
ADVISORY BOARD
Nathan Christian
Cristian Radu
Andrei Mihai
Alexandru Manucu
Alexandru Zota
Diana Vaduva
Florin Musatoiu
Paul Badea
Cristian Ciobanu
Brian Colwell
CONCLUSION
Online.io is a thought project aimed at reshaping Internet space by involving a blockchain mechanism. Creating a fast and secure browsing ecosystem will revolutionize the search experience in terms of user privacy and this can be considered a good solver for website users and operators.
The Online.io project team provides an opportunity for both parties (consumers and website owners) to take advantage of faster browsing and eliminate ads and malware thereby creating an environment more suited to the quality and trust of web pages.
The project team is large enough with experienced advisors involved that can be seen as evidence of serious intentions from the developers (find out more details about the project team by following the link: https: //online.io/#team).
Online business is very promising in terms of high return on investment so let's take a closer look and keep track of fundraising advancements and ad campaigns.
For More Information:
Author: vespa panjang
MyEthAddress: 0x73d704F72440F0dDA507ADb95C22c2901bDB134B