In the age of globalization and information, cybersecurity becomes, without a doubt, one of the major concerns all over the "Internet of Things" in the whole world. Main challenges here are related to browsing experience that provides opportunities for cyber crimes regarding intellectual property, personal identity verification, and personal data protection. The privacy is often violated through malicious software and sensitive information is collected without notifying consumers.
Online.io has developed a good solution in terms of creating a global and decentralized ecosystem for safer, faster, and more private Internet browsing through the Online.io platform working on blockchain mechanisms. It must be emphasized that Online.io can be considered one of the earliest adopters of the "Internet of Values" thus attracting a lot of institutional investors who pour money in the form of ICO – a new way of fundraising through issuing the underlying crypto tokens of the project. Let us examine this undertaking in more details.

Why Online.io?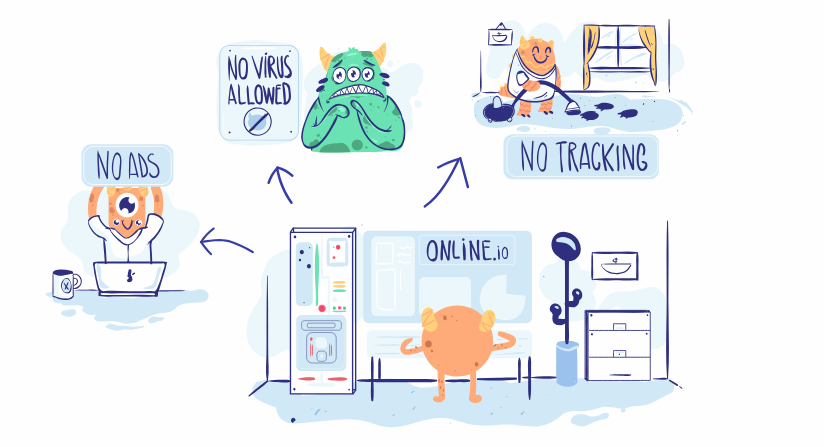 At the current stage of web technologies development, the Internet browsing is tightly related to tracking consumers behavior (including sensitive financial data) and it is difficult to eliminate this component without knowing the tracking techniques. The user's profile can even be sold to third parties thus raising privacy concerns. Another problem is ads which create irritating browsing experience and even scammy malware might be embedded.
The main GOAL of Online.io is to tackle such threats thus taking user's privacy to a higher level by blocking online tracking practices. Such approach will result in reinventing the Web experience and transforming Internet of Things to Internet of Value. Furthermore, people's privacy will be viewed as a key priority due to the fact the user will be able to browse in a non-trackable, more secure and add free manner.
Online.io Ecosystem
In order to maintain quality browsing experience, Online.io is aimed at creating a unique decentralized ecosystem which includes several components and gives a possibility for utilizing the Internet space securely to full extent.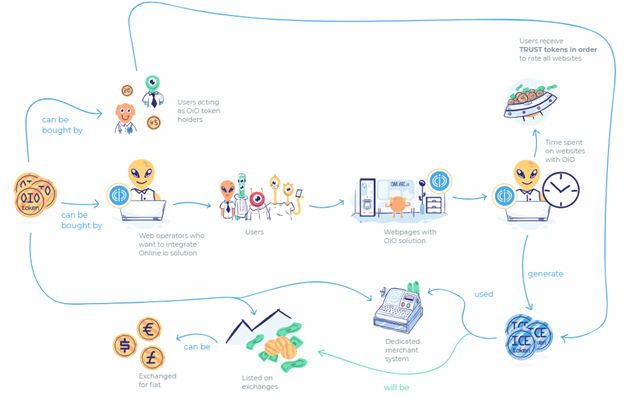 The COMPONENTS of the Online.io ecosystem are as follows:
👉 Desktop browser extension with included voting system for rating the visited websites. Ad blocker, anti-malware and tracking script blocker will be also embedded;
👉 Mobile applications working as a wallet and owning smart security functions;
👉 Wallet with automatic encryption and advanced security features (2FA, fingerprint, face recognition, passphrase and pin etc). It will be available for browsers and major operating systems;
👉 Marketplace where users will be able to buy or sell products or services for specific tokens (ICE) serving as utility tokens;
👉 Merchant system serving for accepting payments both in fiat and ICE. Receiving ICE payments will be commission-free and fiat payments will have 3% commission.
👉 Ecommerce plugins and API SDK to satisfy major shopping demands and provide extended opportunities both for customers and companies.
There will be THREE TYPES of COINS functioning within Online.io ecosystem and each of them will have their own role. These coins are as follows:
Online Ethereum Token (OIO) used by web operators for mining ICE tokens and for any financial operation within the ecosystem;
ICE Ethereum token (ICE) used for micropayments and daily purposes;
Trust token (TST) used for rewarding users for website ranking. Trust token exists within the ecosystem internal blockchain.
Let us have a look in more details into OIO tokens, which will be used for project fundraising campaign – ICO.
OIO Tokens and ICO Terms
As was mentioned before Online.io ranking project will be releasing Online Ethereum Token (OIO) serving as the utility and the key cryptocurrency in the decentralized smart network for ensuring smoother transactions in a cost-effective manner as well as for supporting major progress in the development of non-trackable Internet space.
OIO token is based on the Ethereum platform and utilizing new consensus algorithm (PROOF-OF-ONLINE) that does not require powerful hardware resources and optimized for minimum Gas consumption of the Ethereum platform.
Token Generation Event is scheduled to start on June 15th, 2018 and Online.io clients and institutional investors will be able to pre-purchase OIO tokens and receive 5 types of bonuses depending on the stage of ICO (see the dates below).

It must be emphasized that withdrawal of OIO tokens received as a bonus will be available only in 90 days after the end of token generation event.
More OIO token specifications and ICO details:
▶️ TOKEN SYMBOL: OIO
▶️ TOTAL SUPPLY: 2,500,000,000
▶️ FURTHER TOKEN ISSUANCES: NO
▶️ SOFT CAP: $ 5,000,000
▶️ HARD CAP: $ 50,000,000
▶️ OIO TOKEN PRICE: 1 OIO = $ 0.04
▶️ MINIMUM INVESTMENT: $ 50
▶️ PURCHASE METHOD: Ethereum, Bitcoin, Litecoin, Bitcoin Cash, Bitcoin Gold, Dash, Eth. Classic
▶️ PRESALE START DATE: 15 June 2018
▶️ PUBLIC START DATE: 10 July 2018
▶️ TOKEN GENERATION EVENT END DATE: 31 July 2018
▶️ ADJUSTABLE DISTRIBUTION: unsold and unallocated tokens will be destroyed
OIO tokens distribution will take place according to the following scheme:

Main Advantages of Online.io:
📌 Faster and enjoyable browsing due to removing of disturbing ads;
📌 Enhanced protection of consumers data due to involved blockchain mechanisms;
📌 The rating system for web pages according to consumer`s experience;
📌 Revenues for website operators and owners by capitalizing on the time spent by the visitors on the web resources;
📌 High-security level due to eliminating disturbing spammy and malicious software. level due to eliminating disturbing spammy and malicious software.
CONCLUSIONS
Online.io
 is a well-thought project aimed at reshaping Internet space by involving blockchain mechanisms. Creating fast and secure browsing ecosystem will revolutionize the browsing experience in terms of user`s privacy and this may be considered as the breaking move both for users and websites operators.
Online.io
 project team gives chance for both sides (consumers and owners of the websites) to take benefits from faster browsing and eliminating ads and malware thus creating a more suitable environment for quality and trusting webpages.
The project team
 is quite large with experienced advisors involved that can be viewed as an evidence of serious intentions of the developers (find out more details about the project team by following the link: 
https://online.io/#team
).
Online.io undertaking is very promising in terms of high returns on investments so let us take a closer look and keep tracking the progress of fundraising and advertising campaigns.
PROJECT CONTACT DETAILS:
The author of the article (on Bitcointalk):