Open Collectors Network – An Platform Featuring One Of A Kind Tokens
The Open Collectors Network is a unique new platform specializing in one of a kind Ethereum based tokens. On the platform, users will be able to customize, create, trade, own, and interact with unique tokens in the open market. I really like the idea of this new platform, and think that it will have appeal to a wide audience. People are always wanting something unique, and this platform will allow for that while using that latest technology in blockchain. There are a great many potential uses for this new platform. Keep reading for more details about the Open Collectors Network.
Here I will list some of the potential uses of the platform. Individuals might tokenize an item to use personally. Virtual objects might be created with the intent for use in a game, and then sold in the marketplace. Digital media might be listed as a asset and sold. This could include things like music or written material. Card games might decide to use the network such as Magic: The Gathering. The cards could use a public ledger for transparency and easy payment choices. Virtual reality objects could be traded on the platform. The business sector can tokenize items like cars, handmade items, or devices. An auction house might list their inventory as tokens. After selling an item, the token could be moved to a wallet of the buyer. The platform can also be used to help with identity verification. Users can each have a unique token associated with them, and after being verified, this token could be used on other websites to verify identity. These are just some of the potential applications of the platform.
There are a few main goals of the Open Collectors Network. They aim to be very open and provide compatibility with tokens that already are in existence. They are using the newer ERC721 Ethereum standard for their tokens. The platform is decentralized and takes advantage of everything that comes with this technology. It is also very important for the platform to be easily usable with user friendly interfaces. Complete ownership is a main goal. Every unique item will be stored in a users wallet, and they are the only ones who will have control over it and the private key. The platform allows for anyone to make an item that is unique. Measures are in place to prevent duplicate items from being created. Because the tokens are made by anyone, the platform has algorithms in place to help with the prevention of spam in the marketplace. This is an important aspect of the platform for public use. Interaction with existing items is another goal. Rules can be specified for the allowing of improvements to items. Finally, one of the most important aspects of the platform is the ability to trade and sell items.
Open Collectors Platform for Non-Fungible Tokens & Features
Anyone can easily create a non-fungible token for their own purpose without any programming knowledge.
Tokens can be listed and traded in Open Collectors Decentralized Market.
The platform was built based on Ethereum Smart Contracts and totally safe and secured for its users.
Platform is developed in a very independent and user-friendly way. So there is no need to have any experience in crypto markets to use the platform. A basic computer knowledge will be enough.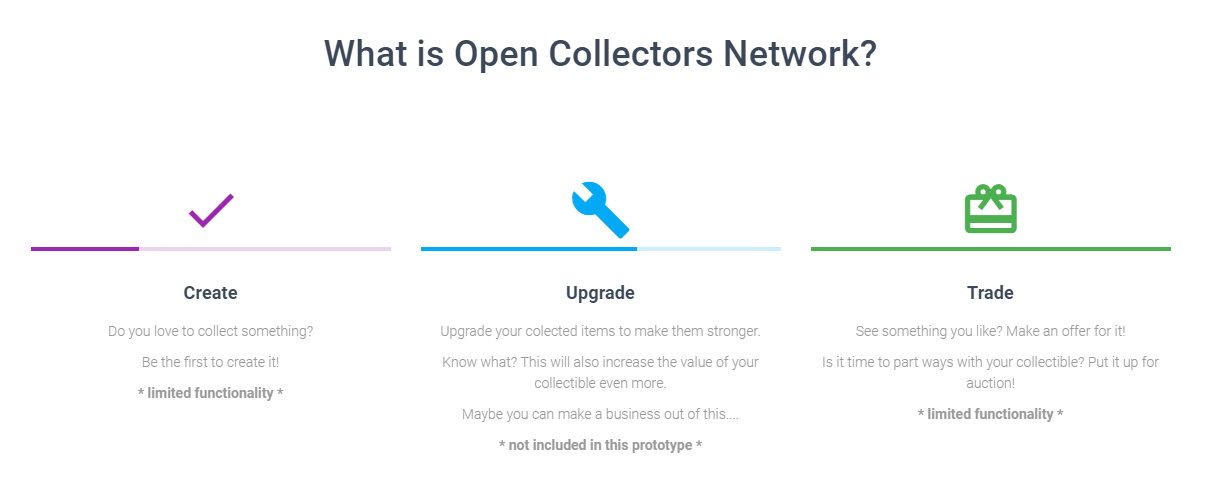 ECTO Tokens & Token Sale
Open Collectors team decided to create and issue ECTO tokens for all operations on the platform. Users will need ECTO tokens to be able to use the entire functionality of Open Collectors Network.
Additionally, ECTO Token holders will have several benefits such as:
Discounts for operations
Voting rights in the platform
Airdrops will be distributed periodically to ECTO token holders.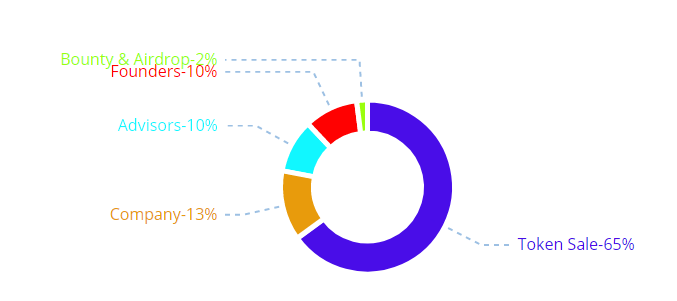 See more details about the crowdsale below:
Ticker Symbol: ECTO
Total Token Supply: 150,000,000 ECTO (97.500.000 ECTO will be issued to public during token sale)
Token Price: 1st Week- 1ETH = 6600 ECTO; 2nd Week- 1ETH = 6300 ECTO; 3rd Week- 1ETH = 6180 ECTO; 4th Week- 1ETH = 6000 ECTO
Token Sale Date: April (Exact date is not announced yet)
For more information, please visit links below :
WEBSITE · WHITEPAPER · TWITTER · TELEGRAM · ANN · BOUNTY
My profile Bitcointalk:https://bitcointalk.org/index.php?action=profile;u=299304