We live in the time of successful formation and rapid growth of the block chain – based market. We see governments, banks, and corporations implementing block chain pilot projects, while independent users and investors are actively entering the crypto currency market.
Surprisingly, all access points such as mining, exchanges, and funds remain largely available only to select professionals. What the Existing equipment and Service systems fail to do is to solve the user tasks. Not only are they difficult to set up and navigate, they require constant control and management. It is complex to a point that some mining software clients still are nothing more than a command string interface. With the help of OPTin platform, they provides strictly better outcomes for consumers, advertisers, agencies, and publishers. Before i proceed lets take a lok at the video below
OPTIN NETWORK
The OPTin system is a blockchain-based digital advertising solution, fully compatible with existing infrastructure, and provides strictly better outcomes for consumers, advertisers, agencies, and publishers. It is an ecosystem where advertisers can identify and reach the RIGHT PEOPLE, on the RIGHT SITE, at the RIGHT TIME. Users can choose whether he/she is interested in the category or campaign, saving money and reducing waste.
They aim to give advertisers the tools for making the right decision when purchasing inventory; the OPTin platform allows advertisers to fully understand site-level analytics and traffic sources before purchase
COMPONENTS
MyAds: Allows users to opt-in to specific brands, industries, and earn rewards for sharing their data with advertisers
DataCube: Open source marketing research project to create highly-predictive connections between user viewing and buying.
Ads Marketplace: Ad platform to directly connect advertisers to publishers, using the DataCube + Machine Learning to create the highest ROI for advertisers.
PROBLEM
Consumer data being collected and shared without user consent.
Advertisers not getting sufficient ROI.
Decreasing publisher revenue is leading to low quality content.
Too many middlemen: data middlemen, traffic middlemen, and ad middlemen. All are driving up costs and contributing to excessive consumer ad overload.
Most marketing research never gets done, because it is cost prohibitive.
SOLUTION
The solution to this problem can be handled using five approaches
User Control: Give users the right to opt-in to specific industries, and only share data they are comfortable sharing
Transparency: Data transfers and money transfers should be openly viewable
Free Unbiased Data: Give advertisers the ability to choose the appropriate media outlets, without paying hefty upfronts
Community Oversight: Data collection and sharing should use open-source auditable code
Compensation: Compensate users for their time and trust
OVERVIEW OF THE OPTIN NETWORK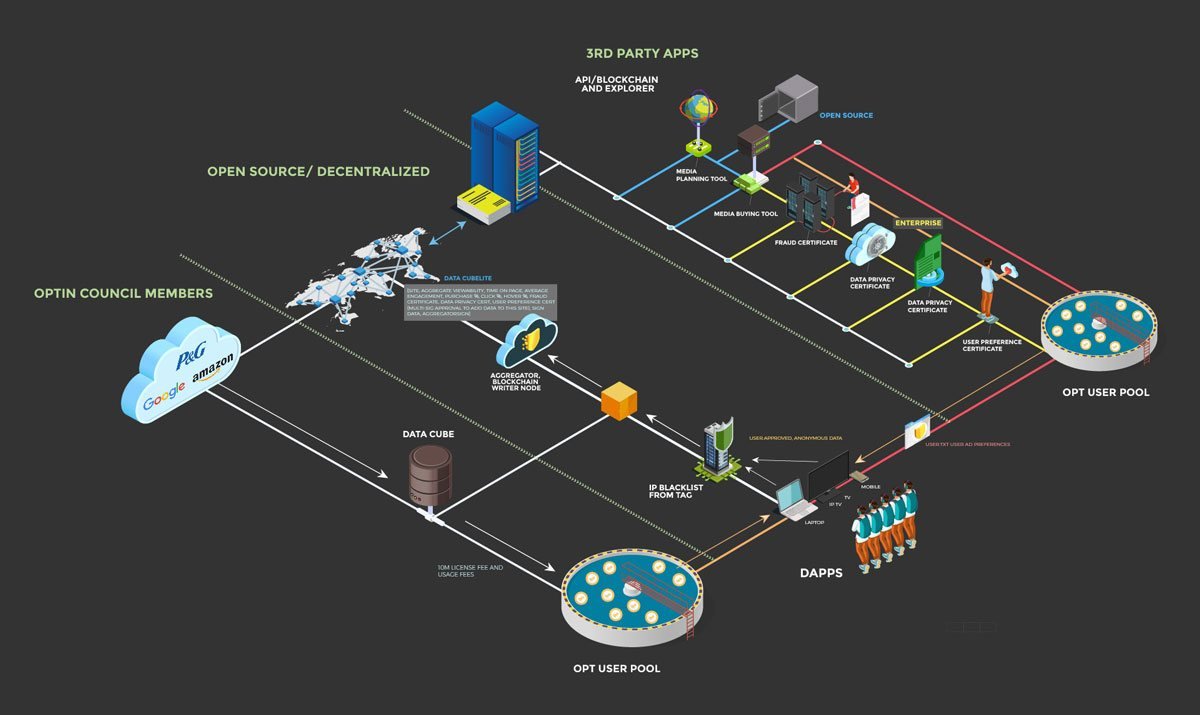 ICO DETAILS
PRE-SALE (30% Bonus first week, 20% Bonus after)
Start Date: Aug 15, 2018
End Date: Aug 30, 2018
MAIN SALE (10% Bonus first week, 0% after)
Start Date: Sep 1, 2018 (00:00 GMT)
End Date: Sep 30, 2018 (23:59 GMT)
Purchase Price: 1 OPTin token at $0.10
Soft Cap: 40,000,000 OPTin ($4 million)
Hard Cap: 230,000,000 OPTin (~$20 million)
TOKEN DETAILS
Token Price: $0.10
Ticker Symbol OPTin
Minimum Purchase per Person: 100 OPTin (=$10)
Maximum Purchase per Subscription: 10,000,000 (=$1,000,000)
Pre-Sale: 130,000,000 OPTin
Fundraising Goal: $10,000,000
Main Sale: 100,000,000 OPTin (=$10,000,000)
Sale Bonus: Up to 30%.
Accepted Fiat Currencies: EUR, USD
Accepted Cryptocurrencies: BTC, ETH, BCH, XRP, LTC
TOKEN DISTRIBUTION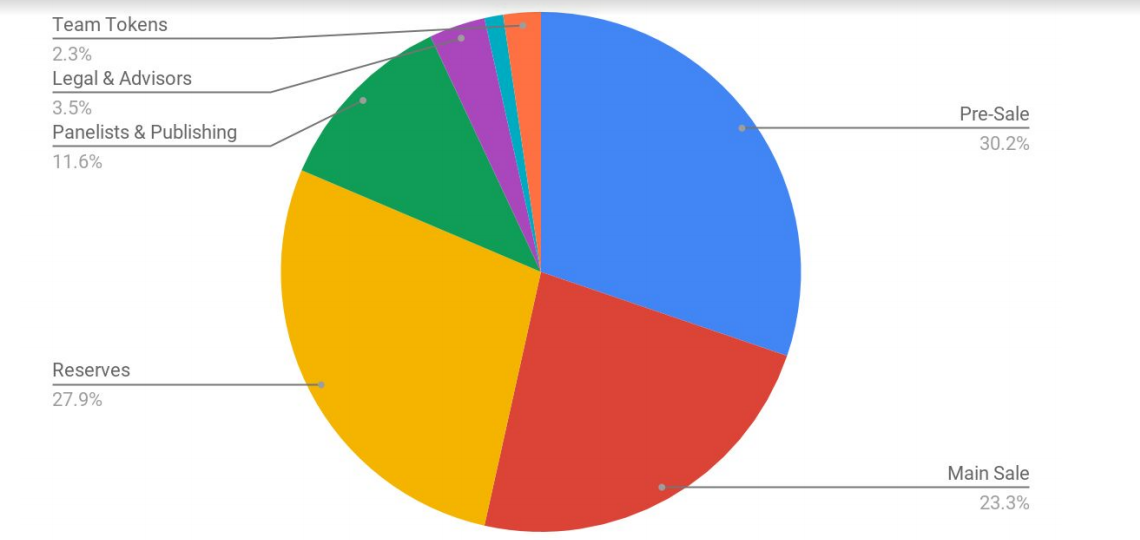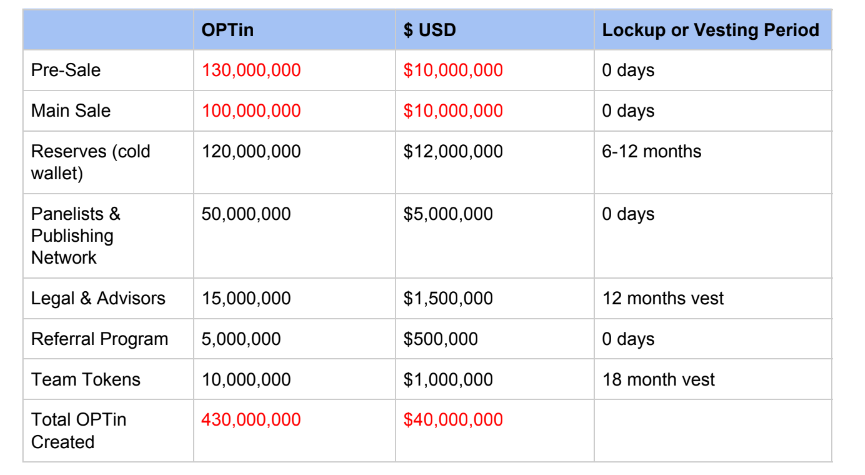 OPTin and USD Lockup or Vesting Period
Pre-Sale: 130,000,000 $10,000,000 0 days
Main Sale: 100,000,000 $10,000,000 0 days
Reserves (cold wallet): 120,000,000 $12,000,000 6-12 months
Panelists & Publishing Network: 50,000,000 $5,000,000 0 days
Legal & Advisors: 15,000,000 $1,500,000 12 months vest
Referral Program: 5,000,000 $500,000 0 days
Team Tokens: 10,000,000 $1,000,000 18 month vest
Total OPTin Created: 430,000,000 $40,000,000
SOURCE OF FUNDS

Pre-Sale: 130,000,000 Up to 30% discount ~$10 million
Main Sale: 100,000,000 Up to 10% discount ~$10 million
USES OF FUND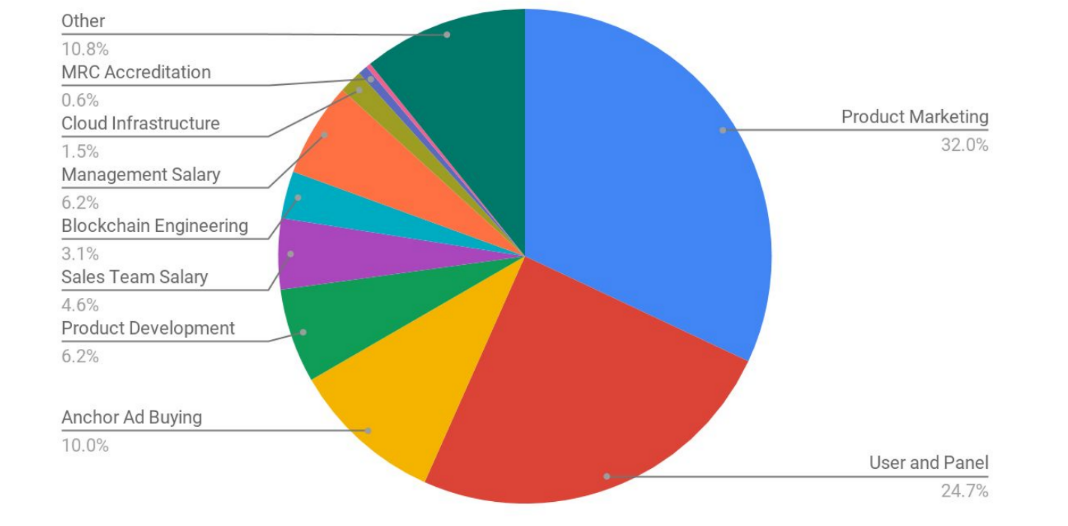 57% : Awareness, purchase adoption, and attract large advertisers.
43%: Technology and product development.
ROADMAP
03.2018 Convert panel business to OPTin tokens Completed
03.2018 Implement offchain verification system Completed
04.2018 Allow publishers to get paid using OPTin Completed
04.2018 Allow users to export OPTin to individual wallets In Development
Q2 2018 beta of user.txt as Chrome and Firefox plugin In Development
Q2 2018 Beta release of dApp for mobile, desktop In Development
Q2 2018 Beta release of dApp for TV and connected TV In Development
Q3 2018 Beta launch of DataCubeLite and DataCube On track
Q3 2018 Production launch of dApp for mobile, desktop, TV and Connected TV On track
Q3 2018 Production launch of DataCube and DataCubeLite On track
Q3 2018 OPTin Ad Council opens On track
Q4 2018 First commercial products for DataCube On track
MEET THE AMAZING TEAM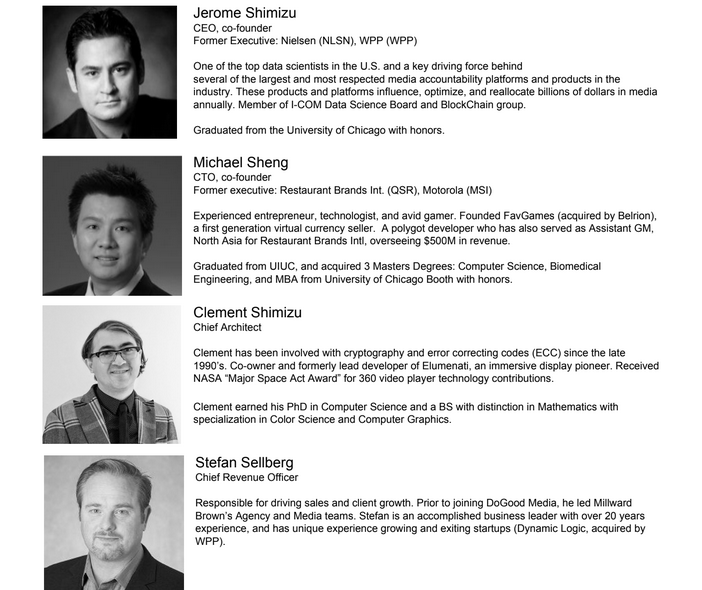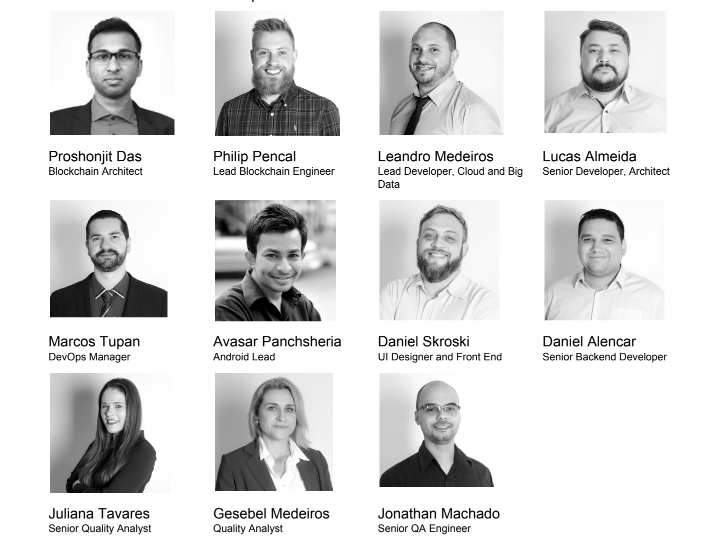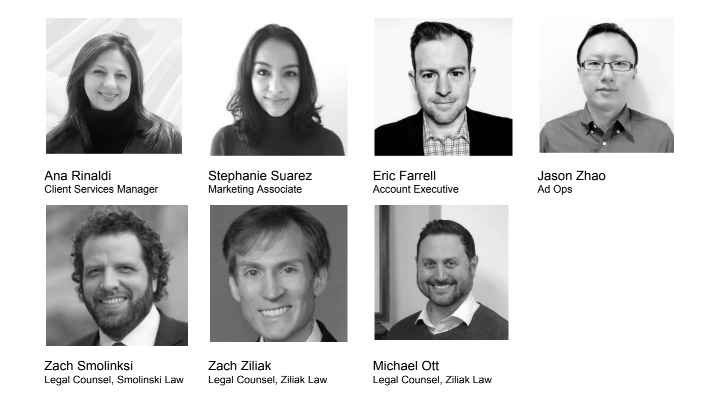 For more information please visit:
Website: https://www.optincoin.org/
Whitepaper: https://drive.google.com/file/d/18xfJMgdcdrrWcN8aq8OiRVnD80Ug8_MR/view
Telegram: https://t.me/OPTinCoinOfficial
Twitter: https://twitter.com/EarnHoneydotcom
Facebook: https://www.facebook.com/Earnhoney/
Medium: https://medium.com/optincoin
Youtube: https://www.youtube.com/channel/UCvvlHTsC4j16EpqYs79LDHg
Instagram: https://www.instagram.com/earnhoneyofficial/
Reddit: https://www.reddit.com/r/earnhoney/

Author: Seunola
MyBitcoinTalk Profile: https://bitcointalk.org/index.php?action=profile;u=1925064