Orbis Company akan menyediakan layanan transfer, pembayaran, dan investasi yang inovatif


Blockchain is the technology that enables cryptocurrencies and is built on the principles drawn from cryptography, game theory and peer-to-peer networking. This allows any unique monetary data exchange to get past the problem of double spend by making the ledger (the book of record) available to all participants in the network and by creating a process by which a consensus can be reached in changes to the ledger.
The financial services industry is all set to undergo a sea of change. This is because of blockchain technology, which powers bitcoin transactions, offers many advantages compared to traditional banking. These include better accessibility, greater transparency, lower fees, and quicker transactions. Ignoring these benefits would be like using a handheld pager for communication instead of a smartphone.
About ORBIS
The future represents the simplicity and automation of services!
Orbis Worldwide Money Transfer and Investment is the future!
We come with a quick, easy and economical concept of financial transactions, investment services and marketing that offers friendly services through intelligent marketing in all social classes.
Orbis Company will provide innovative transfer, payment and investment services using cryptocurrency tokens and block chain technology. This technology combined with mobile and computer software, will give mankind the opportunity to make money transfers, investments and payments using our self-service machines, as well as personal smartphones and computers with internet access.
The ORBIS system can provide this on a 24-hour basis, either online or in-person at an ORBIS branch. This will allow everyone to access the benefits that cryptocurrencies provide them, including low transaction costs, no-limit transactions, fast payment, and the removal of geopolitical barriers to payment.
Orbis is aiming to provide financial access to 3 million previously unbanked people in Latin America , Asia and Africa by 2020 with the partnership of a third party (bank) which can provide self-service accessible banking solutions. The Orbis project will offer the chance to previously unbanked people to own a debit card, a smartphone with the Orbis Payment Mobile app, barcode and QR codes checks, through the philanthropic project financed by the companies' profits.
ORBIS PLATFORM
Orbis customers will be able to save their money, transfer their funds, invest, and receive credit or funding for their businesses all with a simple click of a button or tap of a screen through this platform
The Orbis utility coin (ORBS) is a stable currency intended for use by Orbis customers to make payments, save assets, and transfer with no fees, all without the risk of depreciation or loss.
The Orbis security coin (ORBSi), backed by OrbisSolutions company shares, will be released to the public and to cryptocurrency exchanges for trading against other cryptocurrencies.
All users are able to exchange their cryptocurrencies or fiat currencies directly into Orbis coins (either ORBS or ORBSi). They will then be able to manage all their assets through one interface via an Orbis card, smartphone app, or desktop software. In the future, Orbis self-service branches will also provide another, in-person option.
All Orbis users will have 24/7 virtual support in the form of AI-powered chat robot
Orbis Wallet
Our wallets will be built-in our platform, where customers will be given the opportunity to save, transfer, and invest their tokens worldwide at the lowest exchange rates. Orbis wallet will offer the most simplistic user friendly design so it can be used by clients from all types of ages. The wallet will include an Transfer token account, an Investment token Account, an IBAN Fiat currencies Account and an Savings Account.
Orbis Exchange
Orbis decentralized exchange platform will be used only to purchase and sell Orbiscoins and exchange them to all fiat money currencies. Being a peer-to-peer system, the transactions will be done almost instantly (with the best deal exchange on the market) to any bank account or Orbis Wallet.
Orbis Coins
Our company comes with no more than two tokens: ORBIS Coin (ORBS) and ORBISInvest coin (ORBSi)
ORBIS debit card
Our Company will provide an IBAN debit card issued to make an easy access between our customers and their funds. This card can be used at any atm and limitless cash withdrawing at the Orbis Branches
ORBIS POS
Orbis POS will come with a little help making small business owners life more easily introducing them with our wireless Point Of Sale terminals for their payments
Orbis Savings
Storing your savings "under the mattress" is an unsafe, unhealthy and non-winning habit . Our company offers 5% annual interest for storing your savings into our safe, virtual, anonymous, decentralized storage accounts.
Security
Our platform will be provided with non-stop security by our team of programmers and will be insured with the best anti-fraud measures. The platform will use the new block-chain World Identity Network system, ID card scanner, ID Verification and debit/credit card check, SSL certificates and 2FA authenticator
Orbis Security Tokens are backed by OrbisSolutions OÜ company shares giving our investors the chance to become Orbis stakeholders at a click of a button. USA citizens are also allowed to participate, as OrbisSolutions will operate as an escrow company in the United States.
TOKEN AND ICO DETAILS
Token – ORBS
Platform – Orbis
Type – ORBS
PreICO price – 1 ORBS = 0.50 EUR
Price in ICO – 1 ORBS = 0.50 EUR
Min. investment – 0.50 EUR
Accepting – ETH, BTC, Fiat
Distributed in ICO – 62%
Soft cap – 500,000 EUR
Hard cap – 25,000,000 EUR
PRE-STO
1st of November 2018 to 8th of November 2018
Coins sold to date
10437950.3 ORBIS
STO
15th of December 2018 to 15th of April
You can order for your coins here: https://orbistransfer.com/#tokenSale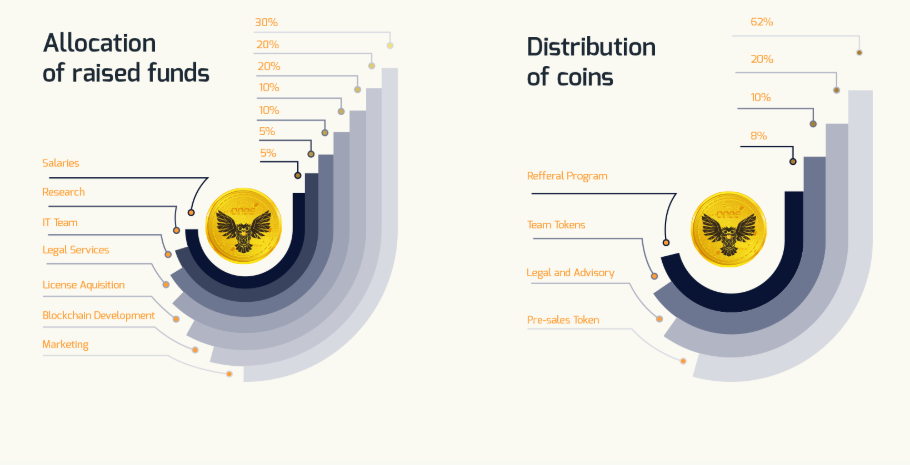 Roadmap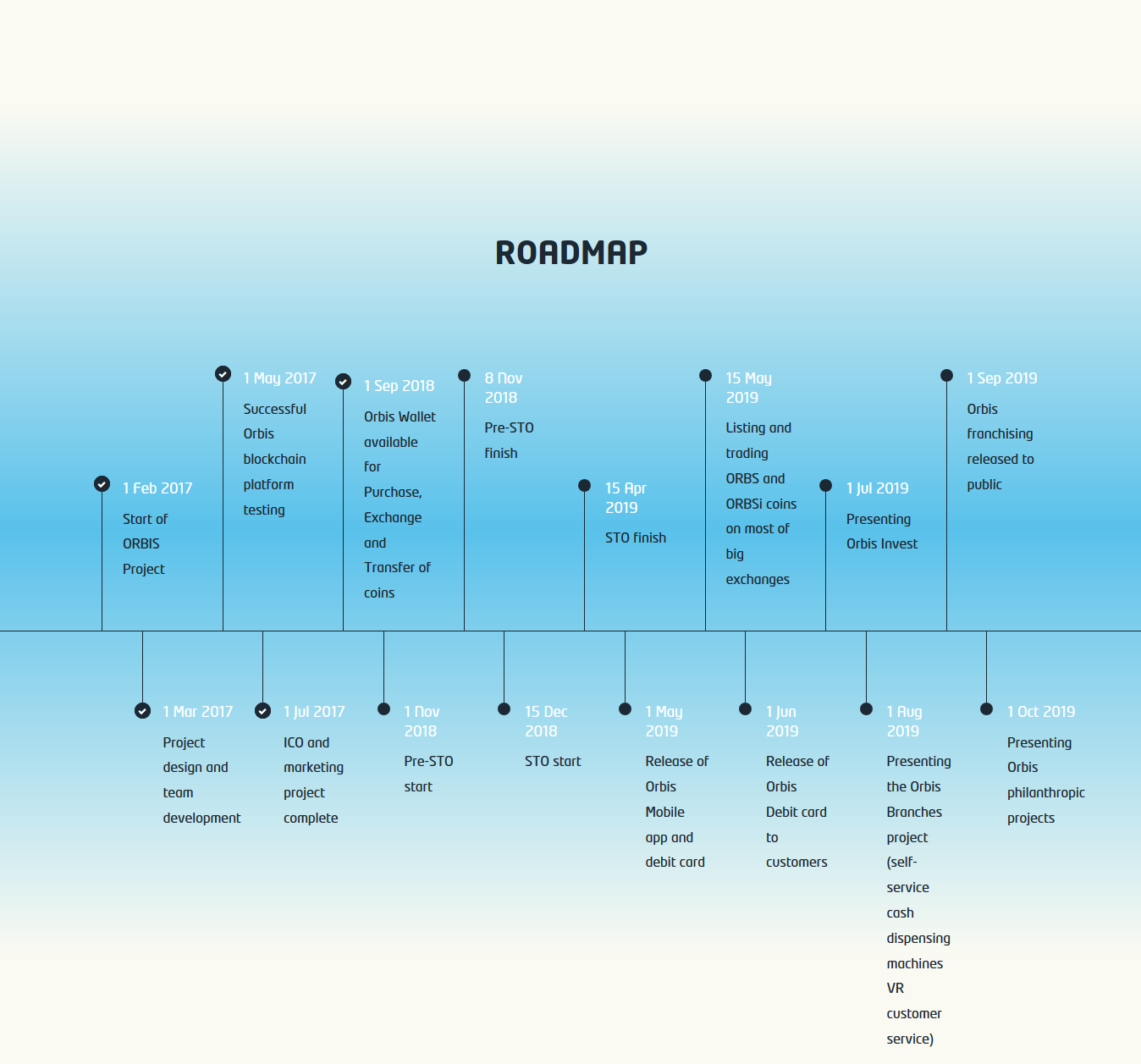 TEAM MEMBERS AND ADVISORY MEMBERS TO THE PROJECT
Team seems to be the strongest part of this project. It consists of innovative and talented people. Of course I cannot complain if we talk about their professional level, guys indeed are experts on their field.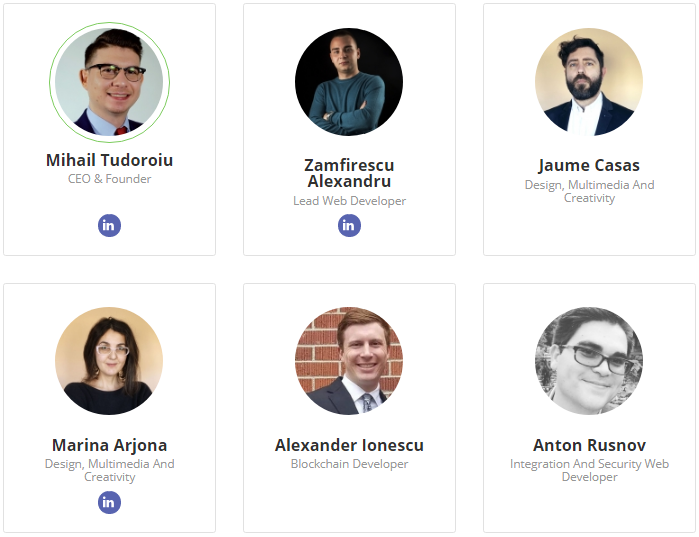 ORBIS Vision seeks to bridge the gap too currently aim to provide financial access to 3 million unbanked persons across Latin America, Africa, and Asia by 2020 through partnerships with banks. Our self-service platform will provide an accessible solution to these people and allow them their first opportunity to unlock the opportunities that finance grants them. These opportunities will include debit card ownership, smartphones with ORBIS payment apps and QR and barcode scanning.
Join this revolution now and follow these links for more information;
Website : https://orbistransfer.com/
Whitepaper : https://orbistransfer.com/downloads/Orbis-White-Paper.pdf
ANN Thread : https://bitcointalk.org/index.php?topic=2856789.msg29750130#msg29750130
Telegram : https://t.me/OrbisBounty
Facebook : https://web.facebook.com/OrbisToken/?_rdc=1&_rdr
Twitter : https://twitter.com/OrbisToken
Instagram : https://www.instagram.com/orbis_token/
================================================
HellenXaveria
ETH: 0xD6AF7435Fd7c6DB12B00E92752c03A7d466A52e8