ORBIS – Friendly Financial Banking Platform
What is Orbis Platform?
Orbis is the wireless network and a sophisticated technology which may bring the big dream related to the futuristic financial payments and transfers. This technology will be a bright solution for you for accessible and easy transfer, payment, and investment services. Do you want to know more about Orbis? Read this further explanation.
Orbis in General
Orbis develops Bluetooth technology to support mesh networking. Not only that, this mesh networking is also supported by the global standard and secure wireless connectivity. This new mesh networking can enable many to many communications. It is also can optimize creating large-scale device networks.
Some of individual consumers and developers may be interested in this beneficial market. That is why Orbis platform has a purpose of establishing a platform especially for consumer and commercial developments in Bluetooth mesh. It can be done by establishing pre-existing infrastructure and network for developers to spread into.
Orbis has three components which can be used: Orbistore, OrbisWeb, and OrbisToken (OBT). Those three components are the multi-purpose and flexible infrastructure for developers to build their networks and for consumers to utilize the services.
OrbisWeb
By using OrbisWeb, we will be delivered secure, decentralized, global, and open networks of Bluetooth communities. Fortunately, anyone can participate these Bluetooth communities. Actually, OrbisWeb plans to make the development of Bluetooth mesh easily accessible by third party developers.
The Bluetooth mesh development hopefully can be accessible by the developers with the implementations like IoT, digital infrastructure, crowd-gathered data, systems management, and logistics. While for the consumers, Orbis apps may bring unique features and functionalities which cannot be reachable by conventional WiFi based applications.
Orbistore
After OrbisWeb, we are going to talk about another platform of Orbis which called Orbistore. This platform is an application platform which is opened to third party development, whether using BLE network infrastructure or not, and the developer income later on will be supplemented with OrbisToken (OBT).
OrbisToken
Developers may mint the new coins according to the application usage to coin cap and consumers mint the coins for being active mobile nodes while using and running the OrbisWeb mobile application. You can use OBT to purchase paid apps or purchase any products on the Orbistore.
Token Distribution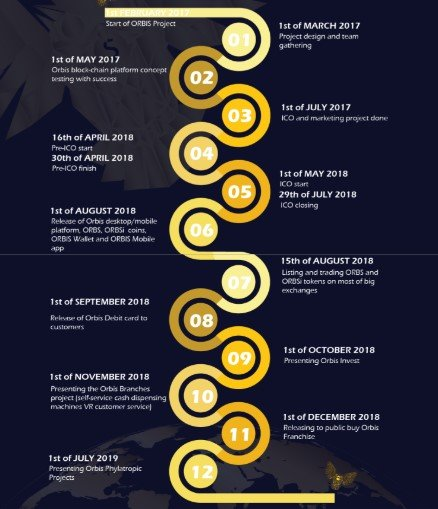 Total tokens: 380Million
Symbol: ORBS
Price: 0.5 EUR
SoftCap: 500000EUR (collected)
Hard Cap: 25000000EUR
Accepted cryptocurrency: ETH, BTC, EUR, USD.
Team Overview
Like a computer, Orbis team is a brain ware to make it successes. Orbis team has a great passion to combine technology, industry, marketing and banking, web development, with personal hobbies. This is a mix which make they love their work on Orbis.
It starts with the Mihail Tudoroiv as CEO and founder. Secondly, we meet Orsika Vitos as Operation Director and Project Manager. Thirdly, we have Alexandru Zamfirescu as Web Developer of the OrbisWeb. Then, we also meet Jaume Casas and Marina Arjona as the Design, Multimedia, and Creativity division.
The next of the list is Alexander Ionescu as Blockchain Developer. Then, we have Anton Rusnov as Integration and Security, also as the Web Developer. We also meet Eduard Joseph as Support Manager, and the last is Cataleen Johnnson as the Financial Directore.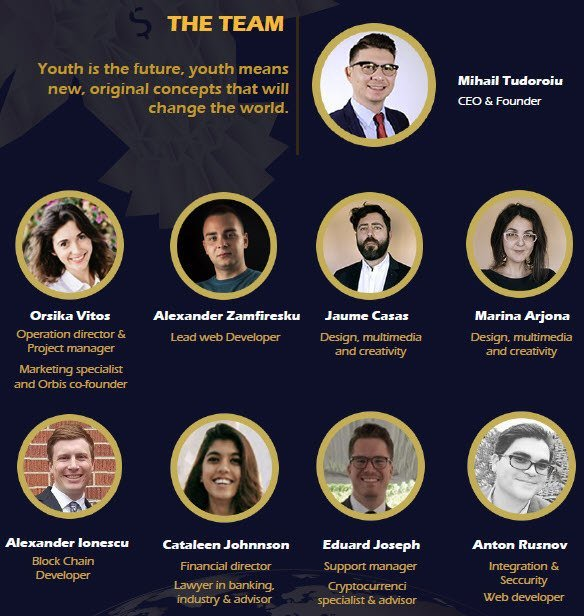 For more information about the team from this project please visit the link : https://orbistransfer.com/#team
What Do Investors Can Gain from Orbis?
Hopefully, the investors can gain the value of the token grows in time as the coins turn more widely used. What investors can gain is depending on both developers and consumers while they are starting to use the mesh network. If this mesh technology is considered as useful thing to use, and people start to utilize it across the planet, it may safe to state that the value of the tokens should rise accordingly. In fact, this technology seems be needed by a global decentralized solution and accessible network. Therefore, if this technology is widely used, this token distribution possibly improved. Well, those are the explanation about Orbis ICO. To be understood more about Orbis, you can read the complete explanation upon the whitepaper. Do you have any interest to be an investor on Orbis Project? Join us right now.
Contact Orbis Details:
Company name: OrbisSolutions OÜ
Reg. number: 14399454
Roosikrantsi street, no. 2, Tallin, Estonia.
contact@orbistransfer.com
More Info:
Website: https://orbistransfer.com/
Instagram: https://www.instagram.com/orbis_token/
Facebook: https://www.facebook.com/orbistoken
Twitter: https://twitter.com/OrbisToken
Telegram: https://t.me/orbisgroup
WP: https://orbistransfer.com/downloads/Orbis-White-Paper-2.pdf
Ann: https://bitcointalk.org/index.php?topic=3844192.0
Author of article:
USERNAME : Badboster
PROFILE : https://bitcointalk.org/index.php?action=profile;u=2120022
ETH : 0xa189dB830FB8f21B0C93D2E4E8e7b5bf6799A00d