ORGANICCO: REVOLUTIONIZING ORGANIC WASTE MANAGEMENT


A team of experts who for over 10 years have developed some green technologies for the purpose of transforming unwanted materials into useful saleable products set up a great and unique company called Organicco Ltd in February 2018. The company did not just create demands for the technologies; they also generated markets for the natural capitals. Organicco Ltd is the only company on planet earth that delivers technology to solve problems and also purchase the by-products. Organicco Ltd has over 120 years of combined experience in many aspects of financial management, engineering, manufacturing and project management.
Having a strong team made of experienced project managers, engineers, fabricators and excellent back office staff, Organicco has been able to deliver so many projects in UK, Canada, Ireland, Vietnam, Malaysia and Bangladesh. Also they have projects opportunities being developed in Greece, South Africa, New Zealand and Portugal. Organicco being focused on green technology related products, will use funds raised to develop projects via Organicco subsidiary companies so as to create natural capitals like organic fertilizers for food production, animal feed, biomass fuel, renewable energy and renewable fuels.
Funds which the Organicco company will raise during their ICO will be used to develop some projects in the green and agri-tech industries both in Canada, UK and South East Asia. These funds realized will be used to develop the organicco projects using technology solutions like ecoHERO and also ecoDRYER which will be used to produce Organicco fertilizer and also animal feed from unwanted commercial organic materials. Organicco will also produce small quantity of biomass fuels from mixed waste materials using ecoREDUCER technology. Renewable fuels and energy will also be produced from unwanted organic materials. Organicco will also develop easiPayer which is a low cost and fast international payment platform that is based on blockchain technology.
Organicco has a unique mission to constantly add or improve features to their range of products, continually establish and maintain the position as a leading provider of technology for the creation of natural capitals from unwanted organics and also keep a long lasting relationship with all clients. Having an aim to always be on the right side of current and future regulations, Organicco's objective is to deliver a good return for their investors whilst managing its risks to best possible standards. Organicco aims to make arable farming a lot more friendly environmentally, supporting natural food production with better yield. They strongly believe there is no waste in nature, thus aim to eradicate organic waste, converting them to useful products with no or very small by-product in the most environmentally friendly manner possible on earth.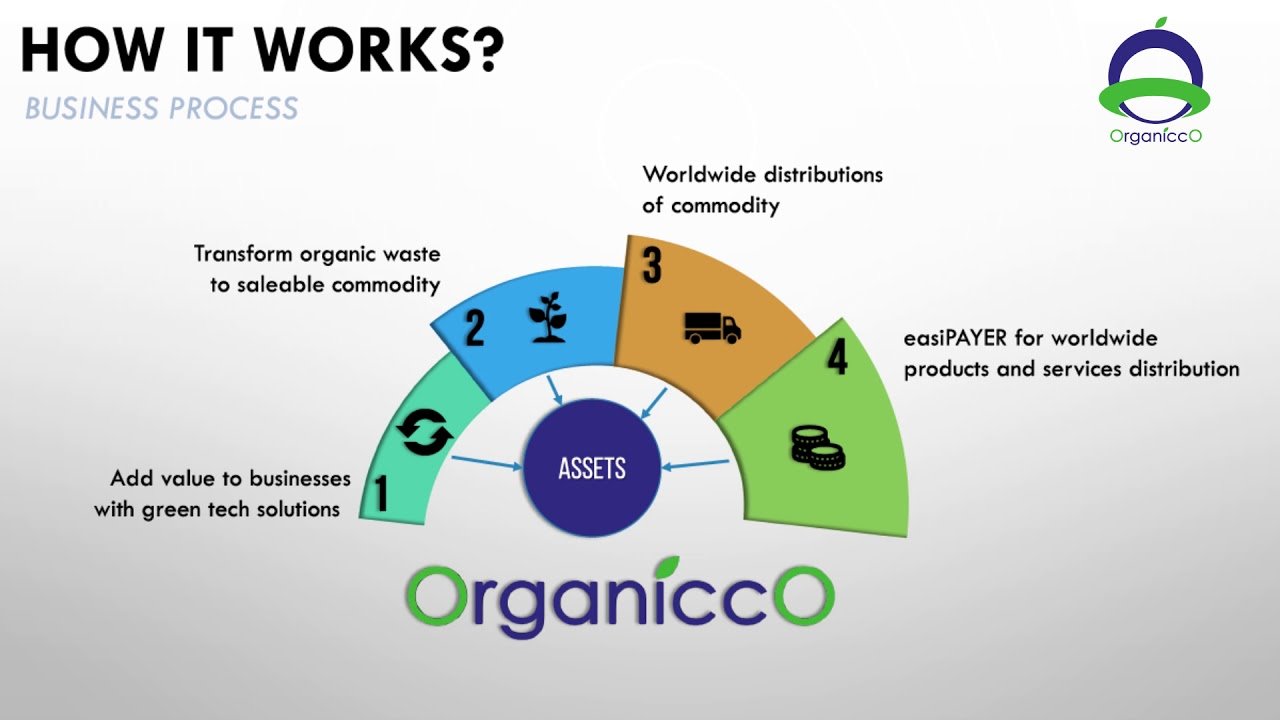 EasiPayer
It is a low cost international payment platform which has been specially designed to replace letter of credits and invoice factoring which is fast, safe and easy to use. A transaction fee of 0.5% and 1.5% for fiat currency exchange are charged on the EasiPayer platform.
ORGANICCO TOKEN DETAILS
Token name: Organicco Token.
Ticker: ORC.
Type: ERC-223(Ethereum Blockchain).
Total supply: 120 000 000 ORC.
Softcap: £3 500 000 GBP.
Hardcap: £35 000 000 GBP.
Token Sale: 10.04 – oo.
Accepted purchase: GBP, BTC, ETH.
Price: 1 ORC – £0.40 – 0.50 GBP.
Country: UK
ORGANICCO TOKEN SALE
12 million organicco tokens will be available for sale during the organicco Pre-ICO at £0.40 GBP and £0.50 GBP during the ICO crowd-sale. All who purchase and hold organicco tokens during the pre-ICO stage will get a discount of 20% during the ICO crowd sale. The crowd sale begins April 10th, 2018 and ends after 30 days or when the organicco tokens are all sold out. To participate in the organicco crowd sale please visit the website on https://organicco.uk/cms/how-it-works for more information and instructions.
ORGANICCO FUNDS DISTRIBUTION
Marketing / PR: 0.8%.
R&D fuel, new product launch: 7%.
Manufacturing improvements: 7%.
Salaries, expenses, insurance, legal: 3.8%
Green-tech project development: 42.2%.
Capital guarantee: 10.9%.
easiPayer assets backing: 28.2%.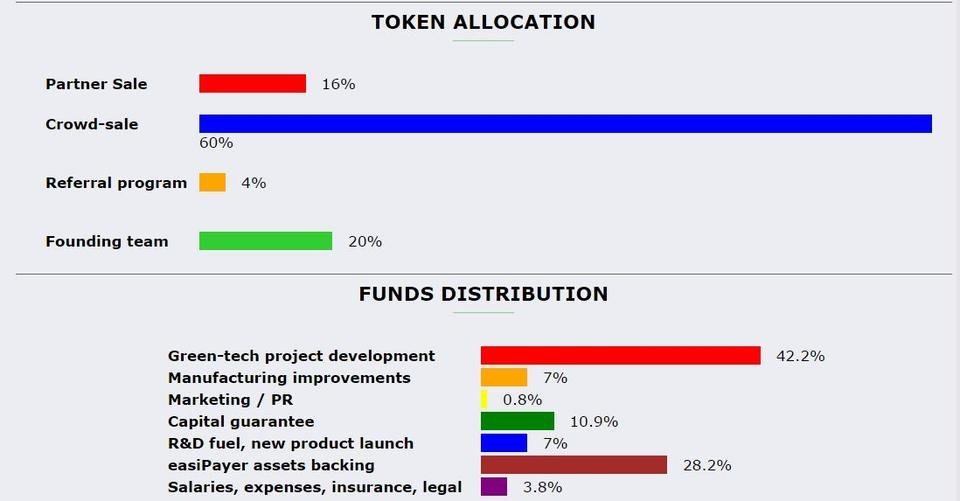 ORGANICCO TOKEN ALLOCATION
Partner Sale: 19, 200, 000 ORC
Crowd-sale: 72, 000, 000 ORC
Referral program: 4, 800, 000 ORC
Founding team: 24, 000, 000 ORC
ORGANICCO ROADMAP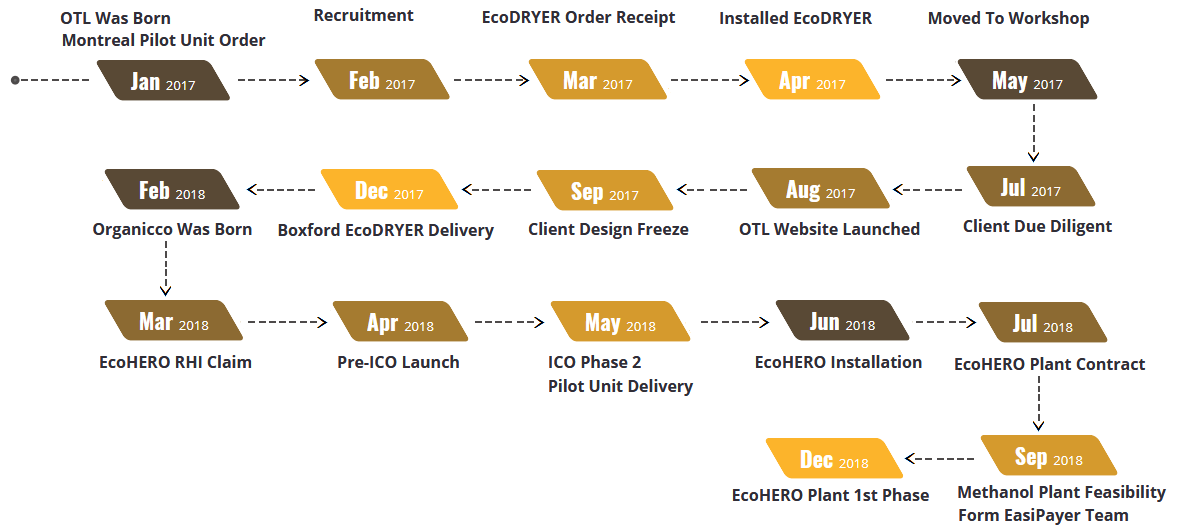 January 2017: OTL was born
January 2017: Montreal Pilot Unit Order
February 2017: Recruitment
March 2017: EcoDRYER Order Receipt
April 2017: Installed EcoDRYER
May 2017: Moved To Workshop
July 2017: Client Due Diligent
August 2017: OTL Website Launched
September 2017: Client Design Freeze
December 2017: Boxford EcoDRYER Delivery
February: Organicco Was Born
March 2018: EcoHERO RHI Claim
April 2018: Pre-ICO Launch
May 2018: ICO Phase 2
May 2018: Pilot Unit Delivery
June 2018: EcoHERO Installation
July 2018: EcoHERO Plant Contract
September 2018: Methanol Plant Feasibility
September 2018: Form EasiPayer Team
December 2018: EcoHERO Plant 1st Phase.
ORGANICCO TEAM MEMBERS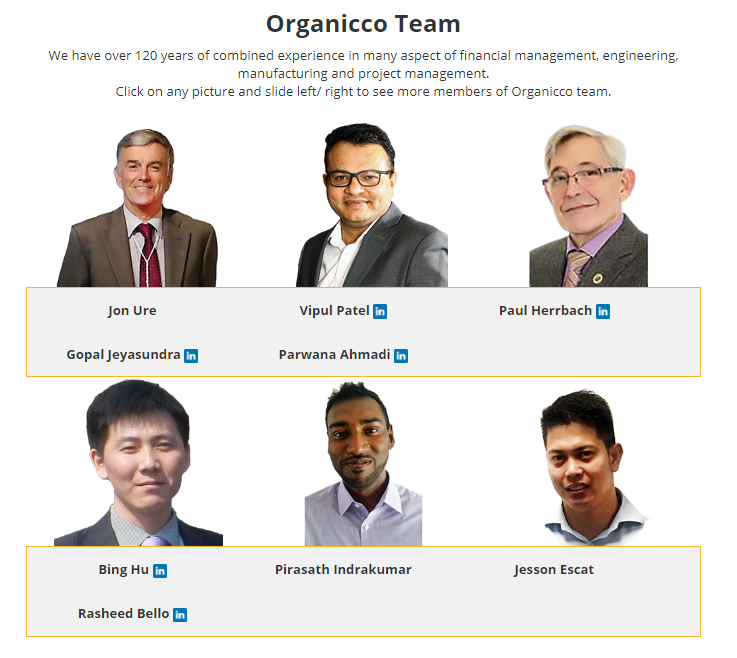 Jon Ure: Managing Director
Vipul Patel: Financial Director
Paul Herrbach: Canadian Partner
Gopal Jeyasundra: Chief Technical Director
Parwana Ahamadi: Finance Assistant
Bing Hu: Senior Blockchain Developer
Pirasath Indrakumar: IT Engineer
Jesson Escat: Fabrication Engineer
Rasheed Bello: ICO/ Blockchain Advisor
No doubt, you will agree with me that the Organicco project is one the world has long waited for and will surely be a huge success. I strongly encourage everyone to have a close look at the website and whitepaper of Organicco for more information about the great and unique project. Also, join their different social media platforms for more information about the project and its unique benefits.
ANN Thread: https://bitcointalk.org/index.php?topic=3379079
Whitepaper: https://organicco.uk/content/site/Organicco_whitepaper_R8sm.pdf
Website: https://organicco.uk/
Facebook: http://facebook.com/organiccouk
Twitter: http://twitter.com/organiccouk
Telegram: https://t.me/joinchat/IcJVAAuEHotRC2YmSi0vTg
Youtube: https://www.youtube.com/channel/UCPfAUtJt8G_VzQYOYlZlxMQ
Authored by: ogtejiri
Bitcointalk link: https://bitcointalk.org/index.php?action=profile;u=1790132
Wallet address: 0x33E8810b5432ccD823b6c45975A55Fb9F6c931D6