Overview of BITEX ICO – It's the first locally-embedded crypto-bank!
How would you react to such an idea, if you have a unique opportunity to transfer money from anywhere in the world, where you need: quickly, safely and with a minimum Commission. I think a lot of people have taken this idea with a Bang. As modern realities are such that traditional payment systems and international transfers through banks are far from ideal. Often, in order to transfer the necessary amount to your family and friends, we go to our usual transfer points and banks, after which the jam implementation of the transfer from a few hours, and sometimes even days, while paying a very tidy sum for translation services. Just imagine how it all devours your time, nerves and money.
It is because of these problems of the banking system and a new solution was proposed, namely the technology was developed with which you can transfer your funds quickly, reliably and safely, and even with minimal costs. As you may have guessed, I'm talking about all the already familiar Blockchain technology. Yes, this technology was developed initially to solve all the above problems. This is now due to the active growth of this market, many investors and traders primarily see in the crypto-currencies an excellent opportunity to increase their capital, and only then convenience and savings in use. However, the issue of replacing the centralized and traditional banking system remained open until a project emerged on the market that is ready to offer a new vision in the sector.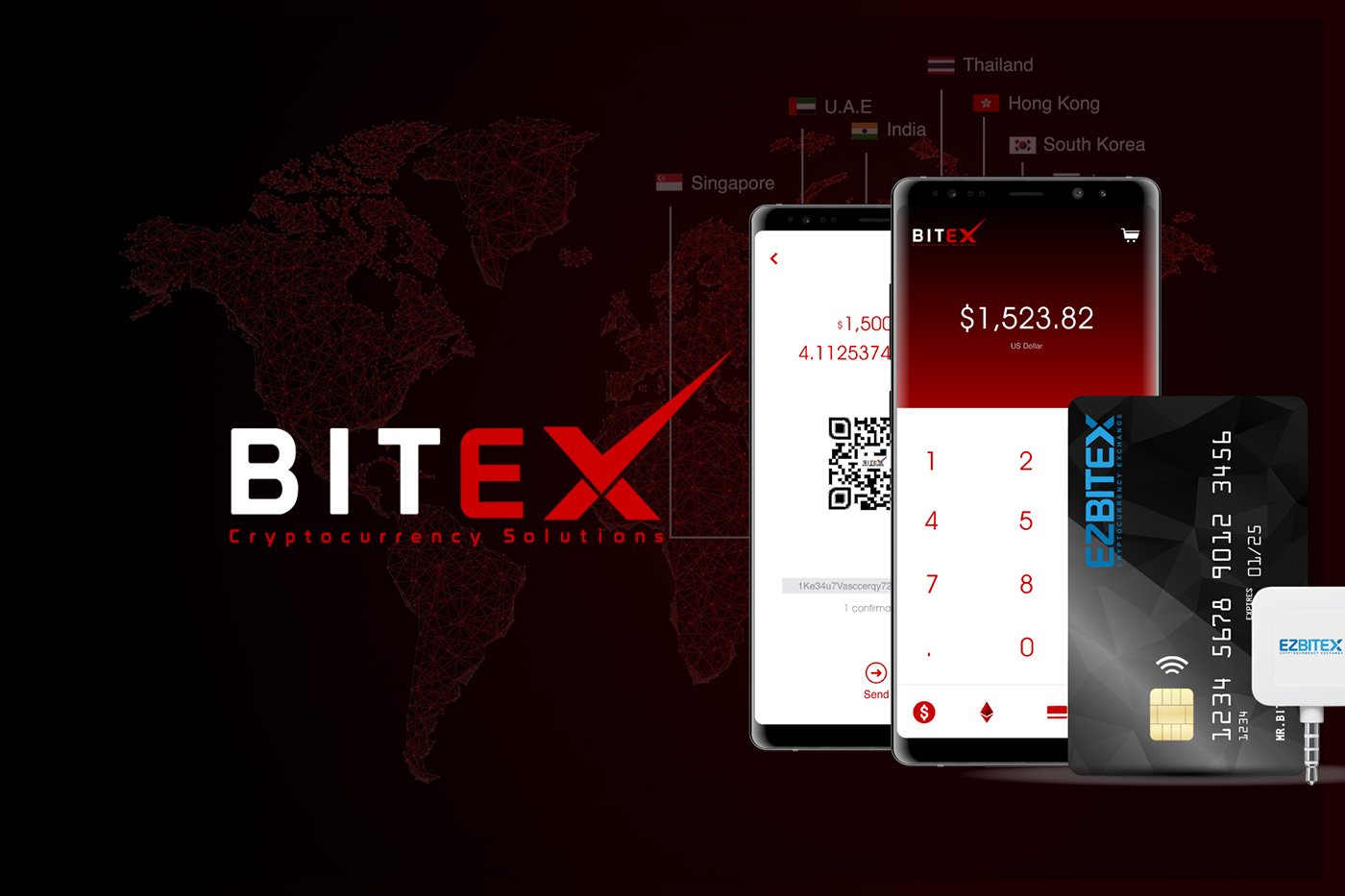 About the project and it's features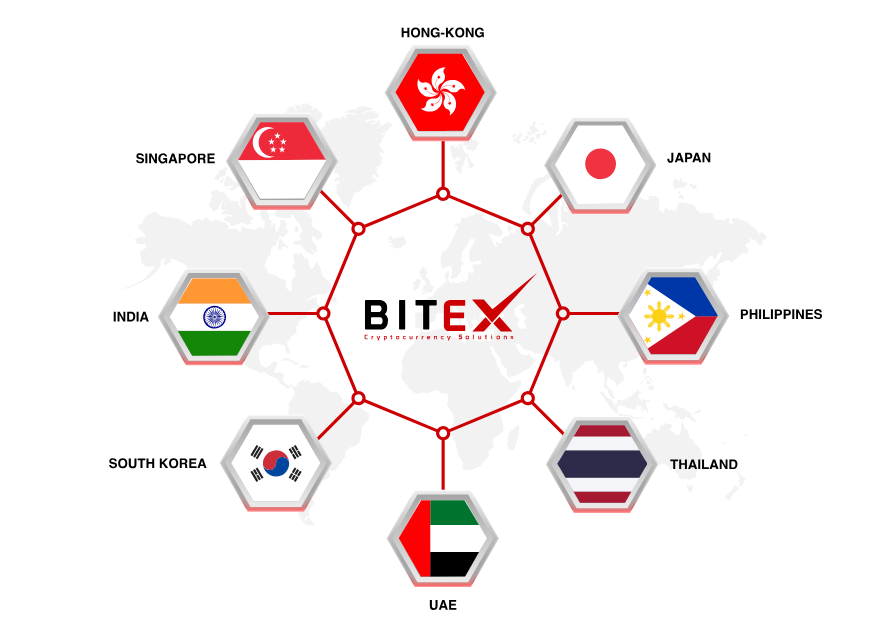 Today we will talk about such a project as – Bitex. The main purpose of which is to implement a local decentralized Bank, with which the user will receive the highest quality range of financial services.
It should be noted that at the moment this project has already received a license for its activities and this EZBitex platform has already been launched in 8 countries. But this is only the beginning, in fact, the project developers are seeking to spread the first crypto-banking around the world. So that everyone can enjoy its benefits and amenities in any corner of our planet.
If we analyze the current trend of the crypto-currency market, we can safely say that cryptocurrencies are becoming more and more integrated into our lives every year. And that's a fact! Many experts suggest that in the near future, the total capitalization of the crypto-currency market will reach the mark of 10 trillion dollars. That in turn will consolidate the status of cryptocurrencies as advanced technology of payment services. But for this to be realized, we need such platforms and projects, with the help of which cryptocurrencies will help us to interact with each other by means of developed infrastructure. It is for such purposes and was developed by Bitex.
The benefits of the project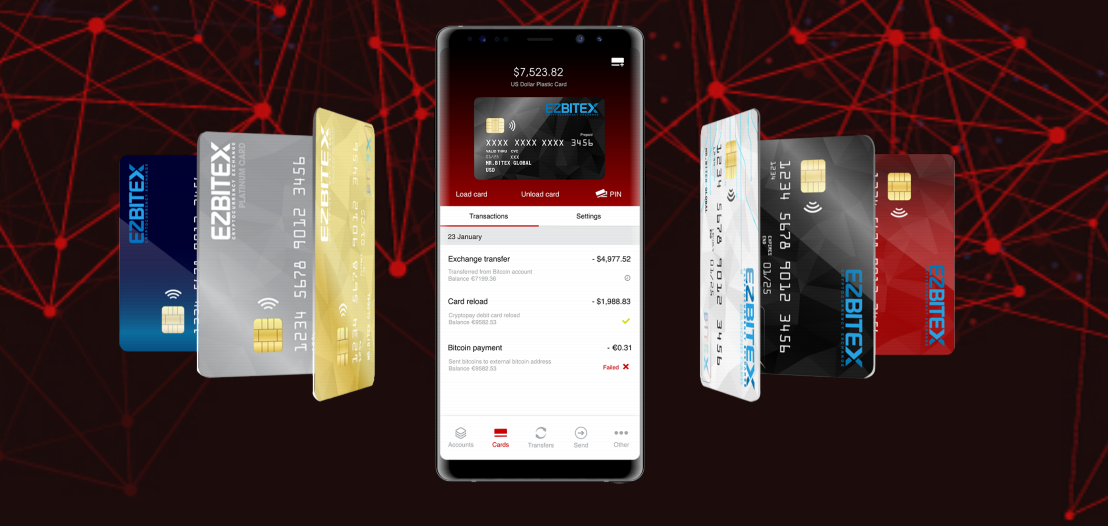 The main advantages of Bitex, include the presence of Bank and debit cards, with which you can cash Fiat, more than 20 000 branded ATMs around the world. This system will allow everyone to use their cards to the maximum, not only for withdrawals, but also for various financial transactions. And thanks to the use of AML and KYC, Bitex will be able to provide a fast, efficient and secure lending system.
Let's look at what components this crypto banking will consist of: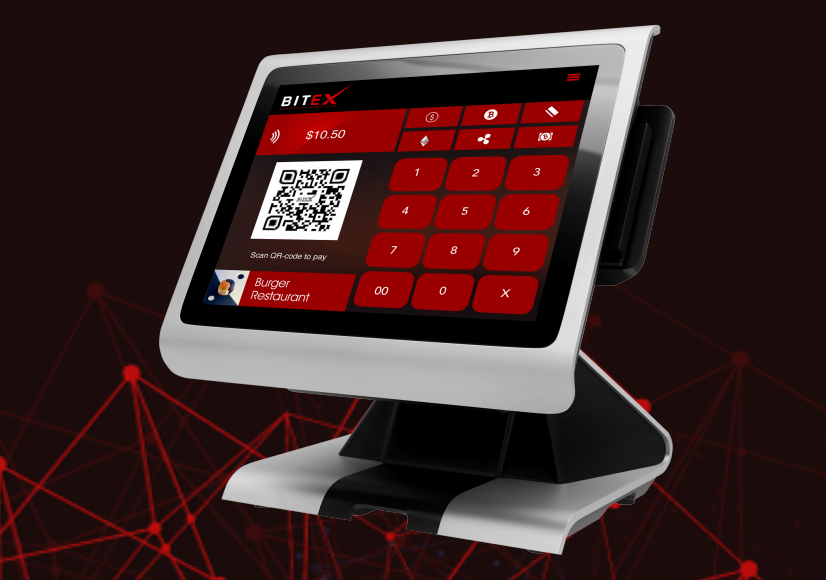 In order to enable users to use this platform in any sphere of payment for goods and services, as well as international transfers, it was proposed to introduce such a section as BitexPay. With the help of which you can make cryptocurrency payments in more than 30 000 000 stores, while using the loyalty system and the Cash Back program;
Bitex, will offer unlimited solutions and services for all businesses related to retail;
To implement all transactions, Bitex intends to provide within the platform a special API server for the implementation of all transactions with cryptocurrencies;
Bitex, will provide its users with a unique opportunity to receive instant loans based on smart contracts, while regulating the risks, liquidity of the exchange and so on.
Token and ico details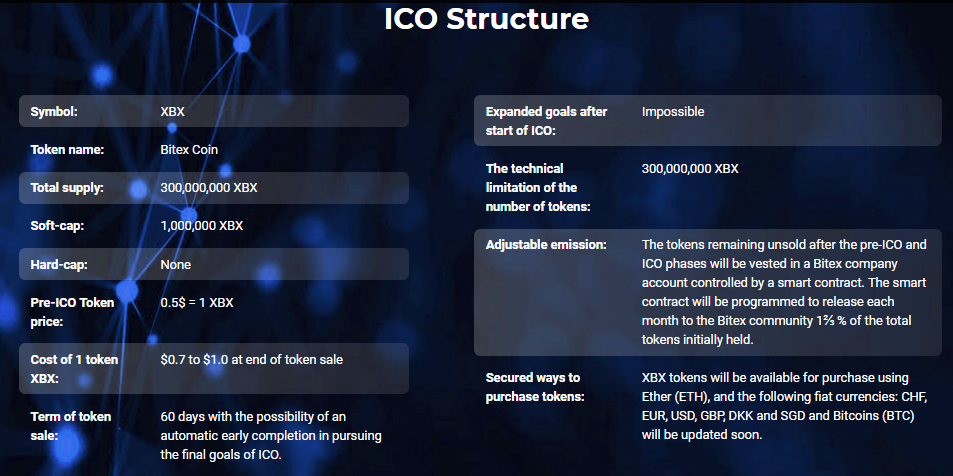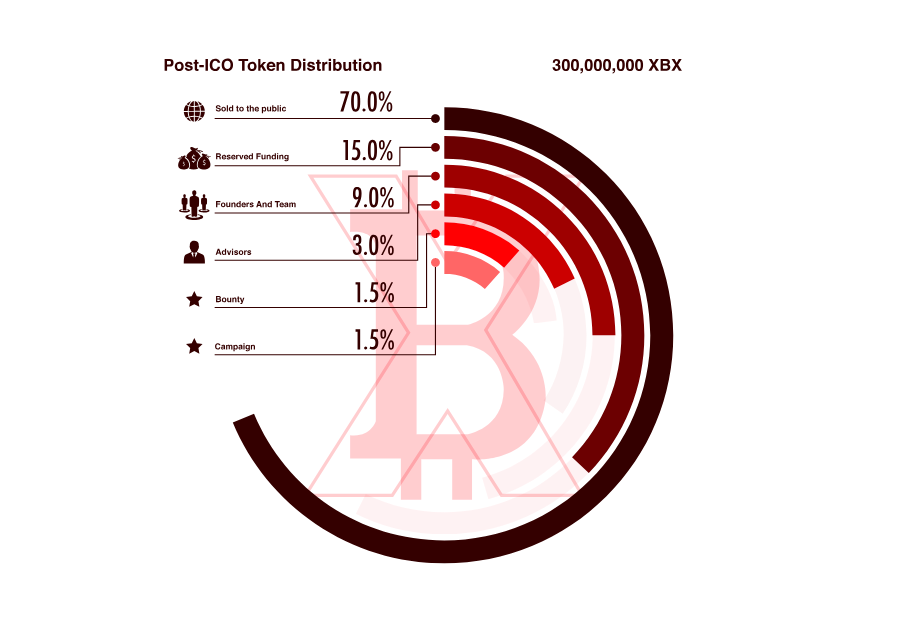 The platform will have a single coin XBX, which is created under the standard Protocol ERC-20. And the main task of which is to maintain liquidity and a high level of security. With the help of coins, the user can perform any operations and transactions existing within the framework of the platform. 
What I find very convenient!In total, the developers will release 300 million tokens, the initial cost of which will be$ 0.5 per 1 xbx at the time of the preliminary sale. You can buy these coins for the most popular cryptocurrencies, as well as Fiat. If a purchase of more than 5 thousand tokens is made, then a pleasant discount is waiting for the user. More detailed information with regards to the conduct of the ICO, visit the website of the project.
 Roadmaps and timeline of bitex cryptocurrency solutions and timeline of the Bitex defines its technical framework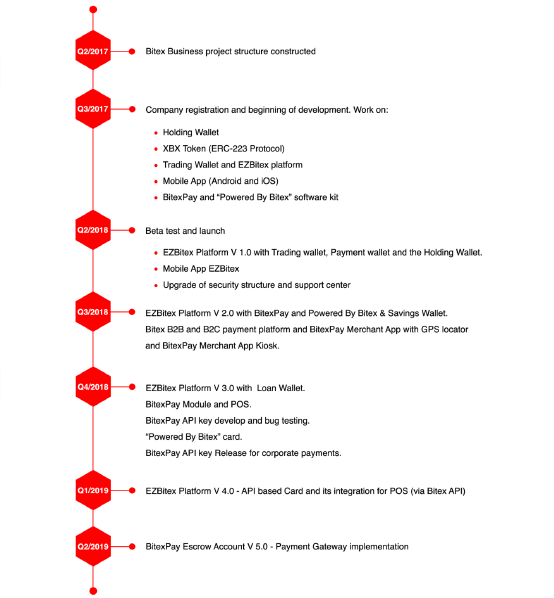 Project conclusion
  I would like to note a strong and professional team that worked on this platform. And Bitex, is a fully working system that works in eight countries. This project is perfect for large and professional investors, as well as people who are important for the safety, reliability and legality of financial transactions.But before you take an active part in the development of the project, I recommend you to study all the technical documentation of the project, as well as view their social resources on these links: 
For More information follows;
Website || Whitepaper || ANN Thread || Telegram || Bounty || Facebook || Twitter 
Keep Tabs On Me Daily articles about cryptocurrency and blockchain based projects.