OVERVIEW OF LOCALCOIN DECENTRALIZED EXCHANGE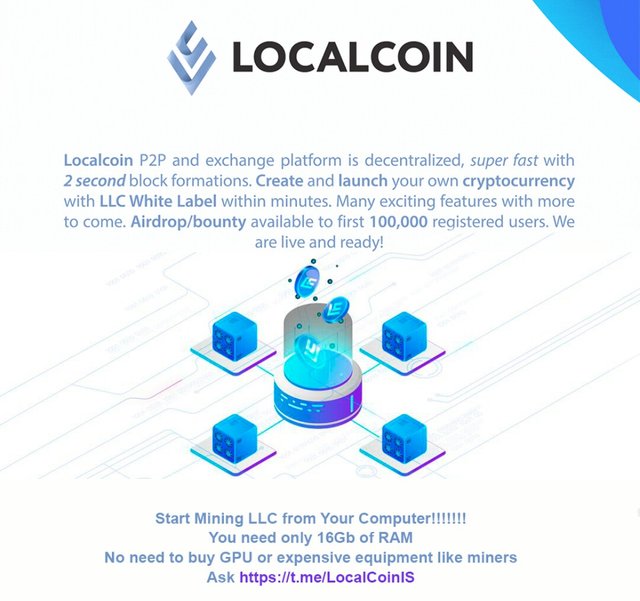 LocalCoin is a blockchain based trading platform for exchanging cryptocurrencies. LocalCoin is also known as a decentralized trading exchange that make the users manage their wallet and make their account to be anonymous. LocalCoin exchange allows people to trade and perform transaction anonymously without the consent of anyone including the exchange developer.

IMPORTANTS THINGS TO NOTE ABOUT LOCALCOIN
The LocalCoin exchange has an OTC (over the counter) trading. The OTC trading is a process of trading occurring between peer to peer users of the platform being managed and monitor by an escrow.
In LocalCoin exchange, user's account can never be block because the exchange is purely decentralized. This make this exchange far better than the centralized exchange that threat user's account with blocking.
Any project core team can list their token for trading in LocalCoin exchange because they did not require any coin listing approval.
The LocalCoin decentralized exchange has an eWallet. This means user can do internal transfer of coin/token within themselves.
In LocalCoin decentralized exchange, account verification is not needed. All you have to do is to register on the exchange, verify your email and start trading.
Other centralized exchange do set trading limits, but such things does not exist in LocalCoin decentralized exchange. This trading platform has no trading limits; rather you trade to the length of your capacity.
In LocalCoin decentralized exchange, there is no withdrawal limits. This means users can withdraw any quantity of assets they have at the exchange at a spot.
The LocalCoin platform is transparent and they make all report public to all the users of the exchange.
LocalCoin decentralized exchange has a decentralized chat that permits users to communicate with each other and probably share knowledge within themselves.
The LocalCoin exchange, the hacker or the internet fraudsters have no chance here. All the transaction on this exchange are untraceable and anonymous.
The LocalCoin was designed for web compartment. It is also available on mobile app desktop app.
LocalCoin decentralized exchange has a very transaction rate. The exchange will be able to handle 100k transactions per second .
The LocalCoin has a solid and faster payment process which execute transfer or withdrawal order in seconds.
The LocalCoin exchange permits multi-signature account for the users of this exchange.
LocalCoin decentralized exchange has a zero trading fees apart from the network commission fees which users paid and it is very low.
There is no trading fees apart from the network ridiculously low commission. All you pay is fixed network fees just to push your transactions into the blockchain.
High performance
A Blockchain-based system that handles 100,000 transactions per second, with Bitcoin and Ethereum being not even close to that.
LocalCoin decentralized exchange as a stealth mode which make users to perform super-secure transactions that will be secretive to any network block explorer
LocalCoin decentralized exchange as a top notch security up to the level that no one could access each other account because individuals is in possession of their secret keys.

PROJECT ROADMAP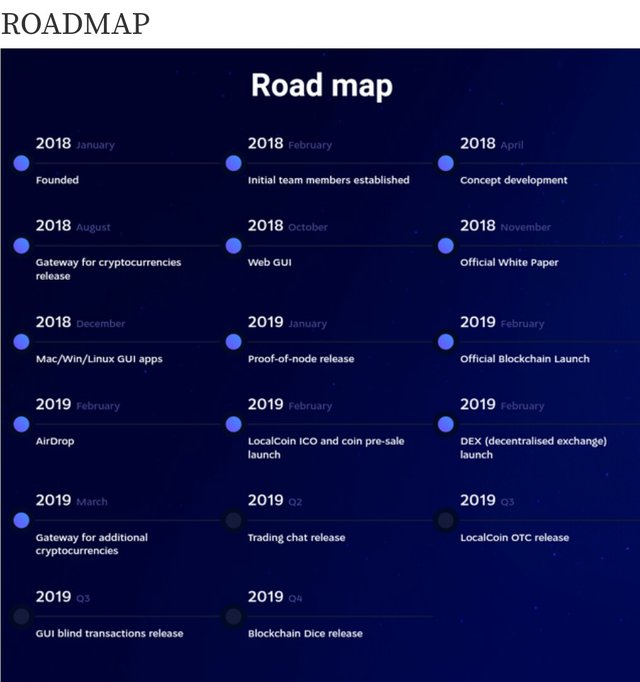 IN SUMMARY
The LocalCoin decentralized exchange is an exchange you must adopt to be using for trading of cryptocurrency because it is far better than all the centralized exchange we have now and they can't be compete for any reason. This exchange will offer traders all necessary services needed for trading of cryptocurrency; the exchange is completely decentralized, fully secured, transaction are anonymous and very easy to access.
https://localcoin.is
https://wallet.localcoin.is
https://twitter.com/LocalCoinIS
https://discordapp.com/invite/vzxSzYNj
https://www.reddit.com/user/LocalCo
===============================================
AUTHOR:
PROFILE : https://bitcointalk.org/index.php?action=profile;u=1776349;sa=summary
ETH addres :0x0ebfc5fe073DCc6c1E7D4e5A6c06c092A704276f