PARKRES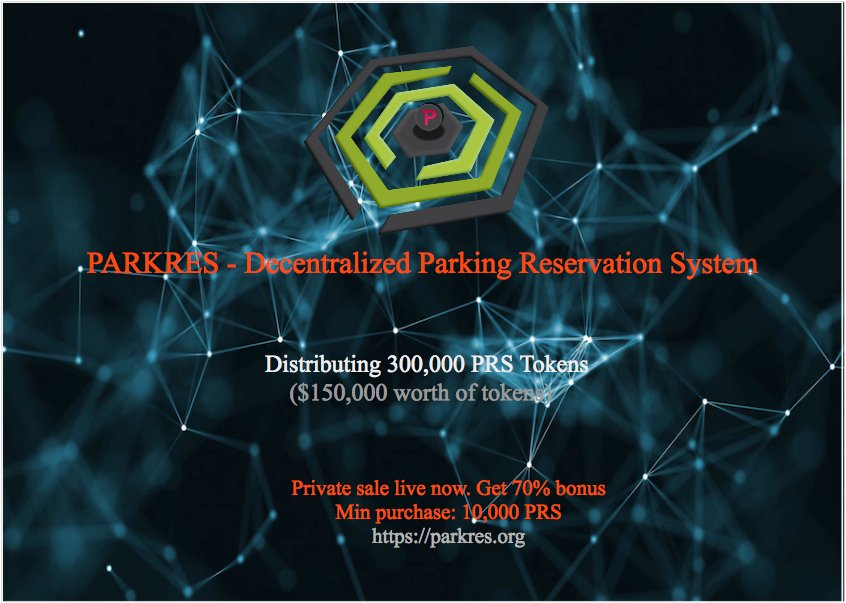 Greetings friends,I have decided to give you information about this great innovation known as PARKRES,PARKRES is an all in one parking solution,bridging the gap between cryptocurrency and parking systems.
Introduction:
PARKRES is a decentralized parking management and tracking platform.
PARKRES is a young,innovative company driven by the passion for technology and customer satisfaction. We believe that the sharing economy can help cities become friendlier, cleaner and happier for everyone.The PARKRES solution will allow users to find and reserve parking spots provided by parking spot owners. The system will send special notifications on all available parking spots and locations. PARKRES will employ an IoT sensory network over a cloud-based solution
Today, almost every second person has a vehicle, and sometimes several. After conducting research, sociologists have come to the conclusion that drivers make great efforts every day to find a free Parking space. Last year, almost 6 out of 10 drivers interviewed had to give up searching for a temporary Parking space for their car at least once and more than a quarter of respondents had a dispute with other drivers for a Parking space. Unfortunately, even if the authorities of all countries try to solve this problem one way or another, but still it does not disappear and grows every year.
PARKRES solves all of these problems by state of the art sensory network to track and manage parking spots across the city and different parking locations. It employs IoT (Internet of Things) based sensory network to track and monitor the parking spots across different parking location and suggest you a parking spot closest to your destination in advance.
The PARKRES system uses cryptocurrency as a payment method, payments can be made by phone, online, automatic payments, monthly, etc.All this will save a lot of time, save paper that will be wasted on the sale of Parking tickets as the PARKRES system uses token-based authentication and output verification.
PARKRES also let you find and reserve your parking spot, so you don't lose it when you reach your destinations,PARKRES is a project whose goal is a revolution in Parking system and the introduction of cryptocurrencies in daily lives.
Token Information;
Token symbol: PARKRES (PRS)
Standard: ERC20
Platform: Ethereum
Number of issued tokens: 200 000 000 PRS
Tokens available for ISO: 85 000 000 PRS
Private sale from may 1 to may 30: 10 000 000 PRS
Pre – sale from 15 to 15 September: 20 000 000 PRS
Public sale from November 1 to November 30: 55 000 000 PRS
The following bonuses are provided for investors. They will depend on the stage of sale.
70% bonus-Private sale
15% bonus-Pre-ICO
10% Referral bonus
Token price at start of sale: 1 PRS = 0,5 USD
Accepted currencies: BTC, ETH
Web site: https://parkres.org/
WTT: https://bitcointalk.org/index.php?topic=3671573
Bounty VTT: https://bitcointalk.org/index.php?topic=4166597.0
Twitter: https://twitter.com/ParkresICO
Facebook: https://www.facebook.com/parkresico/
Instagram: https://www.instagram.com/parkresico/
Linkedin: https://www.linkedin.com/company/parkresico/
Telegram: https://t.me/parkres
Reddit: https://www.reddit.com/user/parkresico
Medium: https://medium.com/@parkresico/parkres-decentralized-parking-reservation-system-c0a584ff6e41
Whitepaper: https://parkres.org/Parkreswhitepaper.pdf
Author: mronezigger
Bitcointalk profile link: https://bitcointalk.org/index.php?action=profile;u=2125728