PARKSEN: CREATING GREEN, SMART AND CONNECTED CITIES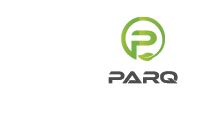 Meeting up with our daily activities has been paramount in meeting our day to day needs with the global economy that keeps growing ever nano second. The implementation of developed technological mechanisms such as automobiles has been created with the aim of accomplishing these daily activities faster and more efficiently. In the process of meeting up day to day activities brings about congestions and traffic in the transportation system due to lack of parking lots for automobiles in big cities. The lack of collaboration of government and private individual bodies coupled with high charges with parking lots has made the transportation system drawn back in technology advancement. Innovation of updated technology that handles congestion and traffic coupled with prediction broadcast that gives a solution to these problems has also not been put in place. This congestion brings about high emission of carbon to our habitat and ecological system, depleting our ozone layer and causing harm to we dwellers of the planet earth. All the stated issues about have brought about loss of time, time and threat to earth ecology.
This has brought about the PARQ solution, a platform to improve outdated city infrastructure. The platform will function by giving real time information based on a cloud system where private and government bodies can give out free spaces and parking lots and garages for a charge. The remote cloud access will give the bodies mentioned access to the parking lots with information updated by individuals and bodies leasing out the space at charge in the PARQ token. The platform will work on blockchain technology a decentralized network for speedy and secure transaction coupled with smart contracts that keep records of transaction that occur on the platform. The platform will bring about eradication of congestion and traffic in large cities bring and bring about a conducive environmental ecology with the reduction of carbon emission into the atmosphere. The collaboration of government and private bodies will bring about great development in the transportation system with establishment and installation of new technology. The platform will bring about drivers, parking spot owners, parking application providers, software/hardware producers to bring about the reality of PARQ innovation and development of the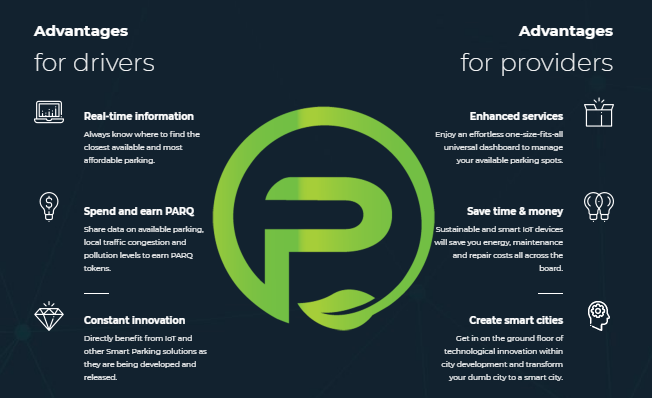 The platform innovation plans to start its project in high traffic areas of the world coupled with high carbon for green smart contracts innovation via internet of things all on a platform that can be accessed on a cloud based network and executed by smart contract based on blockchain technology. A percentage of the revenue generated from parking spot from the owners will act as source of income for the PARKSEEN platform for initial stages. Offering equipment services for companies and individuals will also claim a commission fee for purchases made on the platform.
PARO token will be used on the PARKEN platform to carry out transaction.
PARQ TOKEN DETAILS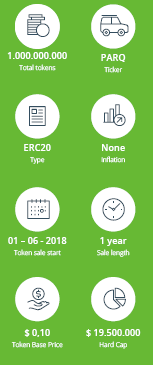 TOKEN DISTRIBUTION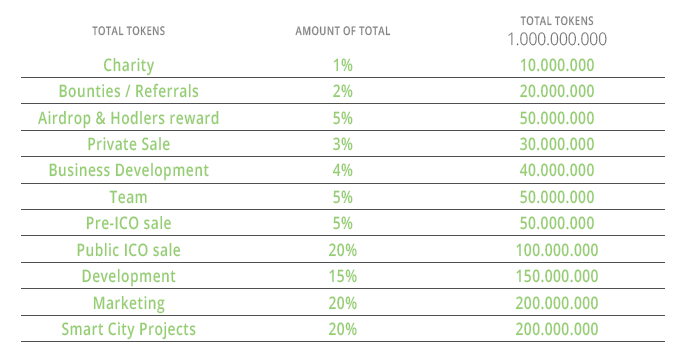 INITIAL COIN OFFERING

ROADMAP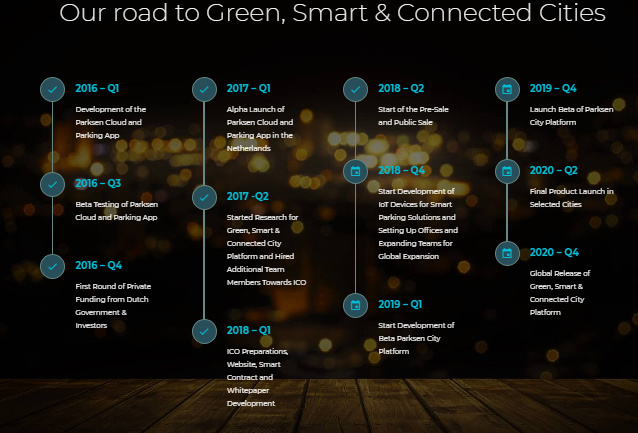 TEAM
EDDIE POSTMA: CEO&FOUNDER
PAUL HEATH: CHIEF SECURITY OFFICER
FOKKO VAN DEN BOSCH: IT ARCHITECT
ARJAN DOUWES: SENIOR DEVELOPER
MASSIMO BENSI: SENIOR DEVELOPER
PROFESSOR JOOST PLATJE: GLOBAL SUSTAINABILITY STRATEGIST
ROY VAN PAMELEN: URBAN DEVELOPMENT SPECIALIST
TANNA HEATH: RISK ASSESSMENT MANAGER
COR ALBERTS: LAGAL COUNSEL
MAARTEN VOSKUIL: LEGAL COUNSEL FOR CONSUMER PRIVACY
WILHELM ROTH: MARKETING AND COMMUNICATIONS MANAGER
JAN HEEMSKERK: CONTENT MANAGER
MARC GARCIA ABELLAN: COMMUNITY AND SOCIAL MEDIA MANAGER
ADVISORS
SIMON COCKING
JASON HUNG
DENNIS SCHOUTEN
NICK REINEMAN
RICHARD KRAWCZYK
MOHAMED ROUSHDY
Dear readers, let's be part of the PARKSEN platform to creating green, smart and connected cities
GET YOUR PARQ TOEKNS NOW.
FOR MORE INFORMATION ABOUT PARKSEN KINDLY CLICK ON THE LINKS BELOW
WEBSITE: https://www.parqtoken.com/
TELEGRAM: https://t.me/parqtoken
REDDIT: https://www.reddit.com/user/PARQtoken/
TWITTER: https://twitter.com/PARQtoken
FACEBOOK: https://www.facebook.com/PARQtoken-1753498984673207/
MEDIUM: https://medium.com/@PARQtoken
INSTAGRAM: http://www.instagram.com/PARQbyParksen
WHITE PAPER: https://www.parqtoken.com/wp-content/uploads/2018/01/Whitepaper_PARQ.pdf
My Bitcointalk Link: https://bitcointalk.org/index.php?action=profile;u=1920725
My Ether Wallet Address: 0x110Ae93934bf9C0BA3e3CCE99c8861dd4130954e