PARLAY – Decentralized prediction game platform, powered by public
INTRODUCTION
The Blockchain is a rapidly growing technology that is engulfing every possible business domain. Therefore, many reports published have predicted a huge rise in the Blockchain market. According to reports, the Blockchain market is expected to extend to over 20 billion dollars by 2024. It is counted in one of the most promising new technologies that are hoped to change the future of businesses and the internet.
Fundamentally the rise in cryptocurrency and subsequent attention brought to blockchain technology has prompted nearly every industry to evaluate the benefits of integrating the technology into their operations. One such firm at the forefront of blockchain innovation is PARLAY

What's its parlay ?
Parlay is a project to pursue a scalable blockchain solution that has PrimeNodes to minimize network blockchain delays and user-friendly methods. In addition, Parlay is an event-driven cryptocurrency that provides a decentralized predictive gaming platform, operated by the public community.Playlay Chain adopts the Proof of Stake (POS) for consensus algorithms to improve and secure network scalability blockchain.Parlay Chain embed an auto-scaling node that has a unique node management system to stabilize mainnet, the official site.
Feature
Instant
Fast transactions over the world verified by PrimeNode network.
Privacy
Your data is confidential. Transactions are encrypted and stored anonymously in Parlay network.
Secured Scalability
Protect network from transaction congestion with auto-scaling feature.
POS
Validate transaction and generate blocks by staking.
Each PAR holder gets incentives in Parlay network.
Primenodes
Integrated with memory pool monitoring system and managed by Prime service.
User-friendly
Single step automated solution to install/run node on VPS.
Technical Detail
Prime Service
Uses docker service in order to package all the requirements and the packaged Parlay system helps users to run PrimeNode easily.
Includes automated installation and configuration with only few steps.
Easy management system will helps to break down engineering barrier of conventional masternode.
Secured Scalability
Hidden PrimeNode that dynamically turned on/off in regards to= transaction monitoring system.
Whenever monitoring system detects overflowing and congestion of the network, the preliminary PrimeNodes temporarily support to validate transactions.
This responsive auto-scaling system stabilizes the network and maximizes Parlay (PAR) holders' rewards.
Primary Service
Using the docker service to package all the requirements and system Parlay packages help users to run PrimeNode with ease. Includes installation and automatic configuration with just a few steps. An easy management system will help knock down the conventional engineering barrier.
Security system in Parlay program.
-Hidden PrimeNode dynamically lit in transaction monitoring system.
-Every time the monitoring system detects overflow and network congestion, PrimeNodes initial while supporting to validate the transaction.
This responsive responsive scaling system stabilizes the network and maximizes parlay holder rewards (PAR).
In this program you can either propose your own game or select / play for the games you are interested in to get a gift from Parlay.Live.From Parlay.Live game lets you get a BTC / PAR pair instead by operating your own game or winning a prediction game that you follow.
Live platform Parlay encourages communities to post new events for various purposes. As previously mentioned, the event organizers can post demos for the Parlay event before the actual election begins. Participants may vote for demo elections such as playing games. The voting results are from demo-elections can be used as a predictive sample of the election.
The PoS Parlay consensus algorithm allows each stakeholder to participate in transaction validation on the network. To promote stable and secure network growth, we set more incentives for PrimeNodes holders. Each PoSS ParSS block item is divided into 60% set PrimeNodes and 40% assigned to stalk the node.
Token Specifications
Symbol: PAR
Algorithm: Scyrpt
Maximum supply: 30.000.000 Parlay
Block time: 90 seconds
Gift Block: 20 PAR
Gift distribution: PrimeNodes 60% / Staking Node 40%
Warranty PrimeNodes: 2,500 PAR
Difficulty retargeting: every block
Block of Maturity: 88 blocks
Transaction Confirmation: 10 blocks
Premine: 0.5%
Presale – 1st Auction
Parlay.Live (June 2018)
Parlay.Live is decentralized prediction game platform, operated by the public community.
Proposal on Community
To support the network growth and stability, Parlay.Live provides the proposal right to users who support Parlay network service (PrimeNodes).
Any PrimeNodes holder can post Parlay event on Parlay.Live and obtain incentives from Parlay.Live platform
To censor the proper Parlay event, the committee examines and reviews Parlay pre-proposal. If the committee approves the event, Parlay Chain automatically enforces the event.
Parlay Prize will be set by our budget system and will integrate with Parlay.Live.
Parlay event description including race, game, competition, and/or other future events.
Parlay Prize : Type of prize (BTC/PAR) & reward size
Parlay Fee : Event ticket price
Parlay Period : Event participation period
GamePlay Detail
In Parlay.Live prediction game, Parlayers pick the winners of three or more gameplay to win the Parlay Prize.
2018 Russia FIFA World Cup.
Contribute your passion and fortune to make life become more entertaining and profitable.
Future Vision
Event can be interpreted as more broad definition in Parlay community.
Subsequently, the event will become a form of an election and/or governance decision on community opinion.
The future of Parlay.Live system encourages community to post new events for multiple purposes.
Parlay events can evolve into numerous forms mainly driven by its community members and Parlay holders.
Parlay team urges to potentially expand and stimulate by the community and for the community.
ROADMAP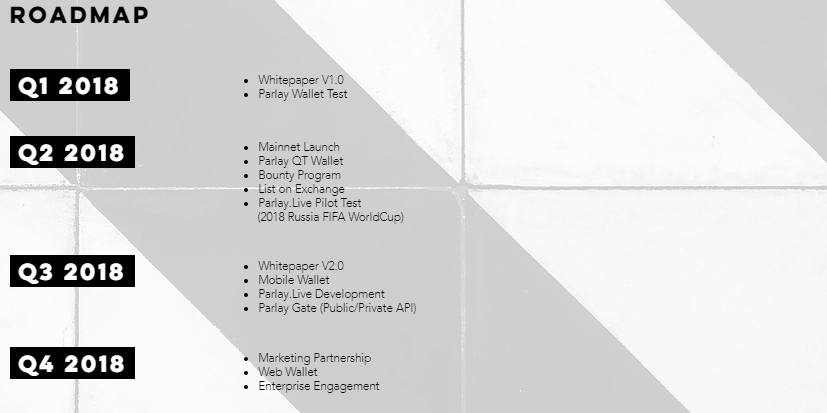 FOR MORE INFORMATION PLEASE VISIT THE LINKS BELOW;
Website : https://parlaychain.io
Discord : https://discord.gg/CK38myY
Twitter : https://twitter.com/ParlayChain
Github : https://github.com/parlaychain/
Whitepaper : https://parlaychain.io/whitepaper.pdf
Parlay Wallet : https://www.parlaychain.io/wallet
Author: BrainerdPaul
BitcoinTalk profile link: https://bitcointalk.org/index.php?action=profile;u=1680409