PAVO: TRANSFORMING AGRICULTURE WITH BLOCKCHAIN


Agriculture is very important in today's world as without agriculture there will be no food in the world. However, there is an increasing global demand on agricultural products. This rising demand has birthed challenges in terms of the delivery of sustainable, profitable and high-quality crops. These, as well as the increased caloric demand globally, is placing the agriculture ecosystem in a confined space. Other challenges being faced by the agricultural industry globally include;
• Regulatory requirements that make it difficult for farmers and other agricultural market participants to flexibly comply
• Crop growers are having difficulties producing high-yield and high-quality products which will give them a competitive edge
• Rising utility costs in tandem with increasing food demand
• Farmers being "price takers" than "price setters" even though they do the most work.
• Product differentiation and branding by farmers in order to differentiate their products and make them edgy
• Environmental issues due to water drought and increased electricity.
• Expensive, indirect operational cost from crop safety testing.
In general, food demands are becoming increasingly sophisticated and as such, farmers are stepping up by turning to technology. It is believed that technology will aid in alleviating the globally increased food demands. Farms are sourcing out new ways to collect data for analysis of crop yields, soil profiles, weather, climate, etc., which will aid in enhancing the quality of food products produced. To this end, the already existing Pavo, whose product is in deployment with customers in various farms in California, USA, provides an IoT software platform for use in industrial agriculture.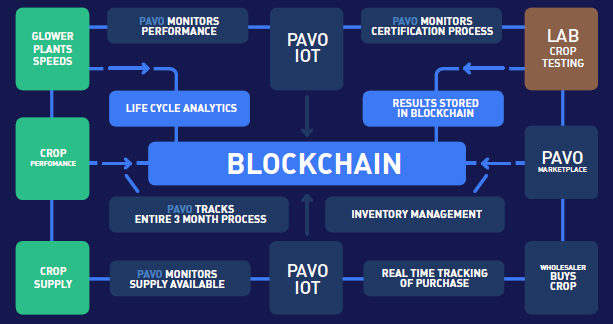 The Pavo marketplace is a web and mobile app agriculture trading platform where consumers, families, distributors, local restaurants and grocers can directly and transparently connect with farms so as to buy food and other agricultural products with assurance on their source and maturity. Pavo is significantly efficient in its operations, and it employs blockchain technology in ensuring transparency in the process of crop production from seed to harvest to consumption. The PavoCoin will be issued and proceeds will be used to further develop the Pavo product and the market.
To further develop the agriculture ecosystem around the world, Pavo has implemented a fee-based hardware and software platform for growers, and a cryptocurrency for the agriculture sphere. The fee-based hardware and software platform will help increase yield, quality and transparency of farm products, create product differentiation, and maintain regulatory compliance, while the cryptocurrency will be used for secure, safe and trusted payments. Note that, Pavo is, at the moment, focused on high value crops in the USA that range from tree nuts to white asparagus, and from heirloom tomatoes to specialty mushrooms. Gradually, Pavo will expand into other agric products and the rest of the world. I, urge you to visit the website https://pavocoin.com/ or whitepaper https://pavocoin.com/doc/.pdf for more details on the Pavo project.
SOME BENEFITS OF PAVO
• The Pavo marketplace provides farmers with the opportunity to presell their crops through smart forward contracts. This means that farmers do not have to wait until after harvest and delivery to receive pay.
• The Pavo marketplace addresses issues peculiar to small and medium sized farmers such as lack of access to a full range of financial services.
• Pavo, in employing blockchain technology and IoT, will enable farmers of various farm sizes to deliver top quality products so as to keep them in business and consequently meet the worlds increasing food demands.
• Pavo is a software solution that helps with compliance from seed to market
• Pavo is a solution that helps farmers better manage the cost of labour, water, electricity, supplies.
• Pavo is a way for farmers to better track their products and test results as well as improve their branding
• Pavo provides a secure digital cryptocurrency that help farmers anticipate and prevent problems.
DETAILS ON PAVO TOKEN AND ITS ICO
The following are some of the capabilities of the Pavo token;
• Safe cryptocurrency transactions.
• Desktop wallets for Mac OS, Windows, and Linux keep cryptocurrency safe while allowing for easy transfers, balance viewing, and simple use.
• Tokens are created with an ERC20 token smart contract.
• Multi-signature accounts implemented in two clicks.
Name: PavoCoin, PAVO (Based on Ethereum). Note that, PAVO tokens are ERC20 compliant.
Total tokens issued: 200 million
Public pre-sale phase 1 duration: 04.12.2018 – 04.26.2018
Public pre-sale phase 2 duration: 04.27.2018 – 08.06.2018
Main sale (ICO) duration: 08.07.2018 – 09.15.2018
Initial price of token: US$ 1
Accepted currencies: Fiat currencies will be accepted during the ICO, including major currencies.
Softcap: US$1 million
Hardcap: US$30 million (Unsold tokens from those allocated to the pre-sale and ICO stages will be burned and funds received after the hardcap is achieved will be returned to contributors).
Minimum purchase amount with Fiat currency: US$ 500 (provided a wire transfer option is available).
Pre-sale bonus details;
Purchase of US$ 1,000 (bonus of 27% through August)
Purchase of US$ 1,001 – 2,500 (bonus of 30% through August 6)
Purchase of US$ 2,501> (bonus of 33% through August 6)
08.07.2018 – 08.18.2018 — $1 + 25% bonus (main sale phase)
08.19.2018 – 08.25.2018 — $1 + 18% bonus (main sale phase)
08.26.2018 – 09.01.2018 — $1 + 11% bonus (main sale phase)
09.02.2018 – 09.08.2018 — $1 + 5% bonus (main sale phase)
09.09.2018 – 09.15.2018 — $1. No Bonus. (main sale phase)
Very importantly, tokens are available 24/7 for purchase and token buyers must register at pavocoin.com to complete AML/KYC/CTF procedures. When Pavo tokens are bought with other currencies than USD or cryptocurrency, the exchange rate is fixed at the time of purchase. PavoCoin will be listed on an exchange should it be good for users and would not lead to token speculation.
TOKEN DISTRIBUTION
40,000,000 – Pre-sale Tokens
60,000,000 – ICO
30,000,000 – Team, Partners/Advisors/Contractors
40,000,000 – Controlled Reserve Fund
5,000,000 – Community Reserve
5,000,000 – ICO Incentives and Bounty
20,000,000 – Growers Reserve
FUND USE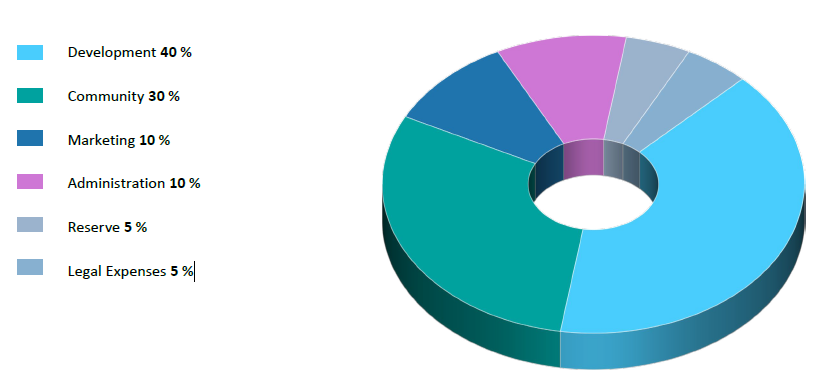 40% – Development
30% – Community
10% – Marketing
10% – Administration
5% – Reserve
5% – Legal Expenses
ROADMAP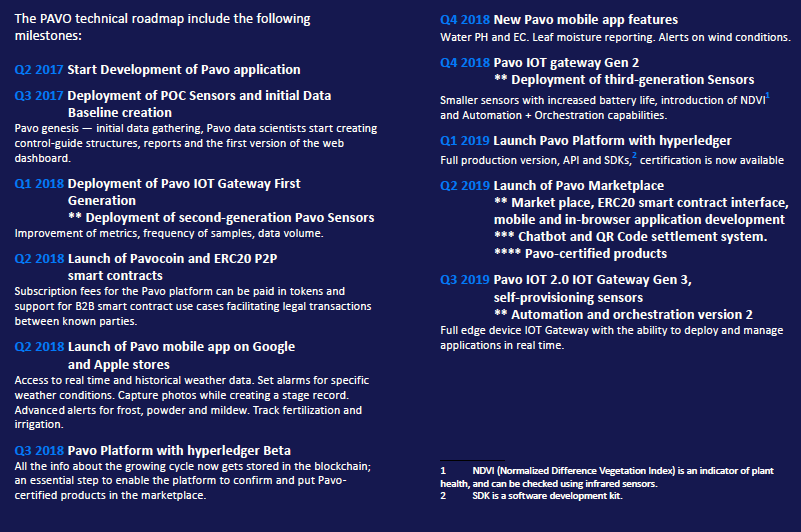 Q2 2017 – Start Development of Pavo application
Q3 2017 – Deployment of POC Sensors and initial Data Baseline creation
Pavo genesis — initial data gathering, Pavo data scientists start creating control-guide structures, reports and the first version of the web dashboard.
Q1 2018 – Deployment of Pavo IOT Gateway First Generation
** Deployment of second-generation Pavo Sensors
Improvement of metrics, frequency of samples, data volume.
Q2 2018 – Launch of Pavocoin and ERC20 P2P smart contracts
Subscription fees for the Pavo platform can be paid in tokens and support for B2B smart contract use cases facilitating legal transactions between known parties.
Q2 2018 – Launch of Pavo mobile app on Google and Apple stores
Access to real time and historical weather data. Set alarms for specific weather conditions. Capture photos while creating a stage record. Advanced alerts for frost, powder and mildew. Track fertilization and irrigation.
Q3 2018 – Pavo Platform with hyperledger Beta
All the info about the growing cycle now gets stored in the blockchain; an essential step to enable the platform to confirm and put Pavo-certified products in the marketplace.
Q4 2018 – New Pavo mobile app features
Water PH and EC. Leaf moisture reporting. Alerts on wind conditions.
Q4 2018 – Pavo IOT gateway Gen 2
** Deployment of third-generation Sensors
Smaller sensors with increased battery life, introduction of NDVI1 and Automation + Orchestration capabilities.
Q1 2019 – Launch Pavo Platform with hyperledger
Full production version, API and SDKs,2 certification is now available
Q2 2019 – Launch of Pavo Marketplace
** Market place, ERC20 smart contract interface, mobile and in-browser application development
*** Chatbot and QR Code settlement system.
**** Pavo-certified products
Q3 2019 – Pavo IOT 2.0 IOT Gateway Gen 3, self-provisioning sensors
** Automation and orchestration version 2
Full edge device IOT Gateway with the ability to deploy and manage applications in real time.
TEAM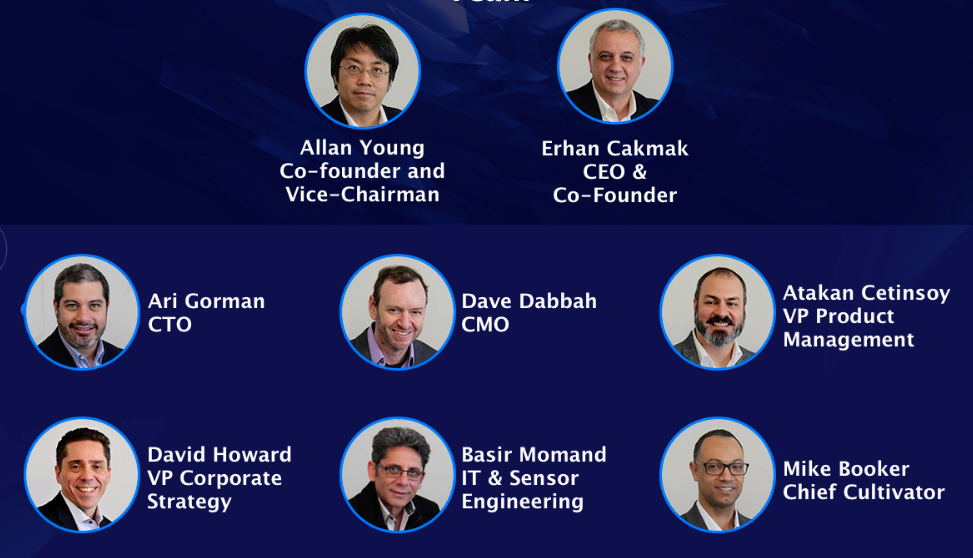 Allan Young – Co-founder and vice chairman
Erhan Cakmak – CEO and Co-founder
Ari Gorman – CTO
Dave Dabbah – CMO
Mehmet Coka – VP Agriculture
Atakan Cetinsoy – VP product management
David Howard – VP Corporate Strategy
Mike Kwan – VP Business Development
Basir Momand – Director, Field Engineering
Darwin Farrow – Senior Data Scientist
Ekrem Buyukkaya – Senior Developer
Mustafa Akcoban – Software Developer
Guven Akcoban – Junior Software Developer
Jeff Burton – Co-founder of Electronic Arts (EA) and strategic advisor BitDegree
Keith Teare – Executive Chairman at Accelerated Digital Ventures
Nick Evdokimov – Founder of ICO box
Darin Detwiler, LP.D., M.A.Ed. – Assistant Dean: Graduate Academic and Faculty Affairs
David Doll – Pomology Farm Advisor
Daria Generalova – Co-founder of ICO box
Keith Spears – CEO at Heritage Impact Partners
Andrey Mow – ICO advisor and consultant, Partner at Transmosis and CoinFabric
Andrey Verbitsky – Blockchain Guru
Kash Abbasi – Sr. Director Global IoT Partnerships at Cisco
Osman Yağan (PhD) – Research Professor at Carnegie Mellon University
Jesse Martinez – Co-founder + co-chair of the Latino Startup Alliance
Hakan Ancin (PhD) – VP Application Performance at SAP
Bill Banks – Piedmont Partners Group Ventures
Steve Olson – Early Growth Financial Services
Véronique Trausch – Partner, Findeal Advisors
Alex Moskovsky – CEO at ICOBox
With the aid of Pavo, farmers can regularly and consistently improve the quality of their agricultural products while maximizing their crop yield. There is no better platform that helps the world meet its agricultural needs like Pavo. I, urge everyone to join in on the token sale as it has great prospects.
Should you require more information on this project or want to connect with other unique participants across the globe, please feel free to click on any of the following kinks:
Website: https://pavocoin.com/
ANN thread: https://bitcointalk.org/index.php?topic=3227901
Whitepaper: https://pavocoin.com/doc/.pdf
Facebook: https://www.facebook.com/PavoIoT/
Twitter: https://twitter.com/PavoIoT/
Telegram: https://t.me/pavo_en
Published by: charleyles
Bitcointalk URL: https://bitcointalk.org/index.php?action=profile;u=1344011
Ethereum wallet address: 0x69C516900e939e97C7c60Ca59bdaF15295556838