Paxpay cryptocurrency payment platform.
PaxPay is designed to provide customers a platform that is secured, simplified, and user-friendly app-based platform leveraging Blockchain for them to exchange their currencies without any fear.
PaxPay Cryptocurrency Payments based on cryptography, you can spend your money either on the brick and mortar option, or on the Internet. You have the opportunity to earn extra income. It's simple, all you need to do is list your professions and skills that other users could hire on the PaxPay platform.
The platform will have a futuristic crypto bracelet. The futuristic bracelet is called Paxlet. It will serve you in a fast and even the most reliable way that you can pay with your cryptocurrency in the real world. All of this will be possible by simply scanning or even checking the bracelet on the brick and mortar business while having the highest levels of security to prevent hacking into your account.
The wallet will be very convenient for the user. The wallet has been designed with high security features that allow you to quickly carry and sell your cryptocurrencies using either your email address, name or phone number. This will be possible with a secure virtual card of the mobile phone, nothing can be easier than this.
The platform has a very simple way of withdrawal and Deposit. The platform will allow you to quickly make a transaction with the Fund. And let's not forget the bonus structure they've created, it's when you use PaxPay for payments, so go to the platform and enjoy the various benefits it has to offer.
A PaxPay virtual market platform allow merchants, big or small, to build a unique and customizable storefront for any type of business to increase revenue by selling goods worldwide. The PaxPay platform will enable consumers the ability to buy goods at wholesale prices directly without the middleman.
UNIQUE FEATURES
FUTURISTIC CRYPTO BRACELET
Creation of a sleek and unique futuristic crypto bracelet called Paxlet. Paxlet will serve as a fast and reliable way to pay with cryptocurrency in the real world simply by scanning or swiping your bracelet at any brick-and-mortar retailers and businesses, while integrating the highest security measures for users;
USER-FRIENDLY CRYPTO WALLET
A user-friendly cryptocurrency wallet, which will have great security features, that allows users to transfer and spend cryptocurrencies using a name, email, and/or phone number via a secure, mobile phone-based virtual card. With this cryptocurrency-based mobile payment feature, consumers can spend funds with online or brick-and-mortar merchants, all while incorporating consumer and merchant incentives;
VIRTUAL MARKETING PLATFORM
An open virtual marketing platform that allows users to auction, buy, and/or sell items using fiat currency or other cryptocurrencies. PaxPay will be one of the first of its kind to launch a marketing platform that allows the usage of cryptocurrencies as a form of payment;
EXTRA INCOME OPPORTUNITY
Opportunity to make extra income by listing skills or trades for hire on the PaxPay platform;
FIND AND HIRE SKILLS
Easily find and hire any type of skills from individuals to complete almost any type of work;
SIMPLE WITHDRAWAL / DEPOSIT
A quick and simple way to deposit or withdraw from/to a user's bank account;
EASY CRYPTOCURRENCY TRANSFER
Send cryptocurrency instantly at a click of a button on Pax platform;
GREAT BONUS STRUCTURE
Great bonus structure for businesses who use Pax platform for payments.
TOKEN SALE DETAILS
PaxPay PAX Token ICO
PaxPay spends ICO for your token PAX, which will be launched 04/24/18. You can purchase PAX with Ethereum or NEO.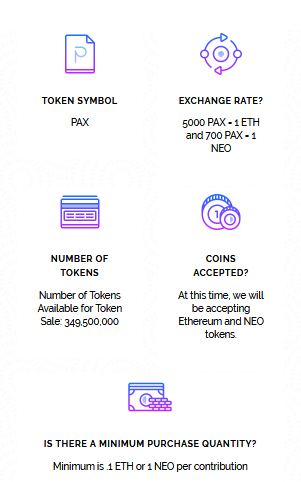 Token Pre-Sale
30% Bonus
1 ETH = 6500 PAX Tokens
1 NEO = 910 PAX Tokens
Soft Cap = 12,500,000 PAX Tokens
THE TEAM
ANNIE PHAM: CO-Founder/COO
DUY TRAN: Founder/CEO
LISA HOANG: CO-Founder/CFO
JUSTIN V.: IT Administrator
MOMO: IOS Dev
JIAN C.:Sr. Developer
JEFF G.: Contributor/Advisor
RICHARD N.: Legal Advisor
BHUPINDER K.: UX/UI
CHITRA G.: Web Designer
JESSICA M.: Community Manager
JIGNESH T.: Android/iOS Dev
MATVEI C.: Contributor ETH Smart Contracts
NISHA SALHAN: Backend Dev
SORAV G.: Software Dev.
For more details:
Wеbѕіtе: httрѕ://www.раxрау.іо/
Whіtерареr: httрѕ://dосѕ.wіxѕtаtіс.соm/ugd/34bf42_15с65232098046f797d74dd54b6сd9d7.рdf
ANN Thrеаd: httрѕ://bіtсоіntаlk.оrg/іndеx.рhр?tоріс=3385339.0
Tеlеgrаm: httрѕ://t.mе/раxрау
Fасеbооk: httрѕ://www.fасеbооk.соm/PаxPау.іо/
Twіttеr: httрѕ://www.twіttеr.соm/раxраурrоjесt
Inѕtаgrаm: httрѕ://www.іnѕtаgrаm.соm/раxраурrоjесt
Rеddіt: httрѕ://www.rеddіt.соm/uѕеr/PаxPау/
Author: Harleyberry
Bitcointalk profile link: https://bitcointalk.org/index.php?action=profile;u=1620264
Eth Address: 0x2F646B6A6085d34B0Efc88C1b0DCaa8B3af2E53C