PAYPERBLOCK: AN INTEGRATED BLOCKHAIN MARKETPLACE OF FREELANCING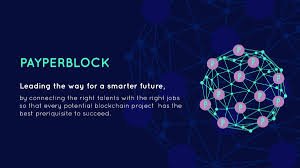 One of the most advantageous factors that help the freelancing industry become larger is its improved infrastructure, providing opportunities and access globally to countless talented freelancers who are available to take up jobs quickly. Despite the spectacular expansion in the number of freelancers and contractors, there is inability to provide a definitive size of the global economy with difficulty in clarification and measuring of the people. This is due to the fact that it's not only complex but also contiguous leading to the incomprehensible existence in database on either employment in the gig economy. Freelancing has been made possible for one to find workers without necessarily have to find a workplace for the existences of one's company, but sometimes, it can be challenging trying to find the right talent for the job at an affordable rate. For the freelancer, it's an opportunity of cause to create and make wealth but then it's with limitations as often times there are been highly charged by these platforms with outrageous commission rates which are discouraging, and also the fear of been locked up with a dubious clients who would not want to pay for the services already rendered. Also is the problem of finding a reliable source of withdrawing their funds with little or no costs. Also another problem been faced by freelancers and clients is that in most platforms, there are risks of meeting up with dubious personnel who'd not either deliver on time, or won't deliver at all. One cannot forget to mention the poor resolution services, the services rendered by these platforms in resolving disputes are so poor, and sometimes not fair, often favoring the clients than the freelancers thereby creating a sense of uncertainty for them while working on a high price project. Sometimes, the demands for services are often higher than those seeking for services. These problems has been tackled so much that, it's now enjoyable to work online. A team who saw the challenges faced by freelancers and clients sorted out solutions to these problems. Payperblock was created for this reason
Payperblock platform is the most significant and undisputed leader of the freelancing industry owned by an experienced team who saw the flaws in the freelancing marketing and used that as a weapon of achieving her goals. Payperblock is a blockchain based freelancer platform used in connecting professionals and jobs across different field of business and a variety of industries such as contract, developers, software engineer, website developers, 3D mockup artists, writers, digital marketing personnel and remote assistants. It serves as a catalyst for innovative change in the economic particularly in the financial sector, it's as one commentator observed, an institutional technology giving prospects the ability to build fully autonomous distributed system of a market place without the need for a centralized organization to control the platform. It is designed to operate in a way that is practical, futuristic and self regulatory.
PAYPERBLOCK PLATFORM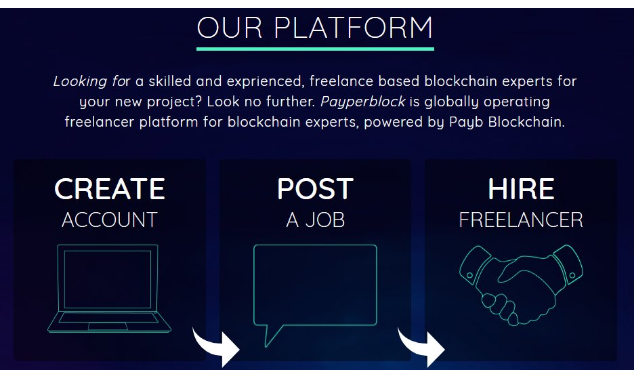 COMPANY MISSION STATEMENT
To become blockchain expert freelancing platform in the world
COMPANY VISION
To provide the most efficient, convenient and robust blockchain freelancing services for its users
PAYPERBLOCK PARTNERS


PAYPERBLOCK UNIQUE ADVANTAGES
• low costs of services and charges in terms of commission rates
• highly secured
• an integrated market place connecting freelancers and entrepreneurs
• a flawless dispute resolution system between clients and freelancers
• payment of funds when due
• guaranteed payment with low or no cost
• Transparent workflow
• Decentralized authority where by decisions are been taken by voting process among all the token holders made up of large people
PAYPERBLOCK TOKEN DETAILS
The initial coin offer (ICO) will be launched to issue the PayPerBlock symbol in the public block. Tokens are called PAYB and will be issued during pre-ICO and ICO. ICO will only be done on the Payperblock.com website. The current total supply is 10 billion with referral program which allows you and your affiliates to receive 5% PAYB rates for ICO purchases
PAYPERBLOCK TOKEN DISTRIBUTION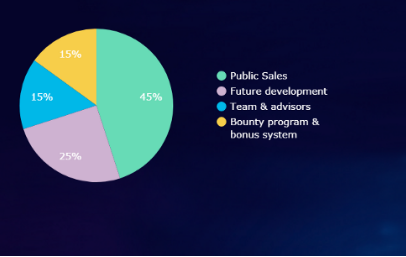 Public sale: 45%
Future development: 25%
Team and advisors: 15%
Bounty program & bonus system: 15%
PAYPERBLOCK TOKEN ALLOCATION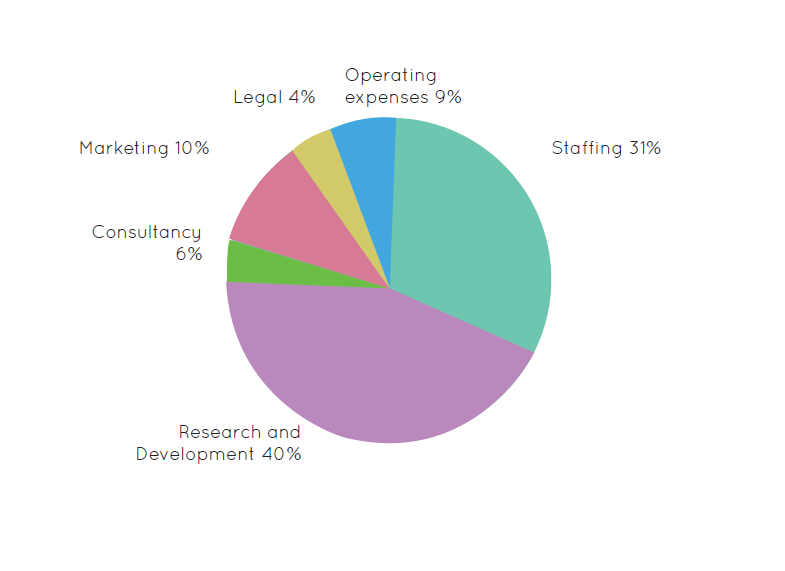 Research and development: 40%
Consultancy: 6%
Marketing: 10%
Legal: 4%
Operating expenses: 9%
Staffing: 31%
PAYPERBLOCK ROADMAP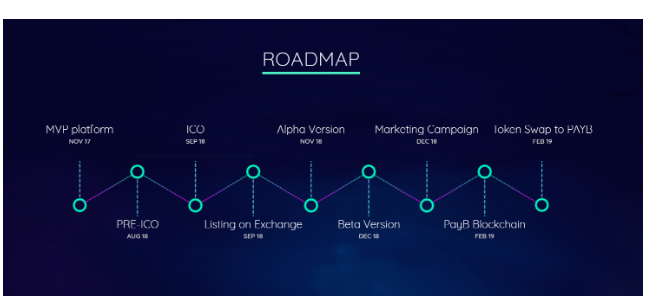 Nov 17: MVP platform
Aug 18: Pre ICO
Sep 18: ICO
Sep 18: listing on exchange
Nov 18: Alpha Version
Dec 18: Beta Version
Dec 18: Marketing campaign
Feb 19: PayB blockchain
Feb 19: Token swap to PayB
PAYPERBLOCK TEAM MEMBERS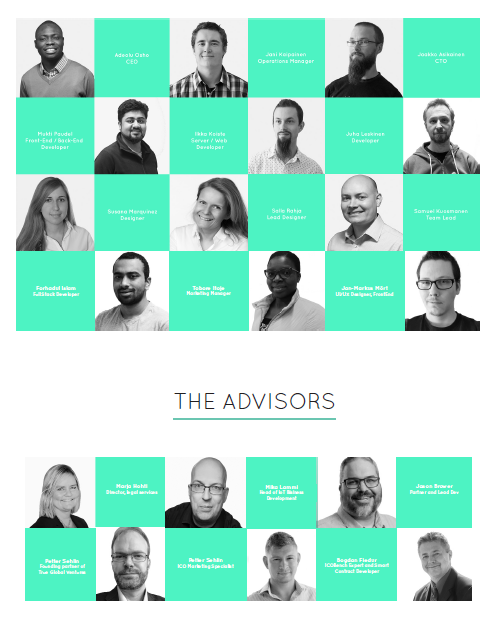 Adeolu Osho: CEO
Jani Kaipainen: Operative manager
Jaakka Asikainen: CTO
Juha Leskinen: Developer
Likka Koiste: Server Developer
Salla Rahja: Lead designer
Samuel Kuosmanen: Team Lead
Mukti Paudel: Front-End/Back-End Developer
Susana Marquinez: Designer
Forhadul Islam: Full stack Developer
Tobore Itoje: Marketing Manager
Jan-Markus Mort: UI/UX Desgner. FrontEnd
ADVISORS
Mika Lammi: Head of IoT Business Development
Jason Brower: Partner and Lead Dev
Bagdan Fiedur: ICO Bench Expert and Smart Contract Developer
Petter Sehlin: ICO marketing specialist
Petter Sehlin: Founding partner of True Global Ventures
Marja Hohti: Director, Legal services
Payperblock is a platform that cuts across freelancers who are technically versed in technologies like cryptocurrency and who wants to sell their services in freelancer business model. It's much easier, obstacle free for users as its it's fast and efficiently secured with our blockchain where information's are cogently stored. The goal of payperblock has been implemented solely to suit the needs of everyone in the freelancing industries. It's one compared to none. For more information, please kindly visit us in any of the links below. You can kindly join us in our social media platforms.
whitepaper: https://payperblock.com/whitepaper/
website: https://payperblock.com/
Ann thread: https://bitcointalk.org/index.php?topic=4686095
facebook: https://www.facebook.com/Payperblock-821176318089462/
twitter: https://twitter.com/payperblock
telegram: https://t.me/joinchat/IZbKTlFWa0v9Oph89EK9cA
Written by: Ogtejiri
Bitcointalk url: https://bitcointalk.org/index.php?action=profile;u=1790132
Wallet address: 0x33E8810b5432ccD823b6c45975A55Fb9F6c931D6