Introduction
The financial sector is leading the way in block chain and digital assets in today's world whereby making the digital economy block chain technology keeps on developing in the way businesses are been handled. The use of Cryptocurrency has been able to present an easy to use digital alternative to fiat currencies offering friction-less transactions and inflation control because of these, industries need to build bridge between traditional and emerging asset classes by making experiences traders to team up with experienced developers to build this bridge. The PayVX platform will be an all in one solution for crypto and the most fastest and safest payment technology in the world if implemented
PAYVX
PayVX is the fastest and safest payment technology in the world. The monetary escrow service is built on a secure bridge and creates a trusting relationship between the two parties for online business transactions. Since currency transactions are irreversible, dealing with untrusted parties creates a serious level of risk for both buyers and sellers. it ensures this process is effective, ensuring the confidence and reliability to handle those activities. PayVX is also a unique escrow service that promises secure and fast payment based on cryptocurrency framework.
PayVX reduces the risk of fraud by acting as a trusted third-party that collects, holds and only disburses funds when both Buyers and Sellers are satisfied.
PayVX Tokens(Ethereum ERC-20 token standard)
The key element of the PayVX platform is PVX -the asset based on ERe20 standard. The tokens are available for purchase through the personal account when the user registers on the platform by means of the internal account («wallet») of the platform.
PayVX Platform
▪Decentralized escrow platform for making cryptocurrency transactions between two parties. It is ensured with PAYVX tokens (PVX) based on Ethereum blockchain.
▪Low fees are charged for ensuring that the transaction is safe and private.
▪Saves time when making a transaction, no third parties or bureaucracy
Platform Fundamentals
▪PayVx is a platform for making deals and transactions.
▪Fee(commission) is a payment for the deal made by contractor.
▪Buyer—a party, interested in deal safety.
▪Seller—a party invited by a buyer.
▪Trust node—PVX token holders.
▪Escrow—an independent and anonymous chain of escrow-nodes. Escrow settle the differences.
▪Escrow-node—trust-node in status escrow.
Problems of PAYVX
Theft Elimination
Lack of trust between contractors
Regulating trade conflicts with the help of an escrow service
Decreasing the fees on the escrow market.
Eliminating fraud and swindling parties
Suspension of User Accounts
20 + Crypto currencies Accepted
Elimination of Fake Reviews
GOALS
Creating guarantees between contractors in all spheres.
Ensuring mutually beneficial relationships between all the participants on the platform.
Creating an independent system without developer
interference.
Raising the social interest in cryptocurrencies
– Token Distribution
The total amount of tokens is 100,000,000! Tokens will be transferred to the contributors after ICO campaign.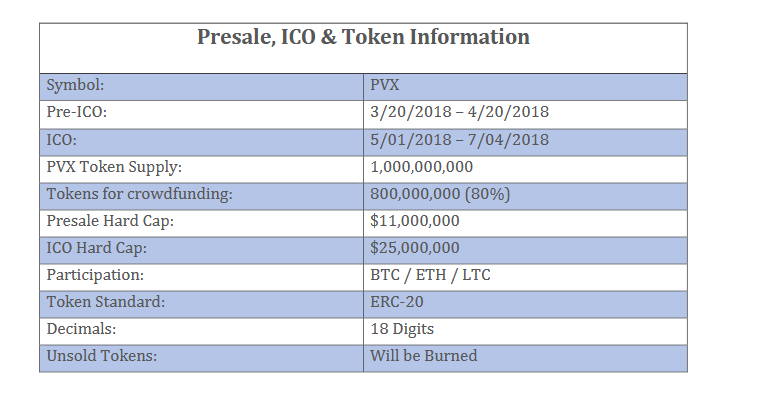 ICO –Initial Coin Offering
Pre-ICO Stage is Used for Further Marketing
Pre-ICO period will be held for 30 days.
Pre-ICO Goals
▪Identifying the social interest in the project.
▪Creating a strategy of promoting ICO platform.
ICO Goals
▪Determining base token value.
▪Creating a financial base for further development.
ROADMAP

March – April 2018 – Pre-Sales PVX Token
May 2018 – PVX Token Crowdsale / General Sales
July 22, 2018 – Audit & Distribution of PVX Token Sales
August 2018 – Register on the Stock
September 2018 – PayVx Beta Testing – Platform Launching; Build Relationships with Partners and Investors.
December 2018 – Mobile Payvx Application Launch
January 2019 – Continuous upgrading of PayVX platform and feature enhancements (PayVX app launch).
February 2019 – UX / UI Improvements (Review of Platforms & Upgrades).
March 2019 – Improved / Increased platform token value platform functionality Creates a financial base for further – development
THE AMAZING TEAM

For more information, please visit:
Website: https://payvx.io/
Whitepaper: https://www.payvx.io/public/images/white_paper.pdf
Ann Thread: https://bitcointalk.org/index.php?topic=3108178.msg32111408#msg32111408
Facebook: https://facebook.com/pay-vx-203236637099775/
Twitter: https://twitter.com/payvxofficial
Linkedin: https://linkedin.com/company/payvx
Telegram: https://t.me/PAYVX
Blog: https://medium.com/@payvx.io
Author: Seunola
My BitcoinTalk Profile: https://bitcointalk.org/index.php?action=profile;u=1925064