Pcore – utilizes blockchain technology to facilitate the preparation of transactions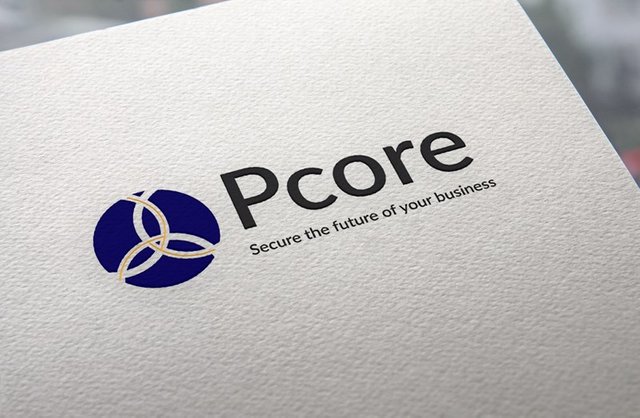 Hey friend, on this occasion I will provide information about P2p Platform, As we all know, a common problem, Market states are uncertain, but most importantly in this situation, consumers are more interested in alternative payment systems, in addition to banks, which are easy and fast. low cost, many companies are starting to switch to this method, they argue, this payment system is one of the easiest solutions to consumer.
OK, right, many P2P platforms exist before, but this platform is more specific in their services, this platform offers a balance between companies and consumers, this platform is PCORE
About Pcore

Pcore is a Peer To Peer (P2P) platform that offers transparency, trust and security using smart contracts and directly bringing together seller invoices and lenders. Pcore utilizes blockchain technology to facilitate the preparation of transactions so that it will create justice for every user
Pcore aims to be an easier platform, where each of their users they can exchange accounts more quickly in order to receive the necessary amount. Pcore will also help each company to slowly grow and be able to compete with lower costs.Pcore gives freedom to investors and companies to develop their ecosystem and related directly with their users without third parties.
Problems and solutions
Many businessmen began to experience extreme difficulties in the field of invoices most invoices are incorrect or do not meet all legal and regulatory requirements. Moreover, such invoices may mislead any of the parties by stating the conditions to which it does not comply, so, it is extremely difficult and almost impossible to solve all these problems, Pcore was created to provide solutions to the above problems, Through Pcore, businesses and investors No need to wait longer, instant income to grow business and instant profits. And all invoices uploaded by the invoice seller are recorded on the Ethereum blockchain which eliminates errors and misuse. Businesses taken from the Pcore cover will guarantee the funds promised at that date due to investors.
Pcore uses XBRL (Extensible Business Reporting Language) which presents data and structure international standards for digital business reporting more efficient and accurate
Feature
Tools and additional attributes offered from the PCORE platform will impress any entity on either side of the industry. Aid is provided by PCORE to owners all issuers and owners, in addition to creditors and investors. They all have access to this information that they will need to ensure each of the data that is vital and announcements. PCORE contributes to the change of the whole texture of the business, making it digital, automatic and most importantly reliable and safe. That is not a little important, given the seriousness of all business relationships throughout the business world.
Pcore uses smart contract in PCC Tokens to make it easy for every user to make transactions, PCC Tokens are platform utility tokens that can be used to get Pcore platform services
ICO program
The team held an ICO program as an initial program to offer More services to the public, so that everyone could easily get a PCC Token
Name: PCORE
Ticker: PCC
Tokens based: Erc20
Prices: 0.39 USD for 1 PCC
Payment: Ethereum
Total supply: 52 million Pieces.
Tokens for reserves: 20 million chips
Tokens for sale: 20 million pieces
prize chips: 500 thousand pieces
Token Reserved for Tim: 11 Million
Soft Cap: 1 Million USD
Hard Cap: 5 Million USD
Limited Countries: China and USA
ROODMAP


TEAM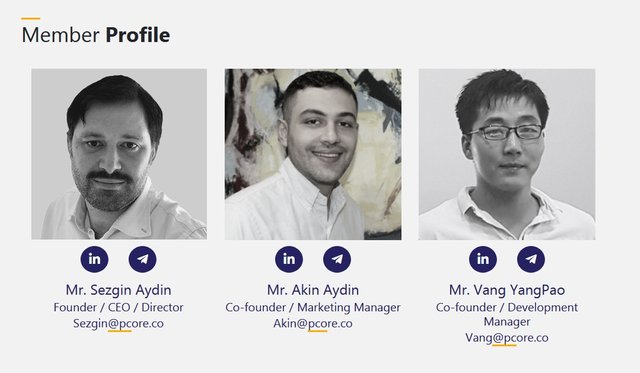 To get more info about Pcore, please visit some of the sites below:
Website: https://pcore.co
Whitepaper: https://pcore.co/assets/docs/White_Paper.pdf
Ann Thread: https://bitcointalk.org/index.php?topic=5121997
Facebook: https://www.facebook.com/Pcore-PCC-351650118758061
Twitter: https://twitter.com/PcorePCC
Telegram: https://t.me/PcoreLTDGroup
Author: Fandicoin
https://bitcointalk.org/index.php?action=profile;u=2136014
ETH: 0x60bFACAB1b9CDdf0dEd6804d068B1896c0614D3d