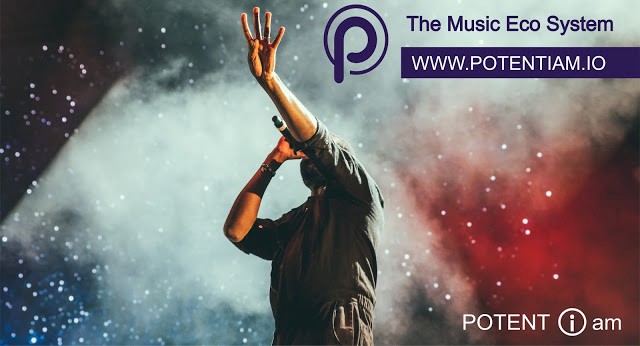 Potentiam is an incentivized ecosystem for musicians, bloggers and music fans like us. A blockchain community for connecting, developing, fostering and promoting relationships between music artists , bloggers and music supporters/ fans using a cryptocurrency reward system.
It gives a solution for all the music artist all over the globe who's not popular yet to share their talents to those people on the community.
The Potentiam Modules
Digital Distribution Module:
The digital distribution module is a gateway to the established internet music marketplace. Users will be able to access traditional digital service providers, such as iTunes and Spotify, through the module's website. Using this system, Potentiam will make DSP integration seamless and simple, while also managing the digital rights and royalties in a single location.
Revenue generated from the digital service provider is then routed back through Potentiam's system and distributed via smart contract to the original artist. This allows the artist to work, create and distribute entirely via Potentiam's system, while still having access to the user base of the established music marketplaces.
Physical Distribution Module:
While physical media has been on a downtrend lately, there is still a large demand for real world possession of music. To help facilitate this market, Potentiam will provide manufacturers with access to the music catalog through their own, specific web portal.
Manufacturers would be able to license music to produce their own physical media, items such as vinyl or CDs. The license would apply to a certain production amount, and revenue generated from this process would be distributed back to the artists through the Potentiam network's smart contracts.
Potential clients would be provided with lists of curated content, such as trending or popular songs within the network. They would also be able to search the entire catalog database through a variety of functions including artist and genre.
Sync Licensing Module:
Accessing a lesser known profit source, the sync licensing module provides artist's work to other content creators that are in need of a soundtrack. This includes movie production, advertising and even video game soundtracks. Companies looking for sync licensing will place a bid that can then be accepted or rejected by the original artist.
The sync licensing module will use a proprietary artificial intelligence system to sort, categorize and curate the entire Potentiam catalog. Potential clients can then use this system to find the perfect music for their production, searching by non-traditional categories like mood and tempo.
Public Performance Licensing Module:
The final licensing module covers public broadcasting use of artist's work. The public performance licensing module grants access to the entire Potentiam catalog for a flat fee. Music can then be used from within the catalog for public performances that include radio and event music.
Potentiam will seek out active partnerships with performance rights societies, traditional groups that oversee public performances and ensure that the proper royalties are paid based on the use of the catalog. These societies collect revenue and distribute it to the original artist.
Booking Agent Module:
One of two modules not designed or direct distribution, the booking agent module is a web portal created to bring together artists with live venues that need talent. These venues can access an additional web portal to browse artists that have made themselves available for public performances. Alternately, the venue itself can advertise dates and times they require live music.
The booking agent module will have a robust set of features to allow internal agreements over incidental costs like transportation and housing during the event. All payment transactions are handled directly through Potentiam, allowing the artist to continue using a single location for all of their payment needs.
Some of the advantage of Potentiam are the following:
Low fees
Gives low fees to receive a boost within a social media community and get maximum exposure and engagement.
Crowdfunding
Make your music creative project a reality, by leveraging the power of a social media network. As fans support your project you get token rewards.
Reward System
All members earn monetary rewards for engagement within the community. Get paid while you surf!
Choice of Feed
Our feed algorithm gives you the choice to see what you want. The power is in your hands to make a choice.
Direct InterAction
Explore a meaningful connection with your favorite music creatives more than you have ever done before and get rewarded at the same time.
Potentiam token details:
TOTAL MINTED PTM 100,000,000
Total tokens for public crowdsale: 60,000,000 PTM
Team tokens: 25,000,000
Other: 15,000,000
Lockup — All team tokens are locked with an emission rate of 5% per month. (Starting 1 month after ICO close). 1,250,000 team PTM will be released each month. Total vesting period for full release will be 20 months.
1 ETH = 4000 PTM
PRESALE Hardcap = $4,000,000
Total Hardcap $12,000,000
ALL UNSOLD TOKENS WILL BE BURNED (This will happen in the case of not meeting our cap or in the case of Eth value increasing to the point where the hardcap cap is met quicker).
Be a part of this tremendous project and follow these links for more information;
WEBSITE :
FACEBOOK :
https://facebook.com/potentiam.io
TWITTER :
https://twitter.com/potentiam_io
TELEGRAM :
WHITE PAPER :
https://docs.wixstatic.com/ugd/73bd45_581334cbc5bc4d1a9cce6ee2133a7049.pdf
Author
nugezmils
BITCOINTALK PROFILE
https://bitcointalk.org/index.php?action=profile;u=1729621