PROBIT EXCHANGE AND ITS AMAZING FEATURES

This year has been a major year for the cryptocurrency world. We have seen major declines in the prices of major cryptocurrencies. In the same vein, we have witnessed the creation of many new exchanges in 2018, I guess because many people have come to realize that the cryptocurrency industry is a very profitable one as well as there's always need for an exchange that brings something new on the block. Just this year alone, I know about 3 cryptocurrencies that have had security breaches, gone with the wind or not just able to keep up with the pace and changes in the cryptocurrency industry. There's therefore a need for a cryptocurrency exchange that emphasizes on the weaknesses of existing exchanges and sets a pace for new exchanges. This exchange is called PROBIT.
INTRODUCING PROBIT
ProBit is the new kid on the block. ProBit is a newly established cryptocurrency exchange established by professionals with reputable standards. ProBit is an exchange with a difference. ProBit exchange is created with the end users in mind. From security down to the user interface is all top notch. Let me educate you on the powerful features of this awesome exchange named PROBIT.
THE AMAZING FEATURES OF PROBIT EXCHANGE
TOP SECURITY PROTOCOLS;
For every exchange in the cryptocurrency industry, security of users funds and accounts are paramount. No trader would willingly make use of an exchange that currently or often encounters security Breaches. ProBit puts in place advanced security protocols such as session management as well as monitors inactivity and automatically times out an idle user. Also, ProBit stores about 95% of its digital currencies offline i.e cold storage which automatically reduces the possibility of hacked funds on the exchange. ProBit also has SSL certificate which protects the exchange from malicious software attacks such as DDOS. ProBit also has the 2FA feature which serves as an extra layer of protection for its users. ProBit supports both hardware and software based 2FA. ProBit exchange knows that security is a number one issue with exchanges and that is why the ProBit developers have enabled the exchange to have a secure trading platform.
2.SPEED OF TRANSACTIONS:
Slow, sluggish exchanges are very annoying. I know this because I have used some of them which I wouldn't want to mention in this article. Every trader likes to be quick in transactions. It would be sad to lose money due to an exchange sluggish processing speed. The technology behind ProBit Exchange supports a 1,500,000 TPS (Transaction Per Second). Did I hear you say waoh? Yes, it's whooping large. This simply means that ProBit understands the need for smooth and quick transactions that is why it has created this exchange that processes transactions with the speed of light. This is an edge it has over many other exchanges.
3.SUPPORTS MANY CRYPTOCURRENCIES
Most times you get to an exchange you cannot handle all your trades there simply because all the cryptocurrencies you would like to trade are not there. It can be quite sad to open several exchanges just to make simple trades. With ProBit, you don't have to bother about that anymore. ProBit exchange at the initial stages will support about 150 cryptocurrencies. And this grows as the exchange gets older. There will be 5 major markets for users to trade their cryptocurrencies with namely PROB, BTC, ETH, USDT AND EOS. This feature will lessen the burden of having to look through multiple exchanges to trade when you can do it all on ProBit.
4.USER INTERFACE
Like I said earlier from security down to user interface, ProBit is top notch. ProBit exchange provides its users with a seamless trading experience. It is simple to use yet technical in customization, it offers users a trading experience like never before. This is all thanks to its wonderful developers.
After having talked about the key features of the ProBit Exchange, let me tell you about the ProBit Token because this article will be incomplete without it.
THE PROB TOKEN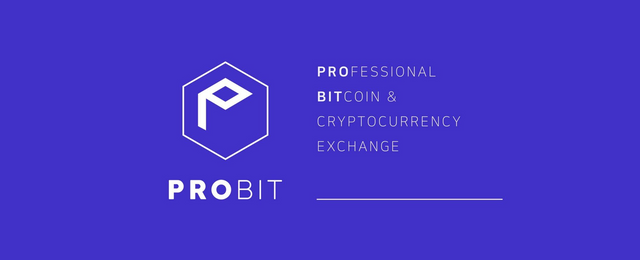 The PROB is the official token of ProBit Exchange. It is a utility token which will be equally used as a trading pair and be used to pay for users fee on the ProBit Exchange. PROB will also be used to give users access to some executive features on the exchange. PROB will also be used to pay for voting rights and referral bonuses. PROB tokens will also be mineable a little after the complete launch of the exchange. As said earlier PROB tokens will be collected as trading fee from users who trade on the platform. This fees collected would then be mined and rewarded back to traders for using the platform.
CONCLUSION
After assessing the exchange by myself after its launch I can attest to these features being listed above. I suggest you take a look at the ProBit Exchange yourself and make sure to register an account over there. ProBit is a pacesetter for both current and new exchanges. It's here to change the norm on cryptocurrency exchanges.
It's worthy of note that the ProBit Main sale which will last for just one day will be coming up very soon. It will be a great opportunity for those who have missed the main sale to buy their own tokens now at a cheap price.
Questions, as well as comments would be gladly appreciated. Thank you for reading.
OFFICIAL LINKS
For further information on ProBit Exchange, use the following links here.
Website: https://www.probit.com/en-us
Whitepaper: https://www.probit.com/assets/whitepaper/whitepaper_probit_en.pdf
Telegram: http://t.me/ProBitEnglish
Medium: https://medium.com/@ProBit_Exchange
Authors Information
Steemit Username: e4ourma
Bitcointalk Username: Johnyjay
Bitcointalk Profile;https://bitcointalk.org/index.php?action=profile;u=1819701