Project HIGHBANK – Disrupting Crypto Ecosystem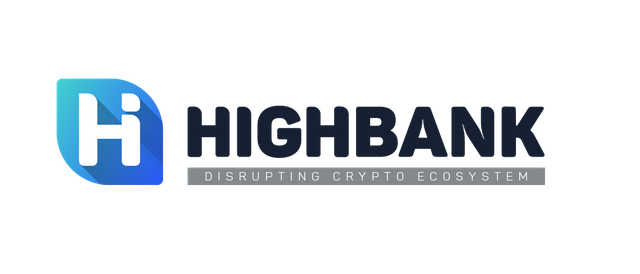 In the recent years the world has witnessed a revolutionary technology called blockchain. It's immutable, incorruptible and unhackable nature makes it more superior than any other existing technology. That's why the world is giving special attention to adopt this technology into every sphere of our society. Blockchain technology backed cryptocurrencies are known as the future of financial transactions. Today many government agencies, companies and organizations began exploring the use of these technologies into their core business applications and to stabilize the global economy. The high price volatility in cryptos brings everyone's attention towards its technology. And the global adoption of blockchain is on its way and it is belived to be happen sooner than we expected.
Blockchain technology brings a concept of decentralization, which is aimed to provide power in everyone's hand. Thus it eliminates the ruling of single power that is centralization. This potentially removes any kind of third party interference in every activity of our day-to-day life. Today almost every project is developing on blockchain because of its properties and many businesses are shifting onto it.
Despite having huge potential to transform every business and other sectors of our society. Many cryptocurrency projects have seen significant downfall in the recent years. Earlier, ICO's are considered as most profitable investments but nowadays investors are struggling to recover their money because of some fundamental challenges. These challenges needs to be resolved to accelerate the growth of global blockchain adoption.
Some of the fundamental problems of ICO are:
• there is no auditing, controlling and reporting present;
• no adequate market value;
• failing to maintain their brand identity;
• unrealistic funds distribution and budget assessments;
• failure to keep promises and failure to work according to roadmap;
• failed to provide even minimum viable product after raising money for a long time;
• most of them failed to back their projects with realistic products and services;
These problems needs to be solved immediately to clear all negativity about crypto and ICO investment and bring back adoption of crypto in mainstream sector. But now thanks to a team of professionals who are committed to provide a perfect solution to this problem by creating an ecosystem called HIGHBANK.
About the project
The main aim of the HIGHBANK project is to create a next generation blockchain powered ecosystem which allows crypto enthusiasts, investors to maximize and diversify their crypto portfolios in this volatile marketplace. Thus they are committed to provide a viable trading ecosystem which ultimately boosts the crypto adoption globally.

The HighBank project is built on Ethereum blockchain which provides simple, clear and user-friendly decentralized crypto trading experience to users. The platform also provides an opportunity for ICO's to list, launch and gather fundings easily. It provides marketing, partner programs, online and offline community centre and blockchain consultancy services.
Principle of operation
HighBank is committed to provide a perfect Ecosystem which offers variety of services which ultimately accelerates the growth and adoption of blockchain and cryptocurrency globally. The services include: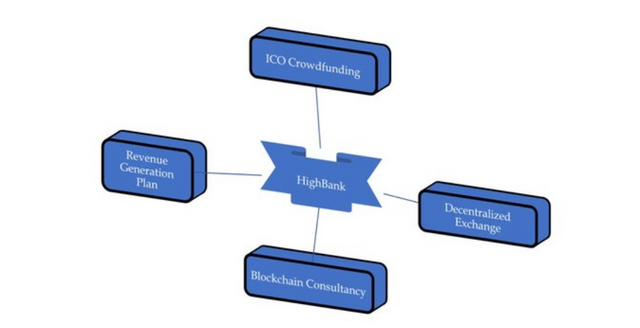 • Decentralized cryptocurrency exchange;
• ICO listing platform;
• Crowdfunding platform;
• Online and offline community centre;
• Blockchain consultancy and advisory;
• Marketing and partnership program;
• Decentralized cryptocurrency exchange: HighBank provides a perfect cryptocurrency exchange with all trading features for newbies and pro traders. You can trade with all types of coins irrespective of their blockchain types.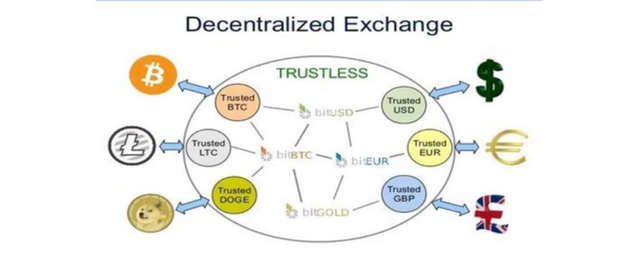 • ICO listing platform: HighBank provides an ultimate platform for ICO's with stochastic gradient position and IBM Watson 500 engine, it can offer range of services to ICO's. Here you can get trusted and top quality ICO's available on the market.

• Crowdfunding platform: On the HighBank platform projects can launch their ICO's and with its intuitive tools they can increase their crowdfunding capabilities. The terms and policies are also available for ICO's and STO's.
• Online and offline community centre: There are many types of network faculties working in HighBank platform. The online type of service like a webinar for ICO's which offers them an opportunity to index their projects in HighBank's directory.
• Blockchain consultancy and advisory:
HighBank will help blockchain technology to sharpen it's blade and make project ideas to be successful in this revolutionary technology. HighBank's professional team and R&D research facility provides best consultancy service globally to make blockchain deployment in mainstream.
• Marketing and partnership program: HighBank has detailed marketing plans and tools for high quality ICO's. It completely verifies and reviews the ICO capability and provides way for crypto ventures. HighBank offers three types of plans namely silver, gold and platinum.
Token structure
• Token ticker: HIGH
• Blockchain platform: Ethereum
• Protocol: ERC20
• Total supply: 100 million
• Hardcap: $40,000,000
• Softcap: $5,000,000
• Token price: $1
Token distribution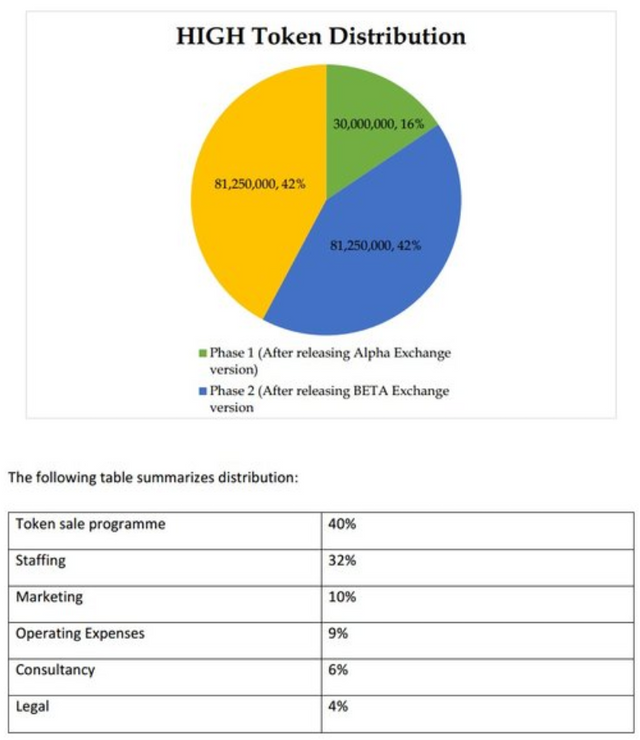 Roadmap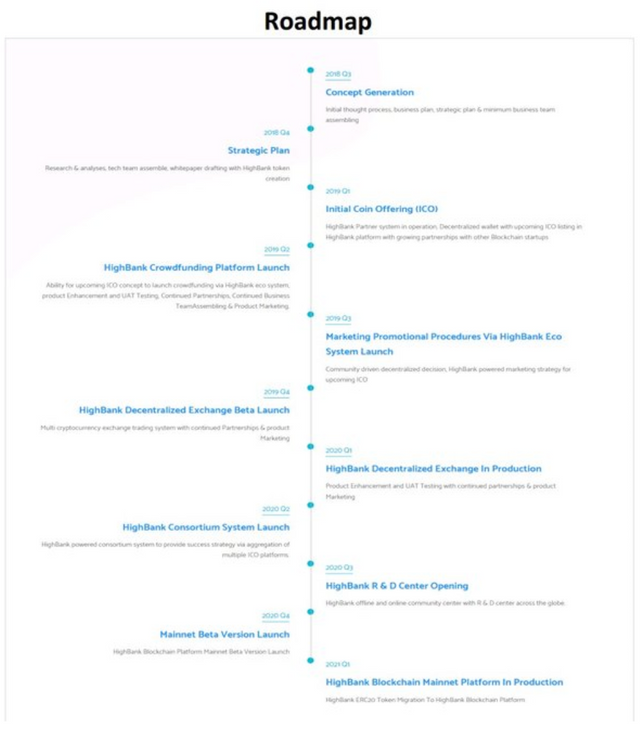 Team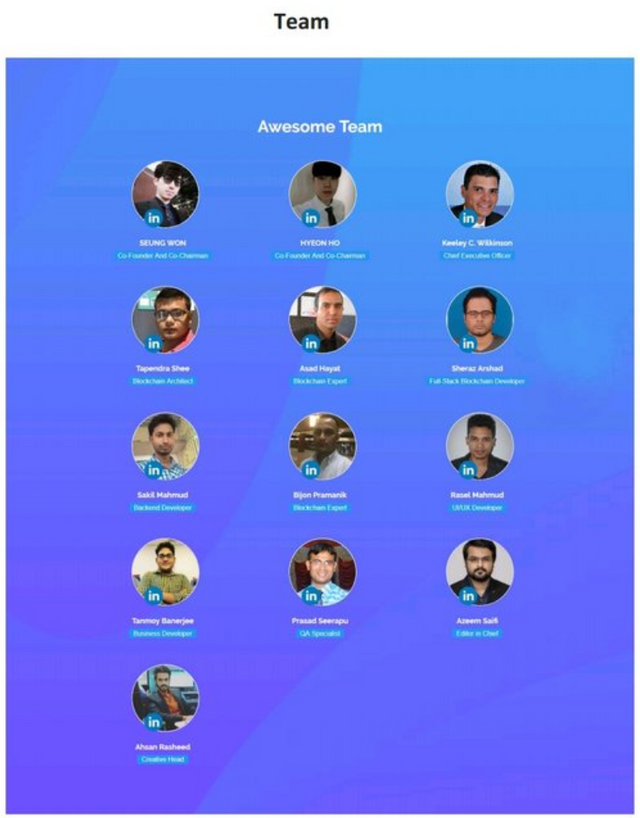 Conclusion
There is no doubt that HighBank will play an important role in making blockchain adoption in mainstream. HighBank will solve fundamental issues present in today's ICO and cryptocurrency platforms. It provides essential tools and services for ICO's to become successful in creating their innovative products. Thus blockchain and crypto will be globally adopted in every business sector. This project needs much public attention and I wish all the best for this great project.

Learn more about HighBank:
Website: https://highbank.io/
Read Whitepaper: https://highbank.io/HighBank_Whitepaper.pdf
Telegram: https://t.me/HIGH888
Facebook: https://www.facebook.com/HighBank.io
Twitter: https://twitter.com/HighBank19
Medium: https://medium.com/@highbank2018
LinkedIn: https://www.linkedin.com/company/highbank
Reddit: https://www.reddit.com/user/HighBank_
Instagram: https://www.instagram.com/highbankio
GitHub: https://github.com/HighBankio
Peruvyn
0x2D4189ce1aF856bba6EE11b6af8bF0Cd6270deB7