PROOF OF TOSS: ICO REVIEW
belushiiwuzeree

About Proof of Toss

 

PROOF OF TOSS is a smart betting ecosystem of the new era, that is based on blockchain tech and smart contracts rather than on trust in a centralized party. All users of PROOF OF TOSS are protected by ironclad logics of Smart Contracts, blockchain cryptography and the internal Distributed Crowd Judging mechanism that is used to reach high levels of accuracy in defining and challenging the outcome of an event

The world is changing daily , technology is very ripe in todays economy with different technical inventions that yield efficiency at work place, different technological tools being invented to carry work out effectively. As we have this paradox of change, humans have evolved with it with there behavior and interaction to accomodate and better prepare to meet these changes. Behavior of humans have shifted from the more traditional means of carrying or executing task to the more faster and effective way. Such Inventions as the more improved interaction of embracing online activities more to meet our daily behavioral needs, due to comfort, time and more effective and faster way of interaction. The betting system years back is more of going to the betting shop and place your bet and in return issued a betting slip . Overtime, this activities have shifted , more users have embraced betting online with operators of this industry providing gambling and betting games such as poker, casino, sports betting, lottery and other games online. The rising popularity of online gambling and betting is rapidly transforming the overall dynamics of the global gambling industry. Consumers are shifting to the Internet to gamble and bet on sports. The global online gambling and betting market has witnessed rapid expansion across the globe in the past few years.

The platform is prepared in making betting effortless, enjoyable and profitable for all participants serving both as a peer to peer platform and an open source solution for professional bookmakers, sportsbook providers, and operators due to business owners being unsatisfied with the payment solutions that are available on the market dishonest bookmakers, with payment restrictions and payment delays inadequacies forcing them to look for new opportunities and solutions.

Proof of Toss is one of the development of the blockchain industry, and the use of smart contracts may very well be an effective solution for the problems listed above. It is our goal to implement said technology and create one of the most widespread platforms for online betting. We are now developing a platform for traditional online betting companies for them to easily transition their existing business models to blockchain providing them with a competitive advantage over other traditional online bookmakers by reducing running costs, increasing trust, providing the ability to give better odds on wagers and increase profit margins.

 How does it work?

A Wager is created for an event happening in the near future, and can be created by either an Originator or an Operator. Users place Bets on suggested outcomes and once the event is over, if the Wager was created by an Originator, Judges are invited to verify the result and by doing so define winning Bets. If the Wager was created by an Operator, he is responsible for providing a fair and true result. If the Users are not satisfied with the result provided by the Operator, they are able to challenge the result by initiating the platform's Distributed Crowd Judge mechanism.

There ecosystem operates using an internal utility token "TOSS", no intermediaries are required to handle transactions which eliminates some traditional costs.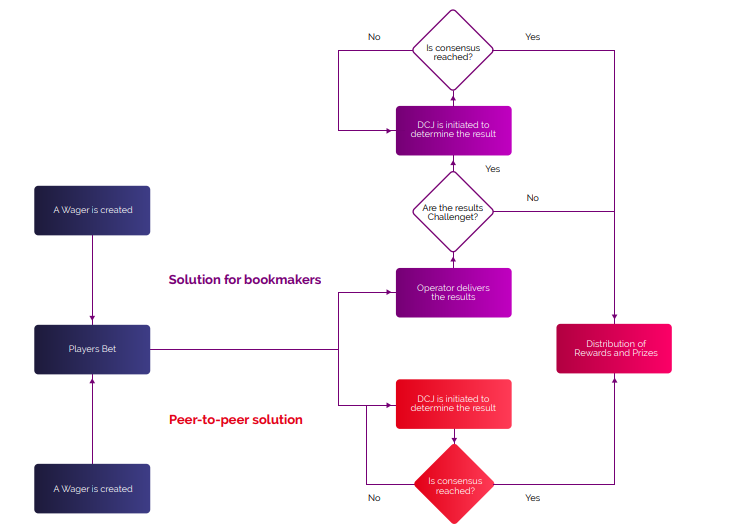 Benefits for Investors
 1.- The selling price of the token will be sold according to the following rate:  1 TOSS = 0,17$, and with the demand of investors it is expected that the price of the token will increase. Then, as an investor, you can certainly benefit from it.
 2.- Proof of Toss objectives are millions of online Gambling and betting companies that have large and demanding markets. Therefore, it could probably end up being a great success, so investors can also benefit from it.
Advantages Offered
Proof of Toss is here to help online gambling and betting company around the world. It will provide transparency for all transaction within the ecosystem , fair results in online betting, irreversible transactions and high levels of responsibility for all users, also providing vast opportunities to win for all our users.
No termination of service the PROOF OF TOSS ecosystem is fully decentralized in terms of funds ownership. Each user retains full control over their wallet and therefore will always retain their right to access and interact with the ecosystem.
High speed of transaction PROOF OF TOSS is developed on RSK's smart contracts which are built as a side-chain of the Bitcoin Blockchain. This provides us with the opportunity to leverage great transactional speeds of 300 transactions per second and reduce costs.
About Token and ICO
Planned token price: 0.17 US $
30% (300 M TOSS tokens) are reserved for the core team (7%), bounty (1%), whitelist (1%),
founders (10%) and 11% for the PROOF OF TOSS Foundation.
70% (700 M TOSS tokens) will be distributed amongst all buyers of Token, according to their
purchase, and the bonus that applies.
Taking into consideration the complexity of this project we have established the Hard Cap at the level of 50 M USD, while Soft Cap is 6 M USD.
1,000,000,000 TOSS tokens There is a settled measure of TOSS tokens to be discharged. Unsold tokens will be appropriated among all givers in extent to their underlying commitment. The token sale dates: April 24th- June 24th
Links
WEBSITE : https://toss.pro/
TWITTER : https://twitter.com/proof_of_toss
FACEBOOK : https://fb.me/ProofOfToss
WHITEPAPER : http://toss.pro/wp-content/uploads/2018/02/White_Paper_PROOF-OF-TOSS-WHITEPAPER.pdf
REDDIT : https://www.reddit.com/r/proof_of_toss/
MEDIUM : https://medium.com/@ProofOfToss
TELEGRAM : https://t.me/proofoftoss
By Bitcointalk user: belushiiwuzeree
bitcointalk profile: https://bitcointalk.org/index.php?action=profile;u=2191289