Protect Your Data From Fraudster The PikcioChain Way !
It is no more news that personal data fraud is rampant nowadays. Being a very valuable business asset, its central storage system has made it vulnerable to fraudsters' manipulations making corporations and individuals insecure from fraud and unable to value data with assurance. Also, the data marketplace neglects the individual data owners, use their data without paying for it, and leave them without a hint of their data's whereabouts. Ultimately, trust is a major challenge in the data trade ecosystem. These problems and more are what the Pickiochain platform is out to address. Visit https://pikciochain.com/en/ to know more.
PikcioChain is a highly secure and distributed permission-based platform designed to collect, certify and exchange personal data in a server-free environment that keeps the individual data provider in control of their control of their data. It also allows for information flow between individuals and corporation and helps them come together in a data marketplace with two means of access. PikcioChain enables the user to share their data at their own will and also gives them the opportunity to earn from sharing their data. By giving these opportunities, organizations who purchase data for one purpose or the other can be confident in the authenticity of the data they are purchasing and at the same time, comply with the wishes of the data provider as well as with the relevant regulatory bodies, like GDPR.
PikcioChain is built upon the blockchain technology which gives it a decentralized structure that allows users to be in control of their data since it is stored entirely on their devices. The blockchain technology offers a functionality that cannot be duplicated anywhere else. The benefits of the PikcioChain blockchain based platform include:
• The security of knowing that fraud, in terms of altering data or transaction is impossible.
• Knowing that data is being exchanged with the full permission of the data owner.
• Prevention of data theft on a large scale as Pikciochain users store their data only on their own devices.
• High speed of transactions.
Download the White paper on https://pikciochain.com/static/files/PikcioChain_Whitepaper_en.pdf to know more about PikcioChain and its paraphernalia.
The efforts of Pikcio, having been operational for three years now, have been recognized by various leading enterprises which have gone in to partnership with it. These partnerships have the ability to change the mentality of people all over the world as to the use and control of their personal data.
Presently, Pikcio is in partnership with

Following Pikcio's partnership with NEO, the NEO council has purchased 660,000 Pikciochain tokens (PKC). NEO being a major world player in blockchain technology, PikcioChain has decided to move the PKC token standard from ERC-20 to the NEO EP-5 standard.
PikcioChain will be issuing an initial coin offering (ICO) for the PikcioChain token (PKC) in order to raise funds to further establish the platform. The pre-ICO will begin on 24th November, 2017 and end on 28th February, 2018, while the main ICO will begin on the 1st march, 2018 and end on 31st March, 2018.
During the pre-ICO 1ETH = 327PKC plus a time dependent premium and 1NEO = 30PKC plus a time dependent bonus. The premium will be offered as follows: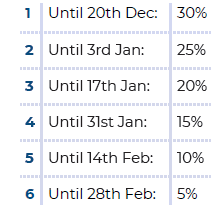 Informations sur l'ICO
Nom du jeton: CCP
Durée pré-ICO: 24 nov 2017-28 fév 2018
Durée de l'OIC: 1er mars au 31 mars 2018
Pour pré-ICO
La contribution d'un ethereum (1 ETH) conduira à l'allocation de 327 CCP plus une prime dépendant du temps
Limite de 80% des jetons de vente
Les primes suivantes seront offertes:
20 décembre: 30%
3 janvier: 25%
17 janvier: 20%
31 janvier: 15%
14 février: 10%
28 février: 5%
Plus d'informations sur ICO, ainsi que des bonus pour les grands investisseurs sont disponibles ici: https://pikciochain.com/static/files/PikcioChain_Whitepaper_en.pdf
Campagne de générosité
Le projet organise également des programmes de bonus. Cela signifie que vous pouvez soutenir des projets via les réseaux sociaux, traduire de la documentation, publier des articles et participer à des campagnes d'abonnement sur des sites bitcointalk, et obtenir leurs jetons. Les annonces de programme de bonus peuvent être trouvées ici: https://bitcointalk.org/index.php?topic=2770802
Sans oublier les sociétés de marketing qui utilisent des données personnelles personnelles dans un grand nombre de stratégies publicitaires.



Pour plus d'informations, visitez leur site officiel:
My BitcoinTalk Profile:https://bitcointalk.org/index.php?action=profile;u=1026250