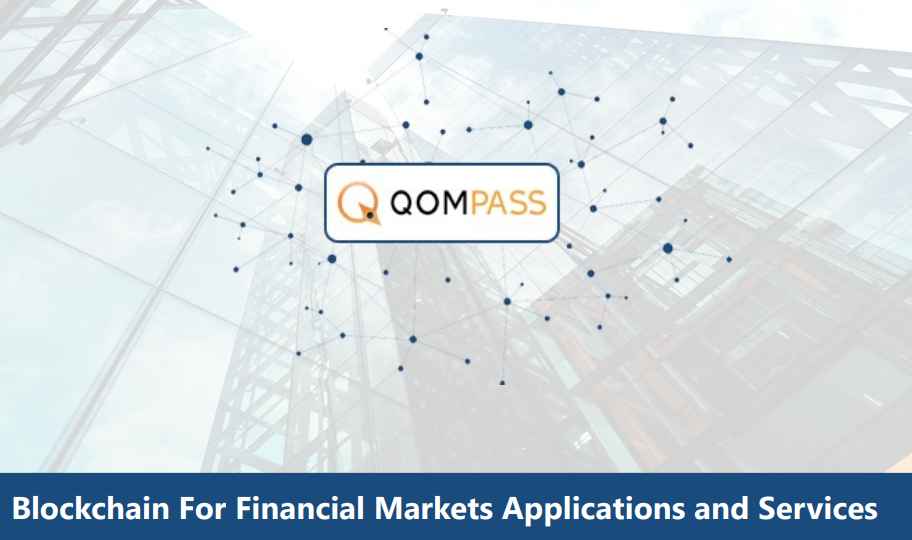 A new era in Crypto investing – Use artificial intelligence and smart contracts you can trade without sending your crypto from a separate wallet. Qompass is the first project that can do this. By harnessing the power of artificial intelligence, neural networks and financial leverage, Qompass accurately simulates the behavior of professional traders and provides a rich ecosystem of APIs and Applications to promote financial and capital markets on a global scale.
Introduction Qompass ICO
Qompass is a blockchain platform that provides access to financial markets. The platform uses its original QPS tag. Qompass will open QPS Token sales starting in April 2018.
Users will interact with the Qompass billing platform through the mobile application and Qompass card. Qompass will have a debit card and virtual wallet system, where your application acts as a wallet that allows you to load your card at any time.
Vision of the project
Qompass's vision is to restore the trust of traders in the $ 294 trillion financial market by using the full blockchain taxonomy functions to make every counterfeit transaction prove and corruption free.
How does Qompass work?
Qompass's long-term goal, Whitepaper said, is to "block most of the $ 294 trillion global financial markets, restore confidence and eliminate complex procedures and corruption."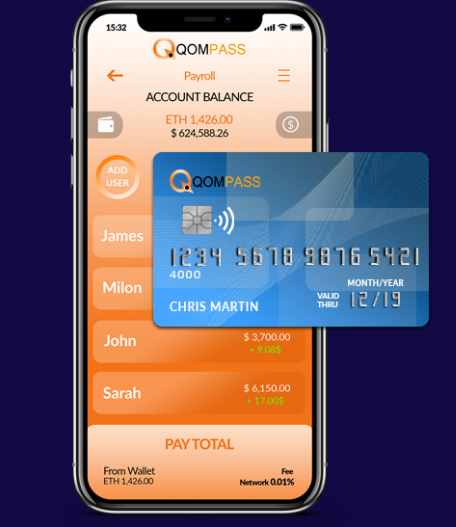 That is an ambitious goal, so how will Qompass achieve these goals? Here are some core functionality of the platform:
Faster than Ethereum or Bitcoin
Supports over 30,000 transactions per second
A self-aware blockchain supported by artificial intelligence
Fully customizable and expandable
Support for smart cross-chain (intelligent contracts that operate on multiple blockchains).
Low transaction costs
Compulsory and anonymous
Built to support financial transactions and high frequency transactions.
Where it works
You can use the Qompass at ATMs to withdraw Fiat currencies, at Point of Sale (PoS), and in online shopping.
Qompass also relies on a function called "proof of state." The main purpose of the Qompass node is to verify the status of the contract and identify the "proof of state". Rather than following the traditional techniques to exploit new blocks and unnecessary cycles, Qompass only requires licensed nodes to verify the creation of new blocks.
Products and services of Qompass
Crypto payment card
Crypto P2P Trading Platform
Open API Platform
Qompass Trader
Blockchain-Based Financing
Token Qompass
Qompass is selling its Token QPS during the launch of the card on April 6, 2018. There are a total of 33 million QPS Token, of which 20 million are sold during the Token Sale.
Website: https://qompass.io
Token QPS
Price: 1 QPS = 0.0013 ETH
Bonus: Yes
Background: Ethereum
Acceptance of BTC, ETH contributions
Soft cap 5,000,000 USD
Hard cap of $ 10,000,000
Time to sell tokens: 6.4.2018
Total tokens provided: 33 million QPS
Number of tokens open: 20 million QPS
Country: Hong Kong
Whitelist / KYC: No.
ICO sale plan
Qompass started selling Token on 06.04.2018, still within 1 and 20% bonus. Token will be distributed after the main sale ends, which may take up to 30 days to complete the delivery of the tokens.
Qompass requires users to verify account identity (KYC) to prevent potential violations such as money laundering. This is good for both buyers and sellers in the future.
Token Distribution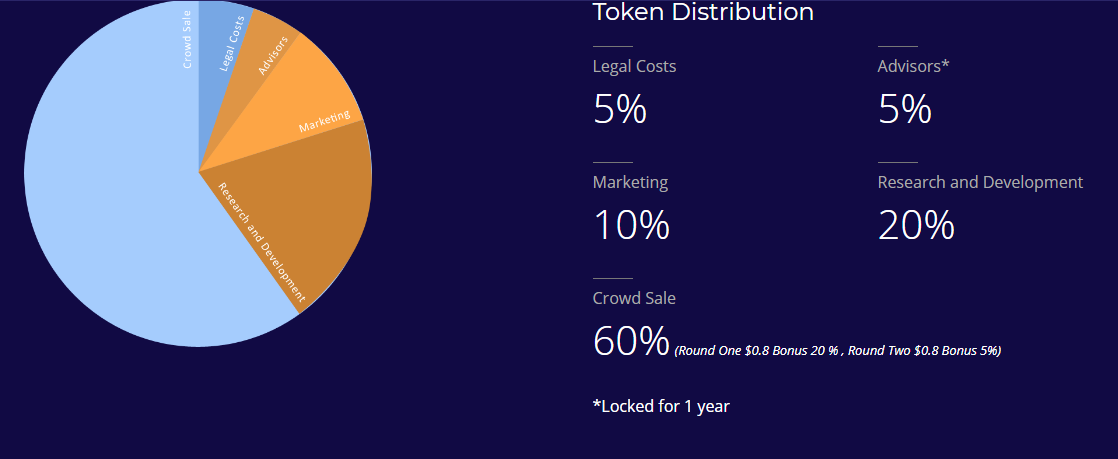 Roadmap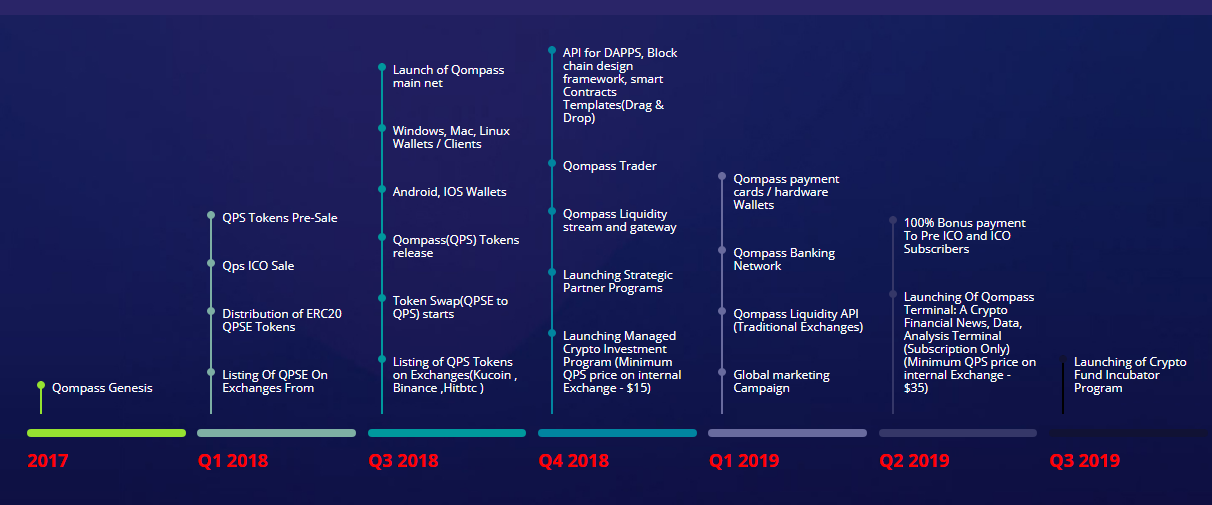 Team
Qompass is run by CEO Emmanuel Lim, who has 30 years of experience in cryptography and data encryption, the security architect of the bank's social security network. Lim has worked on Network Security Design for the world's leading banks.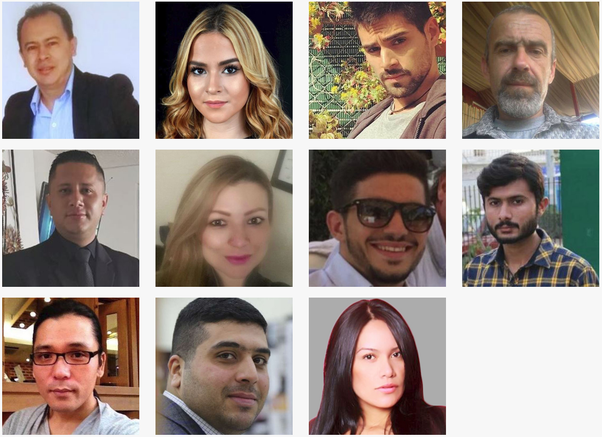 Conclusion
Qompass is an ambitious project. QMapass blockchain technology not only gives you revolutionary transaction speed to handle smart contract transactions but also gives subscribers the ability to convert confidential assets into currency. At any POS or ATM around the world at any time, use the Qompass payment card. You can convert your passive income earned in the Crypto Management Program into Fiat with high limits.
Reference Information
My bitcointalk Url :