Digital content creation is an important part of digital strategy. Every piece of content you create including eNewsletters, white papers, blog posts, case studies and more should be carefully crafted and designed to drive prospects to your brand, multiply organic reach and increase conversions.
Qravity is a digital entertainment production and distribution platform where decentralized creative teams get royalties for their work. Qravity provides a space for creative visionaries to collectively develop original monetizable digital content, including movies, music, games, e-books, and applications. The platform uses virtual tokens on the Ethereum blockchain to track digital content creation, distribute project stakes among creative team members, and bring Qravity-produced content directly to market. Blockchain technology makes the platform's transactions transparent in terms of revenue, product distribution, and profit sharing.
The Qravity platform is a decentralized digital content development and distribution platform with integrated project management tools, including asset production and approval, file sharing, and messaging for community and team communication. Project team members use these features according to their role. For example, founders can use the platform to direct their creative teams, while creators can track their progress and stakes. Upon project completion, Qravity brings the content to market, making it consumable through its platform, selling rights to distributors, and selling directly through third-party digital marketplaces like app stores and streaming services.
Qravity Project Tokens (QPT) is project-specific tokens that track project ownership; in other words, they represent shares in a project. QPT are for internal use only and cannot be purchased. These tokens are created and given to content creators in exchange for the work they complete for a project.
QRAVITY AIMS
• Bring digital media content creators together to develop their ideas
• Empower digital media content creators to develop their skills
• Give digital media content creators ownership of the projects they contribute to.
TOKEN DETAILS
Token Name – Qravity
Token Symbol – QCO
Type – ERC-20 Token
Issuer – Qravity QCO GmbH Kärntner Ring 17/22 1010 Vienna, Austria
Total Supply – 1,000,000,000 (fixed)
Decimal points – 18
Sold or exchanged – 50%
Accepted currency – ETH only
Hard cap – 35,000 ETH
Presale – August 18 – 31, 2018
Presale bonus – 30%
Initial token price – 1 QCO = 0.0002 ETH
QCO per 1 ETH – 5,000 + 1,500
Unsold tokens – Burn
TOKEN DISTRIBUTION
Token sale – 50%
Team members & advisors – 22%
Reserve – 14%
OTC token purchases – 2%
QCO Boost – 10%
Community rewards – 2%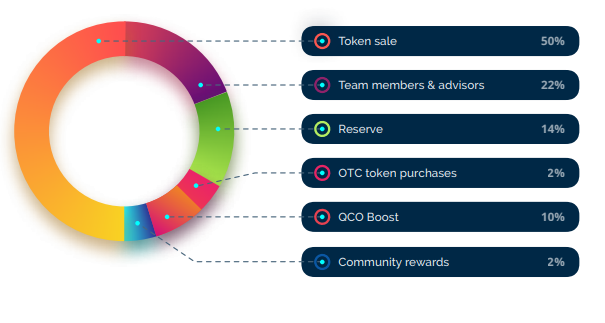 USE OF FUNDS
Marketing Qravity projects – 37%
Marketing Qravity platform – 19%
Operations, global offices & CS – 18%
Ongoing platform development – 14%
Community events, workshops – 9%
Legal & financial counsel – 3%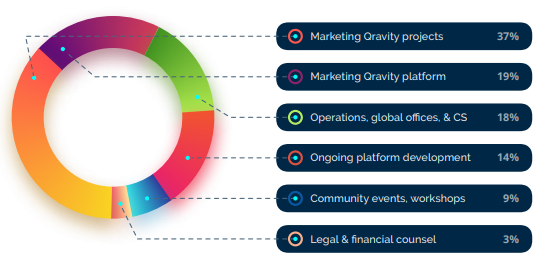 ROADMAP
February 2016: Project inception
August 2016: First round of angel funding
September 2016: Wireframing and MVP development
July 2017: MVP milestone reached
September 2017: Phase 2 platform development
August 2018: Token presale
October 2018: Participation at MIPCOM
Q2 2019: Target date for platform launch
Q3 2019: Qravity accepting new digital content project submissions
Q3 2020: Distribution & monetization of "Lizzard Maddoxx"
In plans:
• Tutorials and community events
• Continous marketing of Qravity platform and Qravity digital content
• Expanding platform functionality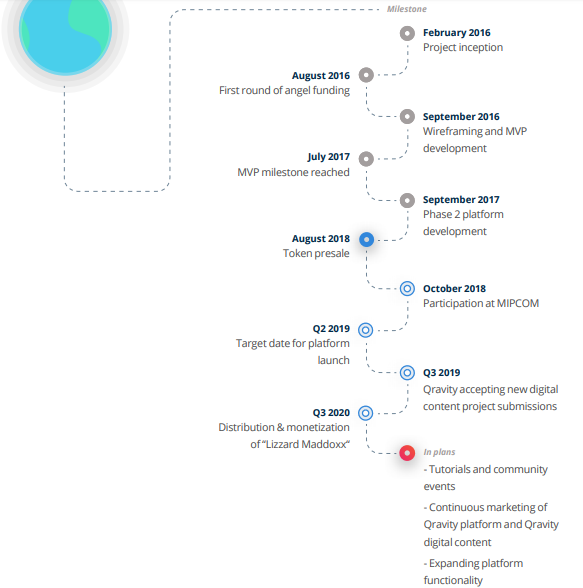 TEAM
Reinhard David Branstaetter – CEO & Founder
Christian Sascha Dennstedt – CFO & Co-Founder
Christopher Barber – Chief Product Officer
Patrick Seguin – Chief Content Officer
Maie Crumpton – Chief Marketing Officer
Igor Testen – Business Development Advisor
Michael Sormann – Platform Advisor, Art Director of Lizzard Maddoxx
Lukasz Cimer – Solidity & Smart Contract Advisor
Kieran Costello – Brand & Marketing Advisor
Roxy Terletska – Token Sale Advisor
Victoria Liset – Token Sale Advisor
Philip Dimitrov – Growthhacker
Andreas Petersson – Smart Contract Advisor, Security Infrastructure – Capacity
Franz Eigel – Business Advisor, Project Manager – Capacity
Sergey Shevchenko – UX/UI Designer
Alexey Morgaev – Back-end Developer
Valeria Chernishova – Frontend Developer
Olga Semusheva – Project Manager
Igor Kravchenko – QA Engineer
Dr. Oliver Völkel, LL.M. – Legal Advisor
Bryan W. Hollmann. Esq., LL.M. – Legal Advisor
For more details on this project, please feel free to click on any of the following links:
Website: https://qravity.com/en/
Whitepaper: https://qravity.com/en/whitepaper/
Twitter: https://twitter.com/qravitycom
Facebook: https://www.facebook.com/QravityCom/
Linkedin: https://www.linkedin.com/company/qravity/
Reddit: https://www.reddit.com/r/Qravity/
Telegram: https://t.me/QravityCom
Medium: https://medium.com/qravity
ANN Thread: https://bitcointalk.org/index.php?topic=3913750.msg37585855#msg37585855
Published by: tszone
Bitcointalk URL: https://bitcointalk.org/index.php?action=profile;u=1742409
Ethereum wallet address: 0x684c9d1c004AB2023E1d3ae9aEb902B514B703d1