QUANTOCOIN
QUANTOCOIN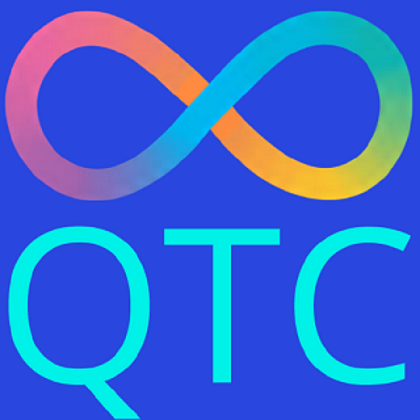 What is the QUANTOCOIN
Quantocoin has developed a next-generation model for the future of financial services and digital banking. This model uses Blockchain technology along with smartphones, as well as a new kind of bio-identification system which will be used to ensure safe and secure accounts for each user. This is a project to develop the future of the crypto-financial world. Its primary goal is to integrate and connect QTC into the traditional financial world and to create a single gateway through QTC platform for users, traders, investors and financial institutions with a whole range of add-on services.
Quantocoin is a platform for the future of funding that is built on top of the Waves blockchain. It accelerates the growth of unbanked people by offering tools and services that save both time and resources.
Current Problem
The adoption of cryptocurrencies into normal life. Now is almost impossible to pay with any cryptocurrency for good, or do transfers etc. Also, the transaction processing for cryptocurrency against fiat is practically non-existent.
Solution
QTC bank with QTC banking platform as the final stage of QTC project will bring solution by providing cryptocurrencies to mainstream everyday users.
Functions

QTC Mobile App
QTC mobile app turns every smartphone into a sophisticated banking platform.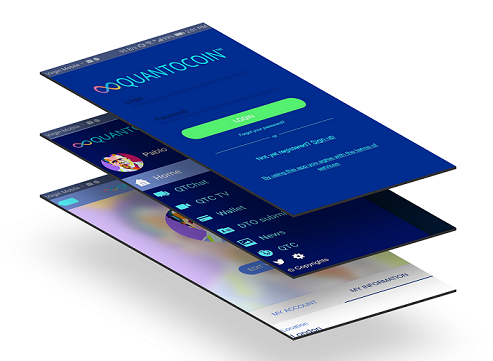 Still under development and some features may be conditional on regulatory approvals, which Quantocoin will obtain as a condition for rolling out.
Distributional Token Offering
The Quantocoin Distributional Token Offering (DTO) is the logical, second step to distribute all QTC with respect to the whole QTC project vision – All tokens will be distributed.
70 million qtc tokens will be distributed in defined consecutive periods over the next 10 month. These tokens will be split into the same rolling windows of the same amount QTC availability.
At the end of a period, the respective set amount of QTC Tokens for that period will be distributed pro rata amongst all authorized contributors. Means everyone gets the same price, based on the total amount contributed during that period.
Schedule
Token name : Quantocoin
Abbreviation : QTCt
Blockchain : Waves
Initial price of 1 QTC Token : from USD 1.2
Duration of DTO : 10 x 28 days periods (10 Months)
Amount token per one period : 7,000,000
Available no. of tokens : 70,000,000
Basic principle : All tokens will be sold during DTO
Secured ways to purchase tokens : Bitcoin (ВТC), Ethereum (ETH), fiat payments
Settlement Period : 2(3) days
DTO duration : 1st July 2018 (GMT 00:00) – 30th April 2019 (GMT 29:59)
Allocation of Tokens
QTCt will be distributed in the following way

Allocation of Proceeds
Funds signed and raised will be distributed in the following way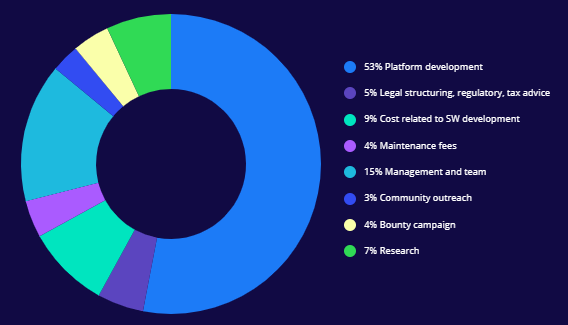 Roadmap
FEB 2016

Lite white papers, legal structure and framework, establishment of partnership, secure technical partnership

Q1 2017

Marketing plan, recruitment of talents, platform planning and development road plan

Q3 2017

Advisory board establish, partnerships with banks and liquidity providers, community development, ambassadors introduction

Q4 2017

Security audit, UI/UX development, applying for listing on the major cryptocurrency exchanges, launch new markets

YEAR 2016

Business plan strategy direction, project plan elaboration, licensing and company chain establishment

Q2 2017

IP and TM registration, regulatory framework, compliance execution plan, white papers

DEC 2017

ICO

Q1 2018

Submission for QTC listing on the major cryptocurrency exchanges, launch new markets (Asia, middle east, Africa), testing platform

Q3 2018

DTO start, app launch, merchant app development, lending protocol testing

Q1-2 2019

Merchants network expansion, hybrid application testing, lending protocol implementation, robo-advisors, DTO end

Q4 2019

Hybrid application implementation, full merchant functionality, own exchange facilities established

Q2 2018

First app version tests, wallet development and tests, applying for EMI, PI authorisation at FCA

Q4 2018

Remittances start, wallet full functionality, first qtcBeacon, the authorisation for activity from FCA, submission of documents to obtain a banking license

Q3 2019

Obtaining banking license, integration with the swift system
Our Team
Our core team consists of experts who have extensive experience in IT, blockchain technology, marketing and business models. In addition, our people are veterans in the traditional finance industry, with more than 25 years' experience in online trading, FX and private banking. The idea of QTC originated from long-term planning and several years of practice.
Our external consultants are working in the finance and technology sector. An important part of our team is the security department, where we work with industry leaders such as Incapsula or Checkpoint Infinity.
Key People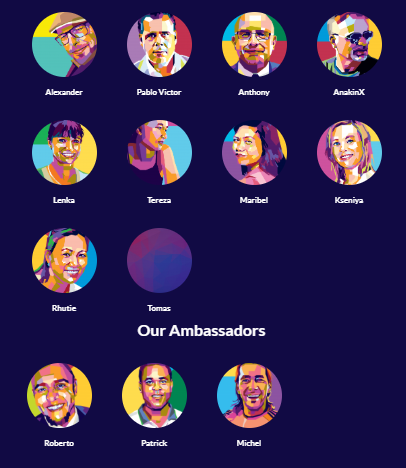 For More Information: