QUICK COIN
QUICK COIN – decentralized digital mining.
Blockchain technology revolutionized the view onconventional fiat currencies as it enables the mining of decentralized digital currencies. The introduction of Bitcoin changed the world and became the gold standard. Although acceptance of cryptocurrencies among the wider public is still proving challenging as some providers are associated with reputational issues.
The basics of mining is that a cryptocurrency miner provides computational power to solve mathematical problems.
Mining involves a piece of equipment operating 24/7/365 under consistent and extremely high load, so failures and breakdowns are quite common with unsupervised operations. Thus, although the topic of cryptocurrencies have been eminent for some time, entering this space is often still complicated for consumers.
MINING ENERGY CONSUMPTION:Key Challenges

1 Cutting-Edge Mining Hardware
2 Secure and Reliable Facilities
3 Ultra-Low-Cost Electricity and Stable Energy Supply
About Quick Technology

QPC has located several strategic locations that facilitate easy energy access and scalability. The amount of equipment that can be accommodated will vary from facility to facility. For example, a facility with around 1,000 square meter of floor space can accommodate estimated 30,000 Antminer S9 units with a total computing capacity of about 420,000 TH/s. With such a configuration, QPC is estimated to mine ±29 Bitcoins per day at current difficulty levels. QPC can deploy up to 9290 square meters of equipment.
Thermal Management

QPC utilizes two-phase immersion cooling technology as the primary thermal management solution. This solution offers a no-residue cooling solution that can enable data centers and supercomputers to reduce their energy use by up to 95% while increasing power density by up to 10x. 
In a two-phase immersion cooled system, electronic components are submerged into a bath of dielectric heat transfer fluids, which are much better thermal transfer rates than air, water or oil. With very low boiling points compared to water (ie. 49°C vs.100°C in water), the liquids boil on the surface of heat generating components and the evaporative process passively takes care of the heat transfers.
Compared to submersion oil cooling, fluids are clean, environmentally friendly and non-flammable. Heatsinks, pumps and jets are not required to keep hardware cool. Circulation happens passively by the natural cycle of evaporation and condensation without spending any extra energy. It is this elegant simplicity that eliminates conventional cooling hardware and results in better cooling efficiency. Compared to traditional air, water or oil cooling, this passive process results in the use of significantly less energy.
Higher Power Density

Designed without the restrictions and overhead of traditional cooling methods, this system has a number of other advantages, such as a much higher density, improved performance and the possibility for applications that would otherwise be impractical. With a smaller package, lower power consumption and much less supporting infrastructure (ie. no chillers or air conditions), the choice of facilities and locations becomes much less restrictive. QPC estimates that 12,500 miners can be fitted within 1000 square meter space. Compared to typical industrial density of approximately 2,000 miners per 1,000 square meter.
Extremely Clean

Passive 2-phase immersion cooling system also has inadvertent positive side effects including eliminating dust and noise due to massive air flow. Without fans, bulky heatsinks or air channels on the hardware level results in a very clean and elegant hardware implementation.
Advantages of Immersion Cooling:

Higher efficiency and energy savings (>90% electricity savings)
Reduced cooling system design and implementation costs and operational expenses

Improved performance

Higher density

Improved hardware reliability and longevity

Non-flammable, inherent fire protection

Works in confined spaces and extreme environments (hot & humid etc).

Reduced environmental impact

Quick Coin:Coin Specification

X11 Hash Algorithm
X11 is a widely used hashing algorithm created by Evan Duffield. X11's chained hashing algorithm utilizes a sequence of
eleven scientific hashing algorithms for the proof-of-work. This is so that the processing distribution is fair and coins will be distributed in much the same way Bitcoin's were originally.
Advantages of X11

The increased complexity and sophistication of the chained algorithm provides enhanced levels of security and less
uncertainty for a digital currency, compared to single-hash PoW solutions that are not protected against security risks like SPOF (Single Point Of Failure). For example, a possible but not probable computing breakthrough that "breaks" the SHA256 hash could jeopardize the entire Bitcoin network until the network shifts through a hard fork to another cryptographic hash.
The Quick Solution

Cost Efficient:Long-term purchase contracts with established bio gas and energy providers and expects to lower cost of electricity up to 75% compared to the U.S. national average.
Eco-Friendly:Dielectric fluids combined with our two-phase immersion cooling system have a very low global warming potential, does not deplete ozone, are non-toxic and non-flammable.
Profitable:Low power cost, higher power density, low overhead, with QPC Smart mining optimization algorithm, Quick aims to be one of the most profitable mining operations in the industry.
Innovative:Planned thermal management upgrades such as Organic Rankine Cycle system, Quick constantly strives to maintain competitive advantage through technological innovation.
Roadmaps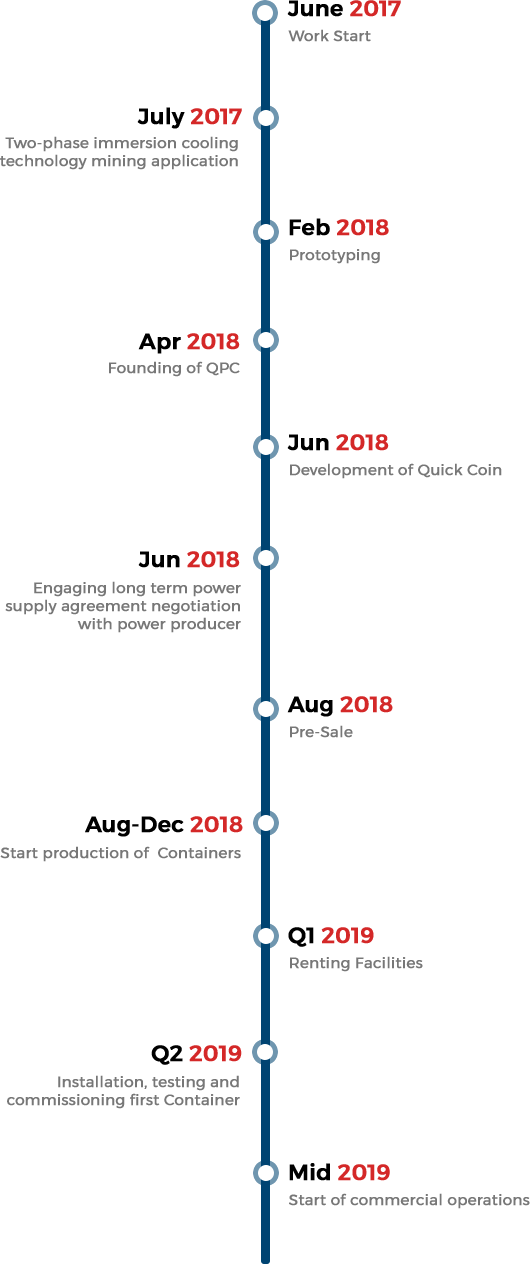 Our Team

PETER NGUYEN – CO-FOUNDER
RION DE'ROUEN – bCO-FOUNDER
JASON STILES – CO-FOUNDER
HENRY BOKENHAM – FINANCIAL ADVISOR
RICARDO FARAUDO – LEGAL ADVISOR
ANDERS JOHNSSON – TECHNOLOGY ADVISOR
MORGAN CHAPMAN – BUSINESS ADVISOR
MANUEL FLORES – BUSINESS DEVELOPMENT
JOHN L – PROJECT MANAGEMENT
STEPHEN ROMANIA – SALES & BUSINESS MANAGEMENT
HERALDAS GENDVILAS – DIGITAL MARKETING
ANNIE CHAPMAN – MARKETING DEVELOPMENT
EAN RODRIGUEZ – COMMUNITY MANAGEMENT
ANTONIO MONTALVO – TECHNOLOGY DEVEOPMENT
STARNEITS – BLOCKCHAIN DEVELOPMENT
FOR MORE INFORMATION PLEASE VISIT A LINK BELOW:

WEBSITE ; https://quickcore.io/
ANN THREAD ; https://bitcointalk.org/index.php?topic=5043361
WHITEPAPER ; https://quickcore.io/documents/quick-white-paper.pdf
TELEGRAM ; https://t.me/quickcore
TWITTER ; https://twitter.com/Quick_Ledger
FACEBOOK ; https://www.facebook.com/quickledger/
INSTAGRAM ; https://www.instagram.com/quick.ledger/
LINKEDIN ; https://www.linkedin.com/company/quickcore/
Author of the article:

Bitcoinalk username : Cintashany01
Profile link : https://bitcointalk.org/index.php?action=profile;u=1661845
Facebook : https://www.facebook.com/max.bebasmardeka
Twitter : https://twitter.com/tarjoe_maximum
Telegram username : @TarjoeMaximum
ETH adress : 0x2b53a131742A8d2a03771C168267888D7ed5974f