RAWG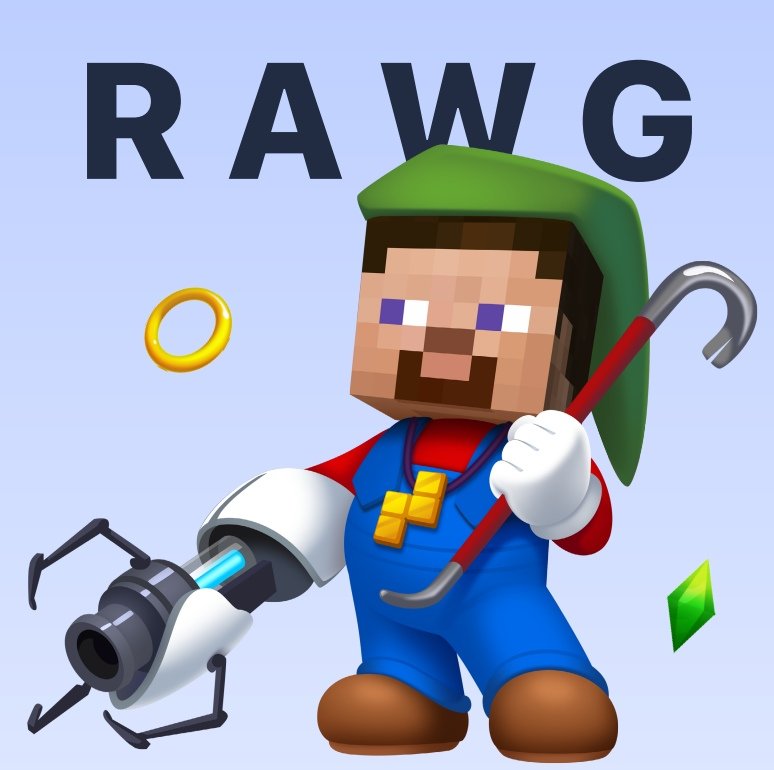 What is RAWG?
RAWG is a blockchain-based ecosystem platform specifically designed to search for cross platform games. RAWG is here to give prizes to all hours gamers have entered – for their time, grinding, skills, achievements, and so on. Not only are gamers targeted by RAWG in general, it is also intended for companies or advertisers who want to advertise their products or services on the platform, in accordance with the interests of users.
RAWG offers answers to these questions gamers often ask themselves. Utilizing cross-platform recommendation-based search, RAWG will ask gamers to search and find similar games, no matter what platform is available to them. Say, if you like playing late 90's agricultural role simulation games, Harvest Moon, and you have completed all similar themed games on the PlayStation platform, then searching for RAWG games will give you results for games similar to Harvest Moon, regardless of the platform. It can be PC, Xbox, Nintendo game or other platform. That way, you can say that there are games with genres or themes similar to those you play.
Fitur RAWG
Here are some RAWG features:
RAWG will recommend the game according to our preferences – not just the type of game but also according to our activities with the videogame itself, such as the ratings and reviews that we provide for it, and the list of games played and anticipated or anticipated.
Targeting and Advertising Tools
RAWG's main income comes from advertising with the Cost per Impression (CPI) model, with usually revenue generated every 1,000 views. With all the information that gamers get about their preferences – the game itself, the platform or gamers themselves, what games they want to play – RAWG has a better advantage in giving advertisers the ease of targeting their products. In addition, the cost for platinum ad formats in RAWG is only US $ 3 for every 1,000 impressions, while costs on similar sites reach around US $ 19 to 55 for the same number of views.
GROWING THE GAME DATABASE
Today, RAWG has a videogames database consisting of 50,000 games. RAWG plans to collect those numbers to a staggering 200,000 – within one year. This will make RAWG the owner of the largest videogame database in the world. The RAWG system will automatically add new games and information obtained from gamers, such as total playing time and achievements. Users will also be able to add some information manually such as old games or games that are not in the catalog.
Gamer Community
Maybe like social media, here we can write a review of playing experience from certain games. Gamers can interact here and they can "follow" each other. There will also be a Q & A session, organized by a verified influencer profile or perhaps an expert player.
Token Model
RAWG has reached a total of US $ 2 million soft stamp from the Crypto Bazaar Fund. This means that RAWG has reached the minimum amount of funds to continue their project. Hard hat from crowdsaleis was US $ 10 million, with maximum tokens generated in a total of 333,333,334 tokens for this crowdsale. Funds collected during crowdsale are allocated as follows: 40% for community development, 40% for product development, 10% for 10% security information, and 10% for back office. Below is how RAWG tokens must be used. There are three parties that can use RAWG tokens on this platform. They:
Gamers. Gamers are given tokens as gifts based on their activity and achievements gained in the game. 
Couple. The token here acts as a way to lead gamers to try merchandise or services owned by RAWG partners – including deloitte.com, playrix.com, and asia.wargaming.net 
Advertisers. Tokens act as payment instruments to get premium services in advertisement games and merchandise or services related to videogames. 
After the crowdsale is finished and the last amount of funds collected has appeared, RAWG will create additional tokens with the following as distribution:
Roadmap
April 2017 Blocked player profiles are automatically compiled
All games from the Steam, PlayStation, Xbox platforms.

20,000

This game is in the RAWG user database and feeds user activity.
April 2017 Integrated player profiles are automatically compiled
All games from the Steam, PlayStation, Xbox platforms.

20,000

This game is in the RAWG user database and feeds user activity.

\ May 2017 Private trial for 2,000 invited usersJune 2017 Original rating and rating system, expired:

Release schedule, chart, user reviews. 




User profile. 




50,000 games in the database. 




August 2018 Launch of the RAWG token system.

Selling ads
July 2017 Convenient editing tool for personal games
RAWG user library.

August 2017 Introducing many platforms: games cannot be ignored
Release schedule, chart, user reviews. 




User profile.
September 2017 with detailed reports on game interactions
OPEN THE OPEN ALPHA RAW VERSION.
October 2017 New UGC tools: game reviews and discussions
December 2017: rich content collection
February 2018 Rich content pages, game developers, and publishers
Profile, main page improved.
April 2018 sold
May 2018 Personalized recommendations based on unique data
Advantages of multi-platform gamers.
August 2018 Launch of the RAWG token system. Selling ads
October 2018 Community editable database. More than 100,000 games
In the database.

Service Q "A November 2018 is confidential: ask questions and get answers from game developers.
Conclusion
To conclude, RAWG offers a unique concept for cross-platform videogame searches. When gamers complete the game, not only will they receive prizes based on the activity and achievements they get – they will also receive personal recommendations about what games match their preferences and interests. The use of full-scale RAWG tokens as a payment method for the next few years makes tokens worth more than others.
GET MORE INFO: