Real Decentralized P2P Exchange Platform.
realDEX is a Real Decentralized P2P Exchange Platform project running on Windows, Mac OSX or Linux program not relying on a Domain and/or IP for functionability. Real decentralization means that your Windows, Mac OSX or Linux program will generate a deposit address without any access to a wallet. The coins that you will be sending there will remain in cold storage until withdrawal is done via one of the Masternode on the network. realDEX will need an Internet connection and will run on one TCP port number 9338. The realDEX Network only needs one port for full-duplex, bidirectional traffic. This port will be used for trading by all members of the network as well as communication with the Masternodes.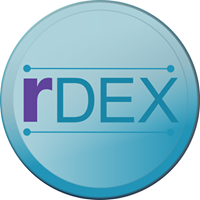 HOW IT WORKS
The technology behind this exchange platform gives it a unique face amongst other crypto exchange platform. This is because Buyers, Sellers, Devs and Masternode owners will never have access to private keys heavily encrypted and store on the realDEX blockchain database and yes, source code will be available on GitHub at https://github.com/realDEX. Because all trades will be carried out without us manipulating coins, you have to pay regular Bitcoin, the Xcoin blockchain fee and the realDEX network will charge the small token rDEX fees that will enter the Masternode that handles your transactions. Realdex token is based on the Ethereum technology ERC20. rDEX will be primarily used to pay fees for the trading platform as well as serving as collateral for running a Masternote on the network and getting paid by the network. below is the realDEX technological sample.
CATEGORIES

– RealLOCAL: Decentralized person-to-person altcoin/fiat currency trading platform with an escrow service. Trade directly with another person and get your coins instantly.
– RealSOCIABLE: Get Back Your Privacy! Connect and share with your friends and family on this Real bullet-proof social networking crypto dedicated website.
– RealAUTION: Cryptocurrency Auction Marketplace platform. Buy and Sell securely online with Bitcoin, Ethereum, rDEX and Sucre. Escrow service optional.
– RealFREELANCE: Cryptocurrency crowd sourcing marketplace website, which allows employers to post jobs that Freelancers, Digital Nomads can then bid to complete.
TOKEN SPECIFICATION
The second round of the token deal will begin from 23rd July 2018 and closes on the 23rd October 2018 with a normal amount of around 2500000 rDEX. With a value likeness rDEX to 0.0002 BTC.
COIN LISTING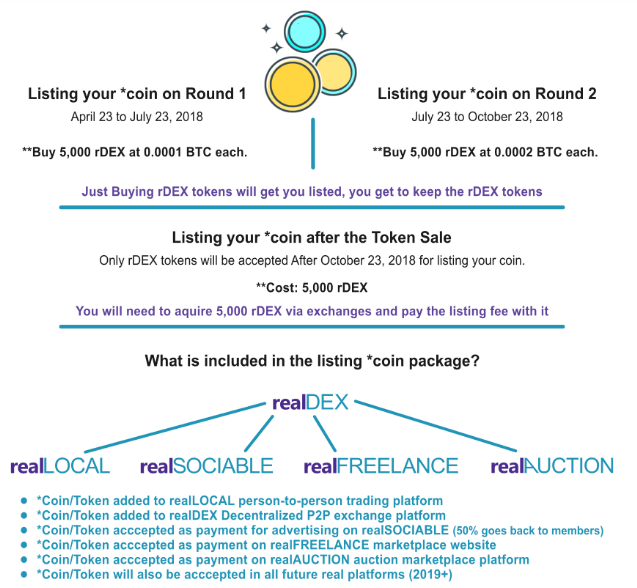 MEET THE SMART TEAM
ROADMAP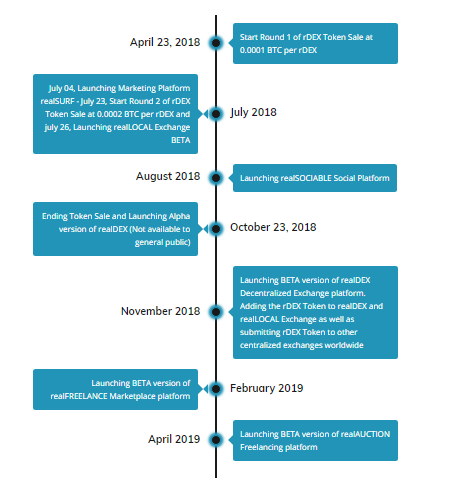 Peaceful greetings of the universe.
FOR MORE DETAILS, CHECK OUT THE LINKS BELOW:
Website: https://real-dex.net
Other real Platforms: http://real-surf.net – https://real-local.net – http://real-sociable.net – http://real-auction.net – http://real-freelance.net
Buy rDEX Tokens Cart: https://cart.real-dex.net
GitHub: https://github.com/realDEX
Facebook: https://www.facebook.com/realdexnet
Twitter: https://twitter.com/realdexnet
Google+: https://plus.google.com/b/114298820107512181985/
Instagram: https://www.instagram.com/realdexnet/
Steemit: https://steemit.com/@a-0-0-0-real-dex
Discord: https://discord.gg/qXZWnpS
Telegram: https://t.me/joinchat/I_e0YAk8BNg-N1rPfSEt1Q

Published by: Harleyberry
Bitcointalk profile link: https://bitcointalk.org/index.php?action=profile;u=1620264
Eth Address: 0x2F646B6A6085d34B0Efc88C1b0DCaa8B3af2E53C