RECORDSKEEPER PLATFORM: blockchain based record keeping and data security.
RecordsKeeper platform is an open public mineable blockchain for record keeping and data security. RecordsKeeper provide structured storage through a decentralized network making it easy to access data and security among peers. The RecordsKeeper leverages the advantages of Blockchain's network to create an ecosystem for secure transfer, authorization, integrity, and data authenticity. RecordsKeeper is a Blockchain-based, peer-to-peer structured document storage for Businesses and Individuals. It let user store document, data and any transaction immutably in private-blockchain securely without the need of central authority. RecordsKeeper enables anybody to push verifiable records of any information objects in the worldwide open RecordsKeeper Blockchain. RecordsKeeper aim to create a global open ecosystem for data sharing and verification.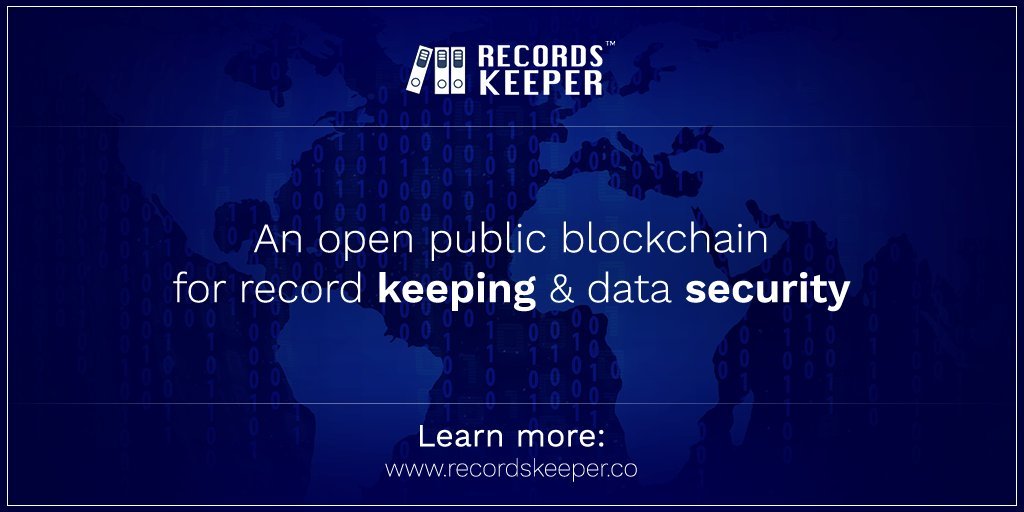 SECURITY FEATURES
– Data Immutability
– Data Integrity
– Data Authenticity
– Data Verifiability
RecordsKeeper offers an out-of-the-box functionality for structured, decentralized key-value pair database storage. When a user uploads a file, a condensed record along with meta-information is signed and registered in the RecordsKeeper ledger. If the amount of data is significant, it can be pushed to the encrypted storage layer for later retrieval. If any alteration of the record occurs after it is uploaded, the hash of the record will be different, and its immutable traces will be reflected in the blockchain. A client can also use checksum with SHA256 hashing to ensure that the digest of the record hasn't been altered.
RecordsKeeper is an open platform with key-value storage. A user accessing the RecordsKeeper can create a key-value stream on top of the RecordsKeeper ledger which then ensures secure data storage. The user can also use encrypted storage with our public ledger to store an unlimited amount of data. This data can be shared with interested parties by sending a transaction. An open ecosystem to manage records reduces the need for establishing trust in 3rd party organizations. Moreover, it provides community-control and verification of the data shared on the RecordsKeeper ledger.
HOW RECORDSKEEPER AND XRK WORKS?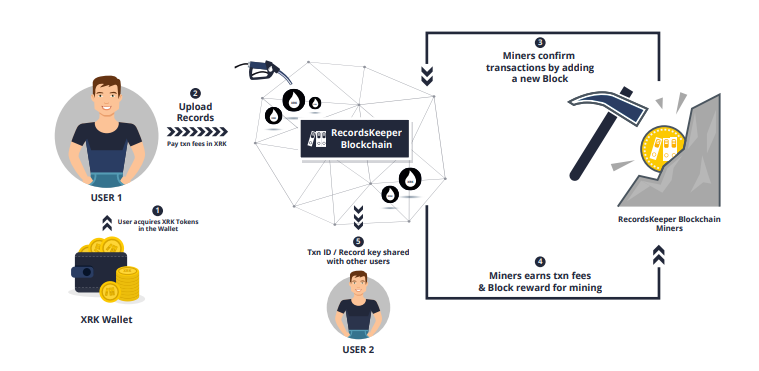 Step 1 – The user should register on the Recordskeeper Blockchain by providing his or her name and email. Next, the user will generate an XRK wallet where the data will be uploaded.
Step 2 – The user will receive the public and private keys to access the wallet.
Step 3 – After that, data recording can begin and the user can create a record by entering the data he wants to record. It can be in any format.
Step 4 – To confirm it, the user will review his or her data and if everything is okay, the data will be published.
Step 5 – To review that data, the user will have to enter the record's identifier to retrieve it from the Blockchain.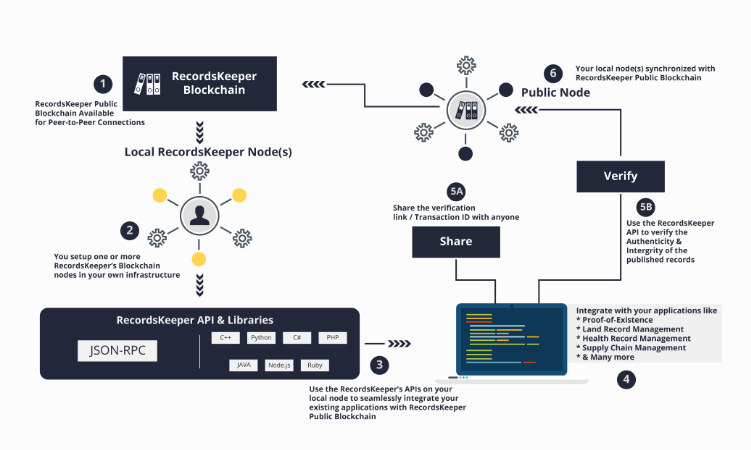 TOKEN DETAILS
XRK are the native tokens of RecordsKeeper Blockchain which are tracked on peer-to-peer network. XRK tokens behave as an economy to power the whole system. Users pay the records upload fee using the XRK tokens which gets delivered to the miners for mining the Block and securing the Blockchain. This utility token fuel the entire ecosystem and ensure it runs as a win-win for everyone including the XRK holder, user and miner. RecordsKeeper is powered by high-end Encryption & Blockchain Technology. RecordsKeeper Public Blockchain allows you to create verifiable & immutable records of any type of data which is not possible in traditional technologies like MySQL, Oracle, MSSQL etc. RecordsKeeper (XRK) helps you make the data & records more trustworthy & reliable due to Immutability & decentralization
Sale Type: BTC Capped
Soft Cap: 1200 BTC
Hard Cap: 2000 BTC
Price: 20,000 XRK/BTC i.e. 0.00005 BTC/XRK
Bonus: 10% to first 3 Million XRK, then 8% for next 3 Million XRK, then 6% for next 3 Million XRK, No Bonus post that
CryptoCurrencies accepted: BTC, ETH, LTC, BCH, BCG, XRP Only
Crowd Sale Start: 9 AM, 7 July, 2018 (UTC)
Crowd Sale End (Approx): 9 AM, 22 July, 2018 (UTC)
Team Tokens Escrow: Yes (RecordsKeeper MultiSig Wallet, 3-out-of-5 Signatories).
TOKEN SALE
RecordsKeeper will be conducting XRK token sale for end user to buy XRK tokens in advance for using it later for uploading the records into the RecordsKeeper Blockchain. There will be total three phases of sale spread over two months (June and July).
Phase 1: Private-Sale (9 AM UTC, 24 May 2018 – 9 AM UTC, 6 July 2018)
In this phase the company will be selling 36,000,000 XRK to buyers and enthusiasts with some early discount. This phase will begin at the time of announcement of the Token sale and will end on 6 July 2018. Discount on the token price will depend on the participation volume and the order of contribution. The earlier contributors will get more discount than the late comers.
Phase 2: Pre-Sale (9 AM UTC, 4 July 2018 – 9 AM UTC, 6 July, 2018)
In this phase company will allow 300 high volume online participants to participate in the Token sale between 9 AM UTC, 4 July to 9 AM UTC, 6 July 2018. Only whitelisted participants with proper KYC with contribution volume 1 BTC and above will be allowed in this period. The participants in this phase will get flat 25% bonus on the public-sale XRK token price.
Phase 3: Public-Sale (9 AM UTC, 7 July 2018 – 9 AM UTC, 22 July, 2018)
In this phase company will allow anyone with confirmed KYC to participate in the Token sale between 9 AM UTC, 7 July to 9 AM UTC, 22 July 2018. RecordsKeeper hold the rights to close the token sale early incase all the available XRK tokens have been sold or till the hard cap is hit whichever is earlier. In this phase first 3 Million XRK buyers will be getting 10% bonus, second 3 Million XRK buyers will get 8% Bonus and then next 3 Million XRK buyers will get 6% bonus Tokens. No bonus will be given to the participants after that.
FUNDS USAGE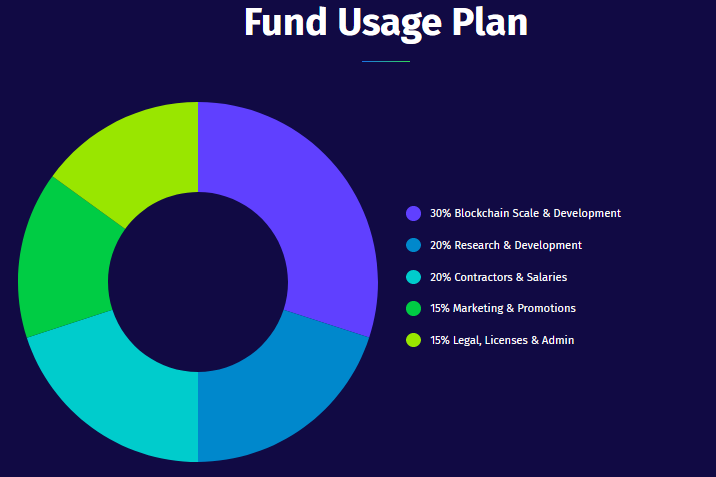 30% Blockchain Scale & Development
20% Research & Development
20% Contractors & Salaries
15% Marketing & Promotions
15% Legal, Licenses & Admin
MEET THE KNOWLEDGEABLE TEAM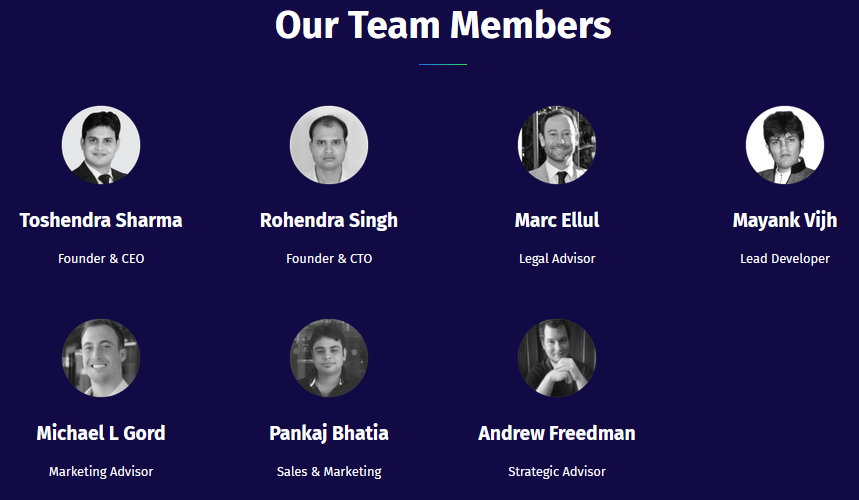 ROADMAP TO SUCCESS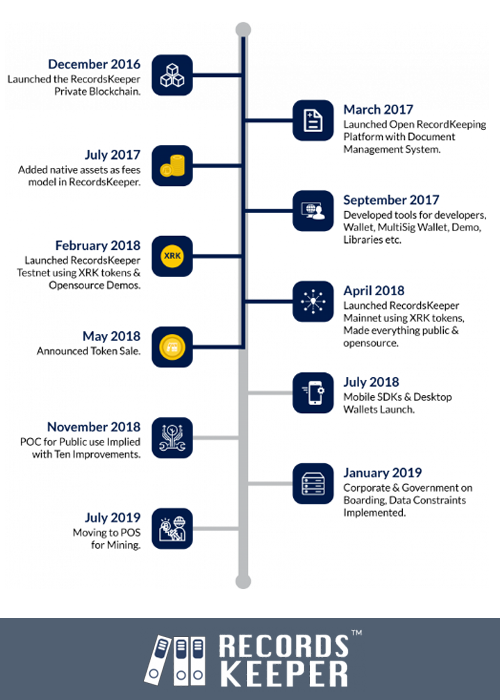 FOR MORE INFORMATION:
Website : https://www.recordskeeper.co/
Token Sale : https://www.recordskeeper.co/xrk-token-sale/
Whitepaper : https://www.recordskeeper.co/xrk-whitepaper/
Telegram : https://t.me/joinchat/B4T_PxInGAjiXLz1N66t3Q
Facebook : https://www.facebook.com/recordskeeper
Twitter : https://twitter.com/records_keeper
Reddit: https://www.reddit.com/r/recordskeeper/
LinkedIn: https://www.linkedin.com/company/recordskeeper/
Published by: Harleyberry
Bitcointalk profile link: https://bitcointalk.org/index.php?action=profile;u=1620264
Eth Address: 0x2F646B6A6085d34B0Efc88C1b0DCaa8B3af2E53C