RECORDSKEEPER PLATFORM: record keeping and data security solution.
RecordsKeeper offers a full suite of structured and easily accessible record keeping and data security solution for organizations and individuals. RecordsKeeper creates a platform for structured storage (NoSQL Database) over decentralized network for the ease of data access and security between peers. The RecordsKeeper capitalises over the pros of the Blockchain network to create a ecosystem for secure transfer, authorization, integrity and authenticity of data. Each peer is an autonomous agent, capable of performing these actions without significant human interaction.
RecordsKeeper is a Blockchain-based, peer-to-peer structured document storage for Businesses and Individuals. It let user store document, data and any transaction immutably in private-blockchain securely without the need of central authority. RecordsKeeper enables anybody to push verifiable records of any information objects in the worldwide open RecordsKeeper Blockchain. RecordsKeeper aim to create a global open ecosystem for data sharing and verification.

PROCEDURES INVOLVED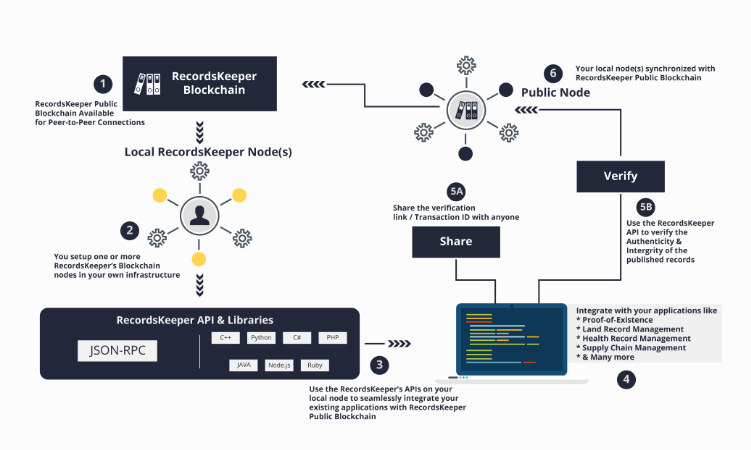 The first thing a user should do is acquire one or more XKR Tokens and place them into their wallets. The XKR Tokens are the native tokens of the platform, and they are the economic power of the entire system.
Once the user has a couple of Tokens, he or she can upload data in exchange for the upload fee which is paid in XKR Tokens. The price is 0.1 XRK/KB. The user will then receive a key which can later be used to retrieve the data just uploaded. There is an upload limit per transaction, and that is 8 MB.
The next job goes to the miner which after confirming that the transaction has been a success, it will add a new block to the blockchain. The miner earns transaction fees and blocks reward for mining. The user can then share the record key or the transaction id with any other user and that second user can verify the authenticity of the data and its integrity at any time, whenever he pleases.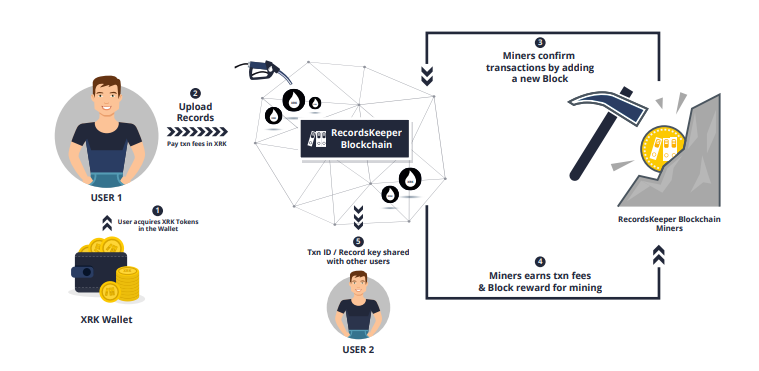 UNIQUE FEATURES
– Data Immutability
If you are familiar with the characteristics of blockchain, you will know that any data that is stored on the blockchain are immutable (unchangeable). If there is any attempt to change the block data of the blockchain, it would causes the block header to be invalid, and since block header are linked to the previous block header through hash functions, it would be creating a conflict in the whole blockchain. Therefore, any attempt to modify or alter the block data in any way would fail.
– Data Integrity
Compared to storing data on a single computer or on several servers, storing data on blockchain is way safer. This is because there are always more full nodes (computer that stores the whole history of blockchain) available than data backup servers. Plus, setting up servers or purchasing server hosting services are expensive. By storing data on the blockchain, single-point failure would be totally eliminated. As long as one full node survives, your data will be secured.
– Data Authenticity
In this era, there is a need for trustworthiness in terms of data storing. A solution needs to guarantee that the data is indeed what it portrays itself to be, meaning that no third-party has purposefully or accidentally changed what has been agreed upon and documented. Since data stored on blockchain is immutable, it means the data would be tamper-proof. Plus, blockchain is able to provide timestamps, which would allows blockchain to prove the time and authenticity of the input data.
– Data Verifiability
With RecordsKeeper, there will be record identifier as well as record identifier data section. Data uploader can input their own record identifier, which can be used to search for their data. Record identifier data is where the data uploader input the data or information that they want to upload to the blockchain. After finalizing the record identifier and the corresponding record identifier data, the data uploader will sign the message by using their private key. Data on the RecordsKeeper blockchain can then be retrieved by using the public address of the data uploader or the record identifier. Therefore, anyone can verify data on the RecordsKeeper blockchain.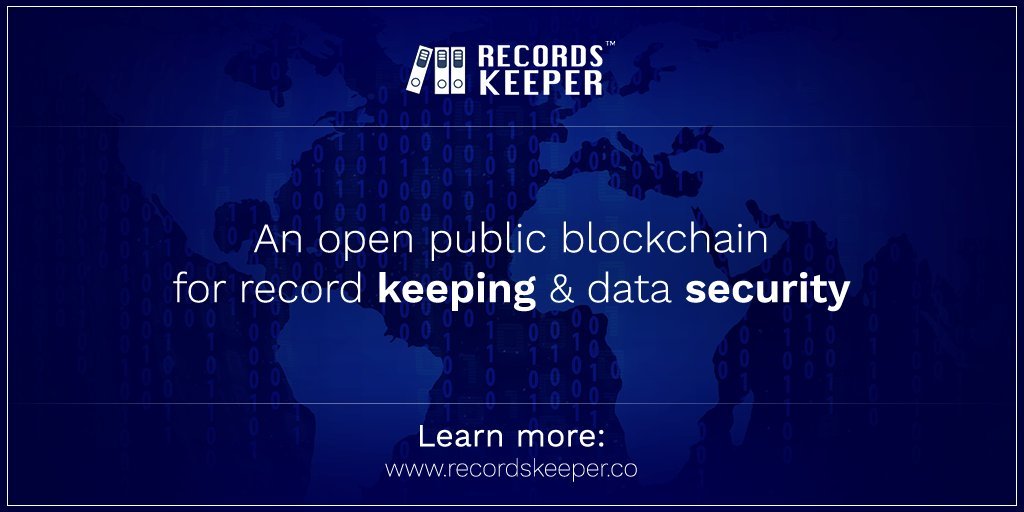 TOKEN SPECIFICATION
XRK are the native tokens of RecordsKeeper Blockchain which are tracked on peer-to-peer network. XRK tokens behave as an economy to power the whole system. Users pay the records upload fee using the XRK tokens which gets delivered to the miners for mining the Block and securing the Blockchain. This utility token fuel the entire ecosystem and ensure it runs as a win-win for everyone including the XRK holder, user and miner.
Sale Type: BTC Capped
Soft Cap: 1200 BTC
Hard Cap: 2000 BTC
Price: 20,000 XRK/BTC i.e. 0.00005 BTC/XRK
Bonus: 10% to first 3 Million XRK, then 8% for next 3 Million XRK, then 6% for next 3 Million XRK, No Bonus post that
CryptoCurrencies accepted: BTC, ETH, LTC, BCH, BCG, XRP Only
Crowd Sale Start: 9 AM, 7 July, 2018 (UTC)
Crowd Sale End (Approx): 9 AM, 22 July, 2018 (UTC)
Team Tokens Escrow: Yes (RecordsKeeper MultiSig Wallet, 3-out-of-5 Signatories).
TOKEN SALE DETAILS
RecordsKeeper will be conducting XRK token sale for end user to buy XRK tokens in advance for using it later for uploading the records into the RecordsKeeper Blockchain. There will be total three phases of sale spread over two months (June and July).
Phase 1: Private-Sale (9 AM UTC, 24 May 2018 – 9 AM UTC, 6 July 2018)
In this phase the company will be selling 36,000,000 XRK to buyers and enthusiasts with some early discount. This phase will begin at the time of announcement of the Token sale and will end on 6 July 2018. Discount on the token price will depend on the participation volume and the order of contribution. The earlier contributors will get more discount than the late comers.
Phase 2: Pre-Sale (9 AM UTC, 4 July 2018 – 9 AM UTC, 6 July, 2018)
In this phase company will allow 300 high volume online participants to participate in the Token sale between 9 AM UTC, 4 July to 9 AM UTC, 6 July 2018. Only whitelisted participants with proper KYC with contribution volume 1 BTC and above will be allowed in this period. The participants in this phase will get flat 25% bonus on the public-sale XRK token price.
Phase 3: Public-Sale (9 AM UTC, 7 July 2018 – 9 AM UTC, 22 July, 2018)
In this phase company will allow anyone with confirmed KYC to participate in the Token sale between 9 AM UTC, 7 July to 9 AM UTC, 22 July 2018. RecordsKeeper hold the rights to close the token sale early incase all the available XRK tokens have been sold or till the hard cap is hit whichever is earlier. In this phase first 3 Million XRK buyers will be getting 10% bonus, second 3 Million XRK buyers will get 8% Bonus and then next 3 Million XRK buyers will get 6% bonus Tokens. No bonus will be given to the participants after that.
USE OF FUNDS
30% Blockchain Scale & Development
20% Research & Development
20% Contractors & Salaries
15% Marketing & Promotions
15% Legal, Licenses & Admin
MEET THE TEAM

ROADMAP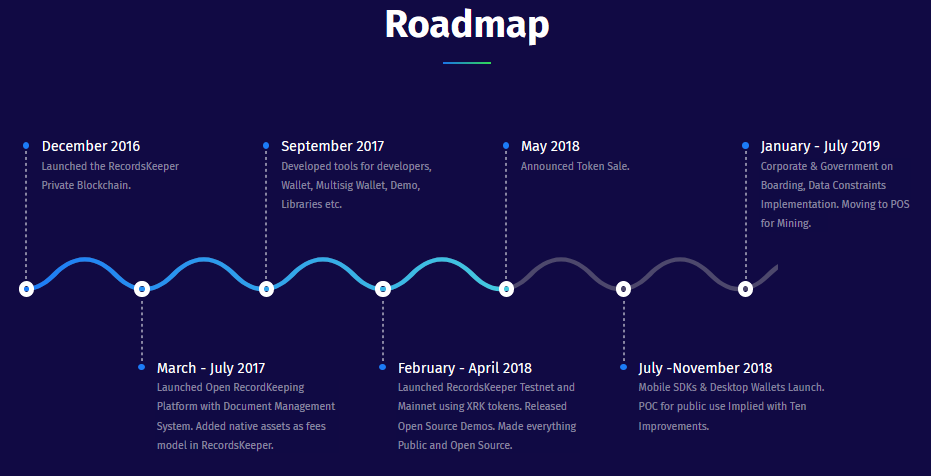 Kind Regards, ensure to join this incredible project.
FOR MORE DETAILS, CLICK/FOLLOW THE LINKS BELOW:
Website : https://www.recordskeeper.co/
Token Sale : https://www.recordskeeper.co/xrk-token-sale/
Whitepaper : https://www.recordskeeper.co/xrk-whitepaper/
Telegram : https://t.me/joinchat/B4T_PxInGAjiXLz1N66t3Q
Facebook : https://www.facebook.com/recordskeeper
Twitter : https://twitter.com/records_keeper
Author: Martilda
Profile link: https://bitcointalk.org/index.php?action=profile;u=1887582
Eth address: 0xd0D5d98857192B3931c831b7B809D47CD830da32