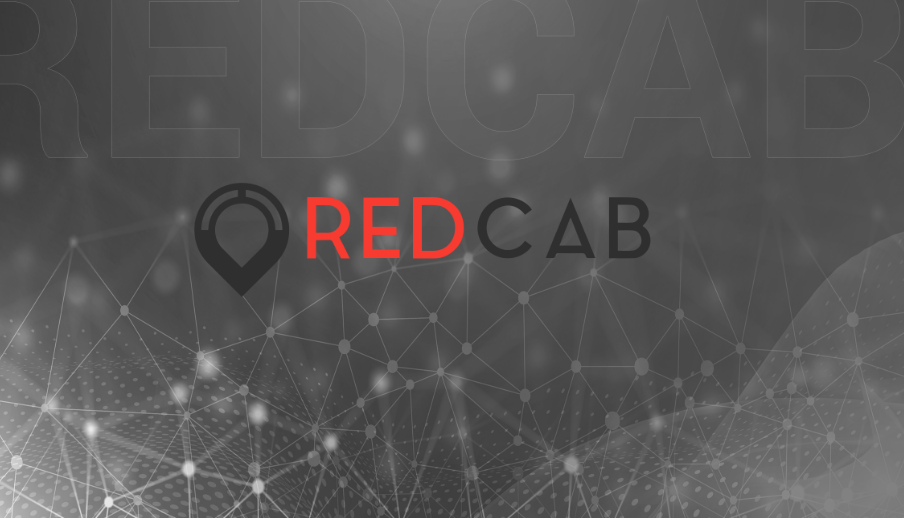 Cryptocurrencies is one of the most important inventions since the inception of the web. They are ushering in a new era of decentralization, privacy, and control of one's own data that has the potential to revolutionize many parts of society. There are currently over one thousand cryptocurrencies in use, with hundreds more being released each year. Their combined market cap has grown from $10 billion in 2016, to over $400 billion at the time of writing, having previously been much higher. Only 1% of the world's population own cryptocurrency. Companies involved with blockchain, the technology behind cryptocurrencies and altcoins are expected to experience significant growth over the coming years. Blockchain technology can solve dozens of previously intractable problems, like digital identities, supply chain integrity, data breaches and many, many more. The use of blockchain technology within society has been exponentially increasing since it was introduced to the world by Satoshi Nakamoto. The first use of blockchain technology was bitcoin. According to Gartner Insights, blockchain, the driving force behind the crypto market is estimated to grow in business value to $3.1 trillion by 2030. Blockchain is the fastest growing market in the world and Redcab offers investors an opportunity to benefit from the growth in value. The age of blockchain technology is just beginning where a Decentralized Peer-to-Peer Transportation solution powered by Blockchain technology and governed by smart contracts is introduced. Before i proceed on this project lets take a look at the short video below…..
https://youtu.be/AuNoDxJwcCE
REDCAB
RedCab is a decentralized transportation solution which deploys blockchain technology and provides cost effective and secure transactions. It is a fast forward company with a futuristic business model in the transportation space.
GOALS
Our goal is to convert our business model from a centralized app into a decentralized ecosystem that allows access to global reach and reduce expenses of transportation for users.
VISION
RedCab LLC team have seen a clear opportunity in the Peer 2 Peer transportation industry for a unique business model to balance business goals and customer needs, supported by a powerful technical platform.
Blockchain technology is considered the backbone of our business model from providing secured transactions and fast contracting; it perfectly blends with our business model to deliver to the world a decentralized and community managed transportation solution ready to serve individuals and support businesses.
FEATURES
Research
We move people from Point A to Point B by cars and spent 1 year of research in the transportation industry to understand potentials and technologies.
Returns
Lowest price for peer 2 peer transportation fare for customers with high returns for drivers.
Market
Building one community from different markets and embracing diversity for a better world.
Technology
Developing a technical platform with a solid eye on the future. Introducing advanced technologies to the transportation industry to enhance customer experience and achieve better business results.
BENEFITS OF REDCAB
To Customers:
Less waiting time to start your trip.
Free trips with higher usage.
Lower price fare and high savings. (No Surge Price or dynamic rates because we solved the drivers' supply challenge)
Multiple options to match your trip style.
More earnings through referral program.
Earning tokens through Proof-of-Marketing.
To Drivers:
Extra earnings and profits.
More rides per hour for more flexible working hours.
Multi options of transportation services.
Earning Tokens through Proof-of-driving
To Hotels & Restaurants
Ensuring reliability & efficiency where service providers and delivery personnel are engaged above a certain threshold and KPIs.
High savings and maximum efficiency for restaurants without dedicated delivery fleets.
More earnings through promotional ads and discounts. (Data Mining & Deep learning technology using Geo locations promotional Ads).
HOW REDCAB WORKS
RedCab is a decentralizing the transportation solution for individuals by utilizing Blockchain technologies for cost efficient and secure transactions. On the other hand, saving billions of dollars from transportation commission to be rewarded back to the ecosystem ensuring sustainability and business continuity through cutting edge technology, performance management and customer loyalty. Our business model is designed to ensure smooth market penetration through lean and reliable processes, and our scoring and reward program ensures loyal and productive community.
With the variation in fare calculation from one country to another and even from one city to another, RedCab LLC has managed to keep the tool flexible to amend the best pricing formula without surge price or high cost fare in holidays or bad weather.
The RedCab (REDC) TOKEN DETAILS AND ICO
The RedCab (REDC) Token will be the utility token used on the RedCab ecosystem. The RedCab ecosystem will be hosted on the Ethereum Blockchain Network and the RedCab (REDC) tokens will be ERC-20 compatible tokens.The total number of REDC tokens to be issued will be limited to 100 Million tokens to avoid the risk of inflation (i.e. by keeping the REDC token count scarce and limited). The price per REDC token is fixed at 1 ETH = 2333 REDC.
TOKEN DETAILS
Token Name: REDC
Max Tokens Supply : 100,000,000
Token Type : ERC20
Exchange : 1 ETH = 2333 REDC
Hard Cap : 24529 ETH
Min Purchase : 0.1 ETH = 233 REDC
Pre-Sale : Starts 01 June 2018 at 12:00 AM GMT and ends on 21 June 2018 at 11:59 PM GMT with early bird investors getting a 15% Bonus till allocated amount is sold out or phase ends.
Main Crowd-Sale Start Date : 22 June at 12:00 AM GMT and ends on 15 August 2018 at 11:59 PM GMT.
Accepted Currency for Token Sale: Ethereum
TOKEN DISTRIBUTION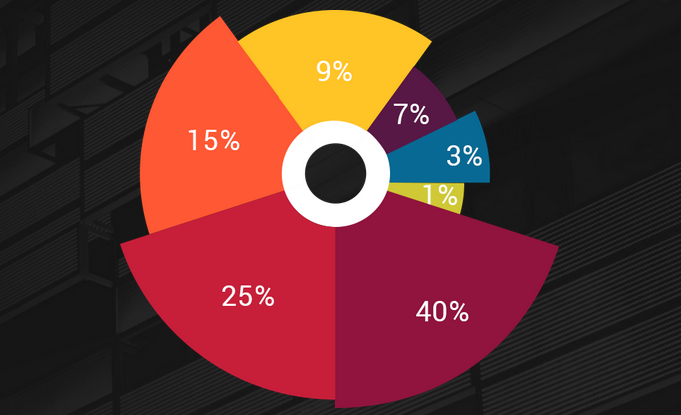 9% Team and Founders
3% Advisors
1% Bounty
7% Private Sale
15% Presale
25% Reserved for Proof-Of-Driving & Proof-of-Marketing token generation.
40% Crowd-sale
Budget Allocation Overview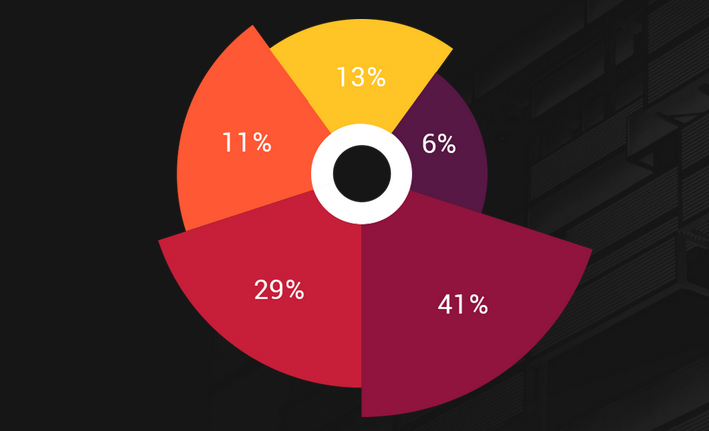 29% Product Development
41% Marketing, Acquisitions and Partnerships
13% Management & Advisory board
11% Admin and Operations
6% Legal
ROADMAP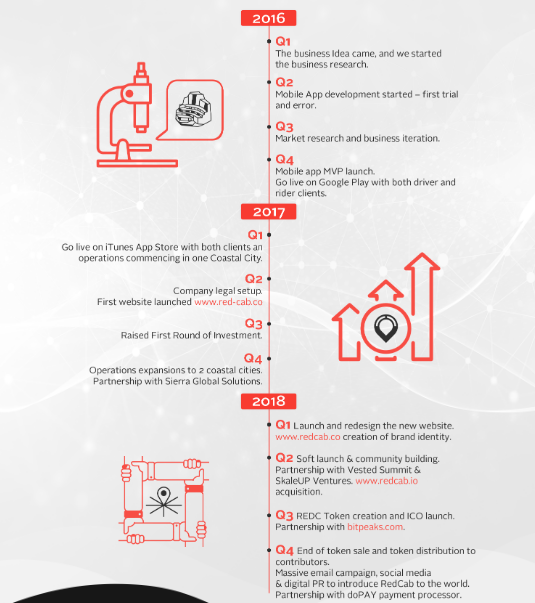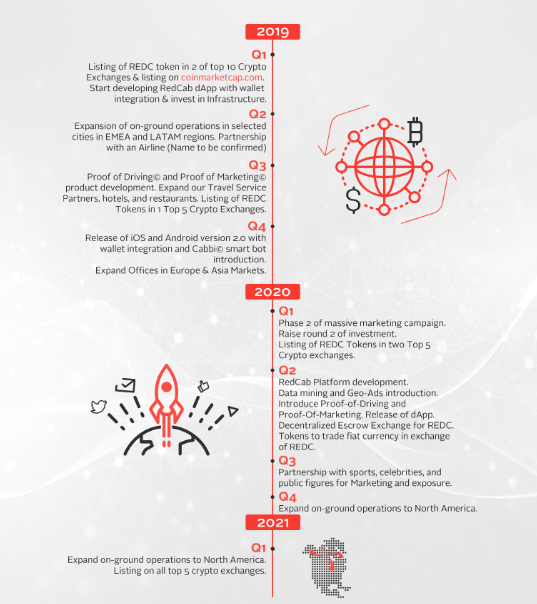 MEET THE GREAT MINDS BEHIND THIS PROJECT




ADVISORS






For more information, please visit:
Website: https://redcab.io/
Whitepaper: https://redcab.io/downloads/Whitepaper_EN_v1.0.pdf
Telegram: https://t.me/RedCab_ICO
LinkedIn: https://www.linkedin.com/company/redcab
Twitter: https://twitter.com/redcab_llc
Medium: https://medium.com/redcab
Facebook: https://facebook.com/redcabeg
Reddit: https://www.reddit.com/u/Redcab_io

Author: Seunola
MyBitcoinTalk profile: https://bitcointalk.org/index.php?action=profile;u=1925064
ETH Address: 0x3eb48CF7E0A5570540641DD8263cA40e307562e9