REINDEER PLATFORM: free cloud service.
Reindeer is a free cloud service that combines all the advantages of blockchain technology and developed IT infrastructure. The platform utilizes symbiosis, enables users and specialist store any information and realize their goals. The developers will use a new design language, which gives the opportunity to create a unique system of cloud design, which was previously available to a narrow circle of people. Reindeer Project will give the opportunity to expand the existing boundaries and allow to implement new interesting ideas.
The use of blockchain opens up new opportunities and eliminates many shortcomings that exist in decentralized storage. The platform is powered by blockchain technology to reward users of the repository, and the storage will provide full transparency and security of data.

PROPERTIES
Reindeer creates a new working space for designers, allowing them to work freely. If other users use these designs, the creators can earn tokens.
The Reindeer system is clear and transparent to every user. In this system, designers can take advantage of Reindeer splits without incurring additional costs such as entrance fees or taxes. Without large monopolies, developers and users can perform transactions from person to person.
The Reindeer platform is a fair system. Accepted creators within the platform can be voted on by the members. Creators can be listed on the Reindeer platform with the positive votes and upvote they receive from other users. In this way, more successful designers can earn more tokens.
With the Reindeer algorithm, developers can also develop their own applications. Any site owner who wants to have a chat bot for the website can adapt the algorithm prepared by another developer.
With the Reindeer developed by the learning machines technology, the platform can improve itself day by day. Reindeeer, which has an algorithm which lists the designs made by the creators according to various formats and shapes, provides great convenience to the users.
Reindeer platform is a completely free system. Data saved in Blockchain nodes cannot be changed by anyone. In this system, even the states cannot intervene, no data of users is lost. Data added to the Reindeer platform can be used by users even in countries where the internet is banned.
HOW DOES IT WORKS
This service combines all the strengths of the blockchain network and has developed an IT infrastructure that allows all developers and other professionals to realize their most incredible dreams and ideas into the world. All this became possible thanks to the new design language (CDML), which was specially developed for the new system cloud design which was previously accessible only to a narrow circle of people. Now, the developers of the Reindeer want to expand the boundaries and allow absolutely everyone to become creators of a more prosperous world and begin to realize the brightest ideas.
TOKEN SPECIFICATION
Token name: RDT
Token type: Ethereum ERC-20
Price PreICO: 1 RDT = 0.001 ETH
Price on ICO: 1 RDT = 0.001 ETH
Accepted currency: ETH
Minimum investment: 0.4 ETH
Soft cap: 4.000 ETH
Hard cap: 625.000 ETH
Emission: 2.500.000.000 RDT
Restricted area: China
TOKEN ALLOCATION AND FUNDS USAGE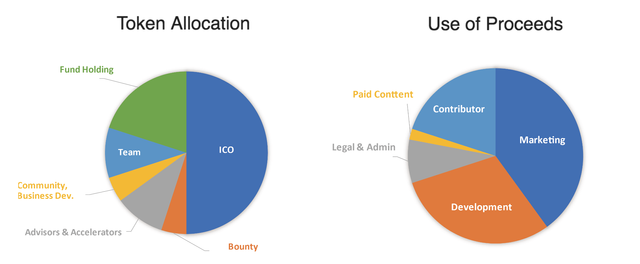 CONCLUSION
To ensure high-quality operation of the system, own RDT tokens will be used, which are based on Ethereum. In total, it is planned to issue 2.5 billion coins. The price at the sales stage will be 0.001 ETH for 1 RDT.

Kind Regards, ensure to join this incredible project.
FOR MORE DETAILS, CLICK/FOLLOW THE LINKS BELOW:
Website: https://reindeer.tech
Telegram: https://t.me/ReindeerProject
Whiepaper: https://reindeerproject.github.io/documents/reindeer_whitepaper_EN.pdf
Bitcointalk Ann Theread: https://bitcointalk.org/ index.php? topic = 5077396
Facebook: https://www.facebook.com/reindeerTechnology
Twitter: https://twitter.com/reindeer_press
Medium: https://medium.com/reindeer-project
Reddit: [https: // www.reddit.com/user/reindeer_press/](https: // www.reddit.com/user/reindeer_press/)
Linkedin: https://www.linkedin.com/company/reindeer-technology-pte-ltd/
<<<<<<<<<<<<<<<<<<<<<<<>>>>>>>>>>>>>>>>>>>>>>>>>>>
Author: Martilda
Profile link: https://bitcointalk.org/index.php?action=profile;u=1887582
Eth address: 0xd0D5d98857192B3931c831b7B809D47CD830da32