Remiit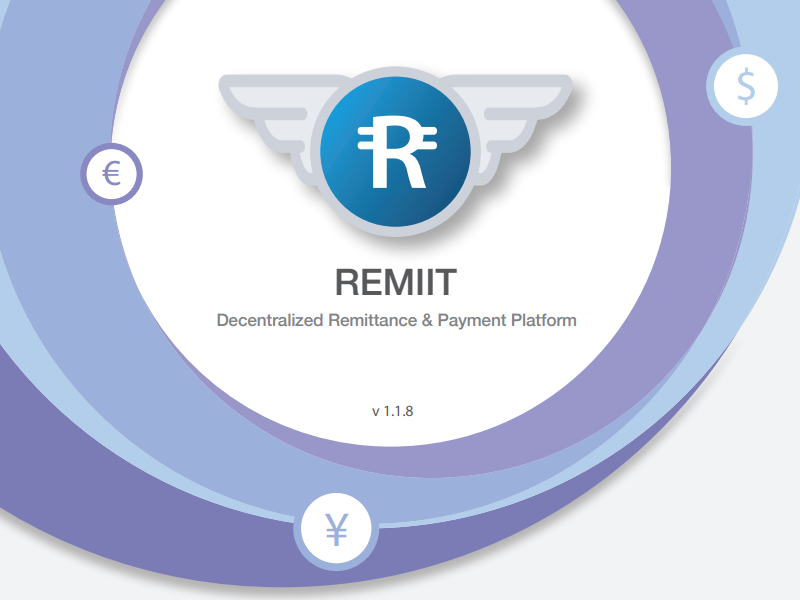 Good day crypto world, my name is Kenzio and i lived in Indonesia. Right now with blockchain breaktrough. so many ICO growing around the world even in my country Indonesia. Blockchain is growing even in third world country. And now, i will introduce a promising ICO, that is REMIIT
Remittances play an increasingly important part in today's globalising economy. More than $600 billion a year are sent as remittances by migrant workers to their families or by families to students studying abroad. This is a larger transfer of wealth than international aid, and even more critical for individual families. However, the way such transfers are handled now, by banks and various other institutions, is very flawed. In addition to security and trust issues, there are many intermediaries that require high fees. All this whittles away at the resources of a customer base that often simply cannot afford it.
Cryptocurrencies may offer an alternative channel for remittances, but so far their implementation has ran into some different problems. Their low liquidity and high volatility has effectively prevented their adaptation for this or most other everyday purposes. Remiit wants to fix those problems in its new remittance platform that will utilise an innovative token economy. It hopes to combine the advantages of blockchain technology with a relatively stable currency.
How will the Remiit system work?
Remiit will issue two kinds of tokens: REMI and REMD. REMI could be traded on external exchanges or converted into REMD at a set rate. REMD could be traded for fiat or cryptocurrencies on Remiit's own internal decentralised exchange (REX), available only to platform participants. REMD will also be used for the actual remittances. Linkers (that is, money transfer operators and other participants on either end) will have access to several customisable REMIIT smart contract templates which could be used to move money between each other's clients in REMD, which will be automatically converted to local fiat currencies at a guaranteed minimum rate. Smart contracts will incorporate an escrow functionality. Linkers will be rewarded for their efforts with REMI tokens, receiving a larger amount depending on how much time it takes to clear the transaction.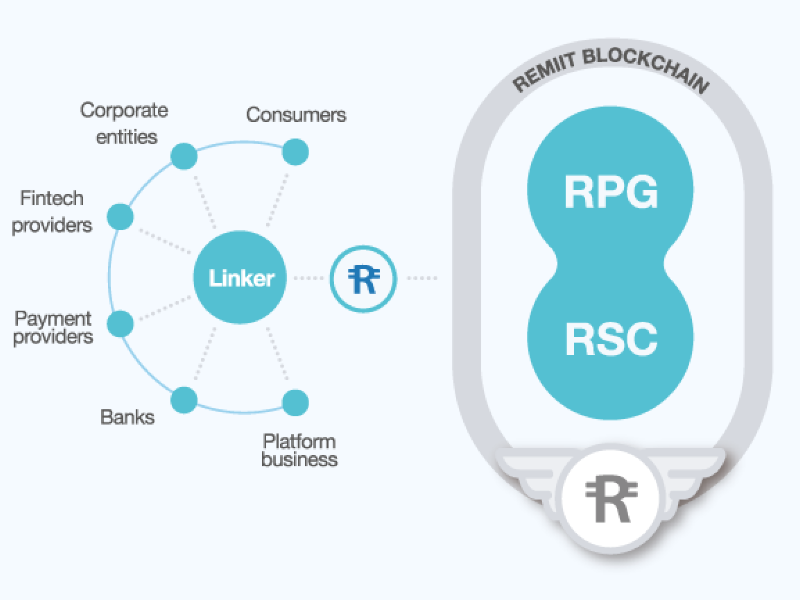 Linkers will be provided with protocols for transactions, each of which will have its own communications channel to sort out any problems as they come up. Remiit will provide KYC/AML tools with standardised formats for all countries. Both transaction and legal data will be stored on the blockchain. The former will be used to form visible reputations for all participants, while the latter will allow previously submitted KYC/AML information to be remembered by the system, removing the need to resubmit it. In addition to storing tokens, the REMI wallet will allow users to review and manage all of those features and could also be used for direct payments. Later on, Remiit plans to enable overseas purchases through its system by means of a Remiit Payment Gateway Protocol that would integrate its system with merchants.
What advantages does Remiit offer to its users?
The principal direct users of Remiit will be money transfer operators, including banks, credit card companies and other, smaller remittance market players. They will benefit from heightened efficiency and transparency of transactions, lower fees due to fewer intermediaries and a chance to attract new clients. But the main intended beneficiaries will be people with relatives in other countries, who should win out from the aforementioned service improvements without needing to do anything themselves. Remiit has given a lot of thought to the token economy. On top of its two-currency system, which buffers REMD from external trading effects with REMI, it promises to ensure stability with additional measures, issuing or buying back tokens as necessary if their price leaves certain publicly stated parameters.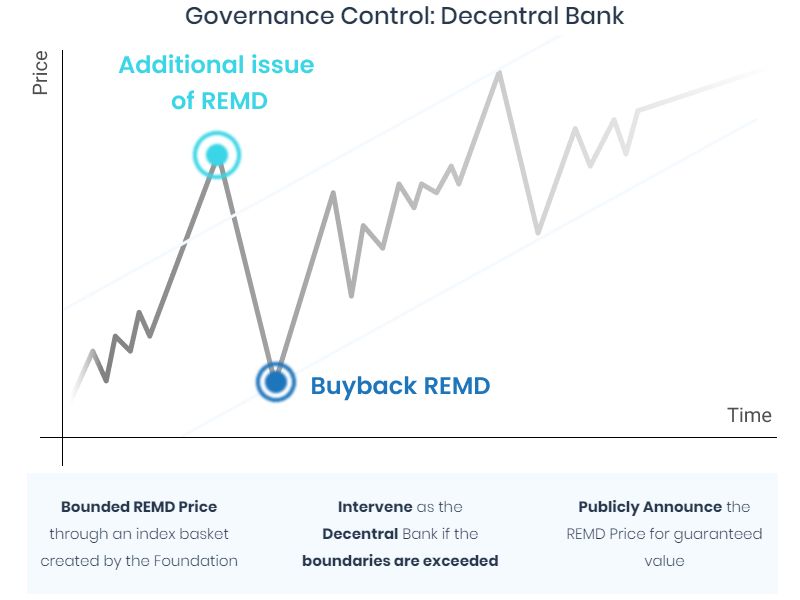 The people behind Remiit have previously worked on BluepanNet and other blockchain, fintech and IT projects. Several other companies from those spheres and from the remittances field specifically have agreed to become the project's partners. The project addresses a major social and economic issue that is likely to only grow in importance in the near future, and offers an alternative to the existing model that makes use of some of the basic and widely acknowledged advantages of blockchain payments.
Token sale details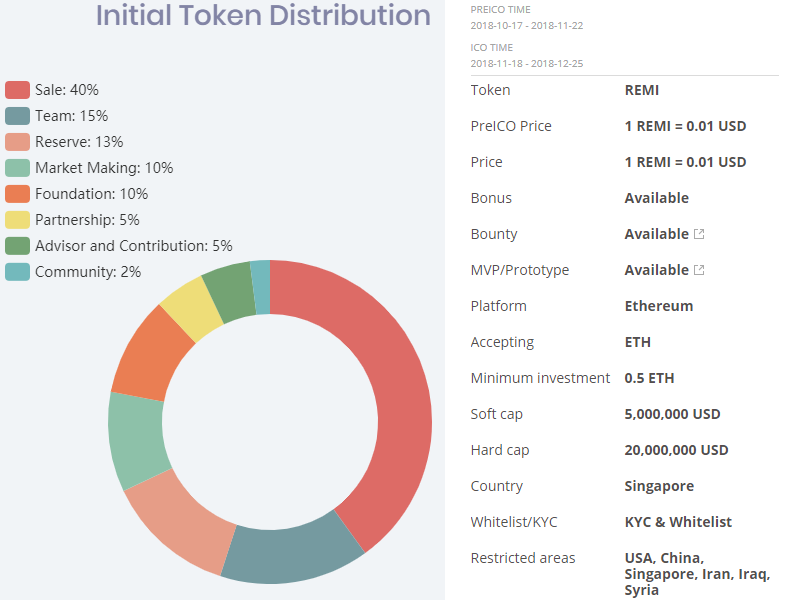 A viable cryptocurrency payment mechanism?
Although cryptocurrencies have always been advertised as a more secure, transparent and fair international payment method that would bypass the many problems of the existing financial infrastructure, none of them have come through on this promise as yet. Remiit's dual token economy and other measures represent an intriguing new approach. If it can solve the issue of remittances, it can potentially becoming much more broadly useful to the cryptoindustry and the global economy.
However, this depends on its economy working as intended. Though it does promise to be more stable than the market norm, Remiit's ability to protect its token is still limited by its own resources and those of its partners. While Remiit Linkers would naturally be interested in helping ensure the currency's liquidity, it is not clear how many companies would really be interested in making the switch to such an experimental system, or whether enough new clients would be attracted by its advantages. But given the problems of the current model, Remiit certainly has a fighting chance.
To find the Remiit project, please follow the number of sources for the following references:
Website: https://remiit.io/
WhitePaper: https://bit.ly/2Pl0m2b
Telegram: https://t.me/remiit
Facebook: https://www.facebook.com/remiit.io/
Twitter: https://twitter.com/remiit_ico
Medium: https://medium.com/remiit
ANN: https://bitcointalk.org/index.php?topic=4929374
Writter
Bitcointalk Username: Kenzio2016
Bitcointalk Profile: https://bitcointalk.org/index.php?action=profile;u=1999681
ETH Address: 0x152095898a7Aa50a716508f5997790beEdd276Ec