Remyt is a decentralized peer-to-peer application platform, which provides an ecosystem where users have one wallet that enables them to send funds across borders. Remyt will make the process of money transfer by a foreign worker to an individual in his or her home country simple and fast. Today the remittance market is worth over $500 billion, but it is still faced with derisking, high fees, insufficient transparency, Increase in settlement time, which threatens to make it more difficult for many to send and receive money.
Banks are responsible for major remittances in the world, but there are three dominant operators in the non-bank sector: Money Gram, Ria and Western Union. They operate about 1.1 million retail locations in 200 countries. However there are other players in the industry like: Currencyfair, xe, world remit, transferwise etc. Remyt plans to decentralize remittance processes using blockchain technology by offering the cheapest fees, transparency and instant access.
MISSION
Remyt – the first remittance ecosystem with a cryptocurrency secured by physical gold We create a safe remittance ecosystem which will ease the process of sending funds to your home country or any country.
In this way we create:
A Remyt token backed by 0.01g of physical gold for a start, to secure your funds while you use our services
An investment mechanism to enable you make additional income towards meeting your dream financial goal
An ecosystem that enable Money Transfer Operators, Cryptocurrency traders/professionals to partner with Remyt.
PROSPECTS
According to World Bank's Migration and Development Brief, released 3rd October, 2017 which provided regional remittance trends as outlined below:
Remittances to the East Asia and Pacific region are expected to rebound by 4.4 percent to $128 billion in 2017, reversing a decline of 2.6 percent in 2016. Remittances to the Philippines continue to remain resilient despite declining inflows from Saudi Arabia.
Remittances to Vietnam, largely sourced from the United States, are also anticipated to recover this year, while flows to Indonesia will continue to shrink due to a government ban on female domestic workers to the Middle East. Growth in remittances to the region will be a modest 3.4 percent in 2018 to $132 billion.
After declining for three consecutive years, remittances to countries in the Europe and Central Asia region are expected to grow by 8.6 percent to $43 billion in 2017. The recovery is mainly due to the appreciation of the Russian ruble against the dollar. Going forward, the economic recovery in Russia, continued recovery in Kazakhstan, and increased employment in the Euro Area imply a more positive outlook for remittances for the region, which are expected to grow by a robust 6.8 percent to $46 billion in 2018.
Remittances to Latin America and the Caribbean are expected to increase by 6.9 percent to $79 billion in 2017. Economic growth and improvement in the labor market in the United States is having a positive impact on the outlook for remittance flows to Mexico, which will receive a record $31 billion this year. Growth in remittances has been particularly strong in Central America. However, growth in remittances to the region will moderate in 2018 to $82 billion.
After two years of decline, remittances to the Middle East and North Africa region are expected to grow by 4.6 percent to $51 billion this year, largely driven by strong flows to Egypt, the region's largest recipient, in response to the devaluation of the Egyptian pound.
The growth outlook is, however, dampened by lower growth in the GCC due to oil production cuts and fiscal consolidation. Remittances to the region will grow by 2.9 percent to $53 billion in 2018.
Remittances growth to the South Asia region will be moderate at 1.1 percent to $112 billion this year, due to continuing impact of lower oil prices and 'nationalization' polices leading to constrained labor market conditions in the GCC. Remittances to India, the world's largest remittance recipient, will grow by 4.2 percent in 2017 to $65 billion, following a decline of nine percent in 2016. Flows to Pakistan are expected to remain flat this year, while Sri Lanka, Bangladesh and Nepal will see a decline. Remittances to the region will grow by a weak 2.6 percent to $114 billion in 2018.
Buoyed by improved economic activity in high-income OECD countries, remittances to Sub-Saharan Africa are projected to grow by a robust 10 percent to $38 billion this year. The region's major remittance receiving countries, Nigeria, Senegal and Ghana, are all set for growth. The region is also host to a number of countries where remittances account for a significant share of GDP, including Liberia (26 percent), Comoros (21 percent), and the Gambia (20 percent). Remittances will grow by a moderate 3.8 percent to $39 billion in 2018.
REMYT APPLICATION PLATFORM
This is the platform on which Remyt tokens are used as a medium of exchange for funds transfer.
Model:
Select an agent in your country of origin/location
Enter amounts and destination country.
See fees
Enter Recipient details
See summary of the transaction
Pay to the agent in your country of origin/location
You can cancel for a full refund within 30 minutes of payment, unless the funds have been picked up or deposited
You and the recipient will get an SMS and email when the money is sent and received (usually the recipient receives the funds within 30 minutes to an hour)
Investment Opportunity in Remyt
Earn daily from our Crypto Investment Program (CIP): Interest is paid daily to investors. (Terms & Conditions apply)
Earn commission in our Remyt Partnership Program (Terms and conditions apply)
Affiliate: Earn bonuses when you participate in our ICO, bounty or invite others to join via your referral link. (Terms and conditions apply)
Trade: Earn profit from trading Remyt Token
CRYPTO INVESTMENT PROGRAM (CIP)
This is a program where you invest your Remyt Token and get daily earnings up to 40% per month from Remyt management Team. (Terms & Conditions apply)
We apply crowdfunding technology to bring you a very unique and timely opportunity in Crytocurrency Trading. By using our expertise we are able to build a profitable trading operation that uses an affiliate payment structure to leverage the earning potential of our members.
The concept is very simple! You invest in any plan of your choice, your investment is used to trade any leading blockchain asset from different exchange platforms and you earn daily on your investment from the trading profit. When you share this opportunity with other members and they invest, you will also get paid commissions on their daily earnings.
How it works:
To participate in our system, first create and validate your account.
Members can deposit amount via Bitcoin, Ethereum, Litecoin, and EOS to purchase Remyt Token on our trading exchange or buy Remyt from external exchange or Escrow platform. You use Remyt Token to key in to our Crypto investment program
We use the allocated funds to trade in cryptocurrency on carefully selected exchange platform for daily accrual of earnings.
Members will get daily returns in the range of 0.01% to 2.25% until a minimum of 20%, up to a maximum of 40% is fully earned per month
Members can withdraw their earnings anytime through our withdrawal section.
You can invite your friends/families to join our Crypto Investment program and receive 5% referral commission on their daily earnings (example: if your referral invest $1000 in to CIP and earns $20 every day, you will be paid $1 every day which is 5% of $20)
Please note that the maximum limit of our CIP program is 80% of the allocated funds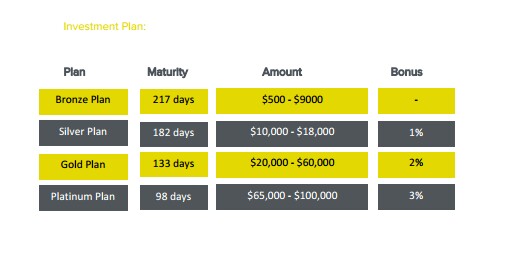 REMYT INITIAL COIN OFFERING (ICO)
Remyt will issue an ERC20 Remyt Token (XRT) for its ICO, which will be utilized as a medium of exchange in the Remyt Ecosystem.
Gold Backing
Each Remyt Token is backed by 0.01g of physical Gold for a start, held in multiple secure storage facilities. At the end of every financial quarter, 20% of total profits will be used to procure more gold thereby increasing our gold reserve. Every half-year the gold reserve will be audited by a third party audit whose report will be made available to token holders.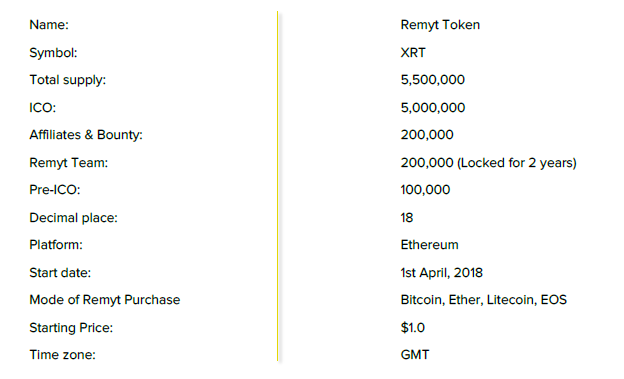 Funds Allocation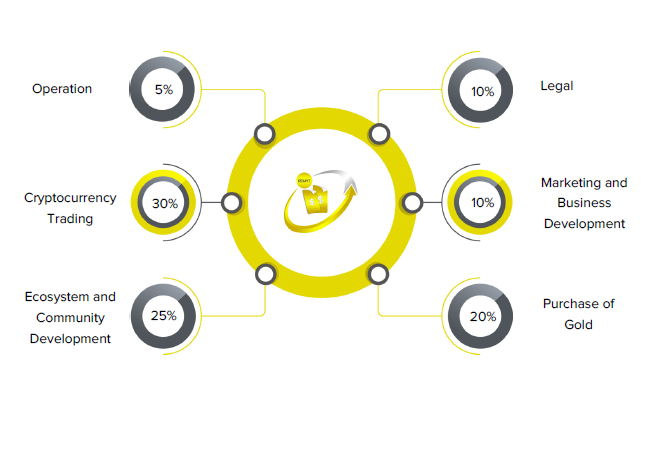 ROADMAP

For more information, please visit:
Website: https://remyt.org/
White Paper: https://remyt.org/whitepaper.pdf
Facebook: https://web.facebook.com/remytproject/
Twitter: https://twitter.com/remytproject
Telegram: https://t.me/remytproject
ANN Thread: https://bitcointalk.org/index.php?topic=3179339/
Author: Crator Touch
My Bitcointalk Profile: https://bitcointalk.org/index.php?action=profile;u=1612381