REMYT – INTERNATIONAL MONEY TRANSFER PLATFORM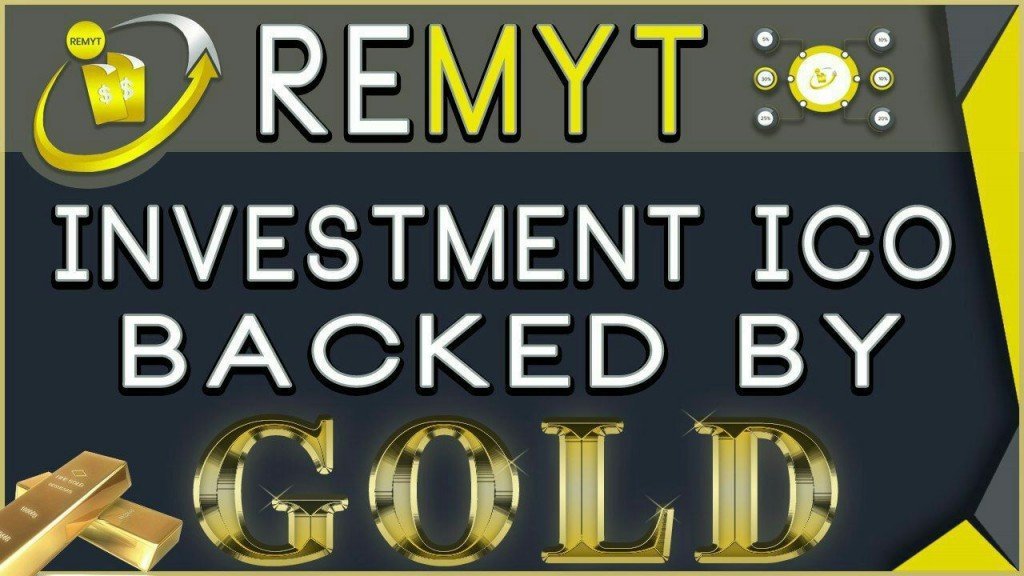 Remyt is a decentralized peer-to-peer application platform, which provides an ecosystem where users have one wallet that enables them to send funds across borders. Remyt will make the process of money transfer by a foreign worker to an individual in his or her home country simple and fast.
Today the remittance market is worth over $500 billion, but it is still faced with derisking, high fees, insufficient transparency, Increase in settlement time, which threatens to make it more difficult for many to send and receive money.
Banks are responsible for major remittances in the world, but there are three dominant operators in the non-bank sector: Money Gram, RIA and Western Union. They operate about 1.1 million retail locations in 200 countries. However there are other players in the industry like: Currencyfair, Xe, world remit, transferwise etc. Remyt aims to decentralize remittance processes using blockchain technology by offering the cheapest fees, transparency and instant access.
The proportion of the remittance industry is more than $500 billion the goal of Remyt is to penetrate 5 percent of the market by the end of 2022.
FEATURES


BACKED BY GOLD
Each Remyt Token is backed by 0.01g of physical gold for a start.
GROWING VALUE
20 percent of our profit will be used to buy more gold every Quarter.
TRANSPARENCY
Audit of our gold reserve once every half-year
TOKEN SALE AND ICO
A special token XRT was developed for the platform, on which the entire project economy will be based. With it, you can make transfers, pay for the services of the platform, trade them on exchanges and even just make a profit for their storage. Interestingly, the price of the token will depend on the price of real gold. At the same time, each month a part of the profit from the platform will also be spent on the replenishment of gold reserves and the regulation of the currency price.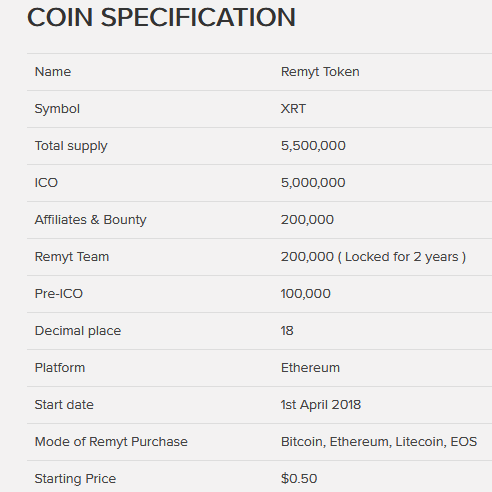 COIN SPECIFICATION
Name: Remyt Token
Symbol: XRT
Total supply: 5,500,000
ICO: 5,000,000
Affiliates & Bounty: 200,000
Remyt Team: 200,000 ( Locked for 2 years )
Pre-ICO: 100,000
Decimal place: 18
Platform: Ethereum
Start date: 1st April 2018
Mode of Remyt Purchase: Bitcoin, Ethereum, Litecoin, EOS
Starting Price: $0.50
ICO DETAILS
Remyt Pre-ICO will begin on April 1, 2018
ICO will begin on April 23, 2018 and finish on July 6, 2018.
During the ICO period, 5,000,000 memories will be sold in 5 rounds of 1 million each.
Each round will last 7 days from the date of first reception. ICO price will increase every round by $ 0.1. The price for ICO is $ 0.50 per token (only 100,000 replica tokens will be sold in just one day based on the first receipt)

FUNDS ALLOCATION
Operations – 5%
Legal – 10%
Purchase of Gold – 20%
Ecosystem and Community Development – 25%
Cryptocurrency Trading – 30%
Marketing and Business Development – 10%
WHAT CAN I DO WITH REMYT TOKEN?
• Send funds to any individual/Organization worldwide (*Terms & Conditions apply)
• Security deposit in our Remyt Partnership Program – RPP (*Terms & Conditions apply)
• Invest in our Crypto Investment Program (CIP) to earn daily between 0.01% up to 2.25% until a minimum of 20%, up to a maximum of 40% is fully earned per month (*Terms & Conditions apply)
• Trade on Crypto Exchange Platform
ROADMAP


After ICO : Token Distribution, Launch Crypto Investment program (CIP), Launch Internal exchange
Q4 2018: Launch Escrow Platform
Q2 2019: Launch Remyt Application Platform, Launch iOS/Android Application
Q3 2019: Listing On External cryptocurrency exchange platform
Q4 2019: Launch RemytPay for merchant and Remyt Debit Card
Q2 2020: Expansion to capture 5% of global remittance market by end of 2022
For more information, please visit the links below;
Website: https://remyt.org/
ANN: https://bitcointalk.org/index.php?topic=3179339/
White Paper: https://remyt.org/whitepaper.pdf
Facebook: https://web.facebook.com/remytproject/
Twitter: https://twitter.com/remytproject
Telegram: https://t.me/remytproject
Author: BrainerdPaul
BitcoinTalk profile link: https://bitcointalk.org/index.php?action=profile;u=1680409