RENCAP ~ Decentralized Cryptocurrency Funding & Investment Platform
What is Rencap?
Basically, Rencap is a B2B and B2C International Payment Solution. RenCap is a decentralized funding and investment platform, RenCap Will Also Be The Currency Used For All Transactions Of RenCap Owned Businesses.
Rencap is creating it's own token RNP, which is supported by a network of businesses ready to take on the currency as their B2B payment solution. Further down the years, within a 5 year plan, RenCap will also plan to implement into the B2C payment solution market. With a RenCap mobile App to monitor account balanaces, RenCap debit card and RenCap payment terminals in merchants around the world, RenCap may become the most convenient payment for consumers and the cheapest payment solution for merchants.
When Blockchain Technology meets traditional businesses. RenCap make us rethink of the ways we can come together to expand our foundation businesses in a much faster and efficient way, All while retaining the stability and foundation demands of our society. An example will be; everyone requires electricity, but not many or none of us will have the capability to open up a power plant. With RenCap, we became bigger. We invest in the foundation businesses that human will always need instead of trend. An individual can't do it alone, we do it as a team in the name of RenCap.
Features
B2B Payment Solution
B2C Payment Solution
Buyback Scheme
Supported By group of Ongoing Businesses
How it works?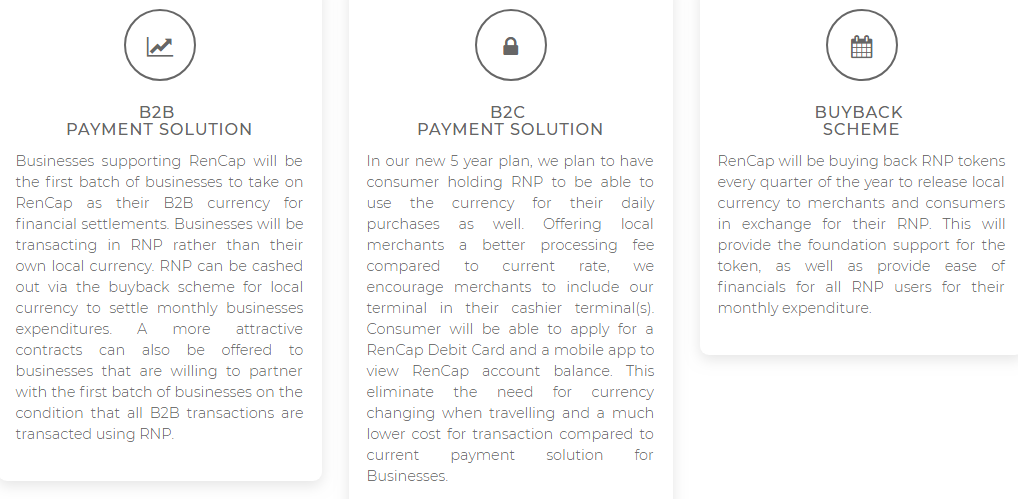 Why you should consider Rencap?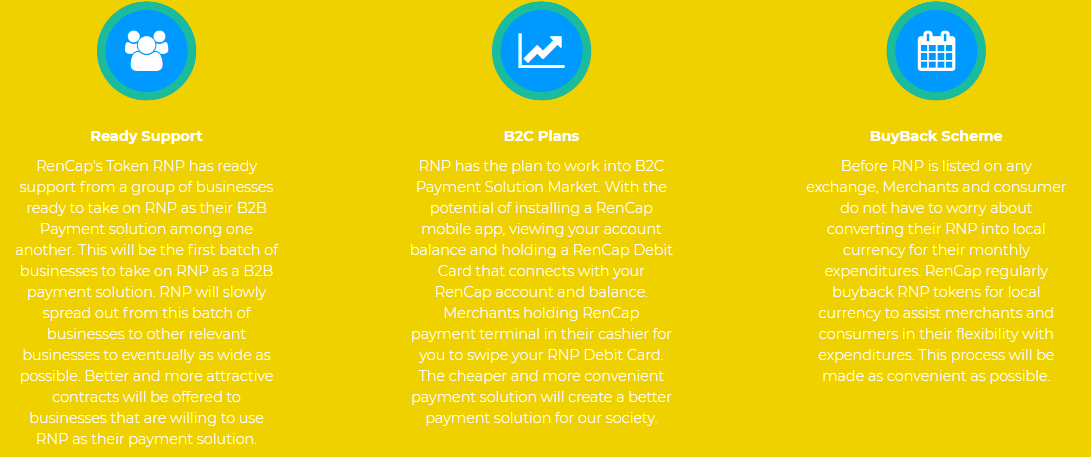 Token Details
Name: Rencap
Symbol: RNP
Type: ERC-20
Total Supply: 50,000,000 RNP
Price: 1 ETH = 1,000 RNP
1 RNP = USD $1
1 RNP = SGD $1.50
Country: Singapore
ICO
STAGE 1: Ended!!!.
STAGE 2
Start date: 7th May
End date: 28th May
1 RENCAP = 0.001 ETH, SGD $ 1.50, USD 1.00
Bonus: 30%
Hard Cap: 10,000,000
Min. Purchase: 100 RNP
STAGE 3
Start date: TBA
End date: TBA
1 RENCAP = 0.001 ETH, SGD $ 1.50, USD 1.00
Bonus: TBA
Hard Cap: 4,000,000
Min. Purchase: 100 RNP
STAGE 4
Start date: TBA
End date: TBA
1 RENCAP = 0.001 ETH, SGD $ 1.50, USD 1.00
Bonus: TBA
Hard Cap: 3,000,000
Min. Purchase: 100 RNP
PURCHASE WITH BELOW LINK
http://www.rencap.asia/TOKEN
Token Allocation
Reserve – 20,000,000 RenCap Tokens
Core Team & Ongoing Development – 5,000,000 RenCap Tokens
Public Sale – 20,000,000 RenCap Tokens
Public Bonuses – 5,000,000 RenCap Tokens
Meet the Team
Mr Terence Ho
FOUNDER / CHIEF DEVELOPER
Mr Johnson Sow
REGIONAL OPERATIONS AND LOGISTICS MANAGER
Mdm May Ong
HEAD GRAPHICS ENGINEER
Mrs Chonlada Rattanapan
OVERSEAS OPERATIONS MANAGER
Miss Ling Pei Chee
OPERATIONS AND FINANCE MANAGER
Mdm Lily Ngui
CUSTOMER AND ACCOUNTS SERVICE MANAGER
Mr Ang
HEAD OF DRIVERS AND LOGISTICS
Find out more visit
Website: http://www.rencap.asia/
Whitepaper: http://www.rencap.asia/assets/rencap.pdf
Twitter: https://twitter.com/terencehth
Telegram: https://t.me/joinchat/Gw2ehU1N_4dTnuHyZeiESg
Published By: Hurricanecol
BTT Profile: https://bitcointalk.org/index.php?action=profile;u=1576406